Enough of those vibrant and colorful nails you have been carrying for so long! End your search here to find some sassy and noticeable nail ideas because aesthetic goth nails are ready to rock the punk inside you. Gothic nail ideas are becoming the trend nowadays, from crossing millions of views on TikTok to people acquiring them in real life. Goth nail designs are highly appreciated nowadays.
To discover your dark fashion side, goth can be an ideal way to rejuvenate the nail game. Let the coolness blow in your life by trying the aesthetic goth nail ideas for your next manicure. When it comes to the word "goth", we start imagining dark colors, black being prominent among them. And believe me, nothing is as classy and unique as the goth aura. Because today people are going crazy about goth fashion, what better way to join this trend than bringing them to your nails? Some people prefer more graphics; some others are fond of the intricate works; not to worry because aesthetic goth nails will fulfill all your desires.
These aesthetic goth nails are ready to show their magic on your nails and make you the center of attention with their eye-catching look. Talking about goth nails, there is a wide range of ideas to try. I mean, the possibilities are just infinite. But there's no time to be confused because we have made a collection of some very doable, trendy, accessible, attractive, and prettiest aesthetic goth nail ideas for your next nail art; take a look and choose your favorite:
Airbrushed Matte Nails
You can go for gothic styles with darker colors, adding tattoo designs, forest, or even spider webs to be precise.
Airbrush nails are a trending aesthetic classic, you can try to rock your nail game and become a charmer.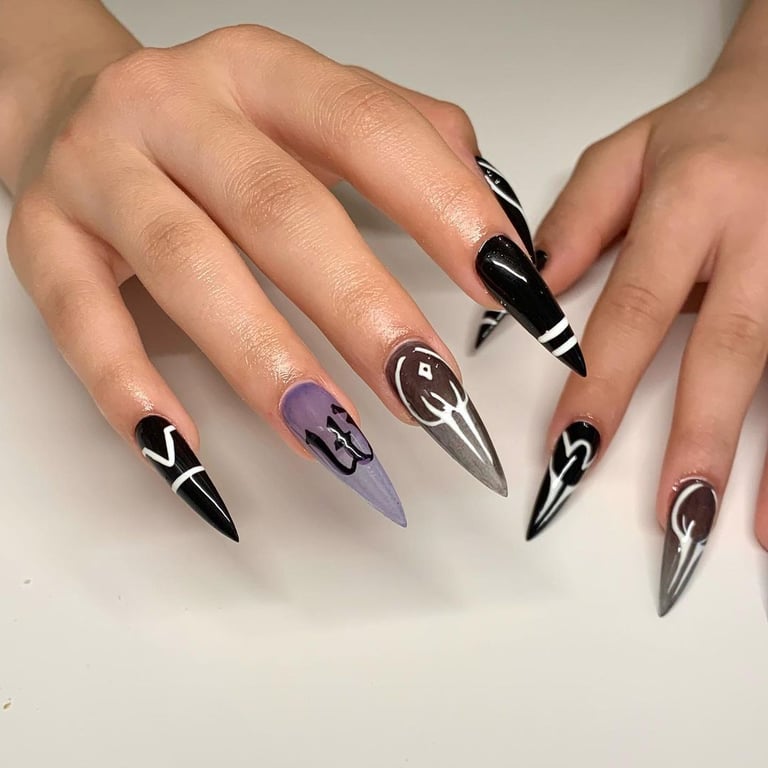 Halloween Goth Neon Nails
Not just black or red, but also some very bright and rich colors can signify aesthetic goth nails.

Neon is the coolest and fanciest way to approach pretty goth nails. As long as you have some spooky or mysterious designs to paint on your nails, you are good to join the goth trend.

These Halloween goth nails are a perfect way to represent aesthetic goth nails in a weird yet zesty manner.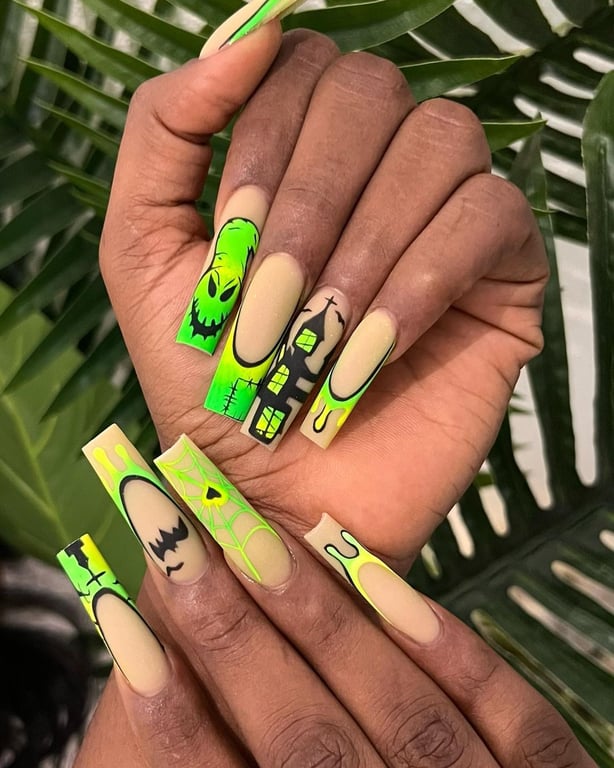 Stunning Brown Ombre
If you want to keep it simple yet inviting, try this brown Ombre with a twist.
Add some vampire background to it for a goth finish.
This is an excellent example of aesthetic goth nails defining simplicity yet craziness and allure. Try wearing some metal rings to give a more interesting look.
Almond Shape Aesthetic Goth Nails
This trending shape has all thumbs up for creating a fantastic goth nail look.

Color the nails dark black and add some spooky white work to them. For instant, you can try adding spider webs for a modern look.

This remains the all-time favorite nail shape and nail color for a complete aesthetic look of the season. A must-try!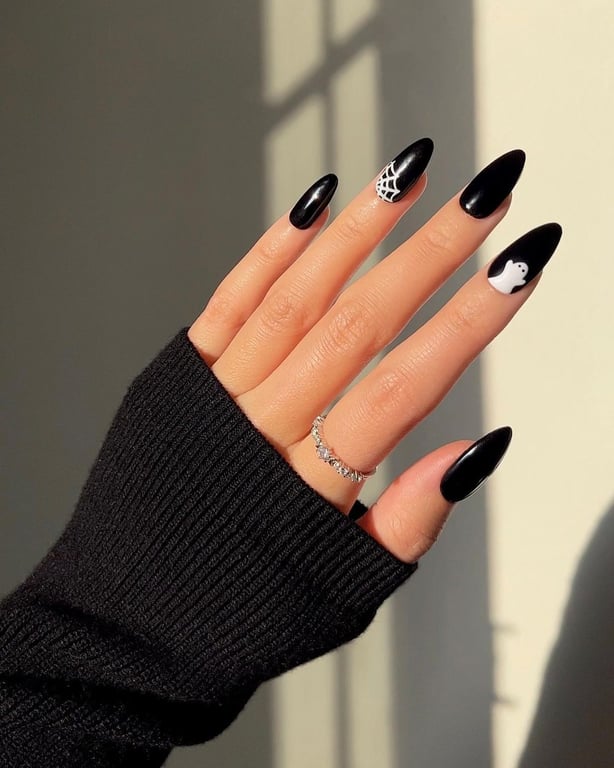 Black Marble Nails
If you want to avoid the fuss about goth nails but are still wanting to get a perfect aesthetic goth nail, this black marble can be your favorite.

This sober and simple pretty black marble nail is capable of offering a spooky texture and gothic appearance to your nails.

Get this to add uniqueness and extraordinary beauty to your nails.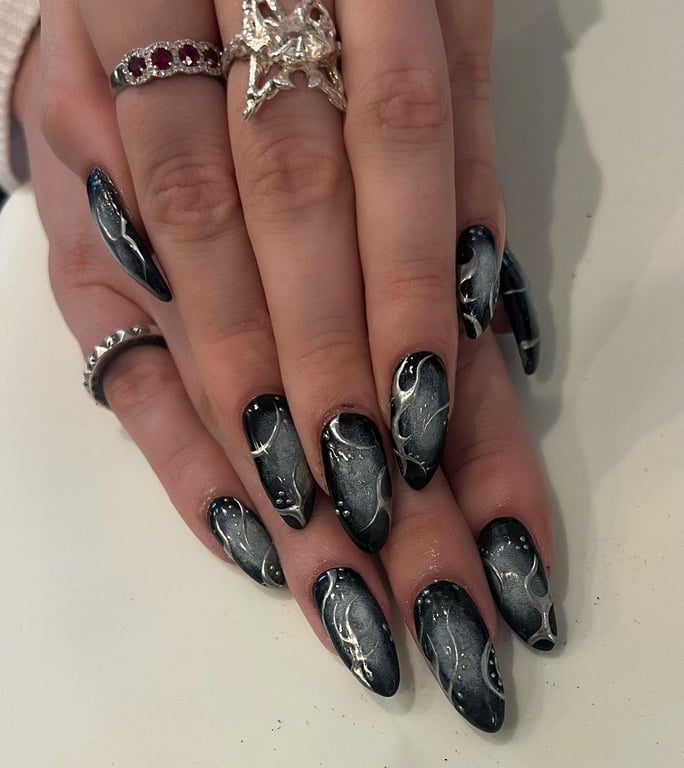 Read Also:- Classy Black Toe Nail Designs: Time to Level Up the Feet Game!
3d Nail Charms
Another trend taking over the fashion world is the 3D nail charms.

No doubt they give an aesthetic as well as an appealing look. Their craze is highly inspiring people in gothic fashion, and everyone looks ready to add some 3D charm to their nails.

With a dark red base, try adding some gold or silver items such as crosses, roses, and tombstones to feel more mysterious and spooky.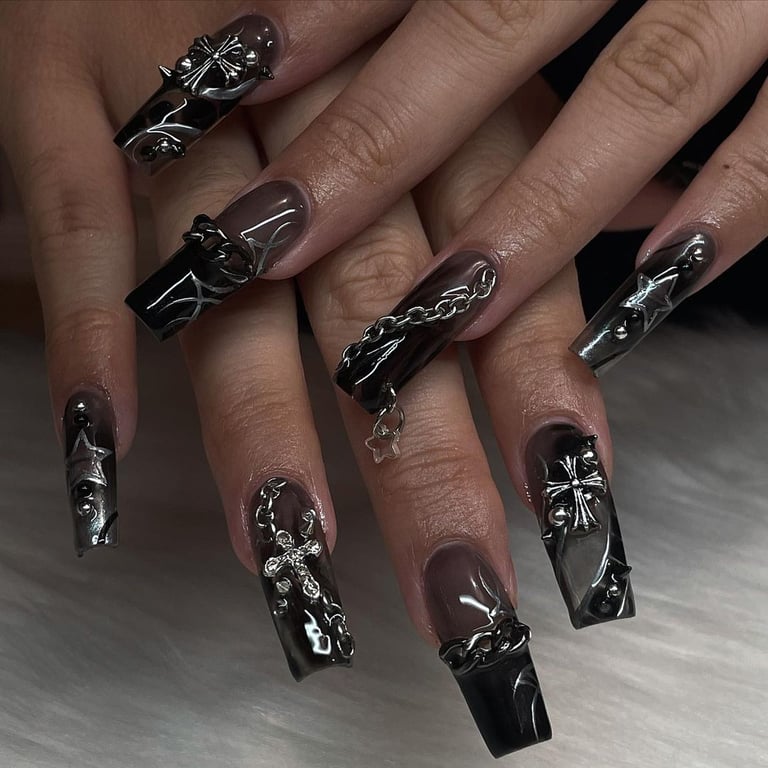 Tattoo Aesthetic Goth Nails
Just go for it! If you are bold enough to add the quality and captivating look of a tattoo to your nails, what better way than representing it as a gothic fashion?
Let your manicurist discover his/her inner tattoo artist and let them draw freestyle.
The look you will get will be wild enough for a daring person like you!
Remember to get this only if you are fond of experimenting or else drop this idea because it is the wildest form of gothic nails.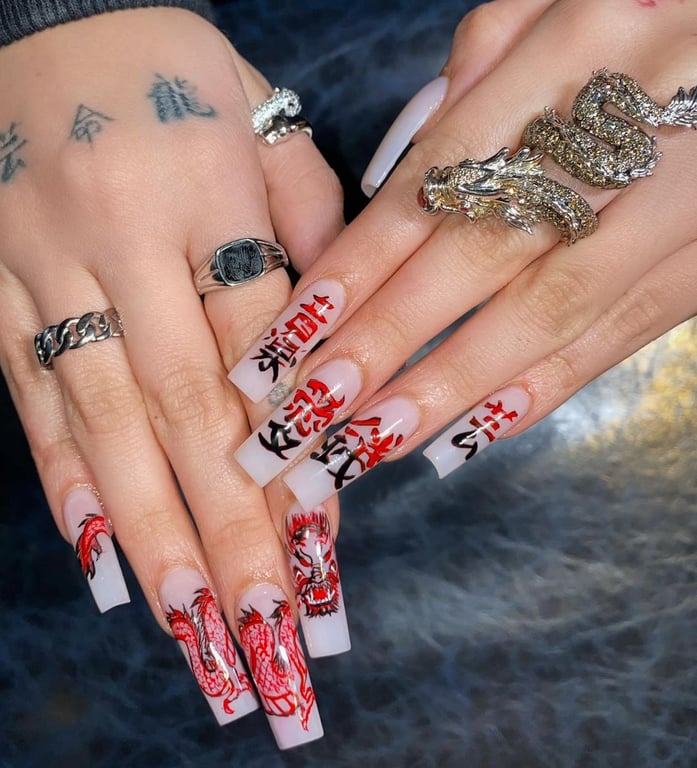 Purple Ombre Gothic Nails
Yes, you read right! Even purple can join the gothic trend.

The darkest purple shade is already becoming the favorite choice for many gothic people and even others also.

It gives you a different and unique perception of aesthetic goth nails which looks not only classy but also spooky.

Keep your nails pointed for an enhanced look, and also try wearing some jewels to elevate your beauty.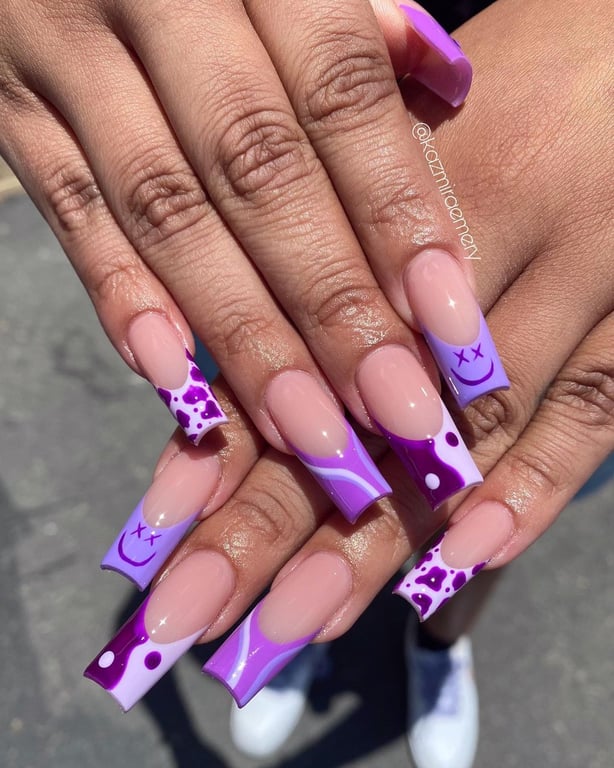 Black Glitter Stiletto Aesthetic Goth Nails
Black is the most loved color for Gothics, it also adds charisma to your nails.
Stiletto glitter nails painted in black are just irresistible and can make anyone go "wow".
Add some black rings to enhance the effect of a gothic nail design.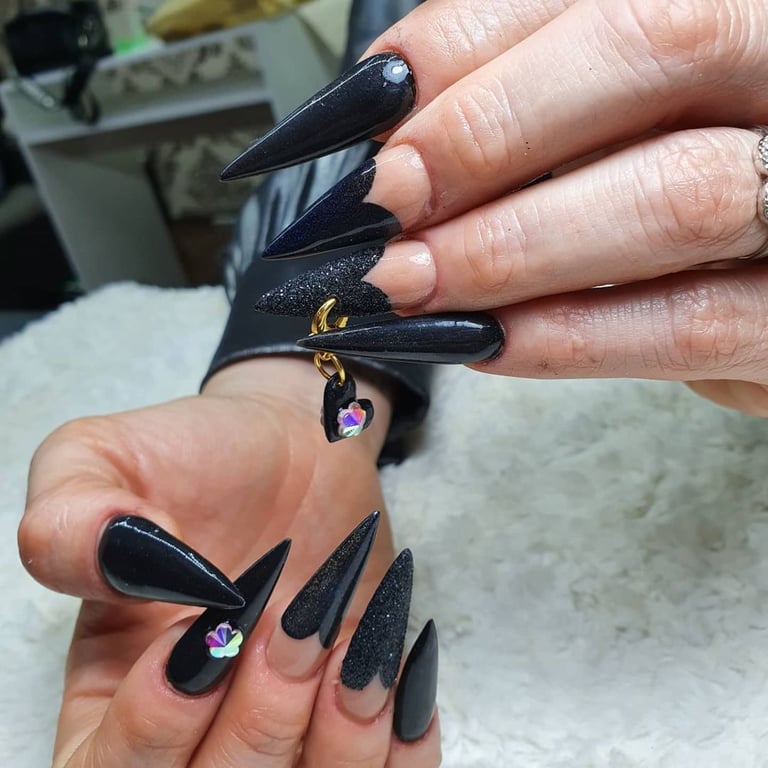 Also Read: Summer Watercolor Nails: for Your Next Refreshing Look!
Black Gothic Nail Design
If you are trying to keep it simple yet mysteriously gothic, go for painting the nails in black.
Just black on the nails is a whole new world of aesthetic goth nails. It is equally impressive and attention-drawing as any nail art with some designs on it.
This aesthetic goth nail is just full on its own and you are ready to rock it.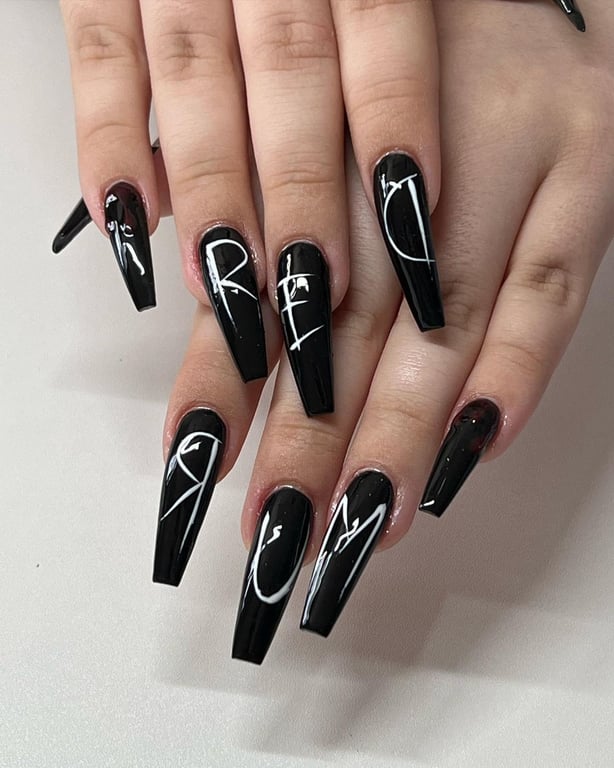 Vampire Gothic Nails
As weird as it sounds, believe me, you will love it once you look at the final touch.
Long stiletto dark red colored nails are total gothic vibes for the season.
You can add some pieces of jewelry to enhance the effect and get the full red-inspired vampire look.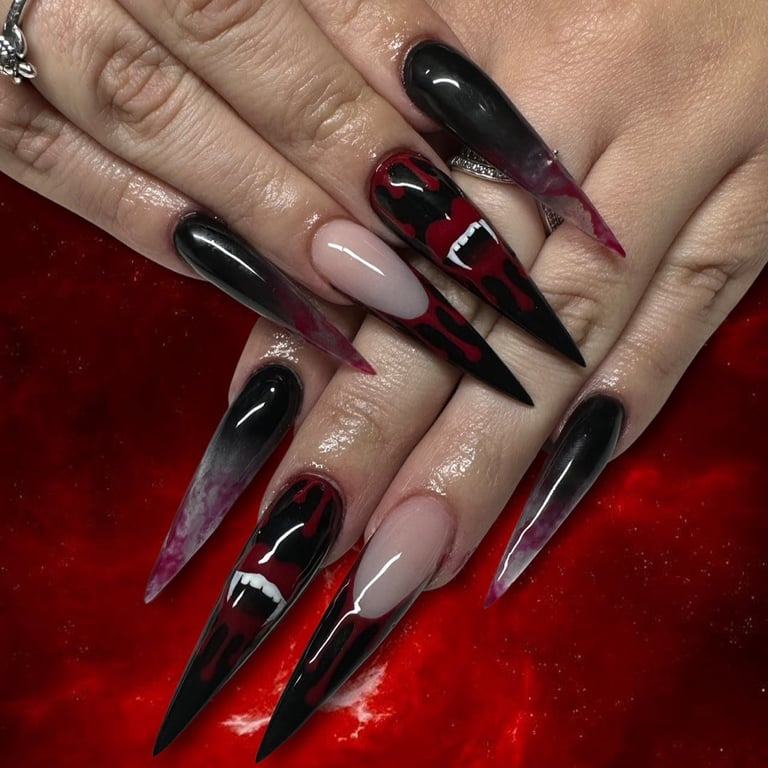 Spider Web Gothic Nail Design
Among the most popular gothic nail designs, the spider web gothic nails is loved by all. Besides being spooky it is also kind of cute.
If you are new to the aesthetic goth nail design, trying a spider web can be the ideal option.
This looks impressive and alluring. You can surely give it a try!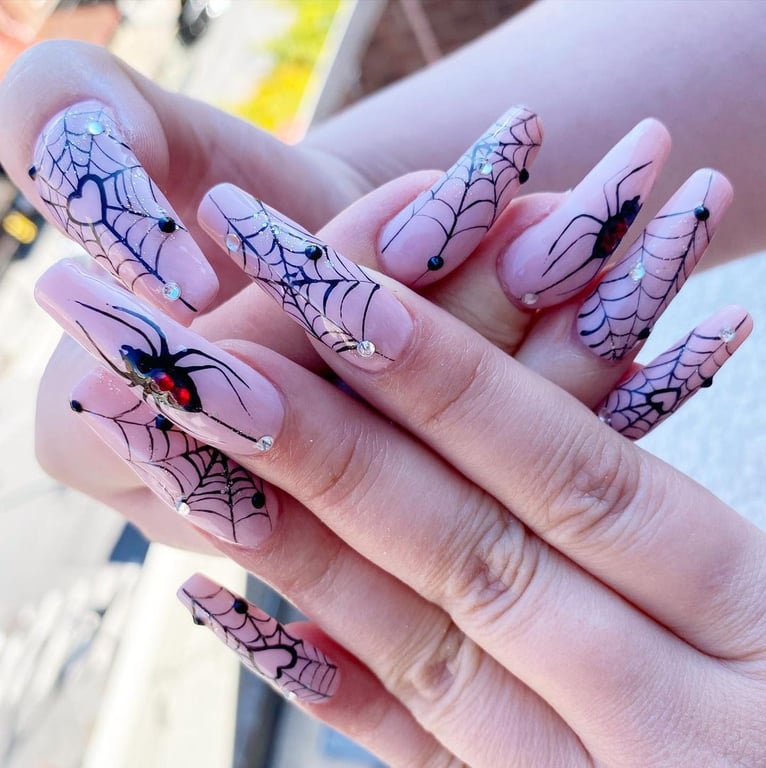 Red and Black Goth Nail Designs
Red is not a color, it's an attitude. And when you combine the fierceness of red color with aesthetic goth nails, it becomes wild.
Red is a bold color and very perfectly defines gothic nail art.
If black is not what you are searching for, red can be your favorite. Try this nail art to represent the lioness inside you!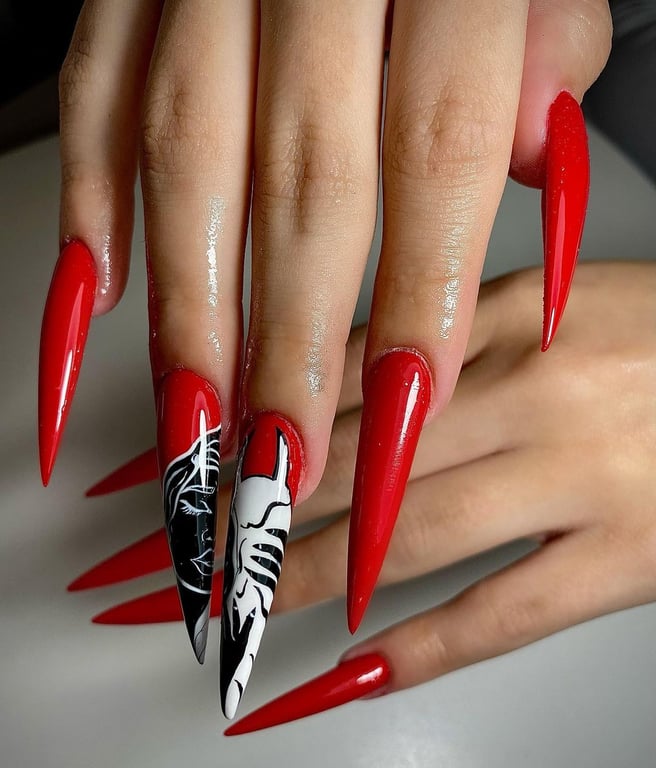 Gothic Nails With Symbols
Goth nails with symbols are also becoming the trend in gothic fashion nowadays.
If something sassy and funky is what you are desiring, then go for gothic nails with symbols either representing their culture or music or it can be anything you like.

This is a classy example of goth nail art without fuss.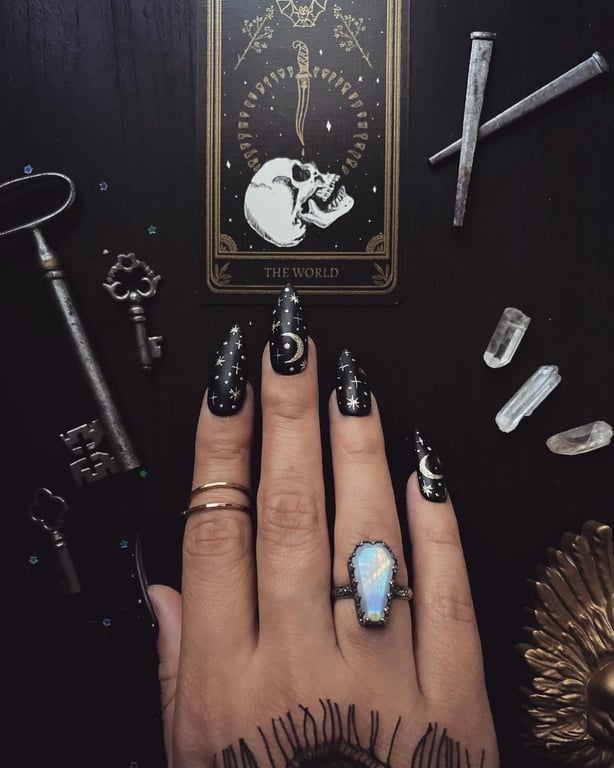 Red and Black Aesthetic Goth Nails
The elegance of gothic fashion is defined by both red and black colors; combine them in your nail art to create an aesthetic look.

This is a perfect way of blending two goth colors to give your nails some beautiful magic of this culture.

Definitely worth trying!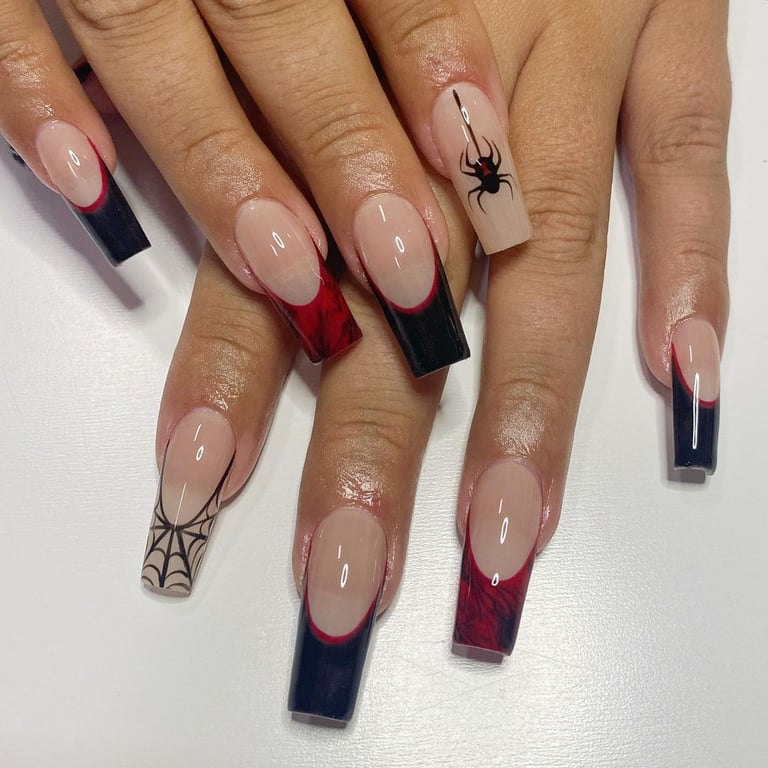 Also Read: Purple Nails With Diamond: Say Hello to the Purple Manicure!
Maintaining Your Aesthetic Goth Nails
Protection and Longevity
To ensure your Aesthetic Goth Nails remain stunning and long-lasting, follow these tips:
Wear gloves when doing chores or activities that could damage your nails.
Avoid using your nails as tools to prevent chipping and breakage.
Apply a clear top coat every few days to maintain the shine and protect the design.
Touch-Ups and Nail Care Tips
Keep a spare bottle of your chosen nail polish for quick touch-ups.
Moisturize your cuticles and nails regularly to maintain their health and flexibility.
If a stud or gem comes loose, fix it immediately with nail glue to prevent further damage.
Reference Link
Aesthetic Goth Nails-FAQ's
What Are Goth Nails?
* As weird as it sounds, believe me, you will love it once you look at the final touch.
* Long stiletto dark red colored nails are total gothic vibes for the season.
* You can add some pieces of jewelry to enhance the effect and get the full red-inspired vampire look.
How Do You Do Goth Nails?
* Goth nails are pretty easy to do once you have learned the techniques of painting on the nails.
* You can try adding spider webs, skeletons, or any tribal designs to a black base to get the gothic touch.
* Read this article to choose your favorite among the trendiest aesthetic goth nails design.
What Nail Shape Is in for 2022?
* 2022 is all about almond-shaped and stiletto nails.
* Aesthetic gothic nails look magical on stiletto nails. You can try getting this shape and add some gothic features to it for a more attractive and alluring look.