Fashion has no limits. One day you will learn about something new and fresh, the other day you will be mesmerized by some other form of beauty. When it comes to nails, options available for you are infinite. So, are you willing to try something different, fresh and eye-catching? Go on, have a look at what we are offering you today. The trendy and the most stylish nail stickers are capturing every lady's heart with its shining and magical appearance.
The reason behind its popularity is the ease it provides with its application. It is super comfy, lasts upto 2 weeks and provides the most pretty look to your nails. When we talk about nail stickers, you should know that they are known by various kinds of names such as nail decals, nail wraps, nail strips, peel and stick nail polish.
Let's have a look at what these offers you and how you can apply nail stickers yourself:
How To Apply Nail Stickers?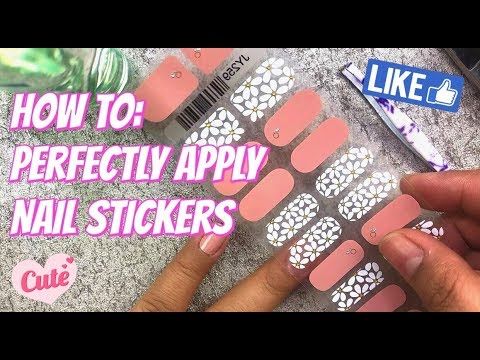 Nail stickers are pretty easy when it comes to their application. Follow the steps given below for a smooth application of these nail decals:
Step 1: File Your Nails
The main aim of a nail sticker is to make your nails look pretty and enticing. So the first step in its application will be the proper filing of the nails.
Trim the nails, buff them and clean them properly to get a neat and finished look.
After filing the nails, choose your nail polish color and apply it carefully.
Step 2: Keep Your Nails Dry and Clean
Before applying the nail stickers, make sure that your nail polish is fully dried. If you apply the sticker in an uncompleted dry state, it will result in messiness and moreover the sticker will be wasted.
Always choose your nail paint beforehand and apply it at least 15 minutes prior to the application of nail stickers.
Step 3: Use Tweezers
Make sure you have tweezers to take out the stickers.
Never touch the sticker from the adhesive side with your bare fingers. It will not only reduce its adhesiveness but also will be stuck on your finger, reducing the chance of proper application.
Step 4: Place the Stickers Gently on the Nails
Once you have chosen your favorite sticker and decided the correct position it should be at, then apply it gently on the nail.
Now use a silicone tool to press it on the nails to adhere it completely and properly on the nails.
Apply it with full concentration to avoid any air bubbles trapped in between the sticker and nail or else it will repel the surface.
Step 5: Trim the Edges of the Nail Stickers
Once the stickers are applied, trim the edges for proper coverage and dimension. Be careful while cutting the edges, do not trim the design or pattern while apply nail stickers.
Step 6: Apply the Topcoat
After the nail sticker is perfectly adhered to the nail polish, apply one to two layers of topcoat to seal in the longevity of the nail art.
Applying the topcoat will prevent the nail sticker from wearing and tearing early. Your nails will be protected for a longer duration of time.
The steps explained above are quite simple and easy, just read them and apply the stickers with your utmost attention.
Also Read: Substitutes for Nail Glue That are Long-Lasting & Safe
How To Apply Nail Stickers on Short Nails?
Why worry if you have less surface areas to apply the stickers? Become the cutest version of yourself by getting these cute and beautiful nail stickers for short nails.
The process of applying nail stickers on short nails is super easy and not at all time taking. Just make sure to trim and clean the nails properly. After this apply the desired nail polish and choose your favorite design or pattern. With utmost care apply the nail sticker as close to your cuticle as possible on your nails and press it till it is adhered properly. Trim away the excess. Apply the topcoat to provide the shine and longevity to them. Finish the procedure by blow drying to ensure proper adhesion.
To clear any doubt that you have about acrylic nails, I would like to enunciate that applying nail stickers on acrylic is totally safe and will not damage them. On the other hand, it will offer you an awesome and beautiful look. The process of applying the sticker is the same as that of natural nails. The steps are given above in this article. Go on, read it and become a pro at nail stickers!
5 Trending Nail Decal Ideas
Nowadays nail decals are overpowering the fashion world. Some of the trending and the most loved nail stickers are here to inspire you and make you feel energized. Have a look at these trending nail wrap ideas. This may motivate you to apply nail stickers yourself:
Customizable Nail Stickers
The biggest advantage which comes with these stickers is that it can be customized according to your nail shape. So, let's ditch the time taking process of filing the nail stickers and get these super easy to use customizable stickers.
These stickers are unique and trending but are a bit costly.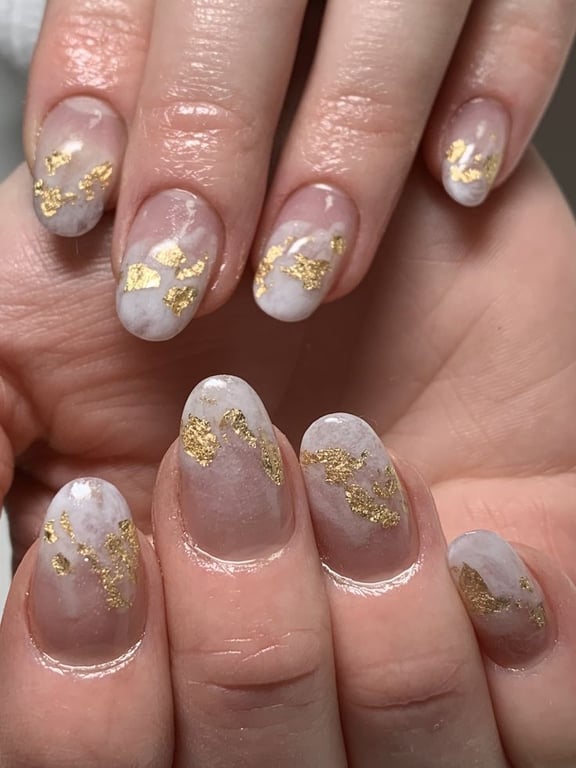 Simple Nail Stickers
Beauty lies in simplicity. The more the simpler the design is the more it stands out.
These are very cute, very pretty and very fresh simple nail stickers which basically consists of letters in different languages, signs, astrological numbers and signs and many more.
Color your nail with any vibrant color and get these simple yet attractive stickers on your nails.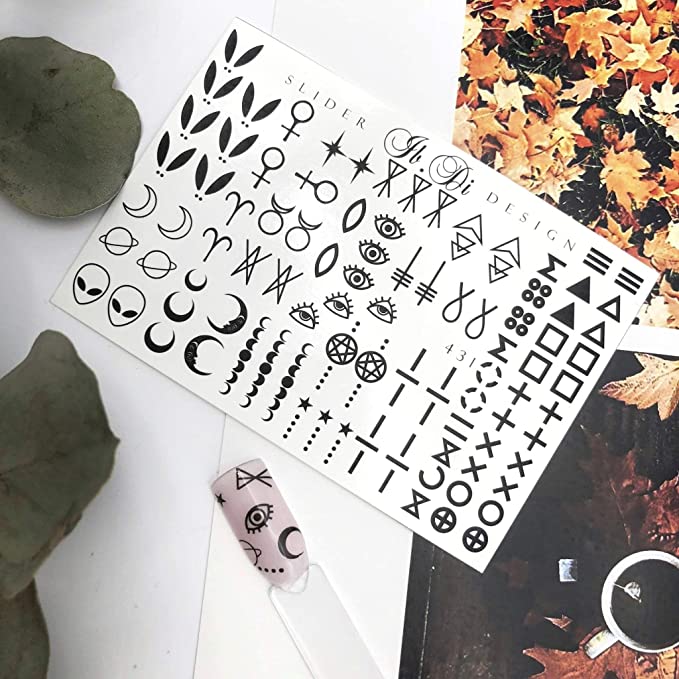 Also Read: Paraffin Manicure: Everything You Need to Know
Best Full Nail Decals
Apply nail stickers to replace your nail polish and provide you full coverage.
You do not need to give them time to dry as you can just apply them, trim away the excess and you are ready to rock it!
They come in very impressive colors and designs; you will really not feel the need to use nail polish as it covers your full nails.
But always remember to seal it with a topcoat while apply nail stickers.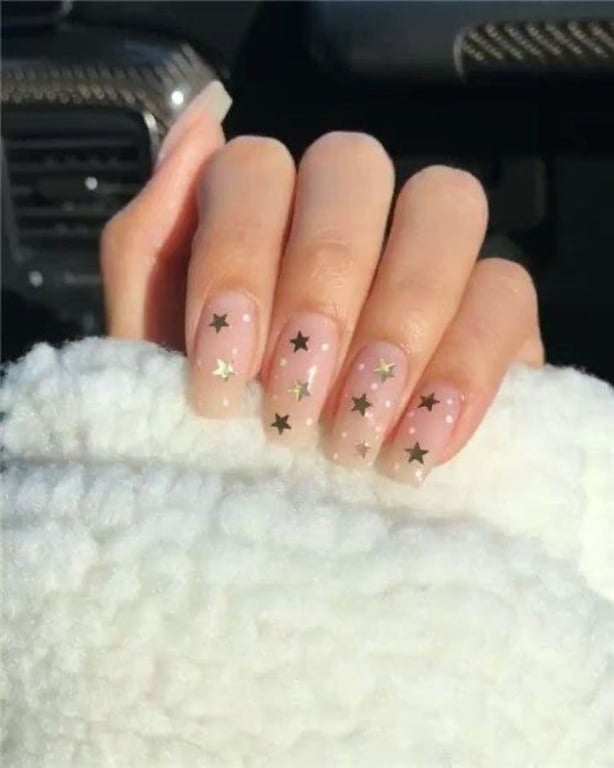 Intricate Abstract Nail Stickers
If you are a fan of something sassy and classy, these abstract designs can be your thing to apply nail stickers.
These are really intricate designs which come in different forms and are loved by all.
They can be a little difficult to apply as there are chances of them being torn away easily. So, always handle it with care.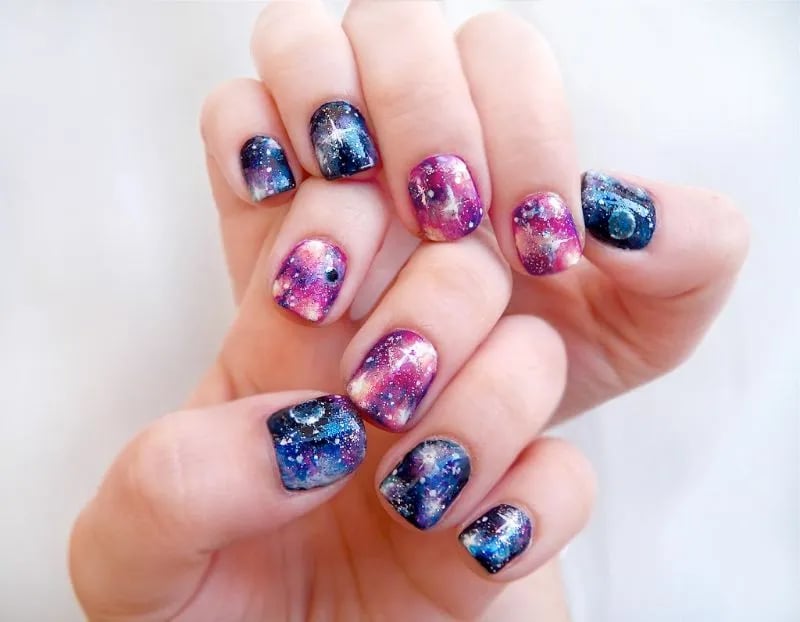 Zodiac Nail Stickers
For people fond of Astro signs and horoscopes, these zodiac signs can be the best they wish for.
These are highly in trend these days and are demanded by most of the customers. They give you this cool, funky and unique look.
How To Remove Nail Stickers?
Trace the given steps and remove those stickers after you apply nail stickers in the right way:
When the stickers have been on your nail for at least 2 months, they will start to come off on their own. It becomes very easy to remove nail stickers like this. Just peel them off from the nail gently.
If the stickers are a bit more adhesive and you are finding it difficult to remove them. Soak your nails in the acetone for about 10 minutes and gently use a small stick to remove them. Apply some oil on your cuticles to avoid damage to the nails.
If you want to avoid acetone, hot water can do the job. Fill the container with hot water and pour some dishwashing soap in it.
Soak the nails for about 10 minutes, be patient enough while doing this and then remove it slowly. Never be in a hurry or else it will not come out properly and leave traces on your nails and my dear friend this looks messy.
Also Read: How to Get Rid of White Spots on Toenails: Some Healthy Tips to Follow
Reference Link
Apply Nail Stickers-FAQ's
Can You Use Gel Topcoats Over Nail Stickers?
* Yes, absolutely. You can use gel top coats over the nail stickers to provide them with extra shine and longevity.
* But remember to apply them carefully.
Can You Use Nail Stickers With Gel Polish?
* The answer is definitely a yes.
* You can use nail stickers with gel polish and become a charmer!
Are Nail Stickers Bad for Your Nails?
* Nail stickers are more than safe for you. These are by far the nail option you will find.
* It does not provide any harm or damage to your nails and just makes them pretty and wonderful.
How to Make Nail Stickers Last Longer?
* One way to make your nail stickers last longer is the application of the top coat at least 2 times.
* This helps seal in the stickers and avoids the outer damage.
Can You Use Nail Stickers on Fake Nails?
* Yes, you can use nail stickers on fake nails but always be very careful while applying them.
* Also be more careful while removing them because more force applied can damage your nails.
How Long Do Nail Stickers Last?
* It can last upto a week but there are some brands whose stickers can last a little longer.
* It also depends upon the type of job you are involved in. More exposure to water can decrease the life span of the stickers.