This new, low maintenance and effortless balayage hair have taken over the floors with its increasing daily popularity. The term "Balayage" does not signify any specific color but defines the process of applying the color. The balayage hair color is applied to the hair by the hands without using foil. You can even try different hairstyles with the balayage.
Comparatively, it is easy to maintain, gives a natural and fresh look, highlights the hair in a better and stylish manner, and does not require visiting the salon now and then. Balayage adds natural shine, Lustre, and bounce to the hair.
Balayage hair is the trendiest and the most relaxed hairdo, which is not only becoming the talk of the town but also is uncomplicated to maintain and get that exceptional and prominent look. Each balayage is different, offering every individual a unique and personal texture, dimension, and coverage. It can be adjusted according to every person's desire and give their best look.
So, suppose you are searching for a mind-blowing, trendy, funky, excellent, and gorgeous look. In that case, this famous balayage hair is something you can take inspiration from.
Balayage on Brown Hair
Balayage on brown hair looks stunning, giving you the most passionate yet simple look. If you want a fancy hairdo, balayage is for you.
Moreover, balayage suits brown hair perfectly, providing the exact highlights you desire. For more ideas on balayage for brown hair, scroll down.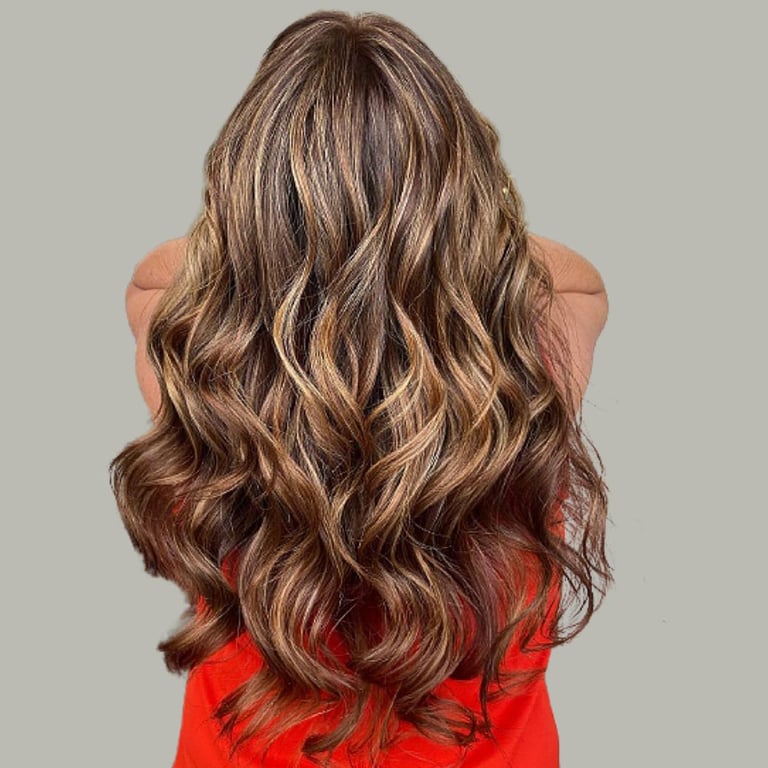 Also Read: Short Hair is Back! 23 Trendy Short Hairstyles for Women to Try
Elegant Dark Brown Base
Want to feel like a queen? This very elegant, very sophisticated balayage is a must-try! It requires first the application of a dark brown base to provide the needed texture and saturation for highlighting the caramel blonde.
It looks natural and energetic.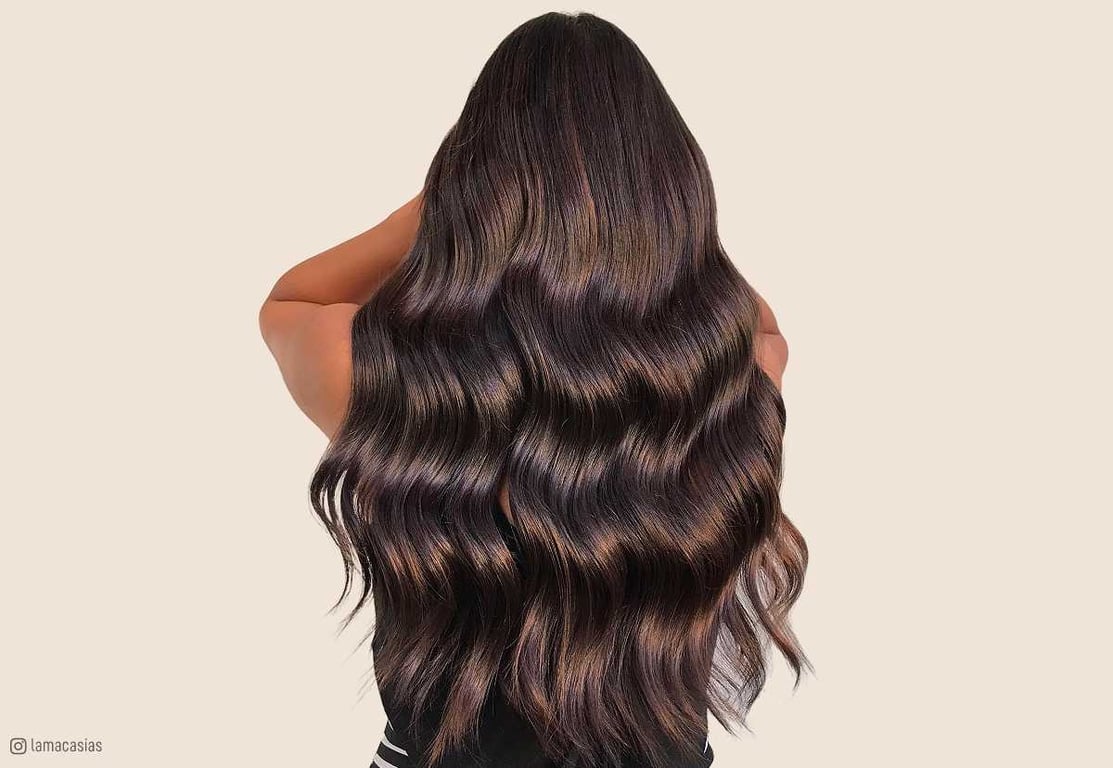 Luscious Sun-kissed Balayage Hair
That lustrous brunette you carry, want to give it some twist! If yes, you should go for this warm, adorable, and charming sun-kissed balayage look.
Natural brunettes are brightened up by adding balayage highlights. Pop your natural hair with some swag.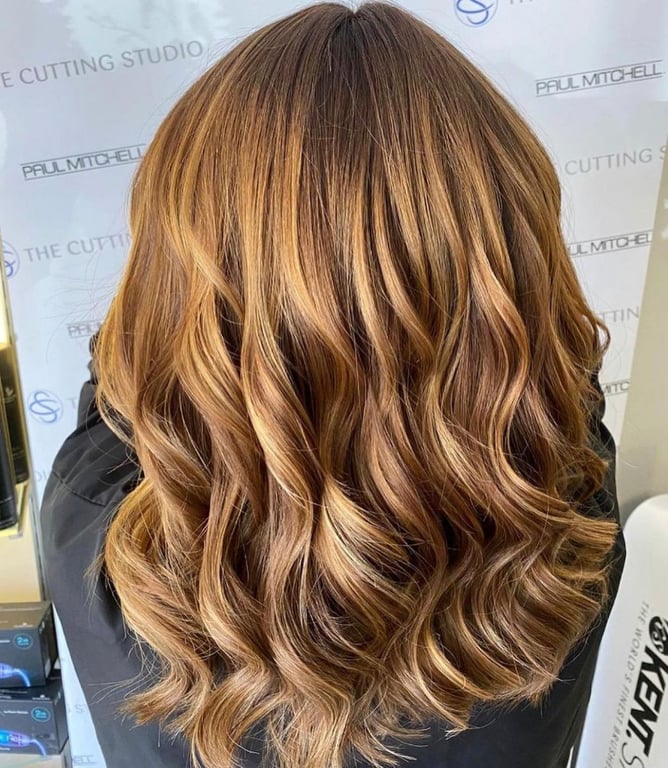 New Bronde Balayage
The name needs to be clarified.

Well, it's just the opposite. This balayage is the perfect combination of brown and blonde.
This amazing balayage gives the most astonishing result once done. Ask your hairstylist to add some layers to enhance the look.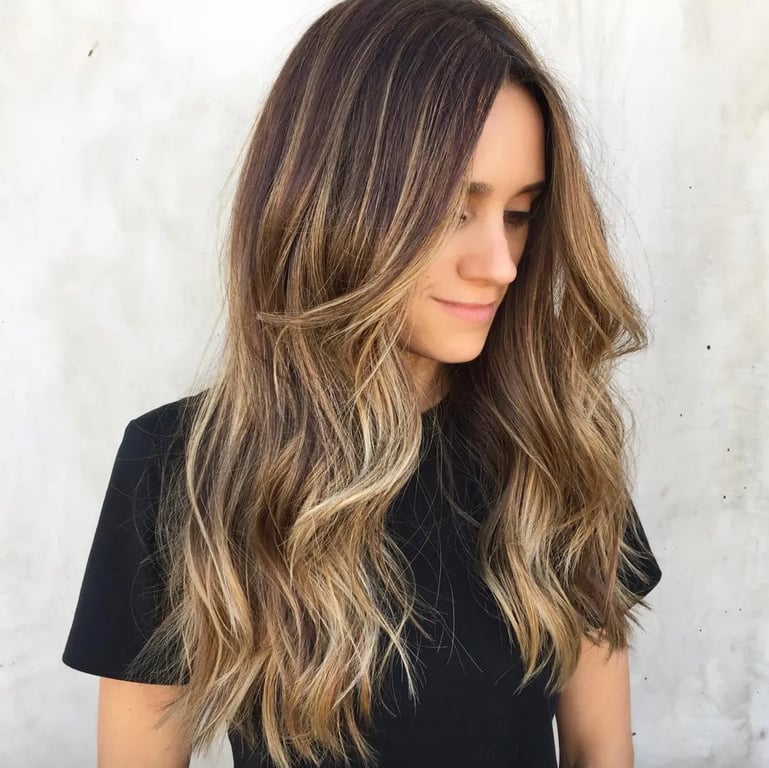 Also Read: See These 18 Amazing Blonde Balayage Hair Color Ideas
Appealing Light Brown Balayage
This is the balayage for you if you want to keep it simple yet stylish.

Some golden highlights intermixed with the natural balayage give the most 

divine and fetching look

.

Less dramatic and classier is what it defines.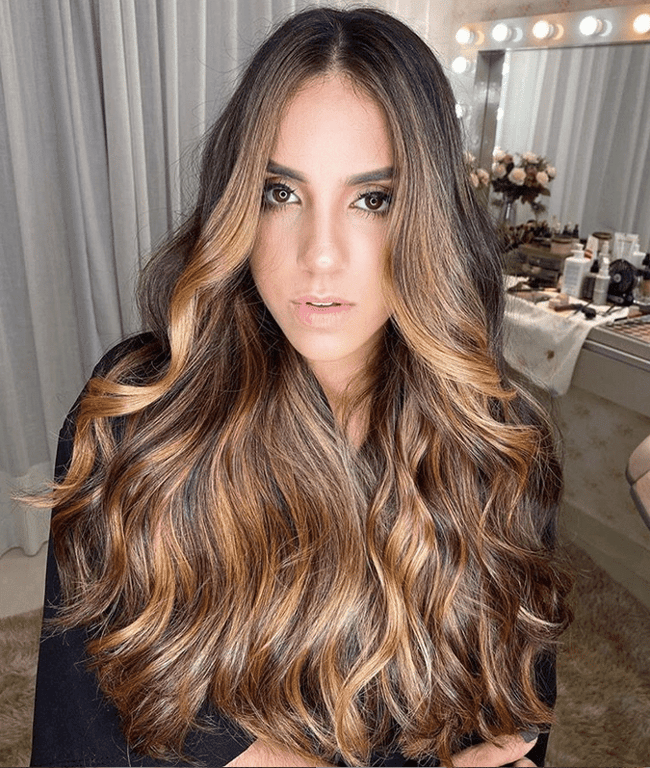 Blonde Balayage Hair on Brown Hair
Balayage nowadays has become the most loved by girls. It provides the desired latest look and adds freshness to your hair.
Brown hair combined with blonde balayage is one of the most trendy balayage.
Ashy mushroom color is what it provides, making you very attractive.
This effortless yet beautiful and elegant balayage can be source of some pretty compliments.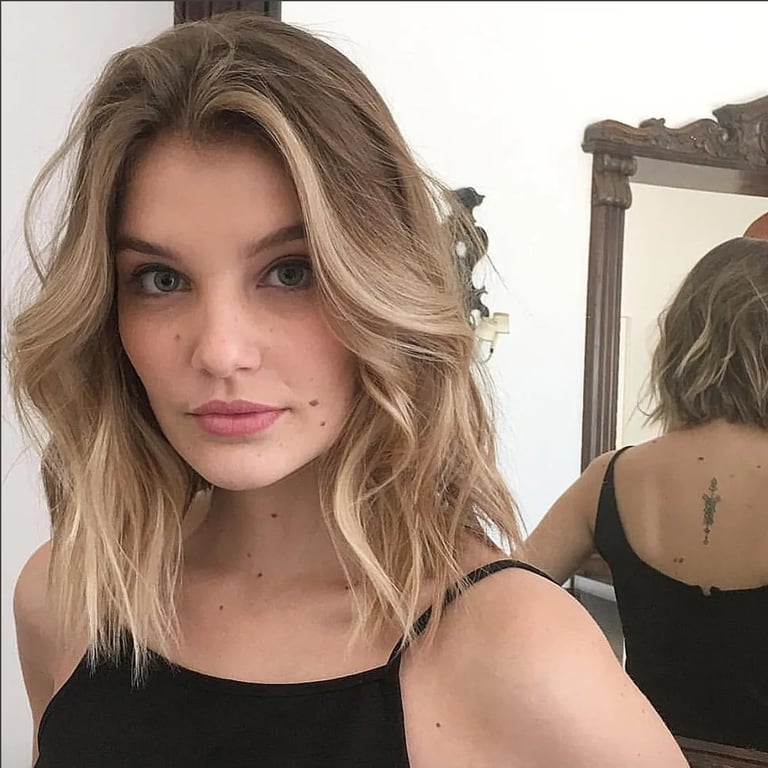 Creamy Blonde Highlights
Balayage looks exceptionally chic and imagistic on brown hair.
It adds to the charm and sassiness, making you the centerfold of the night.
Creamy blonde balayage, when blended on brown hair, provides that summery and beachy look that can earn you many compliments.
Balayage are different from highlights, but these are named creamy blonde highlights since they give that type of look to your hair.
Golden Balayage for a Unique Hair
Are you trying balayage for the first time? Go for golden highlights Provides an elegant and fancy look.
Balayage undeniably makes your hair visible and vivid.
Golden is a noticeable color, and the combination of golden and balayage can never go wrong, especially for brown hairs.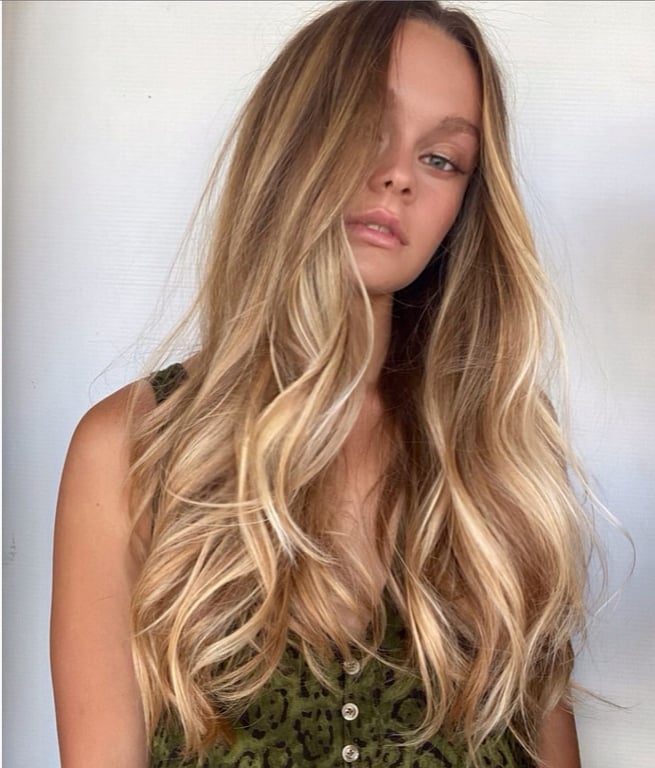 Also Read: New Crochet Braids Hairstyles You'll Love
Baby Balayage Hair
This baby balayage is for you if you have super dark hair. Get some shades lighter than your natural hair, enhancing your look significantly.
Glamour and glossiness come naturally with this baby balayage.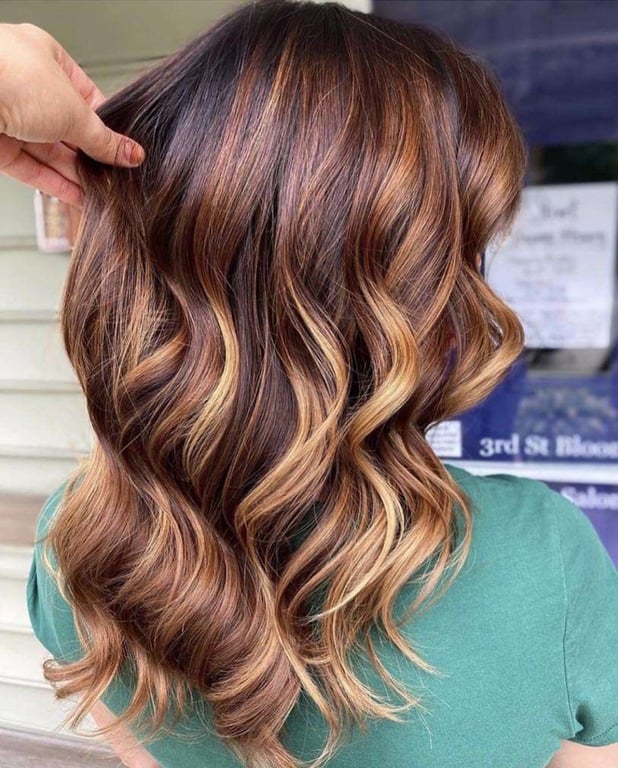 Curly Balayage for Brown Hair
Those attractive curls you own can achieve a very subtle and summery look! From dark brown to golden fade, it can make you look exquisite.
Balayage hair features your circles in a more prosperous and graceful form.
Balayage on Dark Hair
Balayage on dark hair is like the cherry on top of the cake. With balayage, undoubtedly, you can win hearts.
You will be surprised to see how customizable and blended this balayage is!
Featuring your beauty, framing your face, and adding texture and dimension are some of the most promising advantages of balayage on dark hair.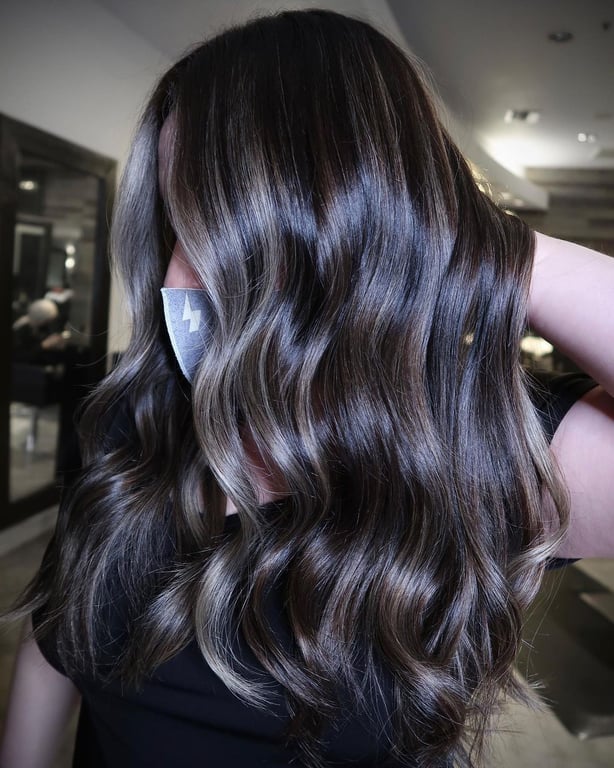 Dark Chocolate Brown to Light Chocolate
Steal hearts with your long and luscious hair.
This chocolaty balayage can make you the center of attention with its modish and bouncy look.
Attractive Dark Ash Brown
Who doesn't like the natural yet stylish look? What better way to flaunt your dark hair in style than to add some balayage to it?
Dark ash brown is the wealthiest way to sway your gorgeous hair.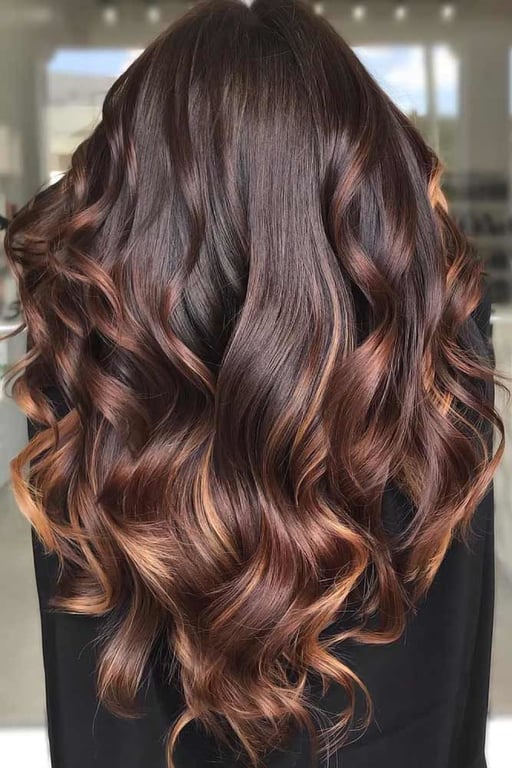 Caramel and Dark Brown Balayage Hair
Dessert look! Ah! Yes, this caramel and dark brown balayage can be your desired partner.

This balayage is a must-try. Make people crazy with this 

fabulous balayage.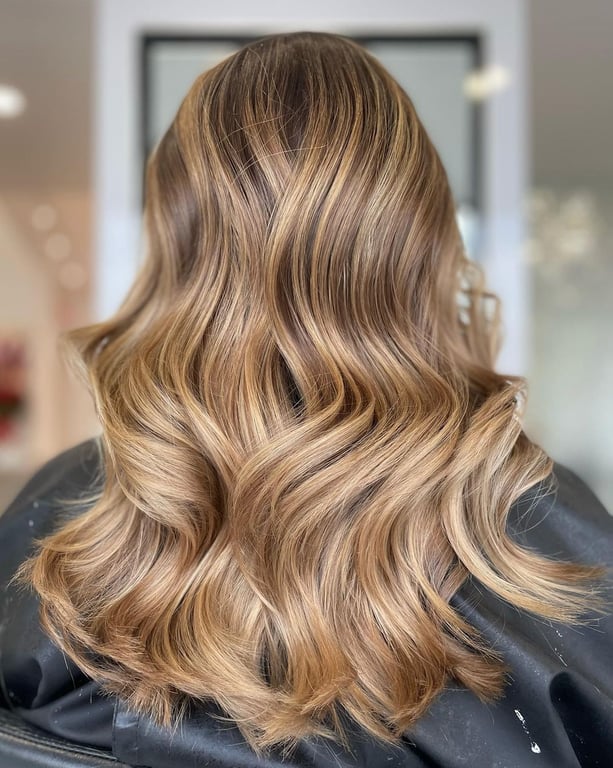 Dark Caramel with Honey Highlights
Like some drops of honey on a pancake! Yes, that's precisely how this balayage makes you feel.
Some honey highlights on dark hair can make you look like a fairy.
Works like magic on dark caramel-based hair.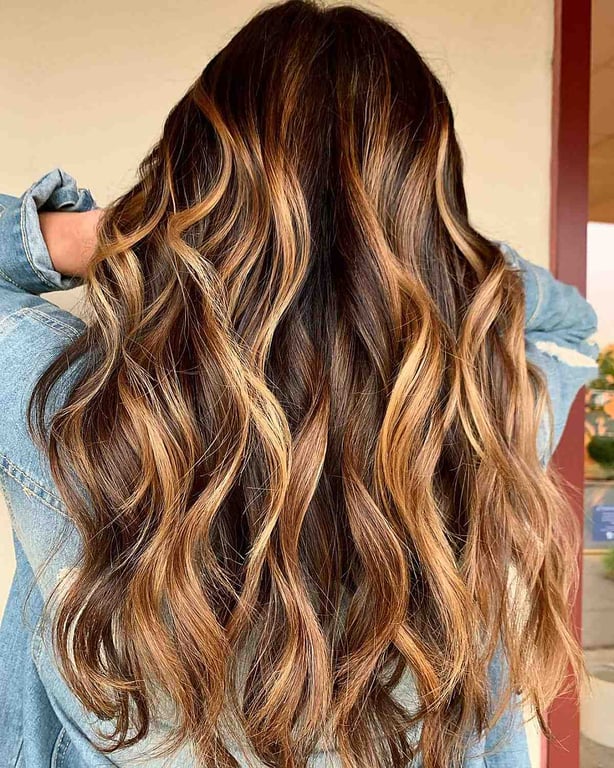 Reference Link
Balayage Hair-FAQ's
How to Balayage Hair?
The most straightforward answer to this question is by visiting a hairstylist. Proper knowledge is needed to balayage hair because you don't want to go wrong with hair. Also, many products are required when styling hair that is available at a salon.
What Is Balayage Hair Color?
Balayage is not any specific hair color. It just refers to how it is applied to the hair by hand painting and not using foils.
How to Balayage Hair at Home?
My advice is never to do this. Because styling hair at home is a complicated and tiring task, you will get bored and lose every ounce of your patience instead of enjoying it. Balayage your hair by a stylist, and you will love it. So, enjoy your new hair rather than be upset about it.
How to Balayage Your Hair?
Balayage your hair is not everyone's cup of tea. It is highly advised to visit a professional to get your desired look. Because only a hairstylist can give your hair what it needs, trying to do such a kind of styling by oneself in most cases can lead to an unsatisfying result.
Is Balayage Good for Wavy Hair?
* Balayage is just not good, it is perfect for wavy hair.
* The added dimension and texture to the hair is just wow!
* You should absolutely give this a try.
Why Does My Balayage Look Like Highlights?
* To make you clear on this point, balayage is not a look. It is just a different method of adding highlights to the hair.
* The only difference between highlights and balayage is that balayage involves hand painting rather than the use of foils.
* So, a balayage is pretty much highlights only just with a unique styling method.