When it's a bald fade haircut, you must know there are innumerable ways of grooming a men's fashion. Fade has already established itself as the most loved and versatile haircut for men. For every man out there, there is a fade that can enhance their look. So, the bald fade haircut is yet another masterpiece of a fade cut, ready to rejuvenate your fashion sense.
What is a Bald Fade Haircut?
Also famous by the name skin fade haircut. Composing a longer top, shorter sides, and a completely bald side and back. The smooth transition from the top to bottom can be in the form of a low, medium, or high fade. Now the question is, which cut suits you the best? Well, for that matter, we are here with these 17 bald fade haircuts to let you decide freely. 
Also, discuss with your barber which cut is for you, depending on your face shape and hair type. Always go to a barber who is accustomed to your preferences and dislikes.
Low Bald Fade Haircut
This is one of the most tried and loved bald fades by men. It offers a low bald cut which is followed by a longer top.

You can go styling the top as per your desire, and trust me, it looks stunning!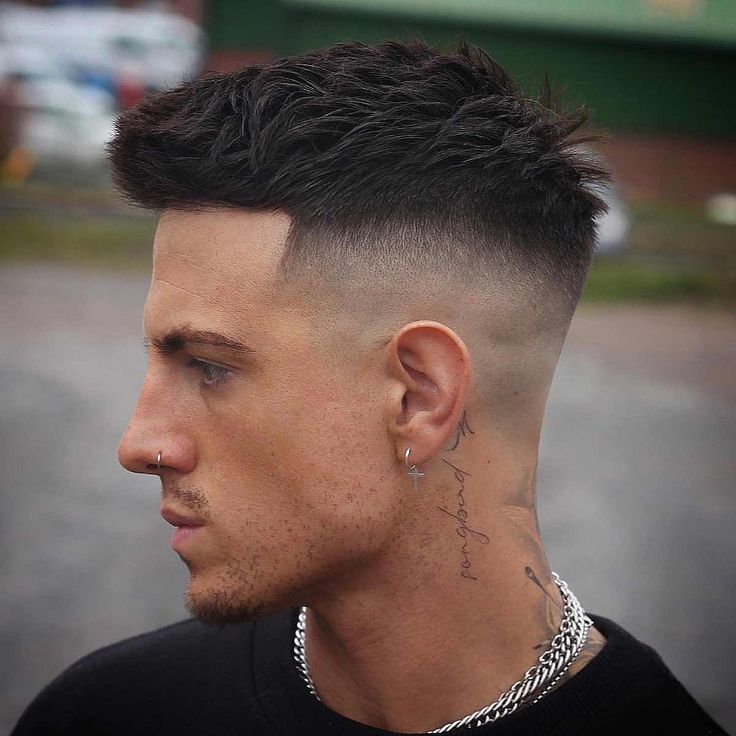 Bald Taper Fade Haircut
The taper fade is all about boldness and a clean-cut appearance. 

A bald taper fade is another taper that can be styled with perfect guidance and tools. So, for a sharp look, this is the best.
Also Read: 15 Boys Fade Haircut Ideas: A Stylish Look For All Cute Boys
High Bald Fade Haircut
Want a look that becomes your statement style? Then this high bald fade is perfect.

A longer top with higher buzzed sides is a precise way of adding charm to your hair.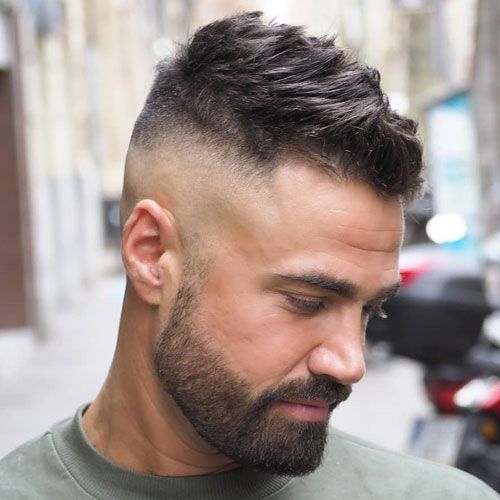 Medium Bald Fade Haircut
For men confused about the length of the hair, a medium bald fade is your answer. 

The class it provides is enough to turn heads. A must-try!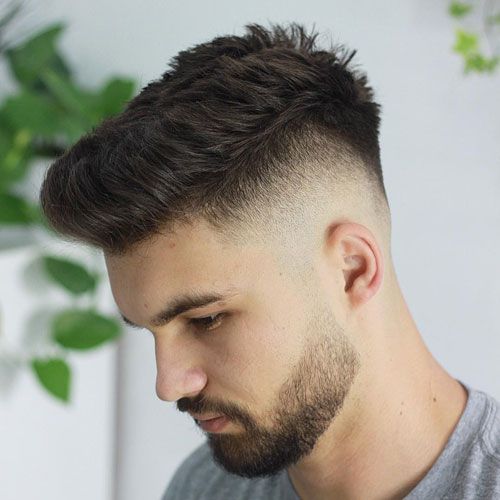 Low Bald Fade Haircut Curly Hair
Curls are a precious form of hair styling, and styling them correctly can give you immense happiness!

The low bald fade on curly hair is an excellent choice for men wanting a transition of their look.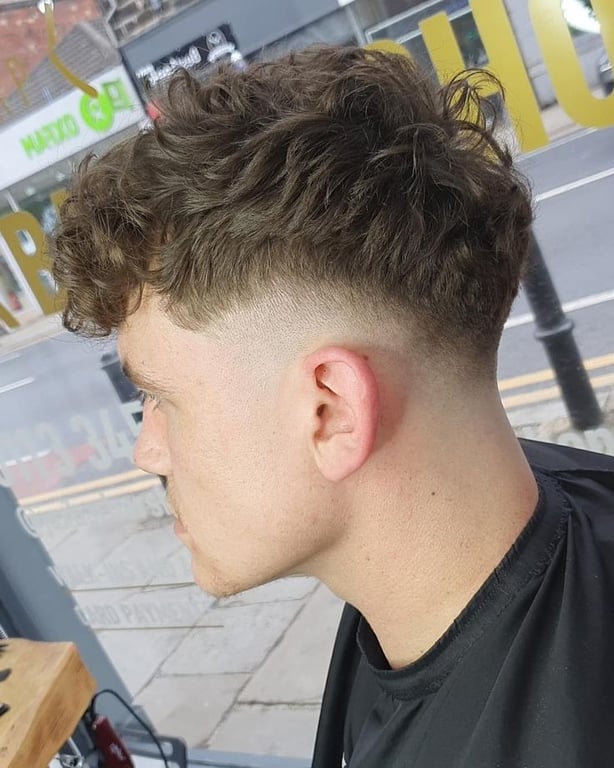 Short Bald Fade Haircut
Consider getting a ceasar cut for an enhanced look for a short bald fade.

The sassy vibes are sure to make you the center of attention. So, a short fuss-free bald fade can be your next hairdo!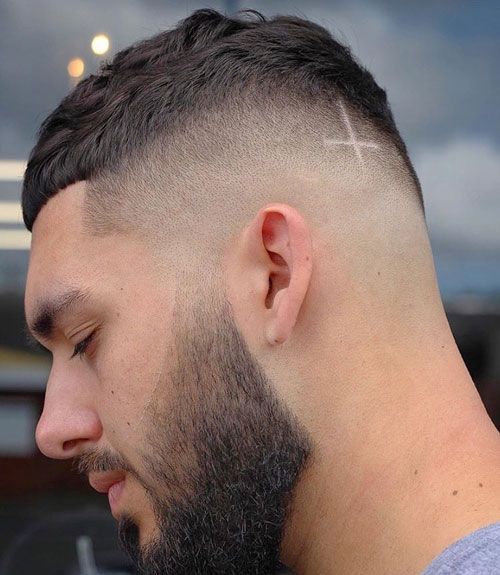 Also Read: 15 Trending Drop Fade Haircut Ideas For Men
Bald Fade Haircut Black Men
Afro hair, when tamed under a bald fade, the edgy and neat look is what makes it worth trying!

For black men, a bald fade can prove to be the best haircut you have ever tried because a bald fade is a versatile cut.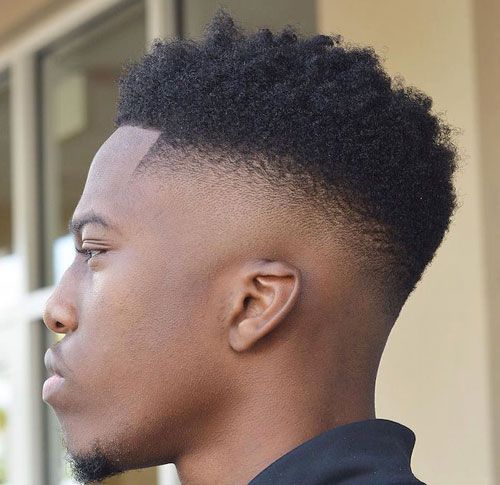 Bald Fade Haircut With Beard
A sense of youthfulness and hotness can be added to your look by a beard, followed by this bald fade hair.

Yes, it looks surreal and defines your personality at its best.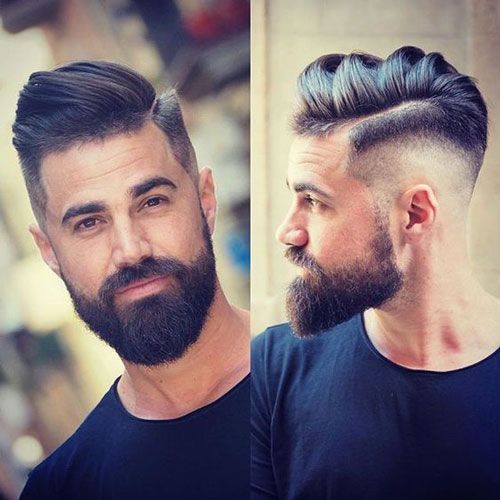 Bald Fade cut With Design
Well, getting a design was always cool to show off your gorgeous hair in style.

So, this season, go for this bald fade cut with a design of your choice and rock it like a pro.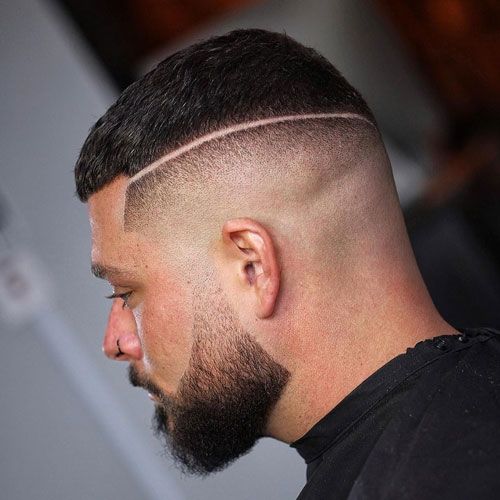 Bald Drop Fade Haircut
Ready to rock the drop fade with a twist? Copy this exclusively stunning

Zyan Malik's

hairstyle.

The bald drop fade is a hairdo with lots of texture and class. It is simple yet inviting and can make you fall in love with it.
Bald Fade Pompadour
The bald fade with pompadour is striking as well as sophisticated.

This pleasant look is the gentleman's thing and offers an extraordinary appearance with any outfit.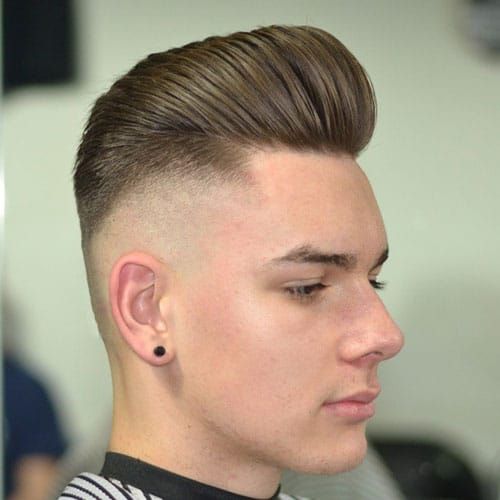 Slicked Back Bald Fade
If you are planning for a fresh update to your hair, the slicked-back bald fade is here to make you the hottest.

This sensual yet sober hairdo is all about maintenance and perfection. You will need gel to keep the slicked back in position.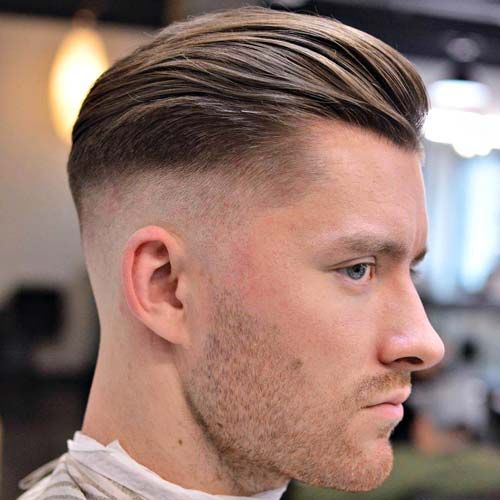 Bald Fade Quiff
What's better than a look emphasizing your face? The bald fade quiff is all about awesomeness.

The look is well-maintained and offers an appealing texture to your dull hair. It could be a great try!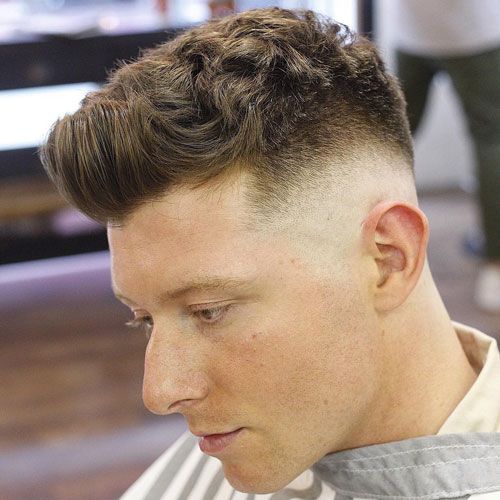 Bald Fade Buzz Cut
Work keeps you busy, but wanna be in style? Get the bald fade buzz cut for a fascinating look.

This haircut is an effortless way to amp up your hair game stylishly. You need frequent trips to the barber to maintain an authentic look.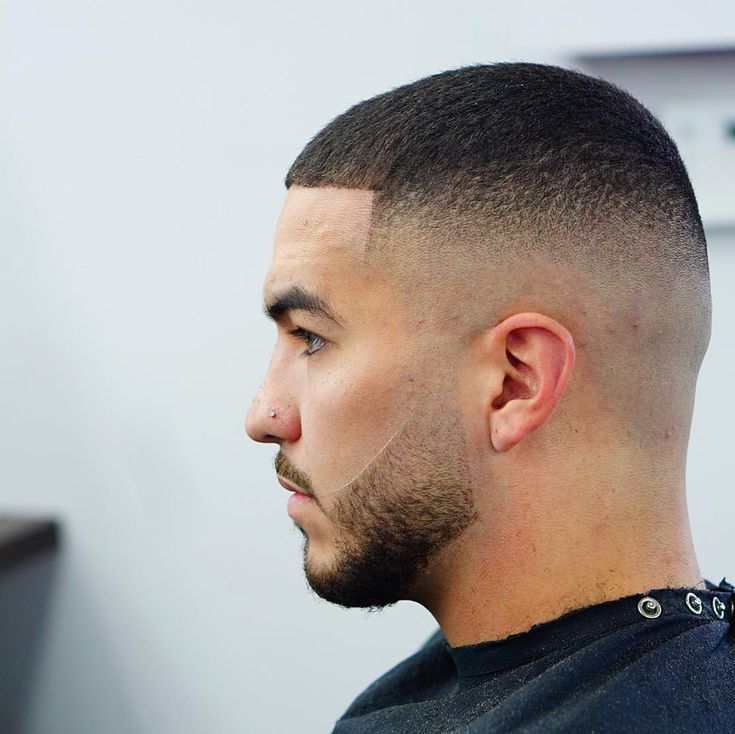 Bald Fade Haircut Long on Top
The long on top is considered a rejuvenating and unique version of this haircut.

Boys ready for a wild haircut can go for keeping their top high while the sides and back are bald.

It's an exciting way to offer freshness to the hair. Go for it!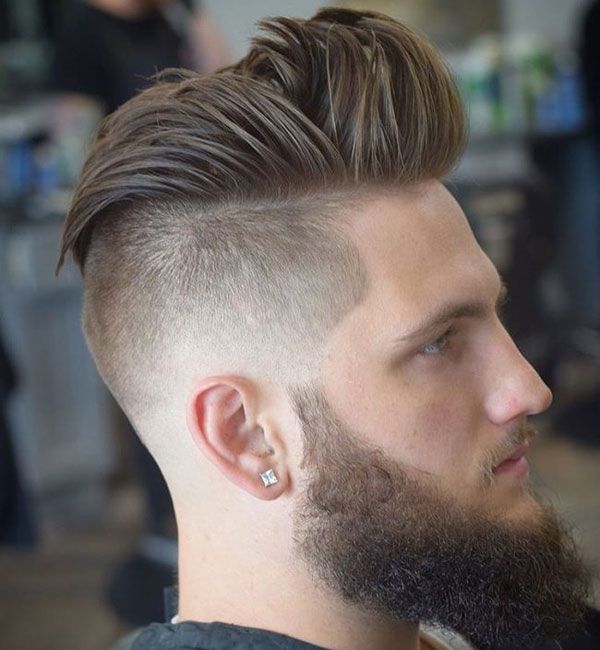 Womens Bald Fade Haircut
It is common among black beauties. The bald fade is a symbol of independence and boldness blended into one.

If you want a haircut, that screams wow! then this bald fade is a sure yes!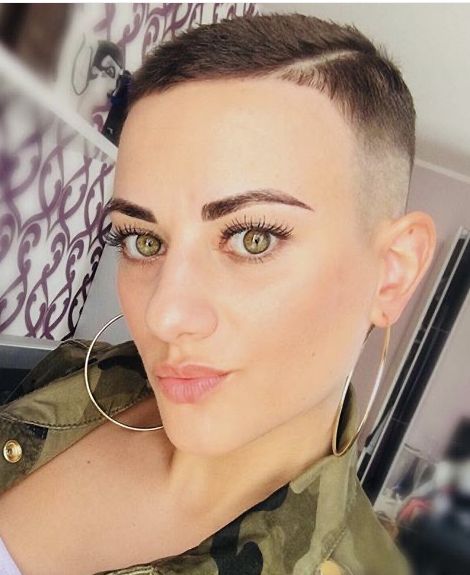 Also Read: 15 Medium Fade Haircut Styles For A Breathtaking Look
Low Bald Fade Haircut Black Men
The low bald fade for black men is the classic way to add charm to your hair.

Get this for a dashing look, and enhance it by pairing it with a beard.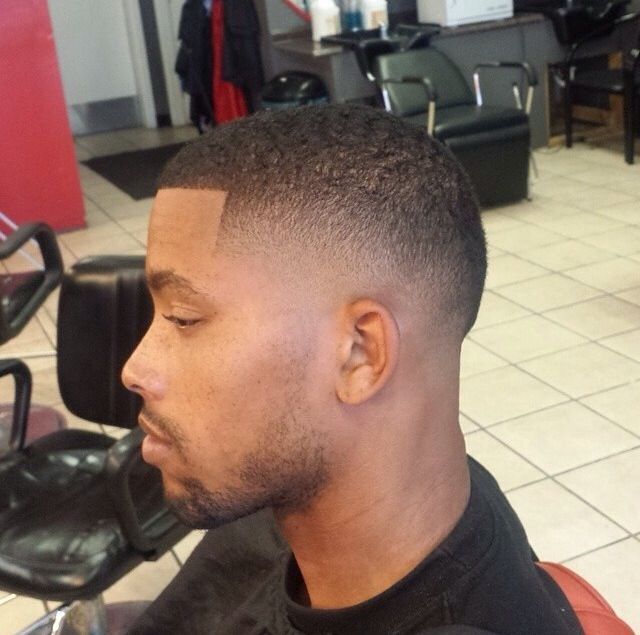 Conclusion
Varieties of styling options are present in a bald fade haircut. Haircuts trending, in style, and making their way right through people's hearts are here to mark their territory. So, for your next fresh look, get the bald fade haircut according to your face shape and hair type and rock it like a pro!
Reference Link
Bald Fade Haircut-FAQ'S
What is a Bald Fade Haircut?
It is a bolder version of a fade haircut. In the bald fade or skin fade haircut, the sides and back are given a complete bald look.
The hair is concentrated on the top. This look can be styled in various ways, be it low, high, medium, taper or drop bald fades and many more.
How to Cut a Bald Fade Haircut?
It involves the use of clippers and moreover every type of bald fade requires a different method of cutting.
So, it is advised to always visit a barber for the bald fade to get precision and perfection.
What is a Bald Fade Called?
A bald fade is also famous by the name skin fade haircut.
The exposure of skin behind the ears and around the neck is where the name comes from.