On hearing the name Valentine's Day, first of all, a smile comes to your face because Valentine's Day, as you know, is celebrated to express your love, joy, and happiness. So, it's that time of the year when you wanna add valentine's nail designs to your nails.
If you are celebrating V-Day with your partner and hanging out with your special someone,
So you're doing your best with your date location, hairstyle, dress, and shoes, and now you must try something new to attract your partner's attention. And also, you can do it for yourself. One of the nicest Valentine's Day presents you can give yourself is a gorgeous manicure.
We all know that love, which represents the red color, and hate, which represents the black color, and in this article, we will explore both combinations of colors and also show the best different nail designs for Valentine's Day.
And a special Valentine's Day nail manicure to give your personality a simple, cute, glamorous, eye-catching twist with this nail design that you can do easily at home.
Presenting 20 Trendy Black and Red Valentines Day Nails Designs Follow Us
Simple Heart Nail Designs
These are simple but cute designs.
Apply a base light in color and make small hearts.
You can choose any color for your heart, like red or black.
This was a simple yet elegant look that looked amazing.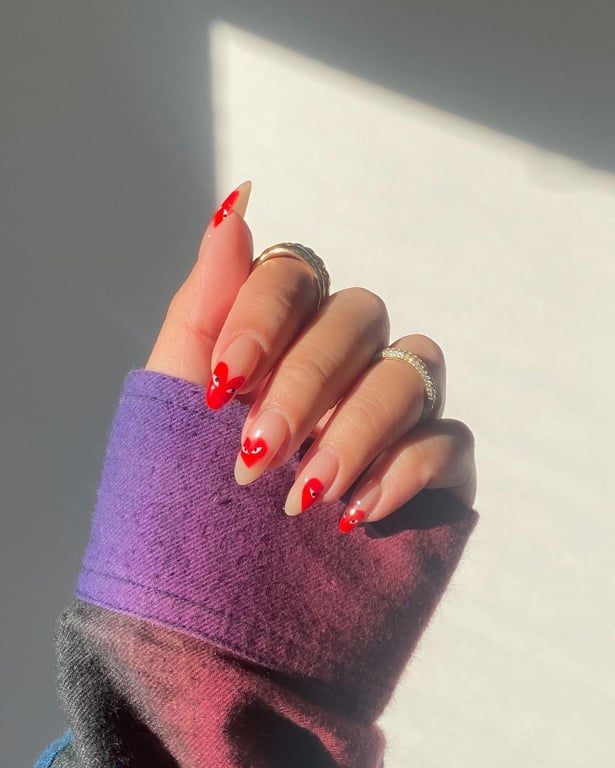 Also Read: French Manicure with Rhinestones: Latest Designs, Tips & a DIY Guide
Kisses for Valentine Nail Designs
These are funky and fun-loving with some naughty touches.
You can choose any base color, like peach, pink, white,
Now take a thin brush with bright red color and draw lips that look like a kiss.
It looks pretty sassy! Looked.
The XOXO Nail Designs
If you have long nails, this is one of the perfect nails for your V-day.
This also looked cute with short nails.
Apply a base coat with any light color and make XOXO on your nails with a thin brush.
And also, apply the red color to another nail; this red and xoxo combination of manicures looks like an eye-catching manicure nail.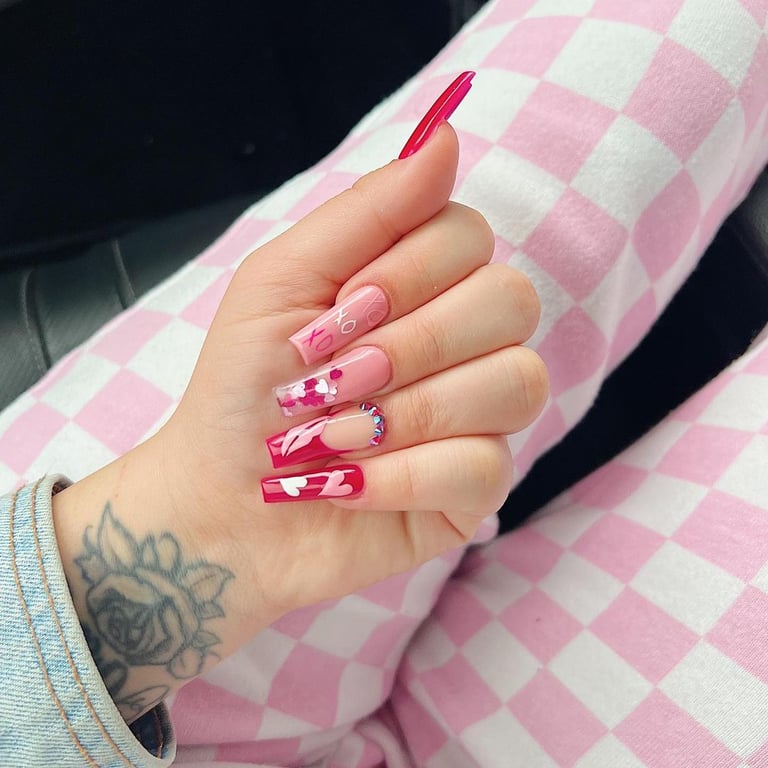 Heart-Shape Nail Designs
Something about nails with heart-shaped manicures looks fantastic!
These are classic-looking designs; apply a yellow base, and on the tip of the nails, make a heart with red.
This yellow and red are a bright combination that looks amazing.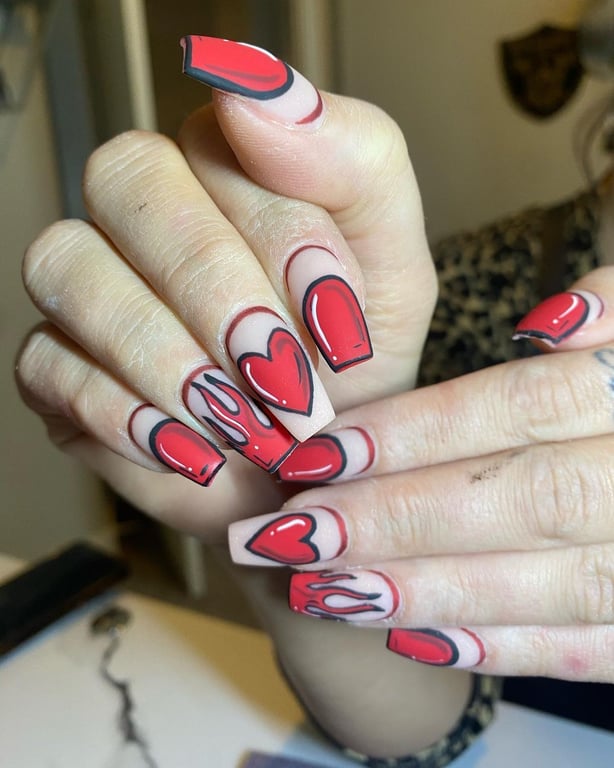 Nails with Love Letters
Most heartbreaking and romantic! Design just fell in love with these nail designs.
It's pretty and easy to apply gel nail colors like red, white, pink, peach, and orange-yellow.
Choose any of these light colors, and after you apply the gel polish, make sure that the gel is dry, and take a thin black marker to write a message for your love.
It looked damn good! I need to try this manicure.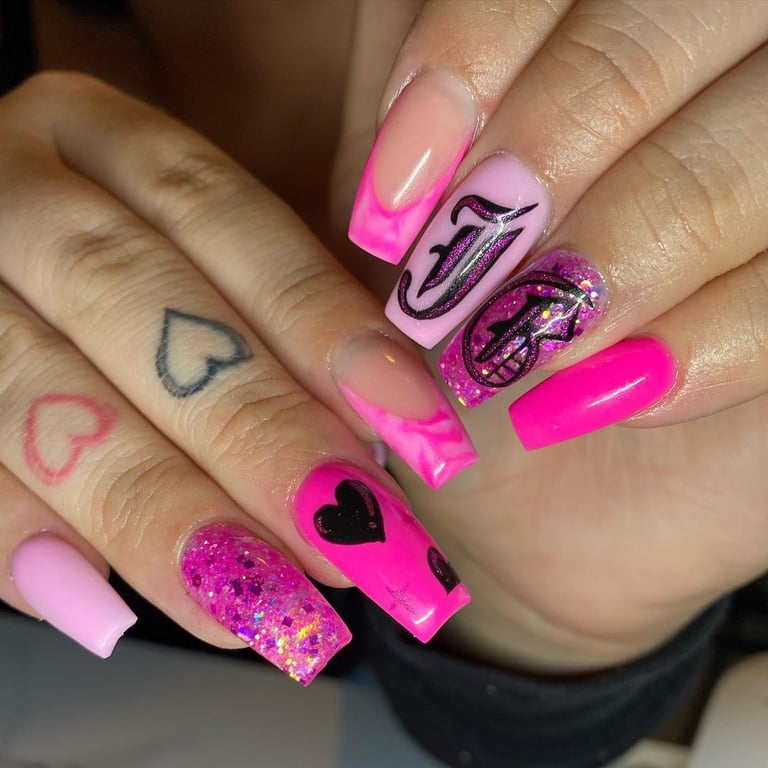 Glittery Cool Black and Red Combination Valentine's Day
Different for V-day, but it's cool.
Take black for base use, and you can take different colors to make the heartbeat.
It was cool and sweet.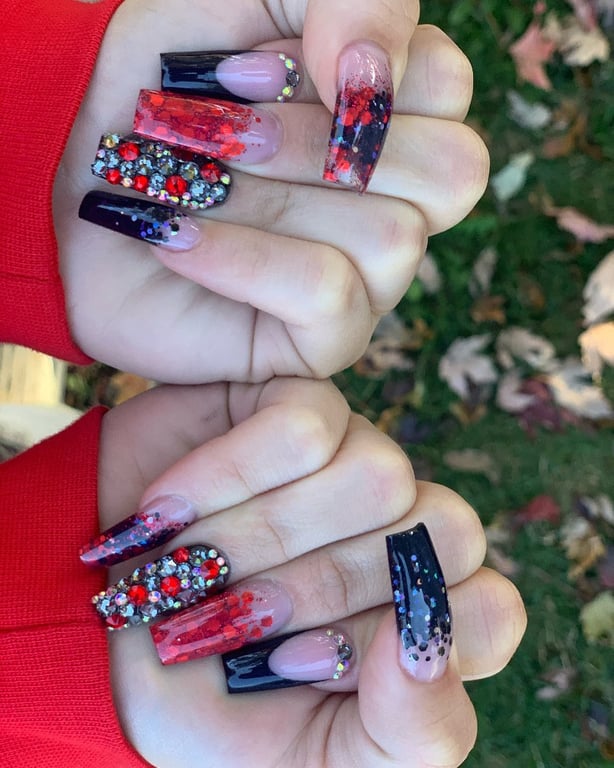 Blue Cute Butterfly for Valentine's Day Nail Designs
If you're finding a new color for V-day, then.
Choose this blue-violet base to make it special for Valentine's Day, then add some loving touches to make hearts in this manicure.
It was a deep, rich blue, making it different and cool.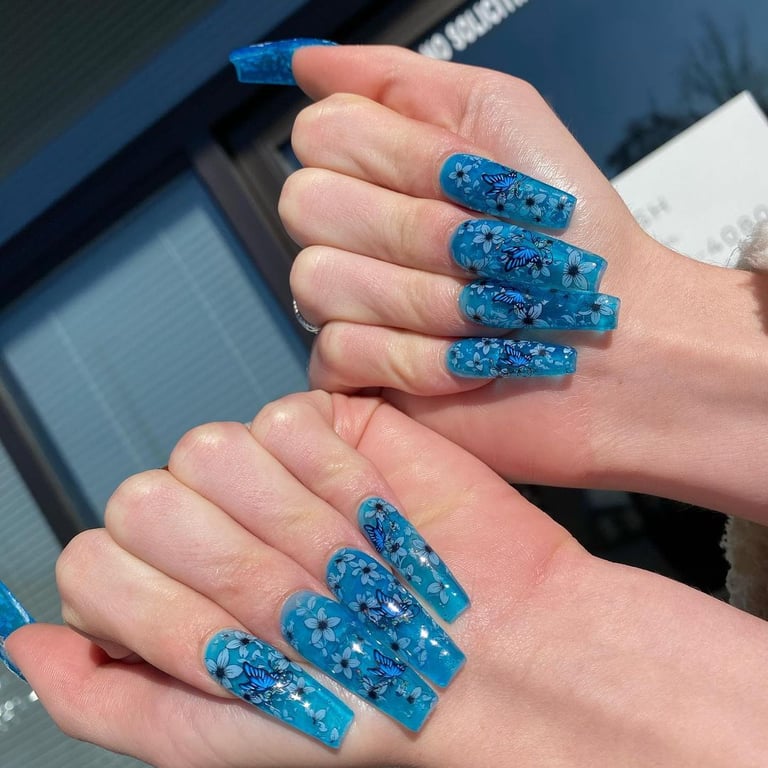 Black on Black Hearts on Valentine's Day Nail Designs
This was also out of the V-day trend, but it looked damn hot! It's amazing and cool.
Just apply the black base and make the black heart. Use some glitter to enhance this design.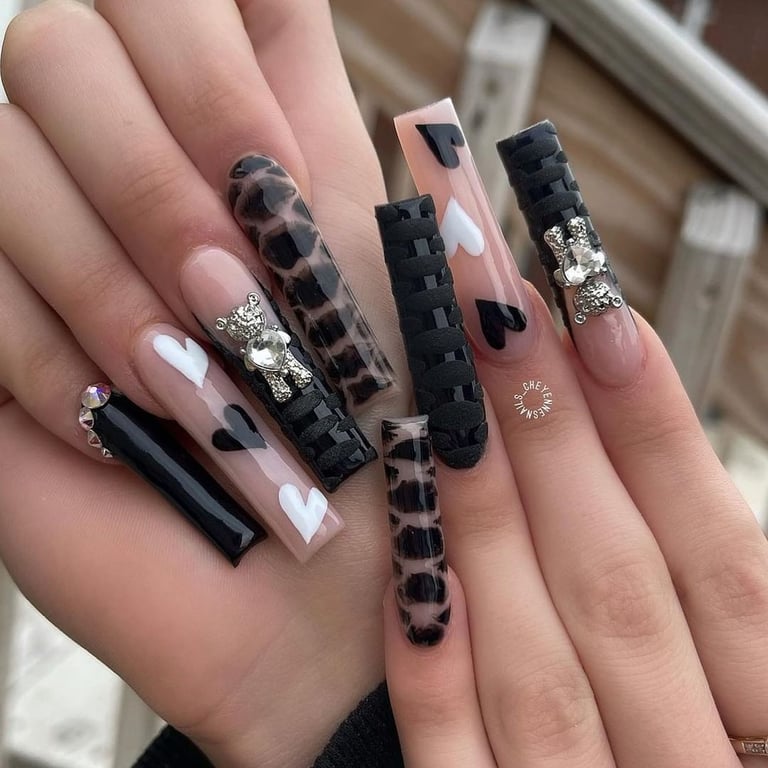 Also Read: Everything You Need to Know About Base Coat
Cool Heart-Shaped Designs
They were cute and sweet, and most girls liked to wear them for Valentine's Day.
So you have to apply the base pink to your nails and then take white, red, and even orange. You can choose any color to make the heart shape on your nails.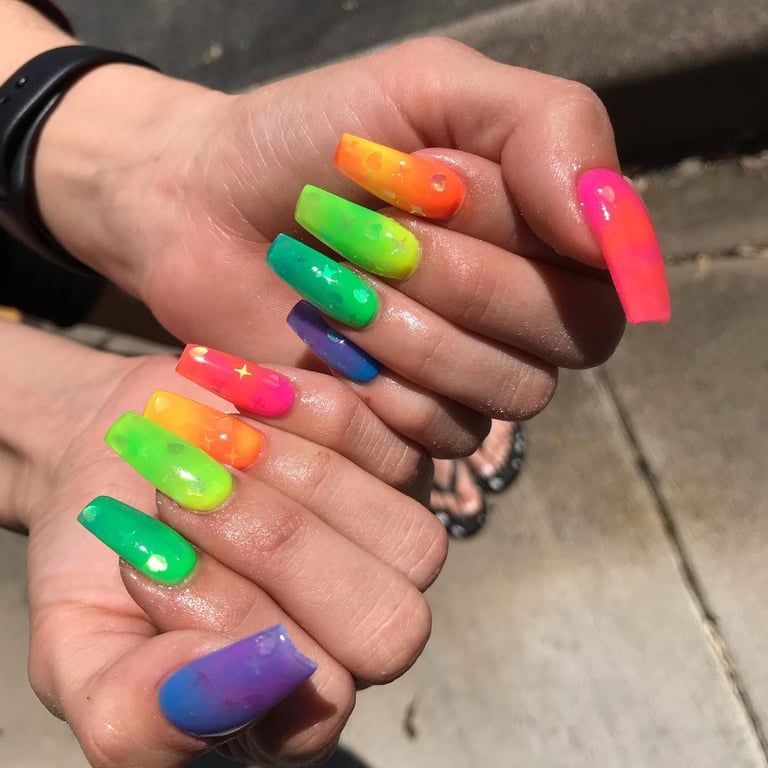 Dark Red Hearts Nail Designs
Different from

black and red valentines day nails

manicure designs,
This is one of the trendy colors nowadays and is also perfect for V-day.
Sometimes I must try different colors; red is a glossy, glam color.
This color suits everyone, so apply this maroon color and make a heart on the center of one finger.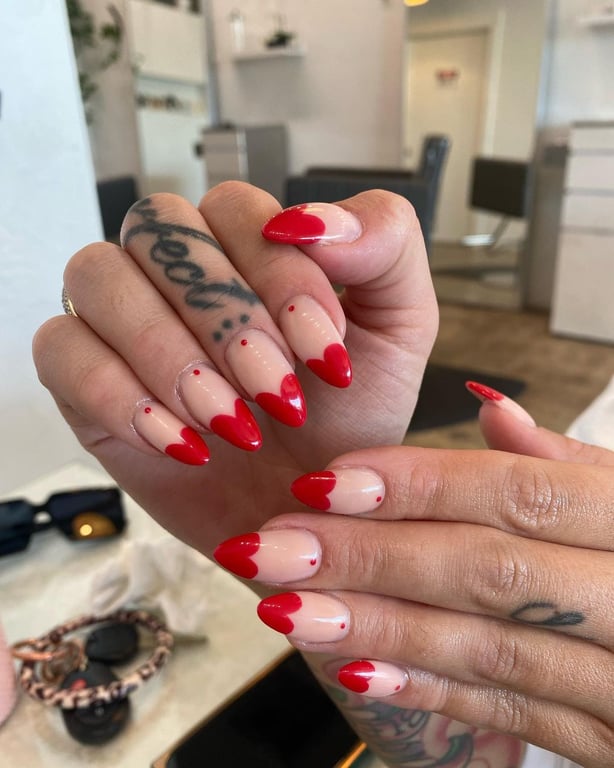 Modern Colors for V-Day Nail Designs
These colors are really cute! If you're applying for your Valentine's Day
You grabbed your partner's attention because it was a cute baby-color manicure.
Just apply a base coat with the peach color and make a water layer with a thin brush and light orange color with some white touch.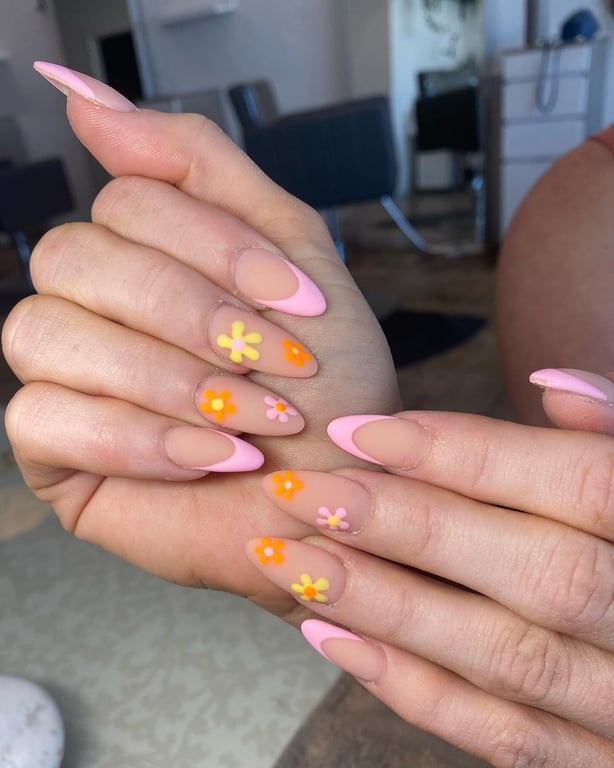 Maroon Valentine's Day Nail Designs
The maroon color is one of the eye-catching Valentine's days perfect designs, an Amazing simple design for your Valentine.
A rose is also a sign of love; on V-day, it's perfect if you choose this lovely design.
Apply a white base and make a rose red.
For It's a simple yet elegant and classic-looking manicure.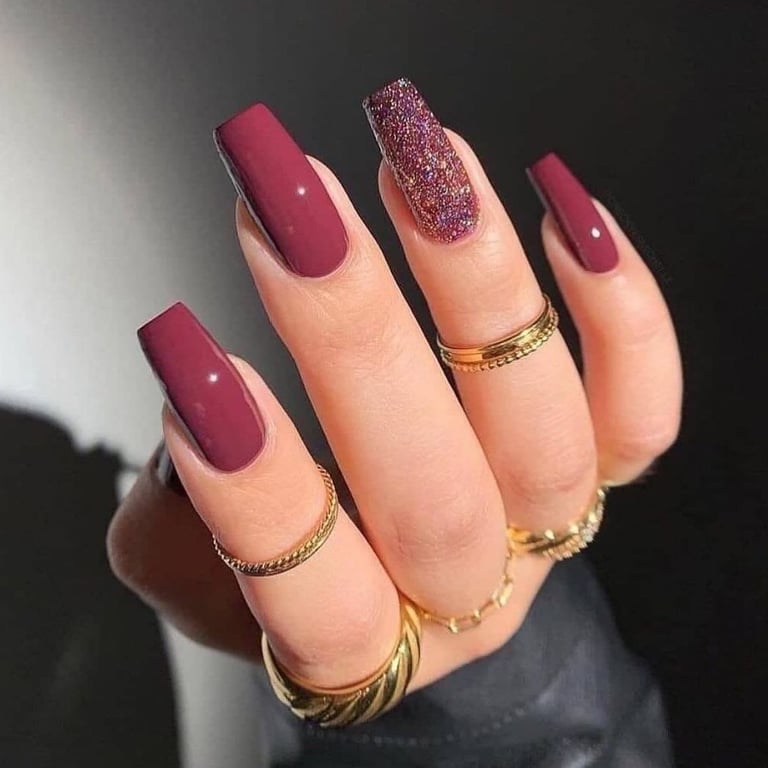 Colorful Fun-loving Tips Nail Designs
Always try something new for a new touch. This was also a unique and beautiful manicure.
It is very simple to apply; you need to take different colors and apply them line by line its look amazing on the tip of your nails.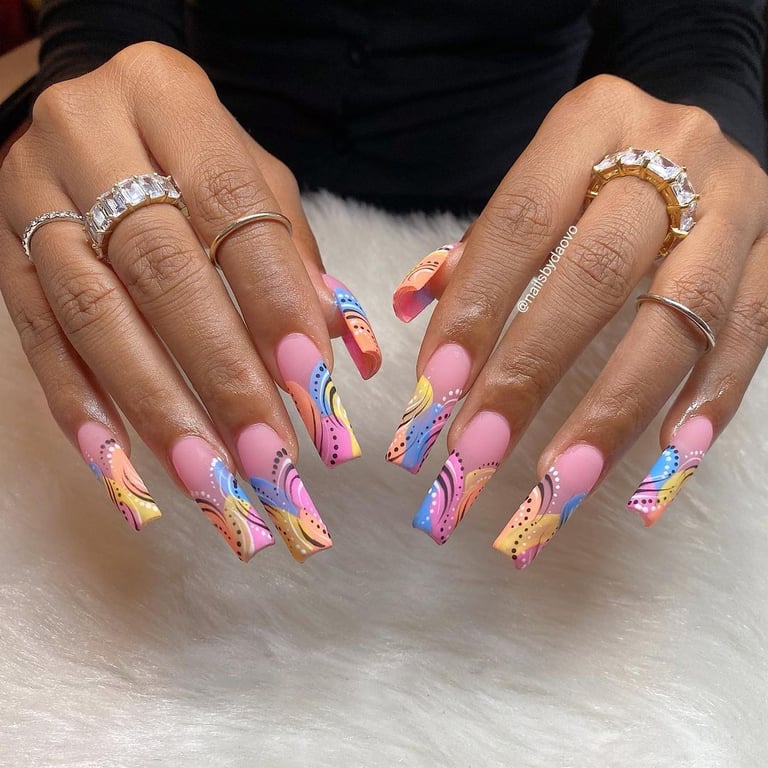 Different Colors with Black Valentines Day Nails Nail Designs
This is perfect for you if you are bold about applying new things.
Then this manicure must try using a shiny, glittery, and bright red color.
This was attractive, and you just got all the attention with the

black and red valentines day nail designs and

special manicures.
Back with Pink Hearts Nail Designs
This was also true; who said that black is inappropriate for V-Day?
This manicure was neither wild nor perfect for Valentine's Day.
If you try this, you should also try this black nail manicure on Valentine's Day.
Just take any black color for the base and make hearts with silver color.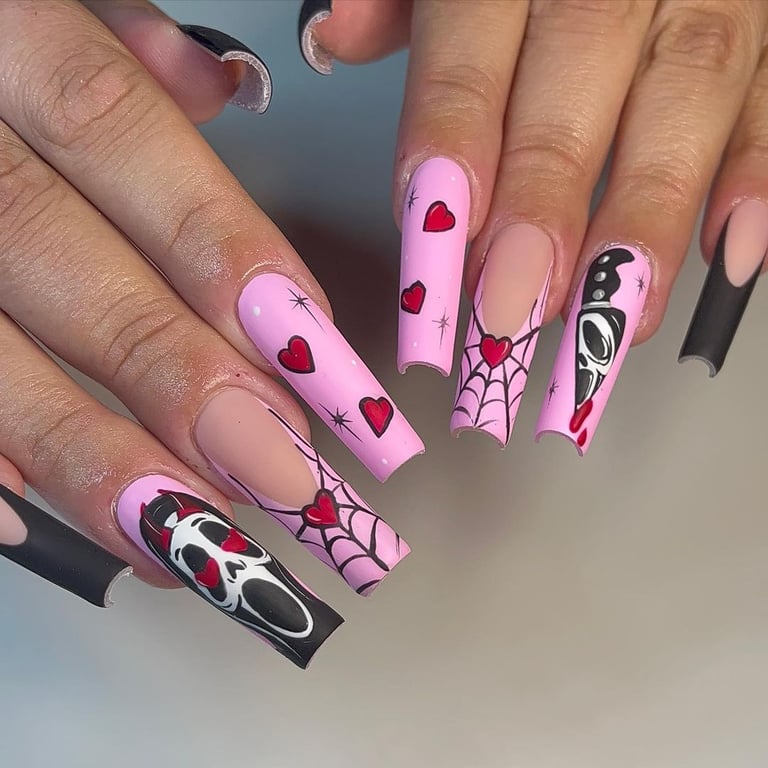 Cute Red and some Spark are Perfect For V-Day
This was a new spotlight manicure that had a new touch and very cool and glamorous designs.
In this manicure, you can wear the accessories on your nails and cut them into a heart shape.
It takes your fashion to another level.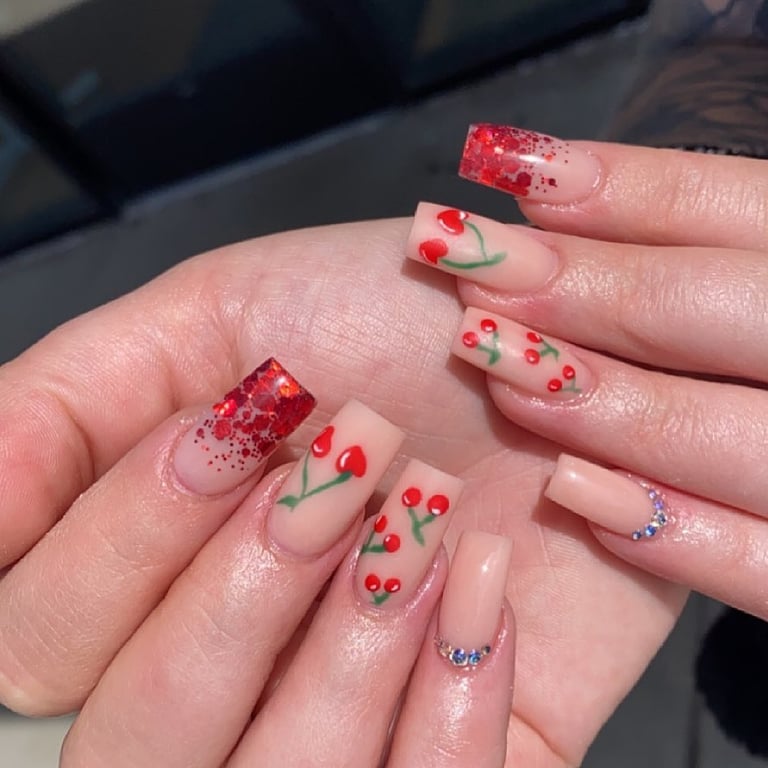 Cute White and Pink Nails for V-Day
You have to take a light color and make the symbols of angels, flowers, and accessories to make enhance this manicure.
This was an amazing and angelic manicure you love applying this,
On Valentine's Day, This cute angle may help you get your charm.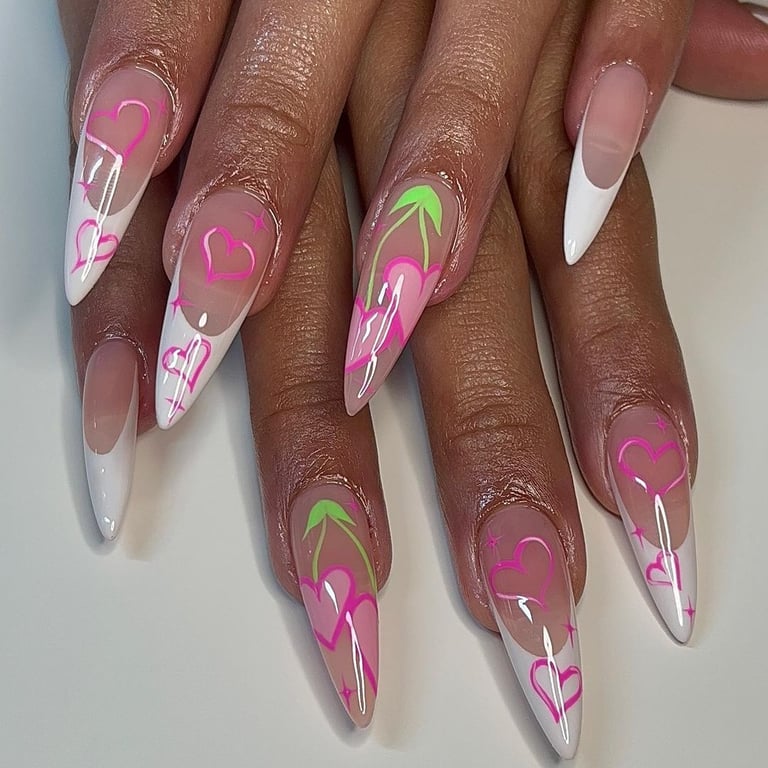 Daisy Art Nail Designs
Daisy manicure is one of the simplest and most beautiful.
You'll love to try this one; choose your favorite color, make a base coat and highlight with the bright color and make some cute small flowers.
Also Read: How to Apply Nail Stickers and Remove Them Safely
Black and Gold Nail Designs
This was an elegant design that you must try this season.
This design highlights your nails' shape and grabs attention with these elegant nails.
Apply the white color as a base coat and enhance it by adding gold to the nails.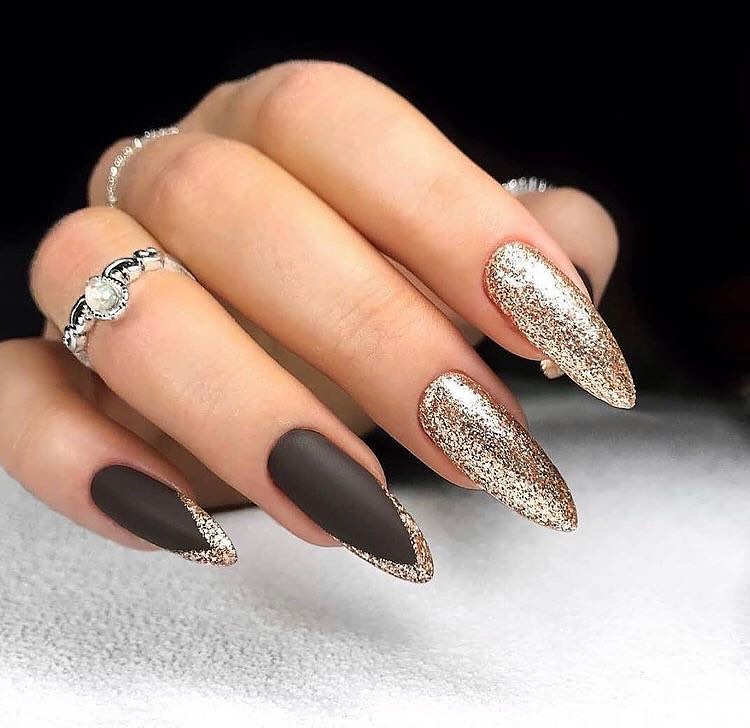 Conclusion
Twenty black and red valentines day nails Easy designs we are presented these are the best designs. I hope you have some cached ideas that have been taken and applied to your V-Day. How do you like our nail design blog? Please share your views so we can improve our articles or either write an interesting blog of your choice.
Reference Link
What Is The Most Popular Color On Valentine's Day?
* Red. Red symbolizing passion and love is considered to be the most accurate and popular valentine day color.
* Color your nails red this valentine day for an adorable look.
Are Black Nails In Style?
* Black nails were never out of style, they were always in fashion.
* Even on valentine' day, ladies prefer coloring their nails black and red to become much more attractive.
Why Do We Wear Red And Black On Valentine's Day?
* Red is most often worn by people in love or are the ones taken.
* Black on the other hand describes grief representing they are alone or open for proposals.