It can be difficult to select and obtain the ideal black mens taper haircut. You could be taken aback by what you can do with your hair if you find the correct style for your hair type, length, and texture. We have the best hairstyles for you to select from, each with its standards for length, texture, and other minute aspects, so you won't have to worry about not choosing the proper one. So don't hesitate; to choose the appropriate look for yourself right now!
Here is a selection of hairstyles that emphasize tapered haircuts for black men and combine them with other looks to give you a distinct, stylish appearance.
Black Mens Taper Haircut
Black men love taper cuts, and there is nothing more aesthetically stunning when the blend is clean and crisp. 

Black guys should be praised for the attention and work they put into maintaining a stylish appearance and attitude at all times.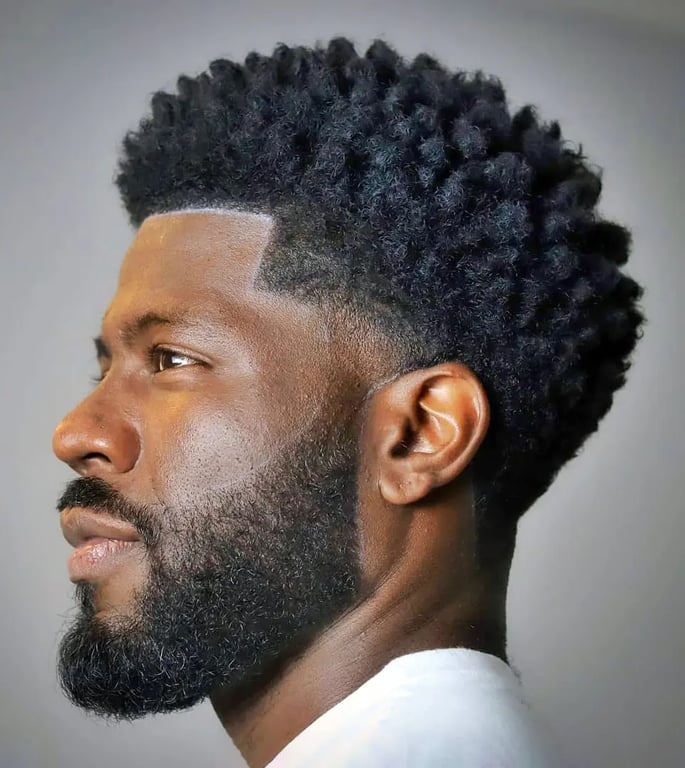 Black Men's Taper Fade Haircut
A taper fade haircut has a smoother appearance than a simple fade cut. The style doesn't appear overly sharp because the change in hair length is gradual. 

Black men with fading hair on their sides look much more attractive.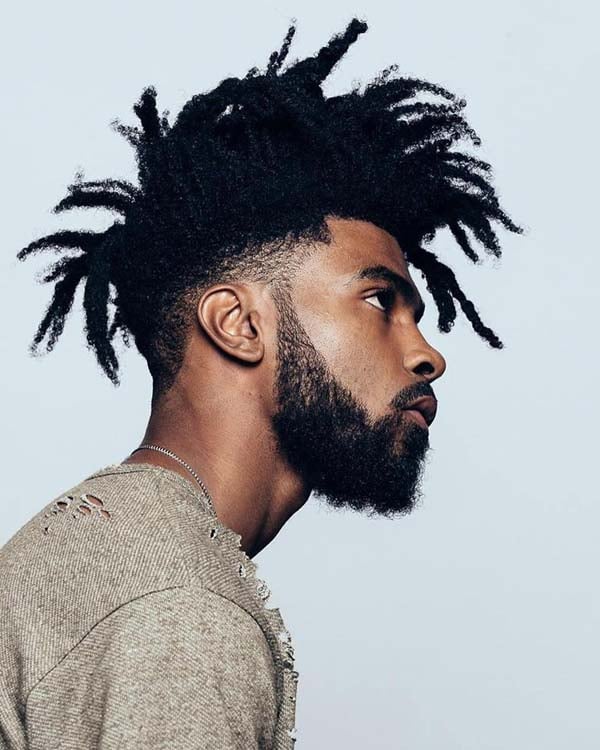 Also Read: 7 Wolf Cut Men: The Glamorous Haircut of the Season
Black Men's Taper Haircut With Beard
A beard that emphasizes the jawline and hides the double chin will make your face appear thinner.

Because beards blend in well with the hairstyle, they go well with black men's taper haircut.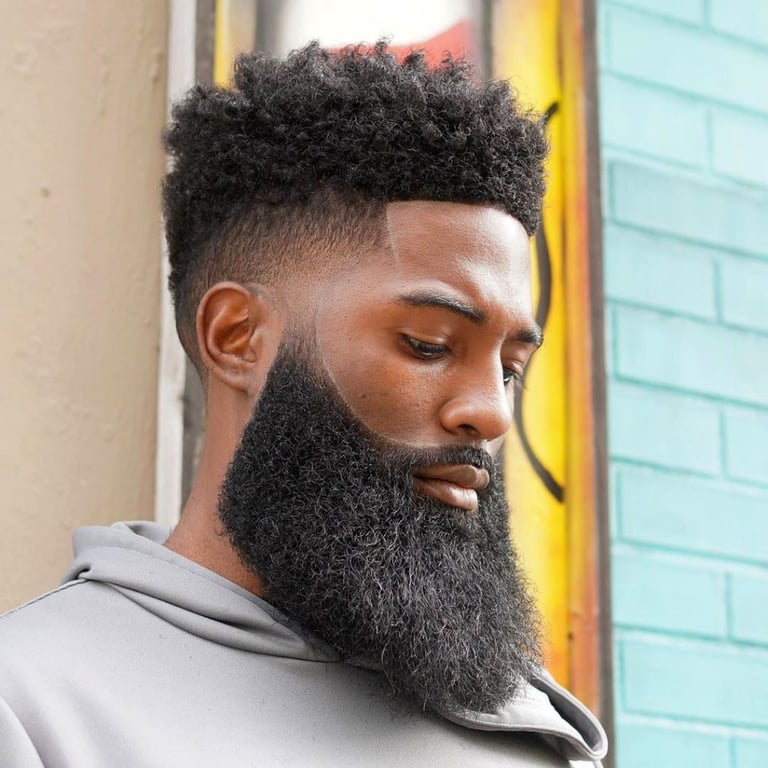 Black Men's Taper Haircut With Waves
The waves give the haircut depth and a confident sense of style.

Give the sides a brief fade because the top is very detailed to create stunning afro fade waves.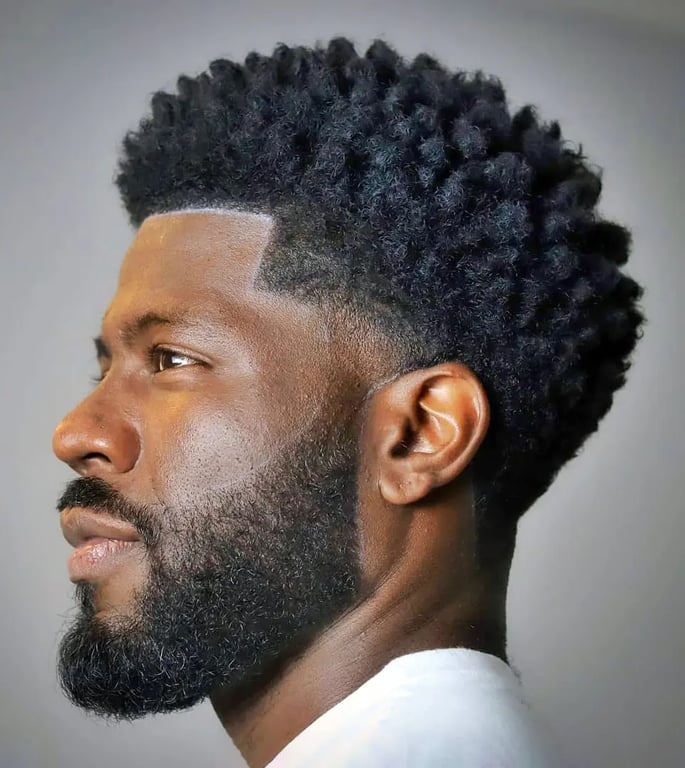 Black Men's Taper Haircut With A Mohawk
The mohawk gives your hairline a wide appearance. 

In this style, the top is left thick while the sides are completely shaved. To make it seem nice and add some balance, many people also like to add a ponytail or rat tail.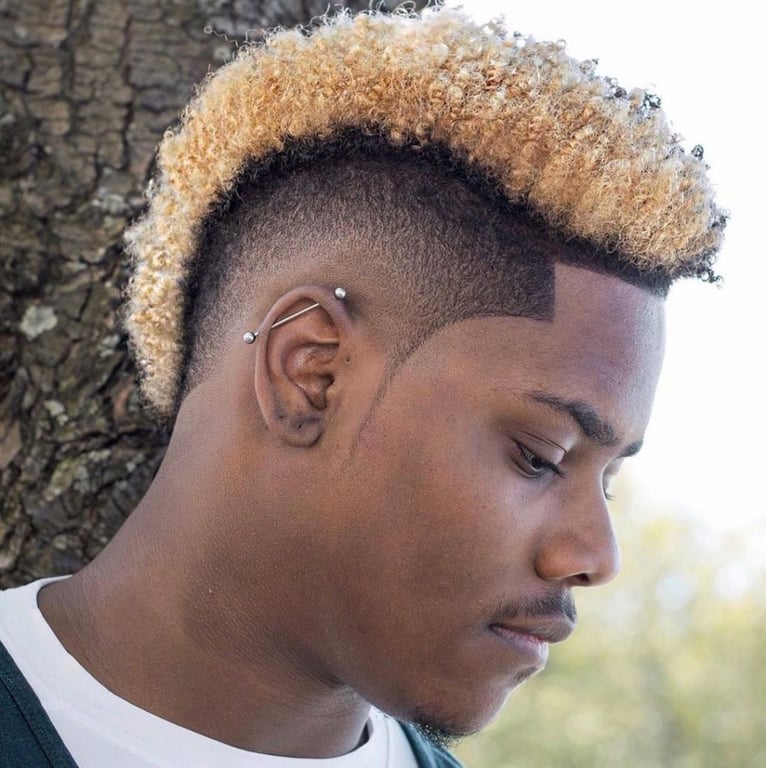 Messy Afro Hair With Black Men's Taper Haircut 
Any black man can find it difficult to deal with coarse hair. However, tapered hairstyles will make your locks look more valuable. 

Maintain a large crown with an untidy appearance while pulling off a high fade on the sides. 
Also Read: 11 Low Burst Fade Ideas: The Charming Look!
Black Men's Taper Buzz Haircut 
A buzz cut is one of the ideal hairstyles for people who have a receding hairline. 

You may get that wavy, damp texture by cutting the hair short and using wax or gel. Choose the short unconnected beard and a temple fade.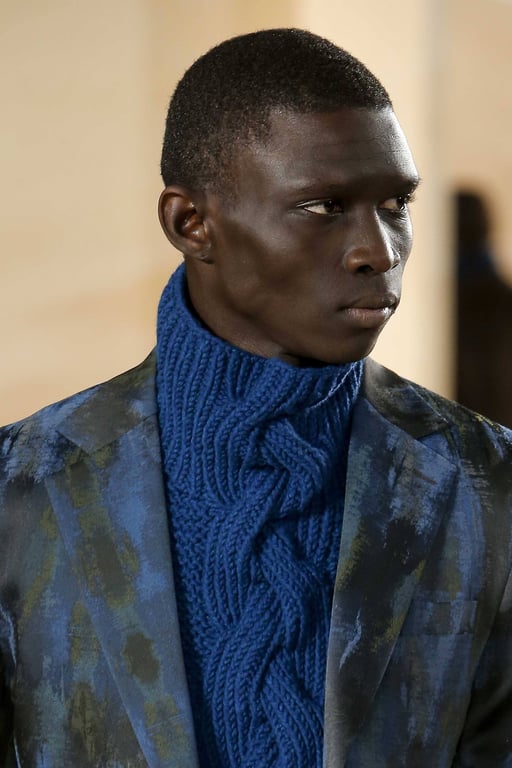 Curly Black Men's Taper Haircut 
This is the ideal fusion of curls and a taper. The top mass of long blowout curls and the taper combine perfectly to create a very tidy and gradient look towards the sides and the back.

This black men's taper haircut style will make guys who want to flaunt their curls look very fashionable.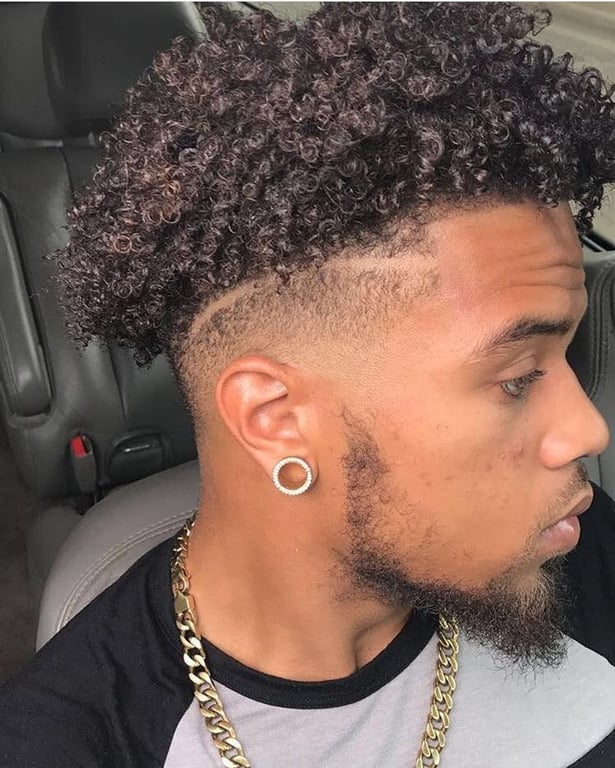 Black Men's Taper Haircut With Fohawk
You could create a faux hawk with tapered edges if you didn't want to go for the full mohawk. You can buzz the hair close to the ears and let the remainder fall down the neck. 

If you have short hair, you can spike it in the front to achieve this very popular look among males.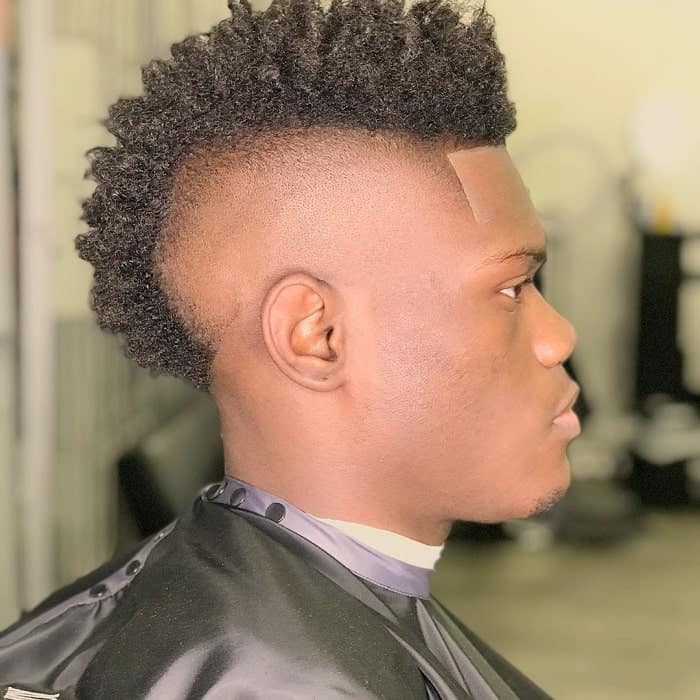 Black Men's Taper Haircut With Design
This entails leaving the hair approximately an inch long and shaving the sides in your preferred style. 

You can use geometric forms, Xs, or crisscrosses. Even names or musical notes are possible. Your imagination is your only constraint.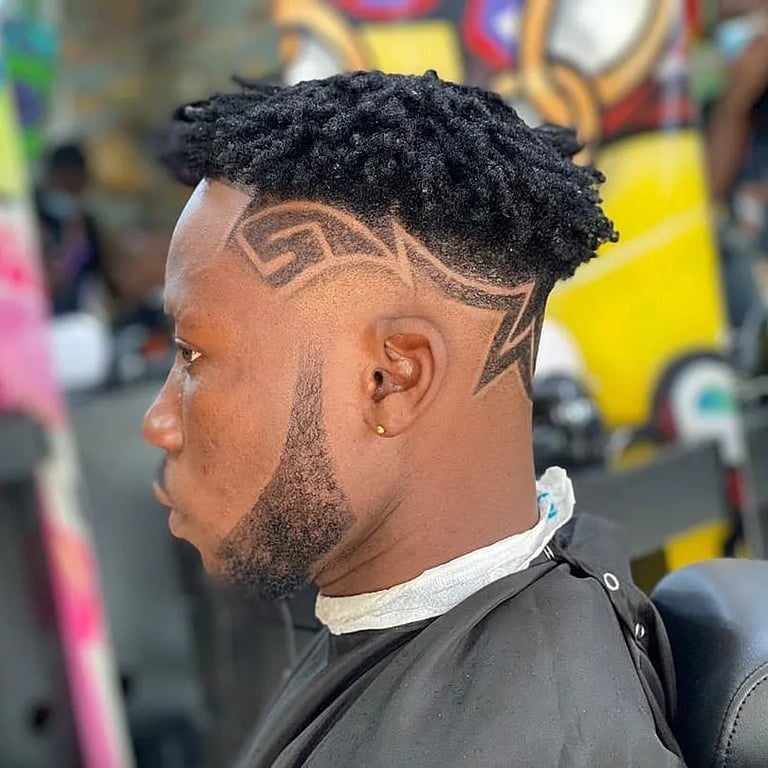 Black Men's Taper Haircut With Mohawk And Mullet
You can tell from the name of the style that this is a combination of two retro-style haircuts. The greatest of both worlds are together. 

The hair will be cut short on the sides and long in the back. It's original and fairly daring.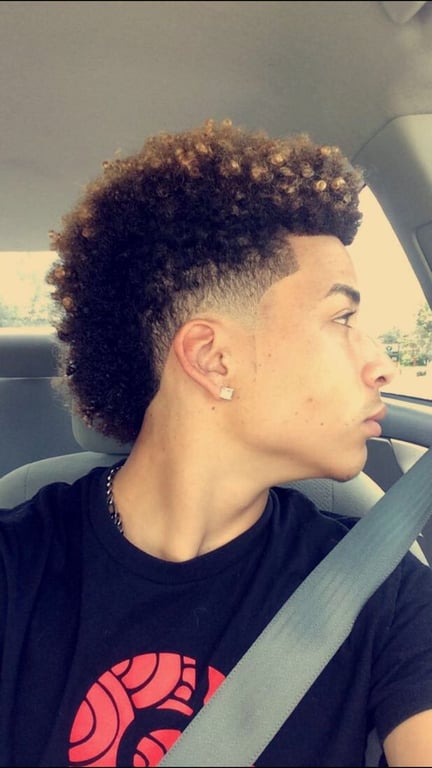 Black Men's Taper Haircut For Dreadlocks
This option is for people who already have dreadlocks.

Simply shave the sides and put the remaining hair in a ponytail. If you want to spice it up a bit, you can also have highlights, extensions, or perhaps both.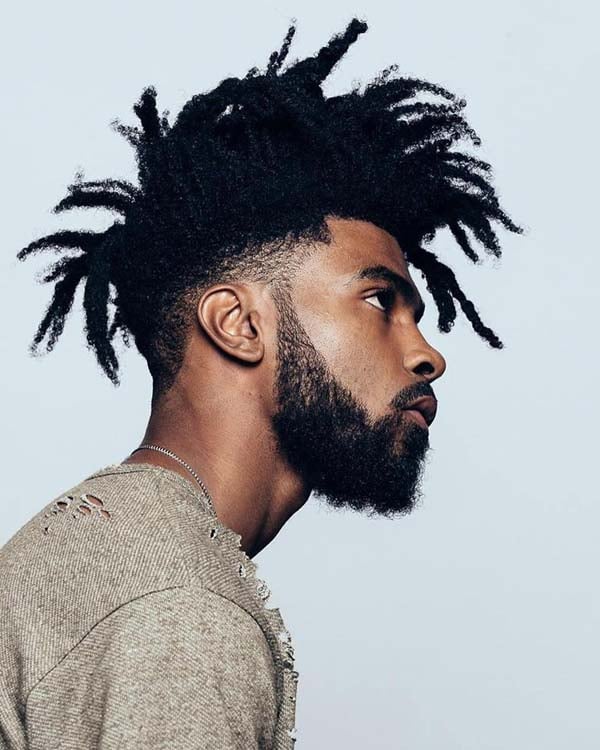 Black Men's Taper Haircut With Twisted Braids
An excellent hairstyle for black males is the twisted braids. Consider a short trim on the sides and back to highlight the top. 

You can create twisted braids out of the remaining crown hair and pin them in a ponytail on top of the head.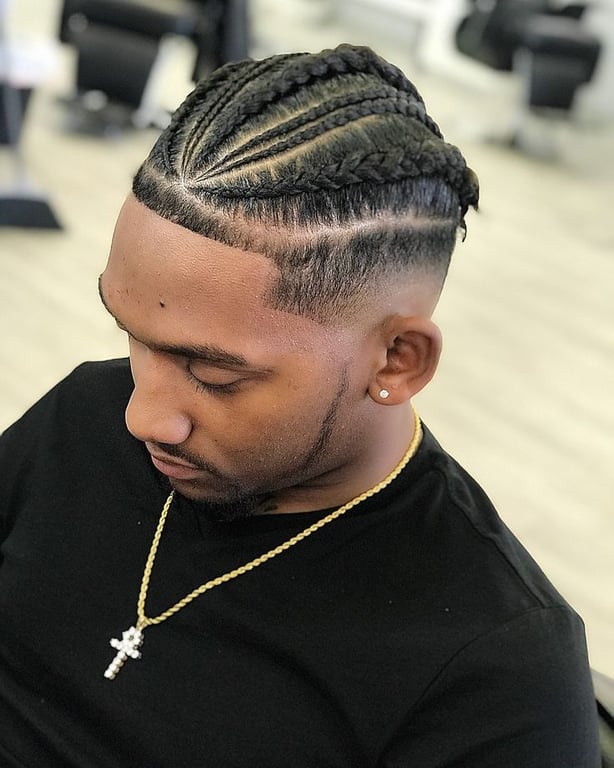 Black Men's Taper Haircut With Afro Fade Blowout
Try a twisted top and an Afro taper fade blowout. Obviously, this hairstyle cannot be completed in a single session. 

You need to ensure the strands of your hair maintain their shape in addition to growing it long enough to twist. But don't worry. Your efforts will be properly rewarded.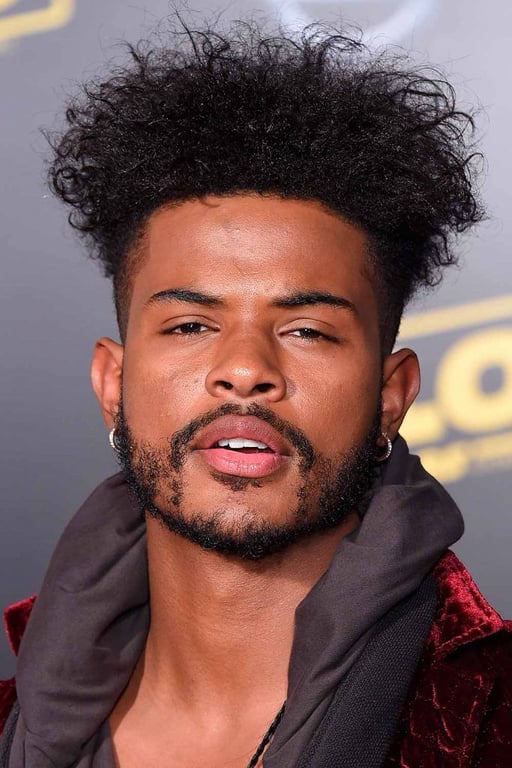 Black Men's Low Bald Taper Haircut 
A low bald simply enhances one's sense of status. For the successful black males out there, the taper hairstyle with a low fade is a perfect illustration of a classic. 

Simple, clean bald with a nice, subtle taper—nothing too spectacular.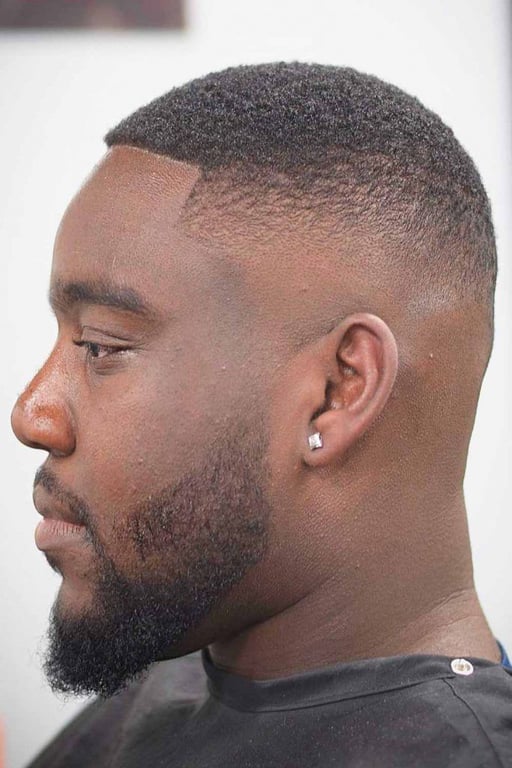 Conclusion
The list of tapered hairstyles for black men is now complete. Make a dramatic fashion statement this season by utilizing them.
Reference Link
Black Men's Taper Haircut-FAQ'S
What Is Taper Black Hair?
* A taper black hair is a haircut for black men where the sides are cut short and the top is left lengthy. 
* As you proceed down the back and sides, the hair gradually grows shorter.
What Is The Difference Between A Taper And A Fade Black Men?
* A taper haircut gradually shortens your hair as it descends to the natural hairline at the nape of the neck and the sides of the head, usually beginning longer at the top of the head.
* In a fade, the hairline on the sides and back of your head appears to "fade" away before it reaches the natural hairline thanks to a taper that progressively lowers the hair to the skin.
* A fade is essentially a very brief taper. Therefore, while all tapers are not all fades, all fades are all tapers.