Snow all around; inside the blanket, you are holding your phone and scrolling nail designs! Is just that what you want to do this winter? I am assuming not because you are ready to welcome the winters in your happiest state and style. What better way to rock your winter look than by bringing charm to your nails? Heard about blue snowflake nails? It is a fantastic method to rock your new look.
Nails hold a very significant position in our lives. And carving them perfectly is every lady's dream. When thinking about winter, the first thing that crosses our mind is the pretty snowflakes. I think it's time to capture those snowflakes on your nails. This is one of the most amorous and adorable nail design ideas and is trending in the whole world.
Since we are talking about winter, what color strikes your mind at first? Yes, it's the most versatile color, blue. Not that blue has something to do with winters, but blue has a specialty of captivation, making it a perfect choice for winters. Blue brings warmth and love combined in one. And when you give your nails shades of blue, it looks divine and artistic. So, it's time to paint some blue snowflake nails.
Fashion-loving ladies aspire for a perfect manicure, which is achieved only when you are satisfied with your nail design. I suggest going for something lovable, cute, and romantic this winter. We are presenting to you a collection of the trendiest and classic blue snowflake nails ideas:
Blue and White Ombre Nails With Snowflakes
Blue and white are magical! It offers you the most winter-friendly look of the season.

Color your nails dark blue and carve some white-colored snowflakes to enhance their look.

Try wearing some silver jewelry to make your hands look irresistible. It's just so pretty!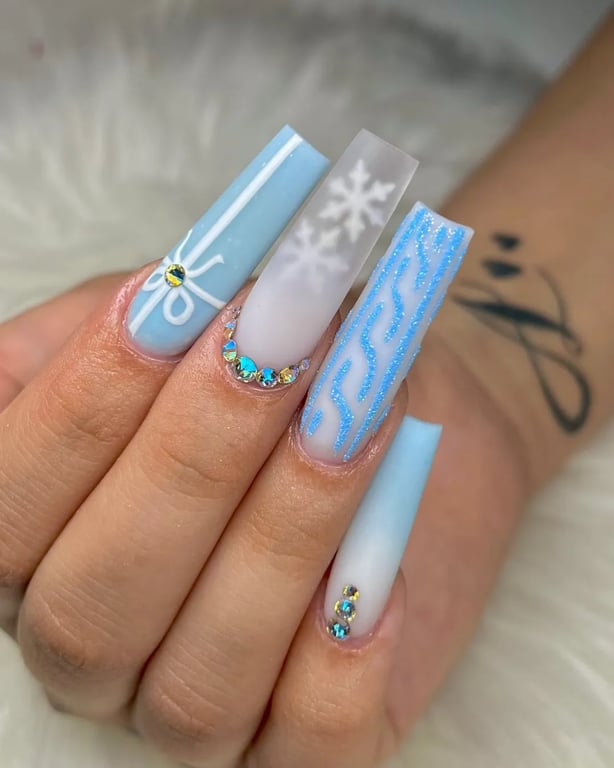 Gorgeous Blue and Silver Nails
Christmas is around the corner, color your nails in festive colors to be Christmas-ready.
Silver defines the festival in an impressive and energetic manner. Add some silvery touch to your nails.
Give a combination of silver and blue to the nails with a beautiful snowflake design to make your nails more noticeable.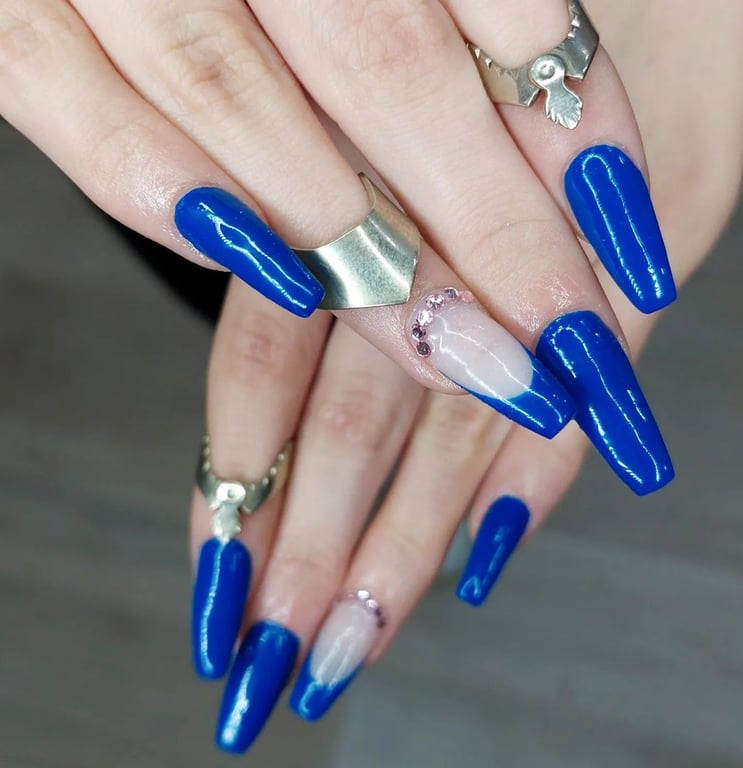 Blue Snowflake Nails In Unique Way
Pale blue is an excellent way of levelling up your nail beauty. Add glitters to signify festivals.
Give every nail a different shade of pale blue to enhance its effect. Draw some snowflakes for a modern look.
If you are new to winter nail ideas, this nail shade is a must-try!
Read Also:- Aesthetic Goth Nails: Captivate With Your Wildness
Matte Blue Snowflake Nails
Matte is an extraordinary choice to rock the winter look.

Matte blue with snowflakes looks divine and artistic on long healthy nails.

This royal look will enhance your elegance and make you the centerfold. Definitely a try!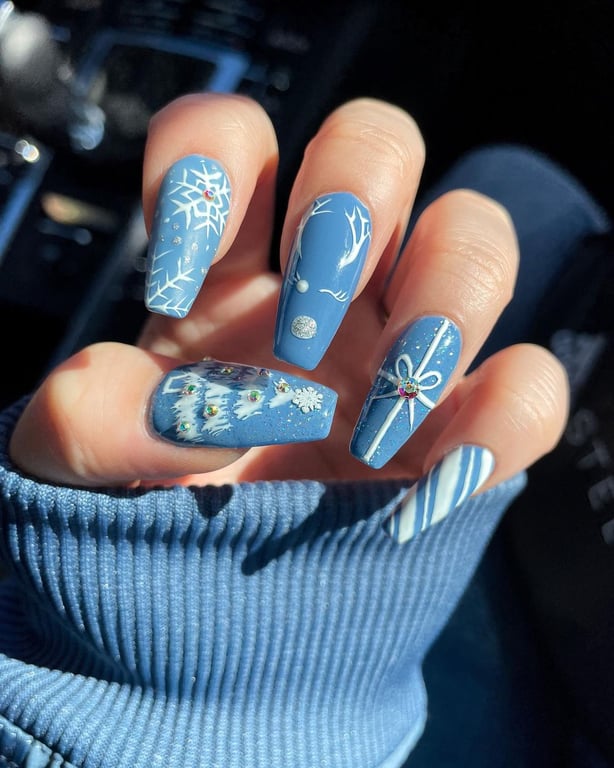 Sky Blue With Stunning Silver
If you like something light, sober, yet enticing, the sky blue color can be your ideal friend.

Some fine strokes of stunning silver designed as snowflakes are the most appealing look.

These sophisticated blue snowflake nails are absolutely worth trying and are sure to fulfill your winter desires.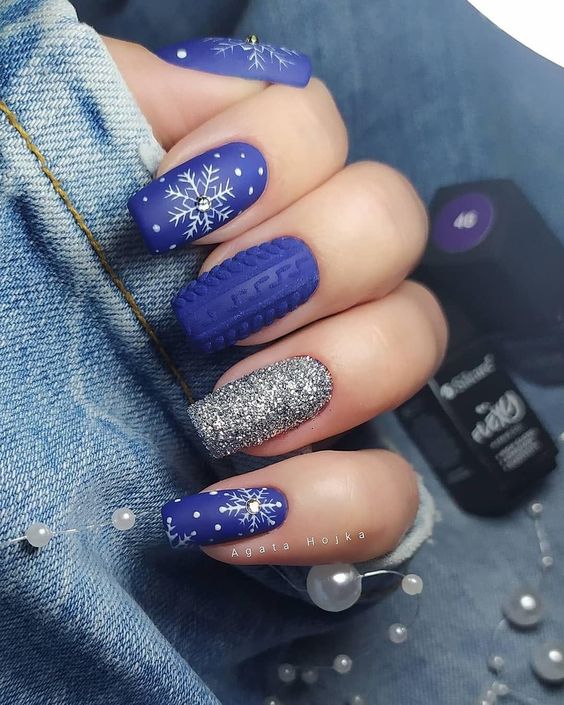 Gold and Blue Snowflake Nails
Get ready to dazzle in the festive light by painting your nails golden.
Some mingling of gold and blue is the demand of the season. This trending nail design is making its way right through people's hearts.
Try to become winter-ready and experience it right at your fingertips.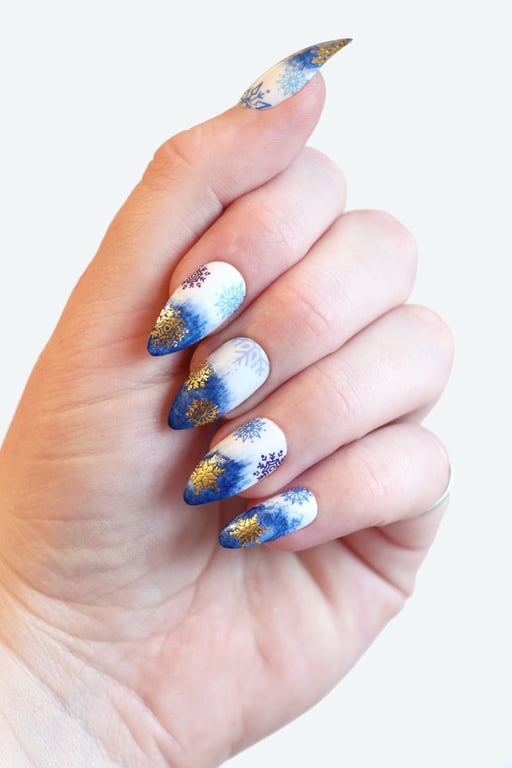 Blue Snowflake Nails With a Twist
You are sure to earn some compliments with these blue snowflake nail designs.
Color your nails in white matte and blue painting, cute little snowflakes.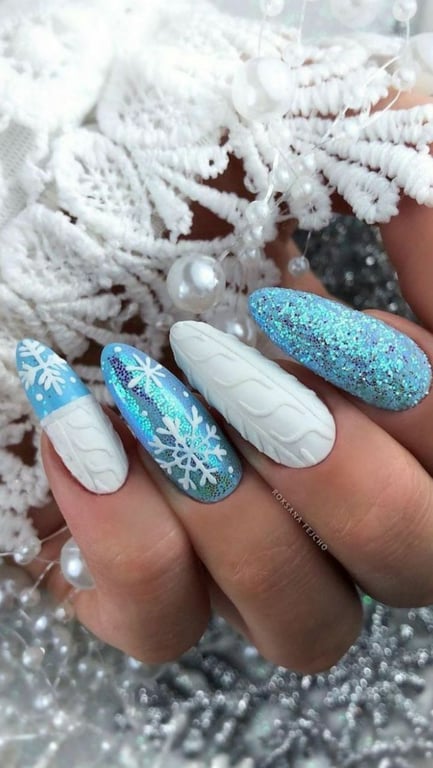 Snowflake Sparkle Nails
Sparkle your nails this winter and become Christmas-ready.
Blue nails painted with a touch of sparkle are just charismatic. Add the snowflakes to increase the gorgeousness.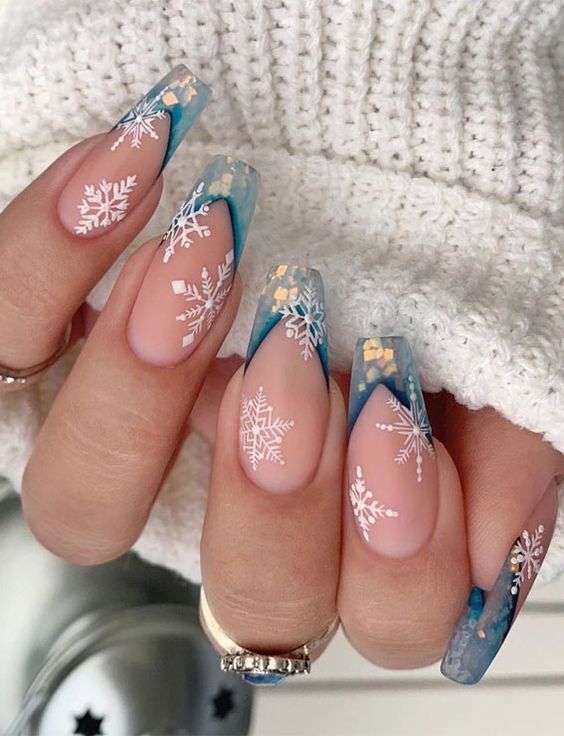 Impressive Snowflake
That's a 

unique version of a snowflake

 designed in the form of bonds to represent it in a more artistic form.

If you are in search of something classy and happening, go for these unique blue snowflake nails, better known as snowflake 2.0.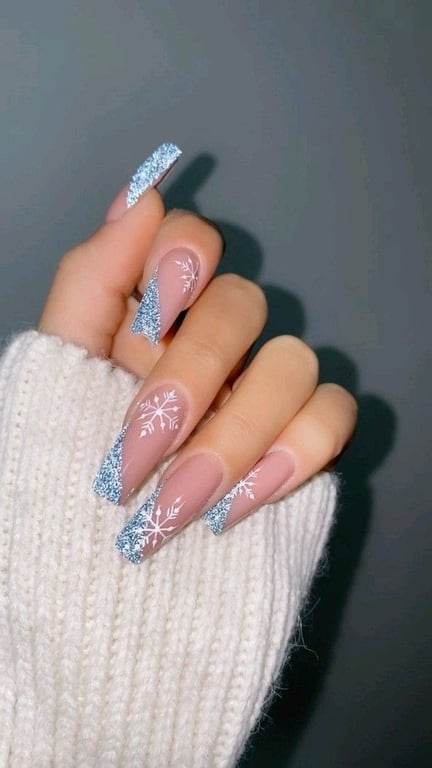 DIY Snowflakes
You like snowflakes, and you want them on your nails, but that intricate work of painting the snowflake is making you step back.

Not to worry, because, with these DIY snowflakes, such as stickers or rhinestones, you can make your blue snowflake nails at home.

This is super easy and looks super cute and adorable.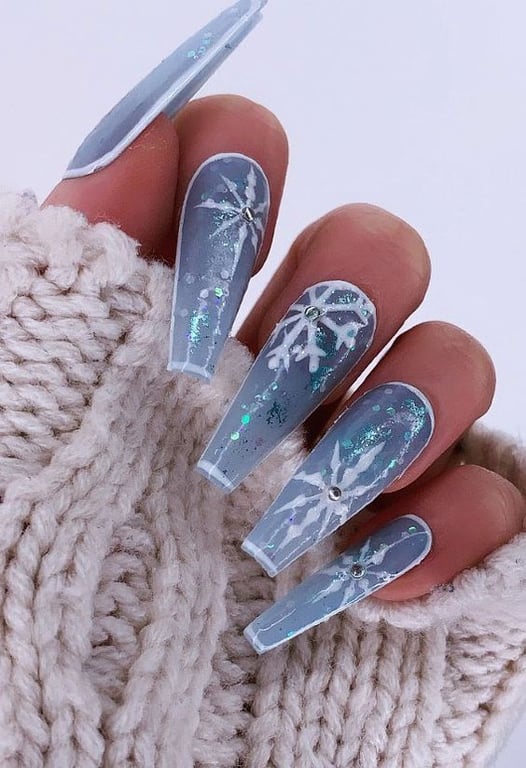 Read Also:- Classy Black Toe Nail Designs: Time to Level Up the Feet Game!
Snowflake Manicure at Tips
Like keeping it minimal yet inviting, then this nail design is made for you.
Blue snowflakes at the tips of nails are an exceptional and astounding way to add the touch of winter to your nails.
These effortless and attractive blue snowflake nails are absolutely a yes-yes!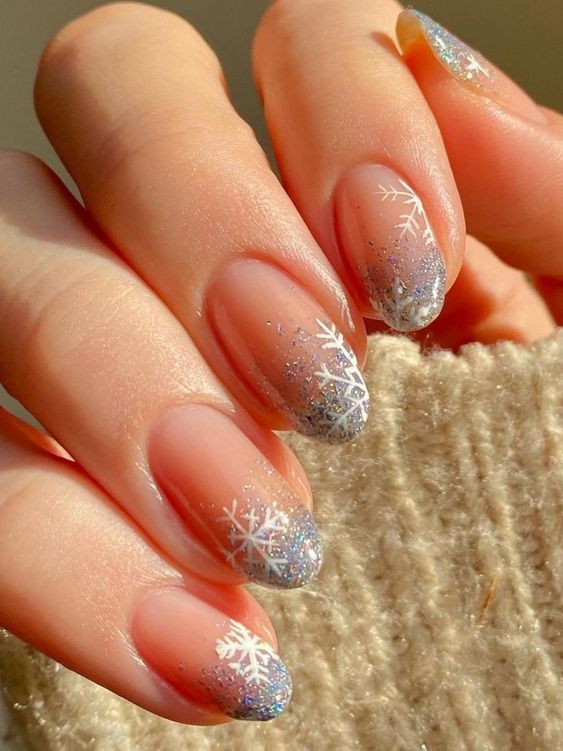 Varied Snowflakes
Mixtures of blue color with silver and white are such an amazing method to make your nails winter friendly.
Dark blue with silver or white snowflakes looks mesmerizing and beautifully sensational.
If you're confused about which shade of colors for winter, go for this nail art for perfect winter nails.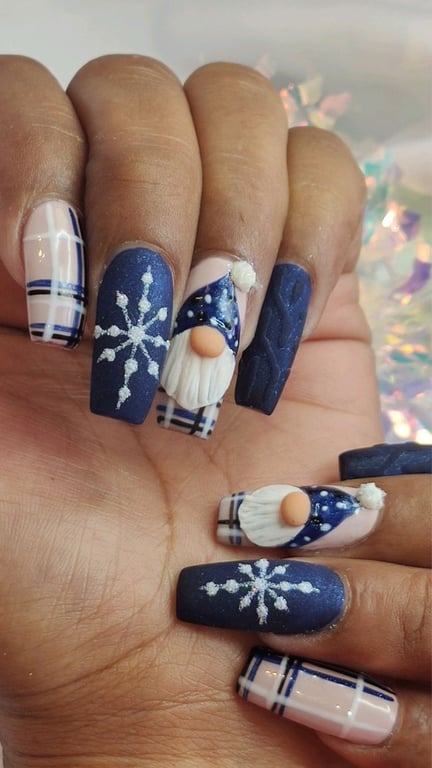 Conclusion
Snowflakes are such a cute and happy way to welcome Christmas. Without any doubt, you can go for it. If you are new to this nail art, try considering nail tech because snowflake painting requires intricate work. Snowflakes look mesmerizing with every shade of blue. This nail art can become your personal favorite for this season. Absolutely worth trying!
Also Read: Summer Watercolor Nails: for Your Next Refreshing Look!
Reference Link
Blue Snowflake Nails-FAQ's
How Do You Paint Snowflakes?
* Painting snowflakes requires practice and consistency.
* It is somewhat like you are drawing a star and letting your imagination flow here and there.
* Either take a brush or pointed stick, dip it in white nail paint and go on with your snowflake imagination.
Which Nail Color Can Be Best Suited for Winter?
* Winters are all about blue and red. Blue signifies snow and basically winter whereas red symbolises Christmas vibes.
* To give your nails the touch of winter, you should consider giving some blue snowflake designs for a cuter and more pretty look.
* Go through this article to know about the trending winter nails.
Are Snowflake Stickers Available?
* Yep! Definitely, they are. If you want to avoid the intricate work of painting the snowflake, go for applying the stickers.
* Snowflake stickers work very well and look amazing. Remember to apply the top coat to ensure proper finishing.