That glow on your face and the sparkle of your eyes proves that the holidays are around the corner. I know you must be busy planning Christmas gifts, food, and decorations. This year, you want to surprise everyone with your unique celebrations. But have you thought about how you are gonna look this Christmas eve? If not, this is the perfect time to plan your holiday look and become your prettiest version. What about some exciting and adorable Christmas hairstyles?
Dresses are not the only thing you need to keep in mind but your hairstyle. Yes, if your hairstyle is perfect, your Christmas look is complete. Changing your hair color or hairdo for every holiday occasion can be a hectic task, so to make you look the most beautiful and stunning, we are here with many Christmas hairstyles that complement your overall look this year.
Go on, have a look and choose your perfect and insta-worthy hairstyle for this season. And trust me, you are gonna look fantastic!
Mermaid Braid For Stunning Christmas Look
A sober and gorgeous look can be made with the mermaid braid.
This wow look is sure to make you the party focus, and once you step out in these mermaid braids, they will become your favorite.
So. for this Christmas eve, get the mermaid look.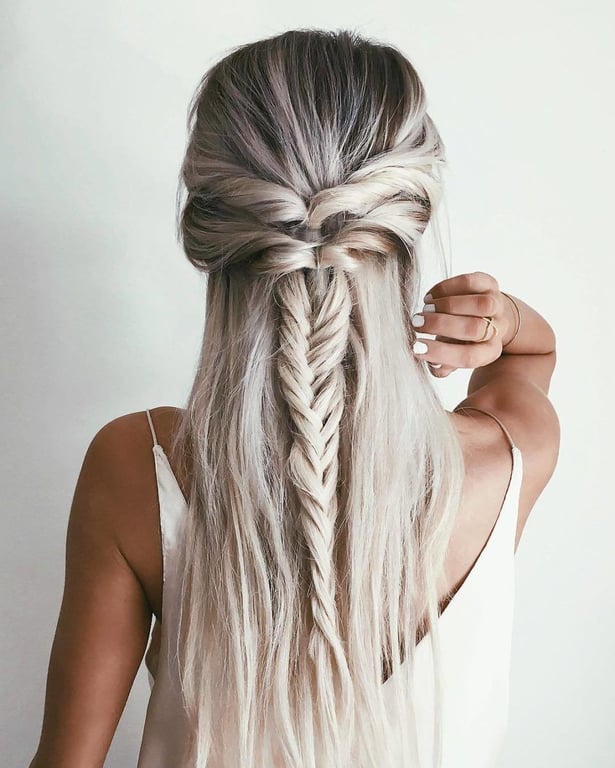 Twisted Bun
Ever thought about tying up your hair at the festivals?
This time, the celebration demands uniqueness. A twisted bun can be the most Christmassy look of this season.
Wear a long flowing dress to compliment your look. The look is going to be the most dreamy look of the holidays.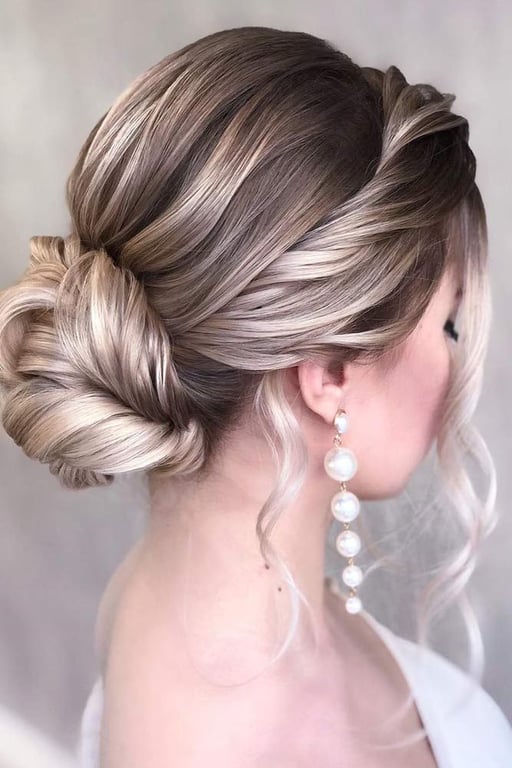 Also Read – 20 Caramel Balayage To Become The Ultimate Fashionista!
Cute Christmas Hairstyles
Get ready to flaunt your youthfulness this Christmas.
Tie up your hair in a high ponytail and pair it with a bow to get the cute and adorable look of the season.
This simple yet noticeable look can be the best hairstyle you are searching.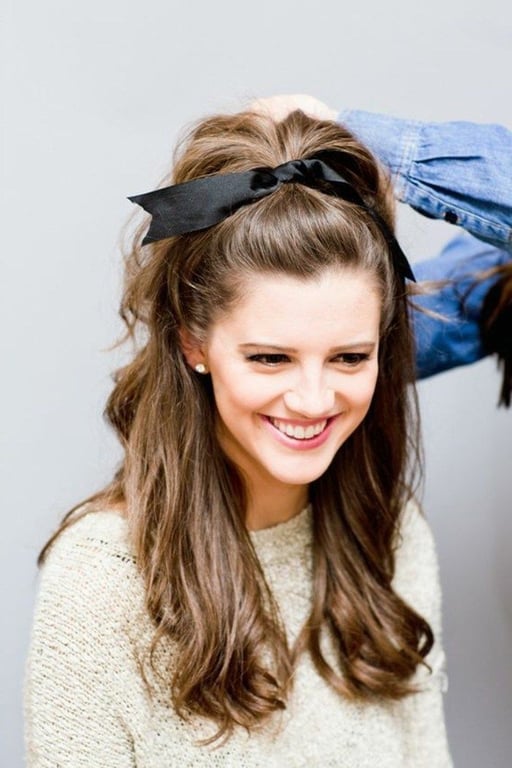 Red Hair For Christmas
What can signify Christmas more than the stunning red color?
What about adding the color red to your hair?
Well, show off your Christmas hairstyles in the most romantic and cozy way this holiday.
Color your hair red, and pair it up with a hairband to amplify the look. You are ready to flaunt your Christmas look.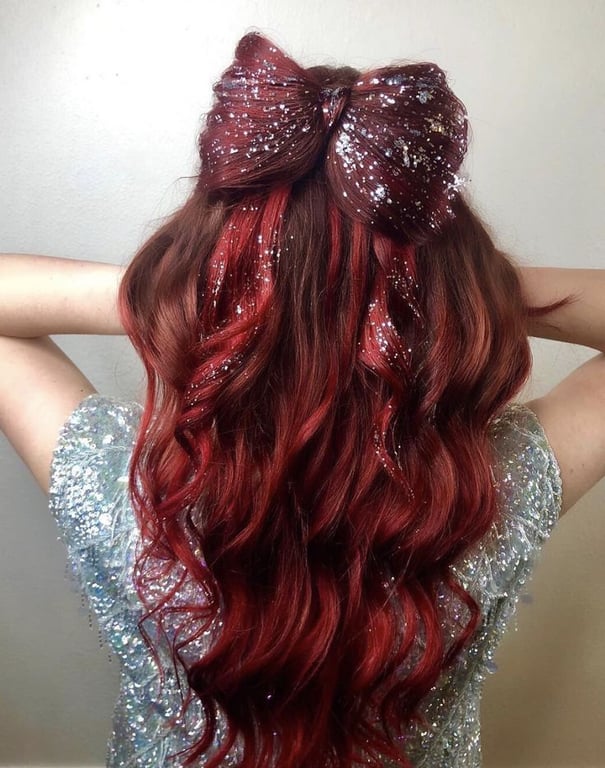 The Magic Of Red Ribbon
The magic of the red color in the Christmas season is unimaginable.
A simple red ribbon in hairstyle is enough to tell the world it's Christmas!
This is one of them if you are looking for fuss-free Christmas hairstyles.
Give it a try!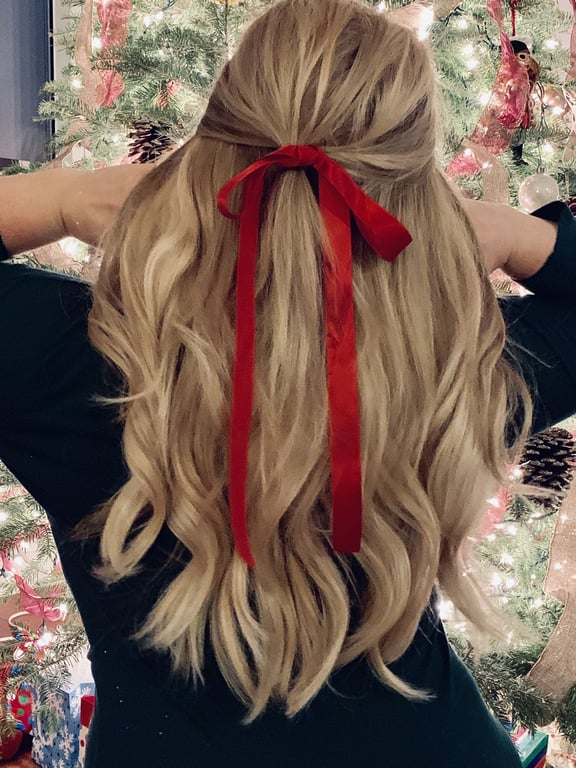 Loose Waves
Sometimes keeping it open and free is also an ideal way of styling the hair.
So, style it with waves if you have short to medium-length hair.
This elegant and eye-catching look is sure to steal hearts. Go for it!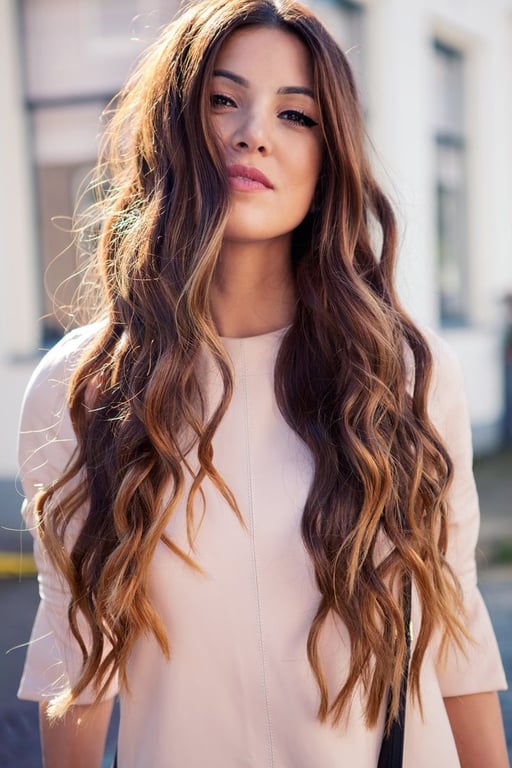 Sleek And Straight
Gigi Hadid's straight and sophisticated hairstyle became many people's favorite that night.
Just straighten out the hair and leave it open.
This Christmas hairstyle is going to flaunt out the diva you are! For an enhanced look, pair it with a black dress.
Side Swept Glamor
The glamorous Christmas hairstyles are the ones that make you feel comfortable and stylish both at once.
To make your look aesthetically satisfying, side-swept hair can be the ultimate look for this Christmas.
I suggest you rock this look this Christmas.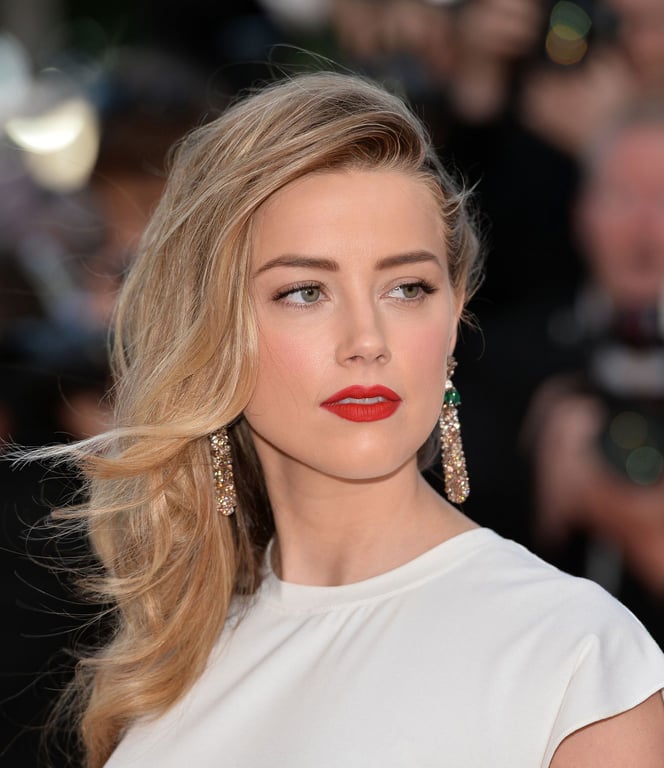 Faux Bob
The faux bob is the new talk of the town these days.
If you are ready to experiment, a bob can be the perfect way to give you a fresh and stylish look.
Known for its modernity and youthfulness, a faux bob can make your Christmas look complete.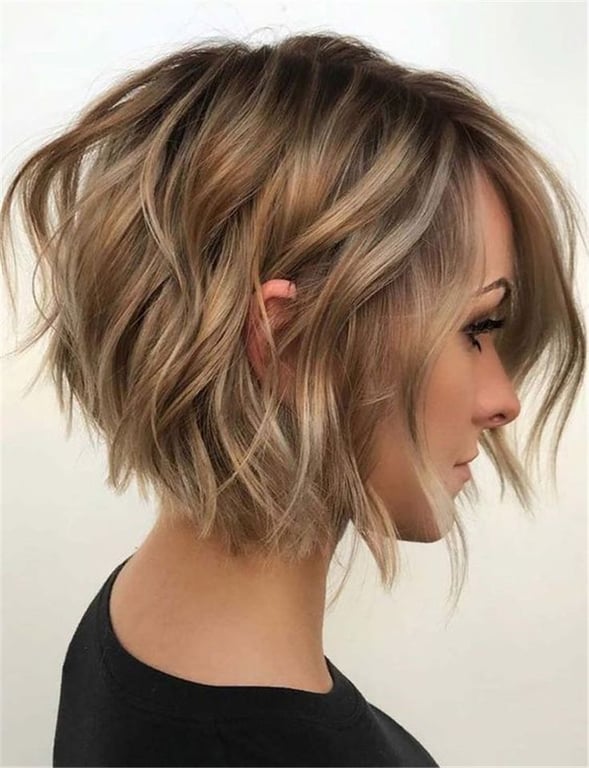 Selena Gomez's Low Bun
What about Selena Gomez's twisted low bun she carried effortlessly?
Very soon, it became the favorite of many ladies; if you haven't tried it yet, this Christmas, go for it!
A low bun with loose hair from the sides is another masterpiece to give a chance.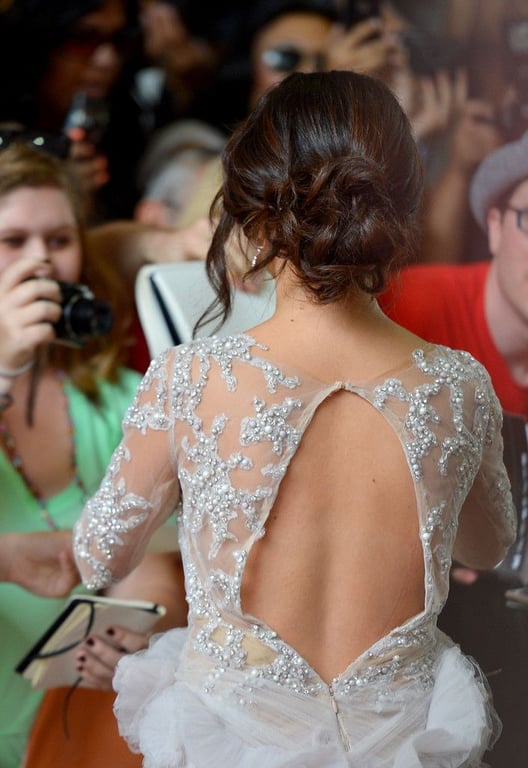 Easy Christmas Hairstyles
The easy Christmas hairstyle is loose, voluminous textured hair with the added bounce.
This simple yet elegant way to add freshness to your holidays is terrific.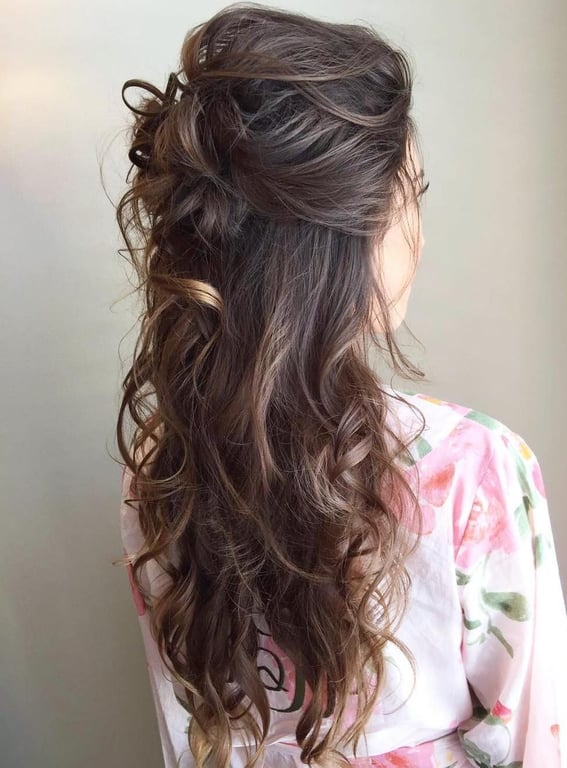 Long Hair Christmas Hairstyles
Long hair looks exquisite when styled with braids and curls.
The perfect Christmas look can be created if you are a long hair beauty.
Make use of your luscious hair by curling and providing texture and bounce.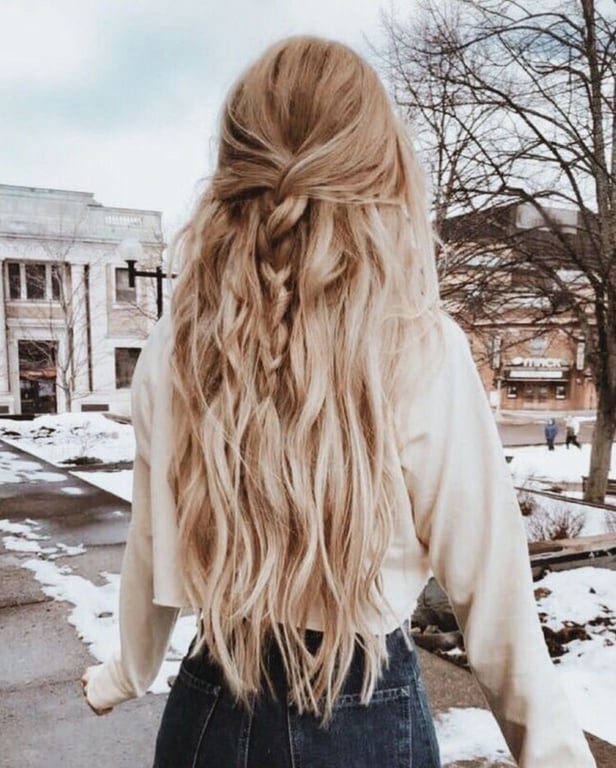 Christmas Hairstyles For Black Girl
What's better than box braids?
Those breathtaking pretty box braids hanging is the best option for a black girl this Christmas.
Go for it!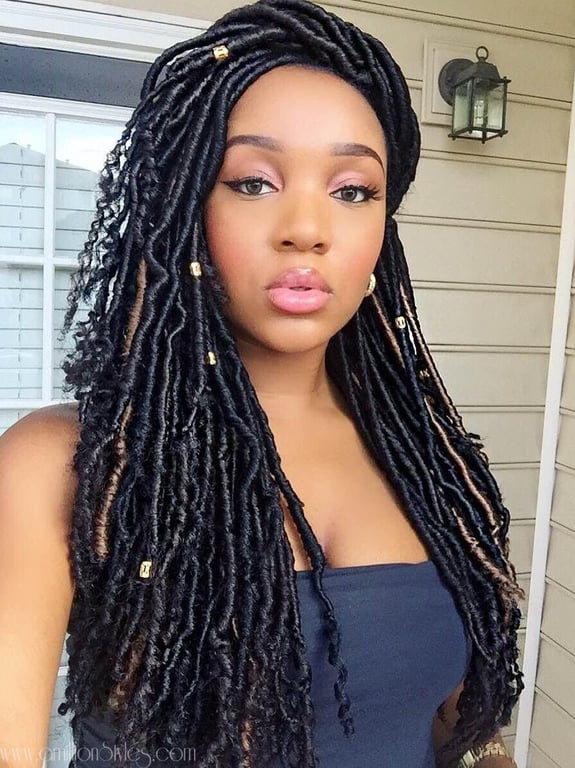 Short Hair Christmas Hairstyles
We have an excellent idea for short hair- an Ombre with a beachy twist.
Yes, adding Ombre to your short hair will bring much-needed charm and attention to your hair.
This holiday season, go for this dramatic shade of hair.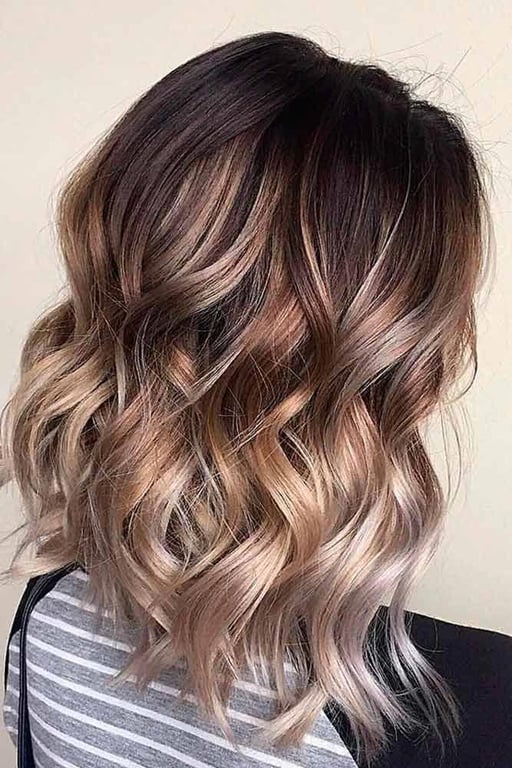 French Braid Bun
This adorable, super sassy, and classy French braid bun deserves a chance.
The best Christmas hairstyle can be the ones that are unique and trendy, and so is this bun.
You can pair it up with any attire and become the most charming person in the room.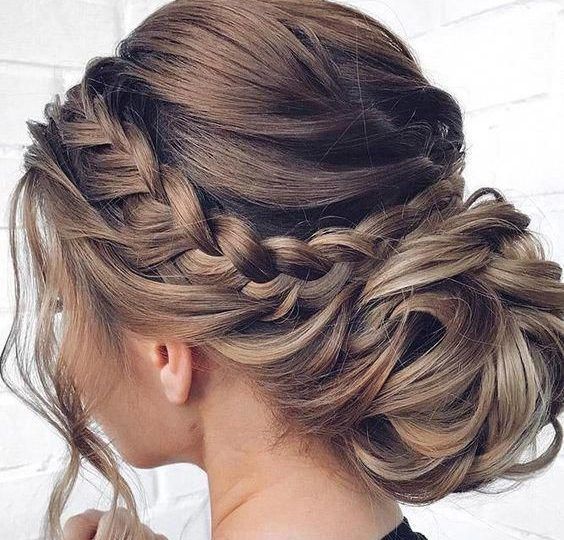 Also Read: Blonde Highlights for Your Next Exquisite Look!
Brushed Out Waves
Oh! These beauties are wow!
These brushed-out waves are simply the best you could ask.
The aesthetically pleasing look it provides is unbelievable.
Add a tiara or Christmas stars to get the holiday look.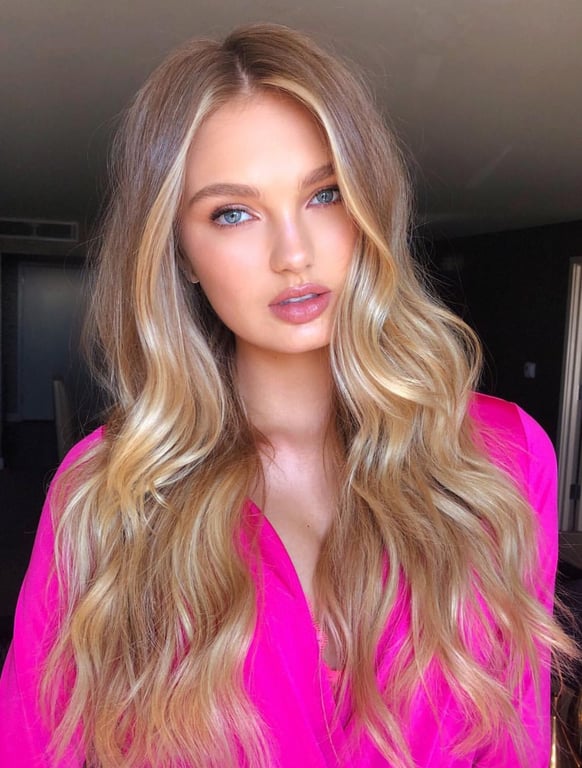 Bouncy Blowout
Blowout is one of those hairstyles which require your time and attention.
Use the voluminous spray to add texture and dimension to your hair.
Ask your hairstylist to create a bouncy blowout look.
This excellent hairstyle can be the next hot and happening thing in your life.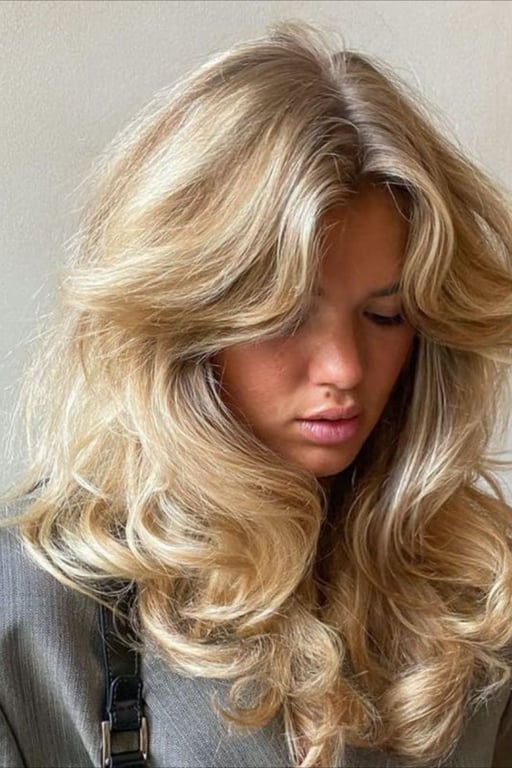 Toddler Christmas Hairstyles
For toddlers, the most accepted Christmas hairstyle is the holiday bow.
You can curl the hair or keep it the way it is for a more natural look.
Take some portion of the hair and make a simple high bun by letting the hair at the back fall freely, if any, for a more natural look.
Now add the holiday bow at the point of the bun.
This simple and cute Christmas hairstyle is ready.
Christmas Hairstyles For Black Hair
A very known hairstyle for black hair is the textured curls.
Have you tried it yet?

If not, let your inner wildness and creativity showcase in your hair this Christmas.

You can try styling your hair like Zendaya. So pretty!
Long-Layered Christmas Hair
Layering can never be a boring choice. Instead, it makes your celebrations exciting and fun.
So, this Christmas, add the artistic look of the layers to your hair.
Accessorize it with some Christmas accessories, and you are ready to steal the day.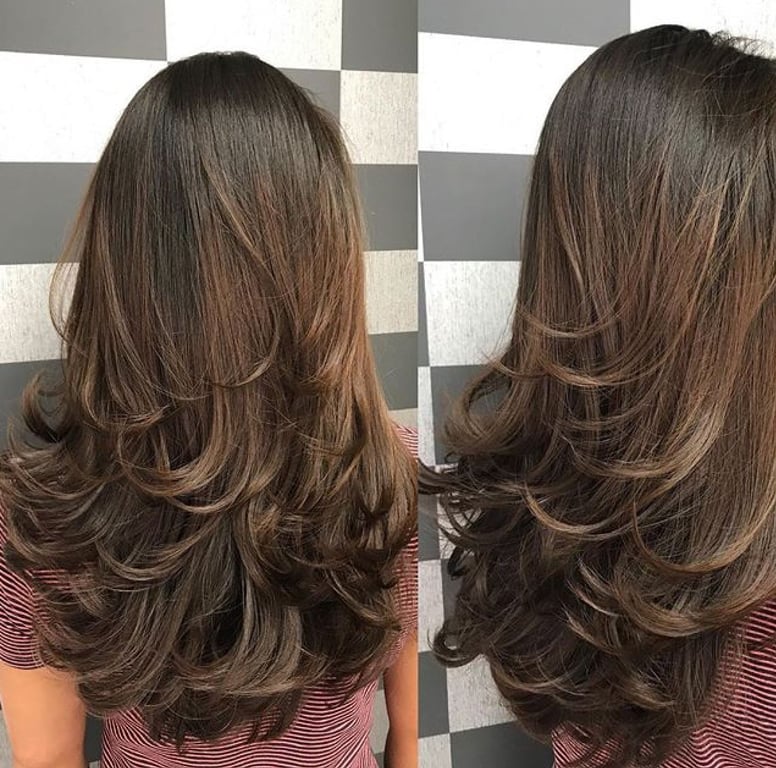 Half-up Braiding Look
The messiness this half-up creates is so beautiful and worth trying.
It is a fantastic way to rock your Christmas hair this season.
So, without any doubt, go for it!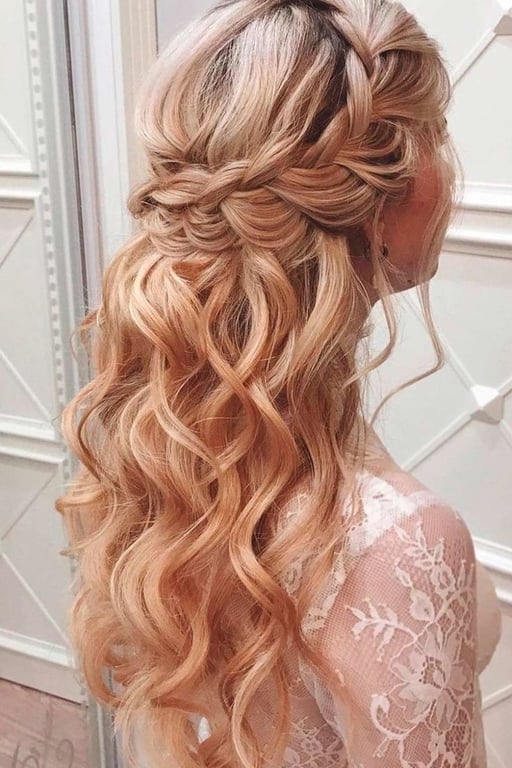 Flipped Ends
How about a change in your hairstyling form?
This time go for a center partition and make flipped ends for a more neat and finished look.
This elegant and cute look is all you need this season.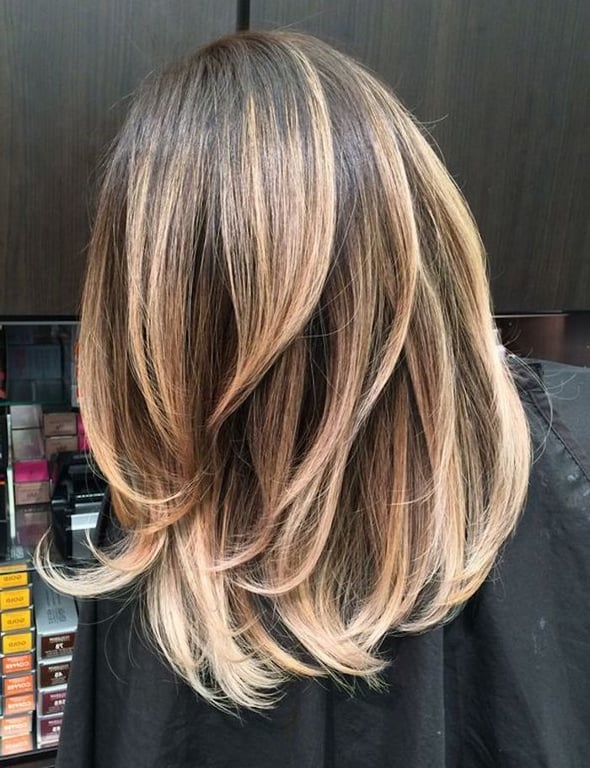 Disco Curls
For black, afro-haired beauties, these disco curls can be the best possible fresh idea for this Christmas.
The shine, glamor, and fun these curls can provide you are beyond words.
Definitely worth your time. A must-try!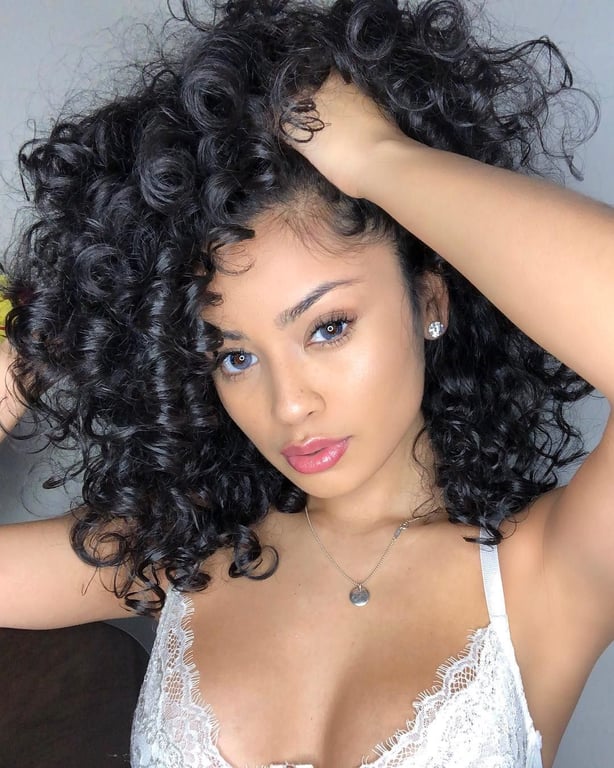 Glossy Waves
Just like Erin Moriarity rocks her smooth and shiny waves, this time, give it a try.
The glammed-up look will be worth your time and money.
So, this Christmas, get ready to explore your inner diva!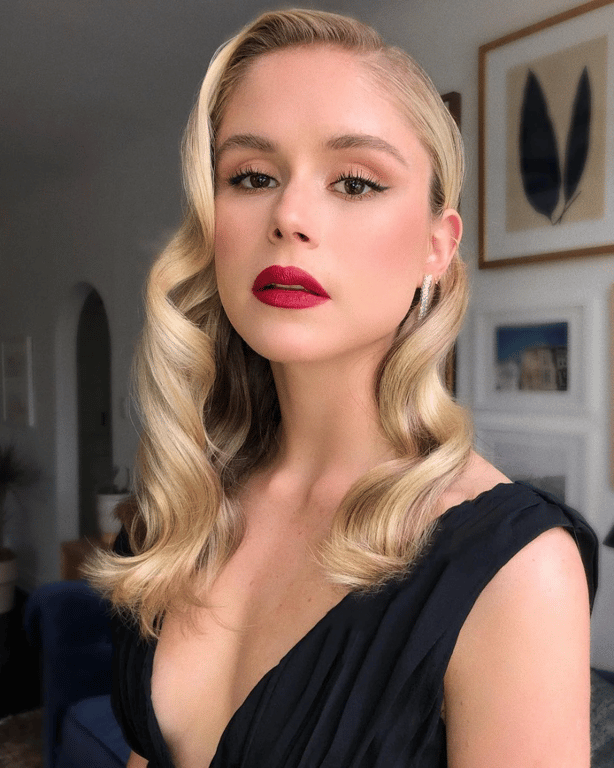 The Wet Look
The wet look is one of the most underrated looks for Christmas.
But trust me, once you get it styled, the final touch will be worth it.
This unique and just-out-of-the-shower look is stunning and elegant with any attire.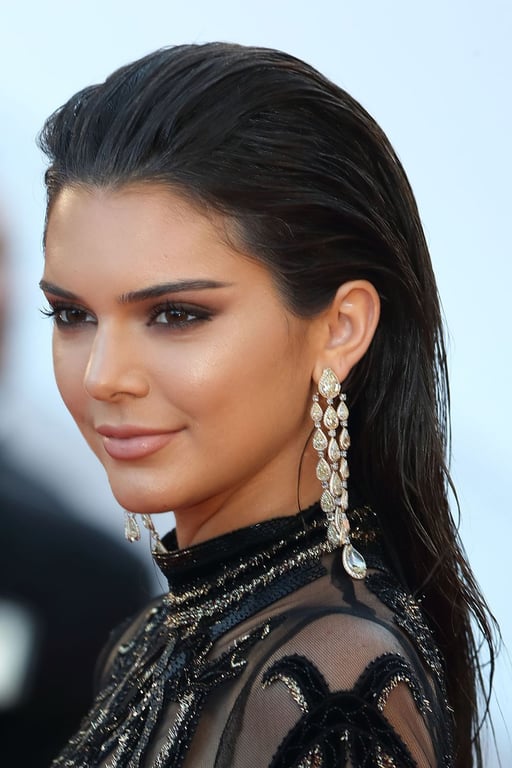 Christmas Hair With a Headband
Whether short or medium hair, a headband can make a statement.
The most adorable holiday look ever. The most fuss-free and easy-to-do hair is right at your fingertips.
Get a Christmas headband and style your hair accordingly.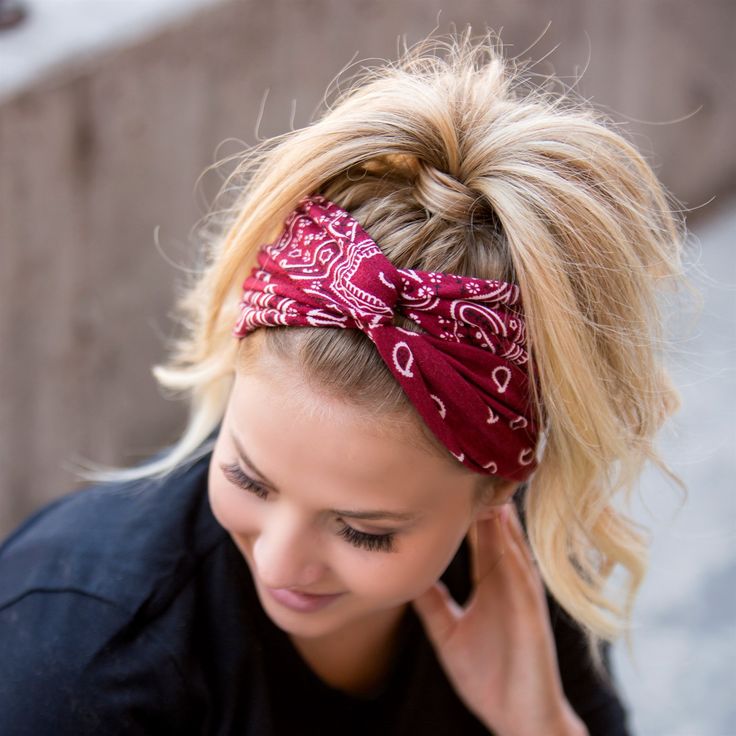 Christmas Tree Styled Hair
What better than bringing the zest to your holidays than styling your hair like a Christmas tree?

Either try a braided style or loose hair; the ornaments will do the rest of the work.

Yes, that's the magic of Christmas-styled hair; its pure ornaments bring shine and glam to your hair.
This exclusive hairstyle will surely capture everyone's attention with its striking look.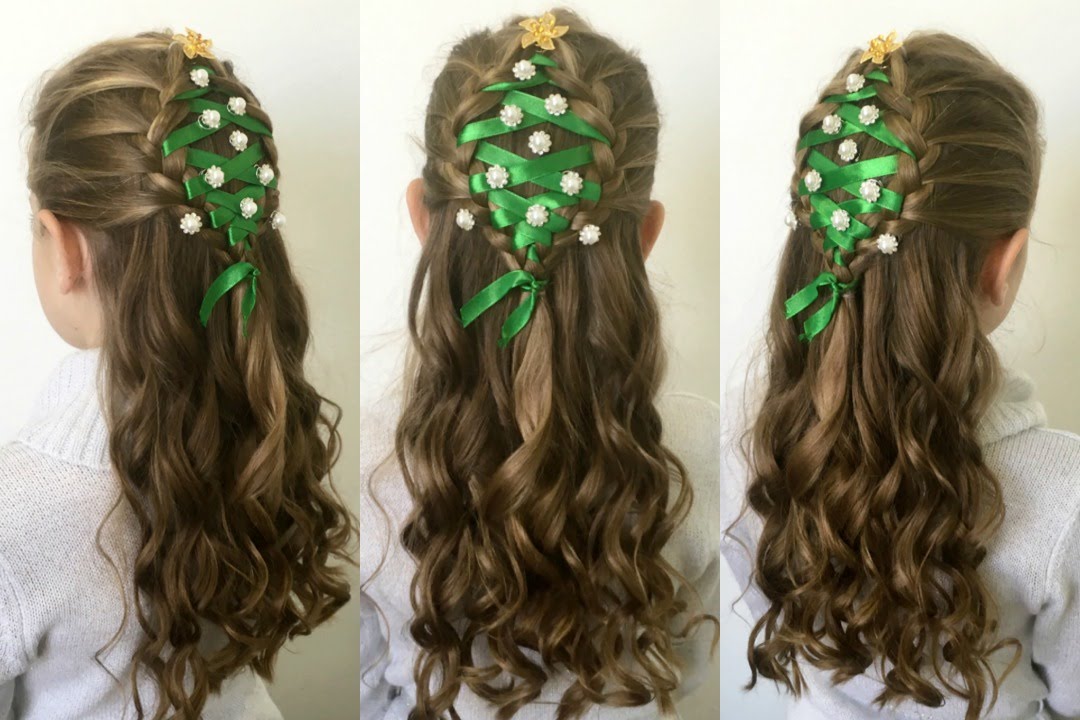 Rhinestone In The Hair
What about adding some jewels to your dull hair?
Rhinestones are a precious and elegant form of fashion; when styled on the hair, it's majestic.
A must-try!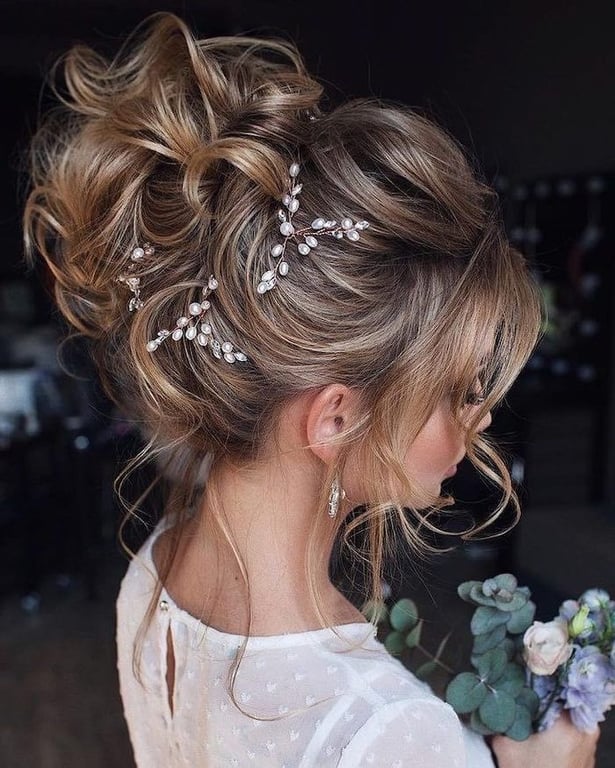 Voluminous Messy Bun
The trendiest form of hair in 2022 is the bun.
This distinctive style of adding texture and elegance to your hair is just unique.
Ask your hairstylist to add volume to the hair and make a messy bun that best suits your personality.
Worth your time and money!
Bubble Hairstyles
If you haven't tried a bubble hairstyle yet, Christmas can be the perfect occasion to style one.
This cute and romantic hairstyle is just another version of beauty with fashion.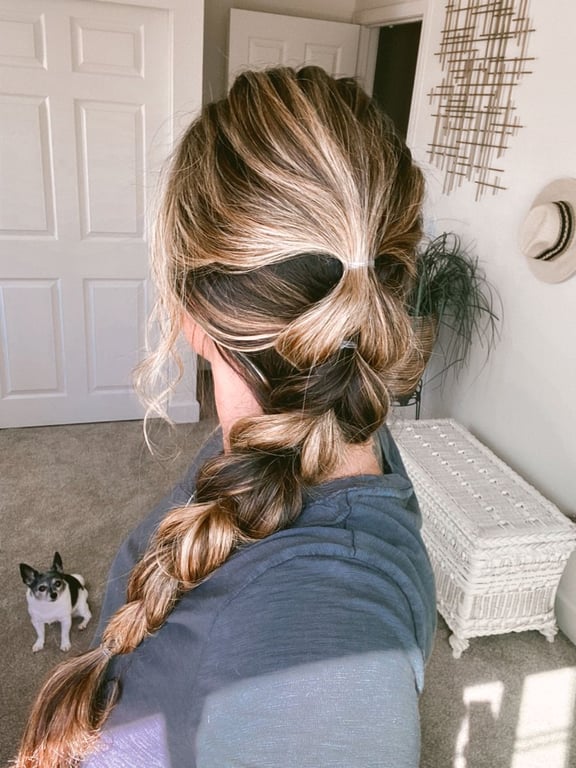 The Magic Of Bangs
For this Christmas, go for adding some bangs to your hair.
Bangs can never go wrong;  they are always as fresh and exquisite as ever.
Style with some accessories indicating a Christmas theme.
Also Read: Box Braids [latest Designs + DIY Guide]
Reference Link
Christmas Hairstyles-FAQ's
What Are Winter Hairstyles?
* The trendy Christmas hairstyles are braids, high ponies, half-up, layering, top-knots and many more.
* These are some of the highest-in-demand hairstyles for Christmas. To these, add Christmas accessories to enhance the look.
What Is The Haircolor For Christmas?
* Well, the Christmas hair colors red and green are gaining popularity among the ladies. Besides these, auburn, chestnut, and chocolate brown are also some great winter colors.
* They are so lively and pleasing to look at; you can give them a chance.
What Is The Most Protective Hairstyle For Christmas?
* Among the most protective ones, box braids, knotless braids, and Bantu knots are the most preferred ones.
* If you are a black and afro-haired beauty, you can give these hairstyles a try this Christmas.
How Much Should I Tip My Hair Stylist at Christmas?
Tipping a hairstylist is a method to express your gratitude for their work, the working relationship, and their time. And who knows, it might even make your stylist more eager to cooperate with you in the future if you need a favour with your hair.
If you're happy with your treatment overall and want to tip your hairdresser, the conventional rule of thumb is to leave at least 20%.
Accordingly, if your haircut cost $60, you should probably tip at least $12. if the cost of colouring your hair is $100? The customary tip is $20.
If a hairstylist spends more than three hours on your hair, consider tipping closer to 22 or 25 percent—especially if you are pleased with the outcome. Although 20% is a fair overall guideline.
How Do You Do Christmas Hairstyles?
Angel Hair Christmas Tree Braid is one of my favorite Christmas hairstyles. It's made out of braids, a green ribbon, and a butterfly hairclip to resemble a Christmas tree.
However, you'll need to have long enough hair to form the braid, as well as a green ribbon in the appropriate hue.
Another thing to keep in mind when styling your hair this manner is not to make the braids overly tight, especially since the ribbon alone will require a certain degree of tension to preserve its shape. Furthermore, instead of white flowers, you may use colored ones, or you can even attempt to get some silver hair scrunchies to hold the braids together so that it appears like a little Christmas garland.
What Hairstyle Should I Do on Christmas?
Some of the famous Christmas Hairstyles are:
* Cute Christmas Hairstyles
* Half-up Braiding Look
* Loose Waves
* Long Hair Christmas Hairstyles
* Christmas Hairstyles For Black Girl
* Short Hair Christmas Hairstyles
* French Braid Bun
* Brushed Out Waves
* Long-Layered
* Christmas Tree Styled Hair
How Much Do You Tip Your Hair Stylist at Christmas?
I gave them a 30% tip instead of the standard 20% for the holidays. In general, I like 20%. It's a thoughtful gesture to them; they don't expect or require a holiday tip, but it never hurts to show them some extra love around the holidays. If you don't want to give your stylist any extra recommendations for the holidays, a skincare or beauty gift package, like the ones below, is a nice alternative.