Only the word "Christmas" is enough to make you dreamy and happy. Now imagine bringing this happiness to your nails. The thought itself can make your eyes pop. While lying in your warm bed with hot coffee, enjoying winter, and waiting for Christmas, make your life more colorful, fun, and admirable by getting some Christmas touch to your nails.
In the world of nail art, a very cozy and beautiful section belongs to "Christmas nails." A huge variety of nails inspired by Christmas are waiting to adorn you, to get you ready for winter, to mark the beginning of the holidays, and above all, to make you fall in love with yourself.
If this is your first time into Christmas nail ideas, you need not worry because we are presenting to you a wide range of nail options to choose from and become a charmer. The options available are so great, and you are free to select your lovely nail design. Scroll down to get your desired look for this season:
Christmas Nail Ideas:
Brown French Tip:
Let's start by breaking the myth about

bright and vibrant colors

 being the only color to signify a festival.

You can even rock some not-so-very-famous colors and become the most attractive person in the room.

Yes, here I am talking about this gorgeous brown color. This brown French tip can be the ideal way to look impressive.

Add glamour to it by sparkling it with some glitters, and you are ready with the soberest, cool, and calm nail color of the season.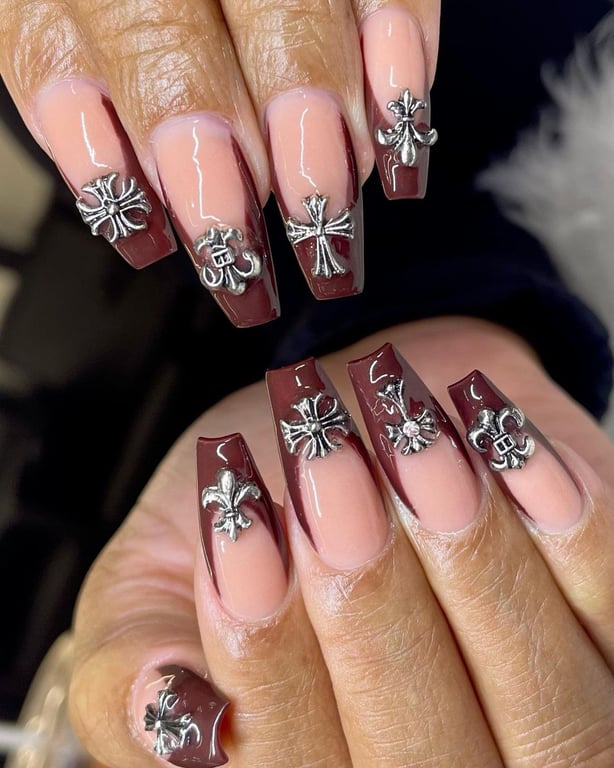 Reindeer Nails for an Over-on-top Look:
This red look can prove to be like the cherry on top, and you can look super cute with the reindeer nails.
Paint the nails with shiny red color on all four fingers and draw a cute little reindeer face on one nail. This stylish and elegant nail design can bring Santa to your nails!
The reindeer look is considered to be the best among all the Christmas nail ideas, and all around the globe, women are love it.
For this look, you don't don't need very long nails; even shorter nails can be suited to this design.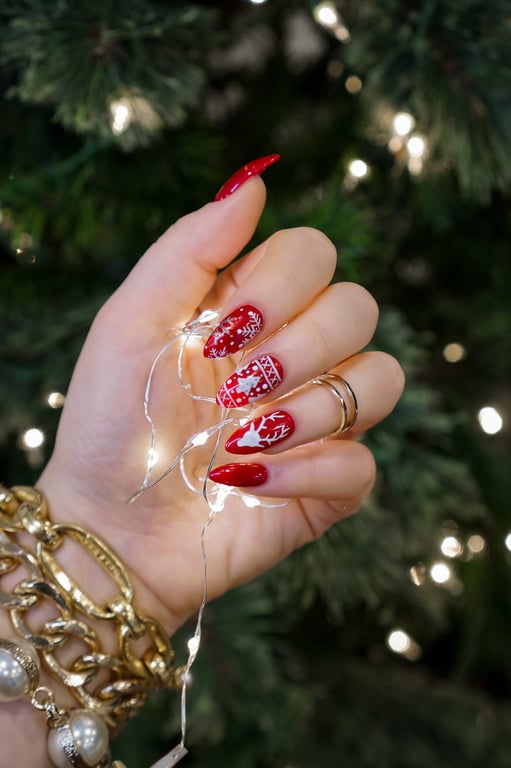 Also Read: Top 13 Ombre Nail Designs to Grab All the Attention
Red and Gold Nails for a Minimalist Look:
If you are in search of something royal yet simple, this red and gold can be your ultimate solution.
Color the nails with dark red or maroon color followed by a golden half-moon shape along the base of each nail.
This amorous nail color provides you with a minimal yet noticeable look that not only matches Christmas but also makes you look alluring.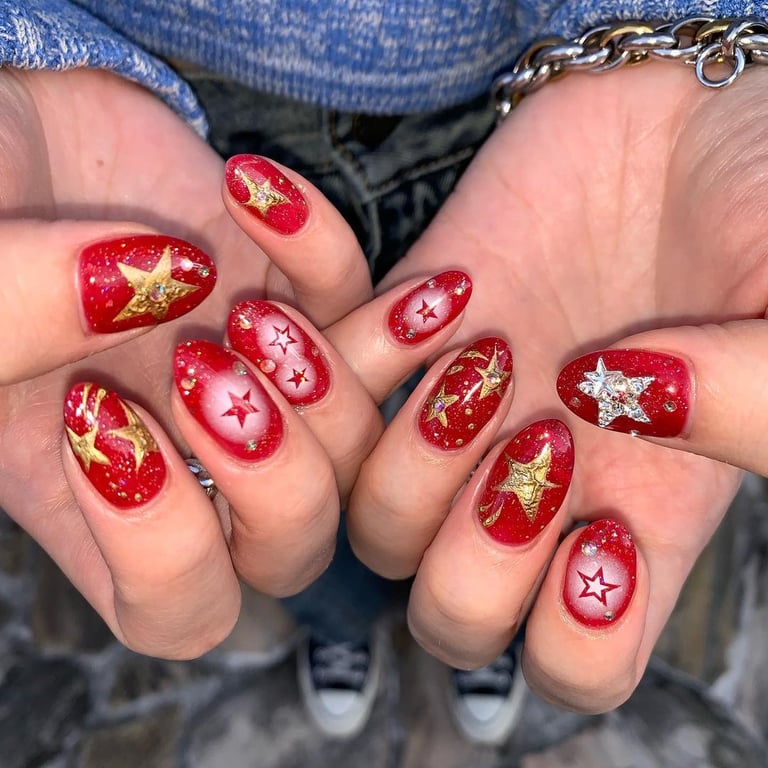 Snowflake-Inspired Christmas Nail:
Loving the winter! Bring some to your mani. Welcome, Christmas, by getting snowflakes on your nails.
Something unique is what this nail color offers you. This looks super warm and appealing on any hand.
You can never go wrong with the snowflakes on your nails as they provide you with beauty in a more remarkable manner.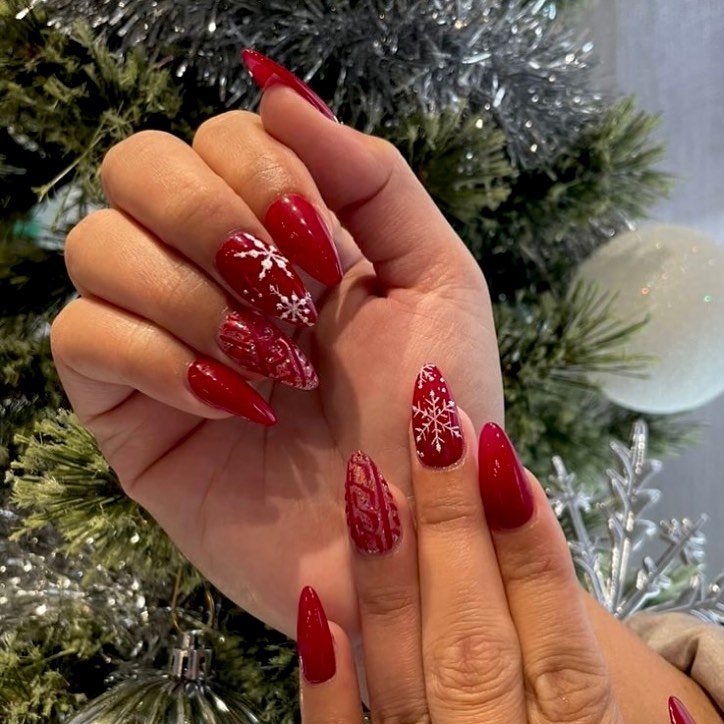 Ruby Red Stiletto Nails:
Fall in love with the vibe you get with the stiletto nails. This unique version of nail designs is for ladies defining boldness and sassiness.
Those sharp pointed ends can make you feel amazingly pretty with ruby red color.
Try this style this Christmas to surprise everyone with the beauty you are carrying.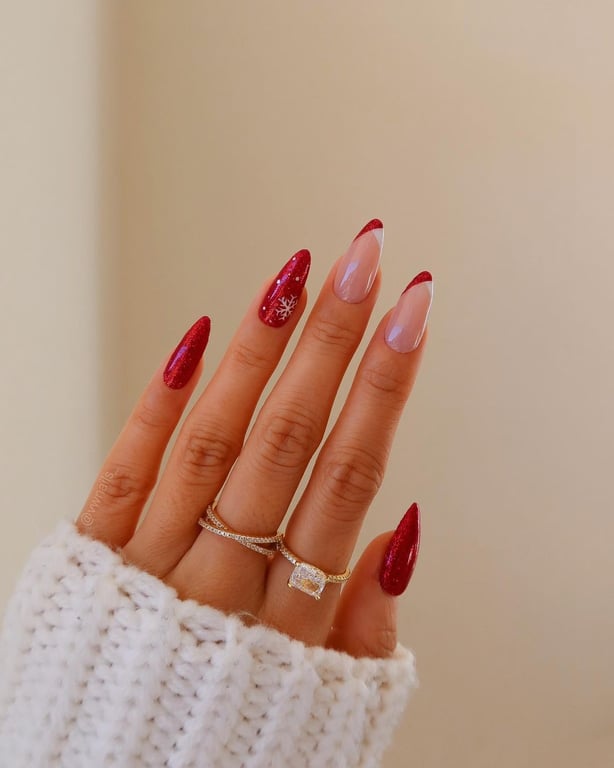 Also Read: 20 Black and Red Valentines Day Nails
Gold Star Nail Art:
The impressive gold star nail is highly in demand these days. The star on the Christmas trees can come directly to your nail by just recreating this famous look.
When you design your nails using this vibrant golden color, the vibe you get is just astounding and, at the same time, refreshing.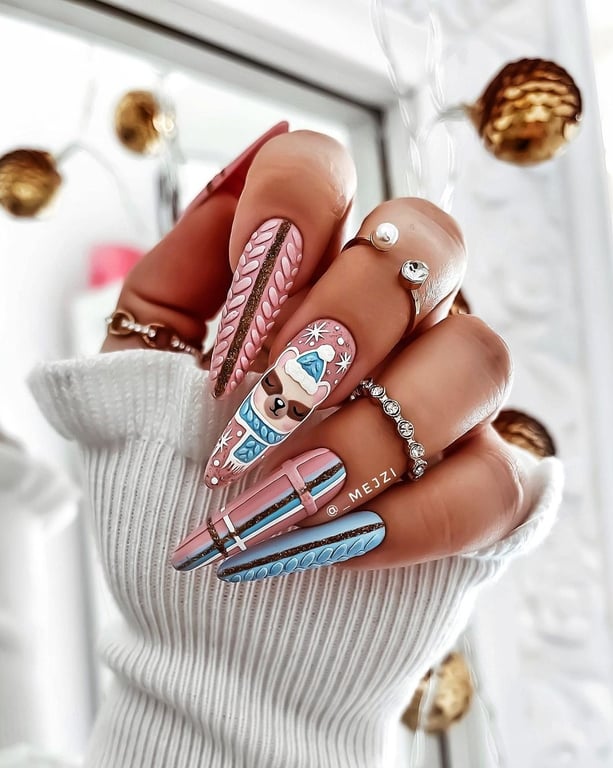 Candy Cane Stripes for Christmas:
Want to give the sweet delicacy a new twist? Paint your nails with this beauty.
Get candy cane stripes on your nails and become the sweeter version of yourself.
This can be the ideal way to bring a Christmas look to your nails and enjoy all the attention it ensures you.
If you want to earn some pretty compliments, this is a must-try among Christmas nails.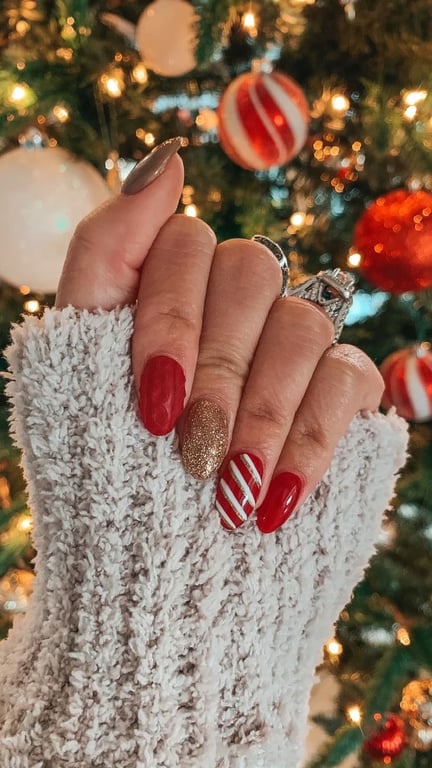 Red and White Christmas Nail:
Santa Claus Look:
If you like Santa Claus and are willing to bring his jolly and fun mood into your life, get this Santa Claus-inspired nail mani.
This red and white look extremely lovely when painted in the form of Santa.
This can be a unique look you get this Christmas.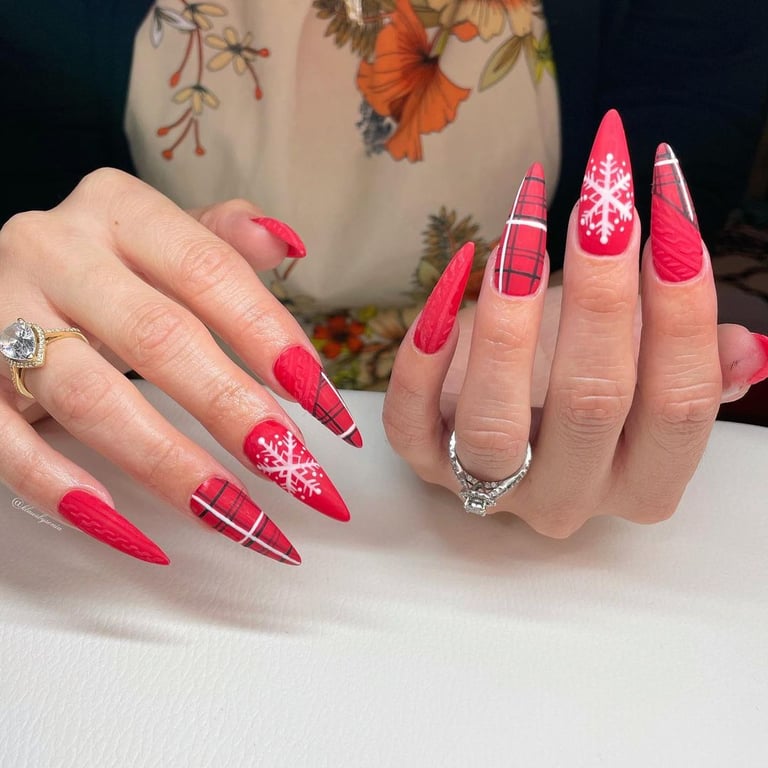 Red Rhinestone Look for Christmas:
Red is not just a color; it's an attitude that brings beauty and boldness itself to the beholder.
One such red color-inspired look is this red rhinestone. Paint your nails with vibrant red and add some stones to
give them a glittery and over-the-top look.
Rhinestones add fun and beauty to Christmas nails and make you festive-ready.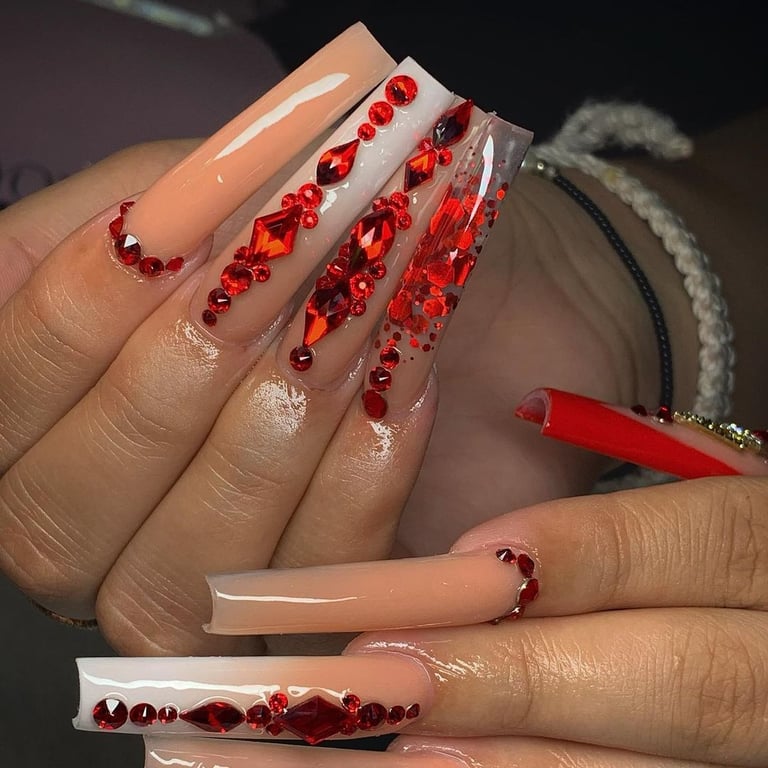 Also Read: French Manicure with Rhinestones: Latest Designs, Tips & a DIY Guide
These White Nails for Christmas:
Let'sLet's keep it basic and simple this Christmas by painting your nails with a peaceful color.
Apply any nude color as the base and make some swirls and twirls with white paint.
This color of your nails symbolizes winter in a different yet classy way.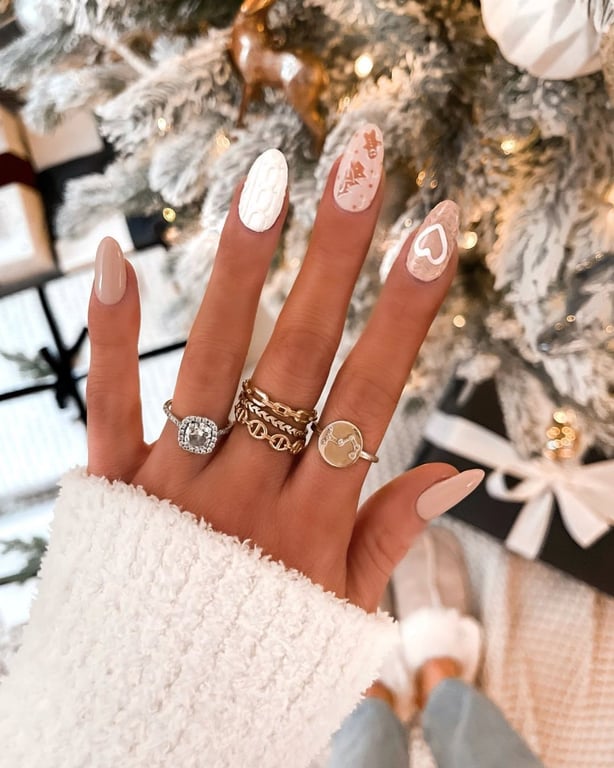 Pink and Gold Geometric for Christmas Nail:
Red is a color that, when combined with other colors, brings out its essence of them.
When such a deadly combination is the red and gold for an offbeat look.
Color the base any light color and apply red on the tips. Now add some fine geometric gold lines for a finishing look.
This red and gold signifies Christmas in its most distinctive form and makes you feel fun and happy.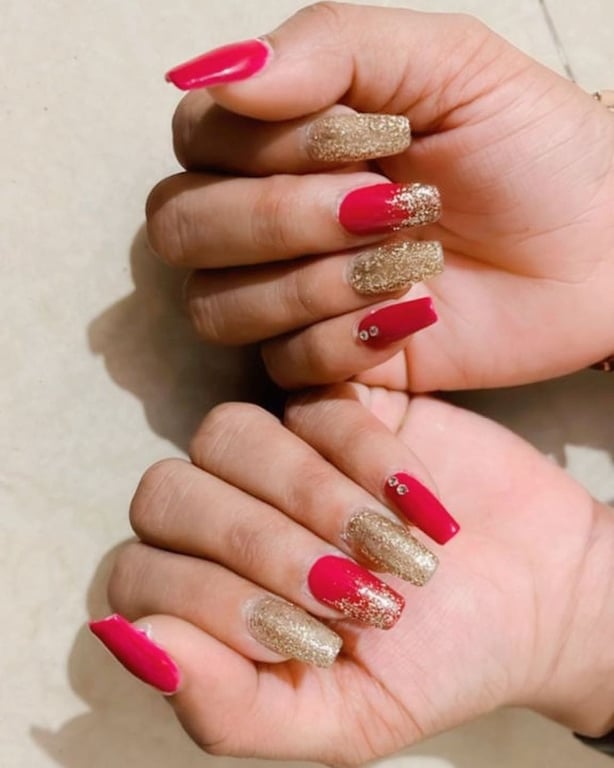 Red and White Nails With a Unique Design:
It is not necessary to get some Christmas items on your nails to signify you are ready for it.
You can even choose some Christmas nail colors and design them according to your desire.
Red and white is one such color that not only suits Christmas but also makes your nails super cute, stylish, and happy.
Apply a red base and make some white designs according to your mood. Also, you can go for applying a white base and make some red art for a changed look.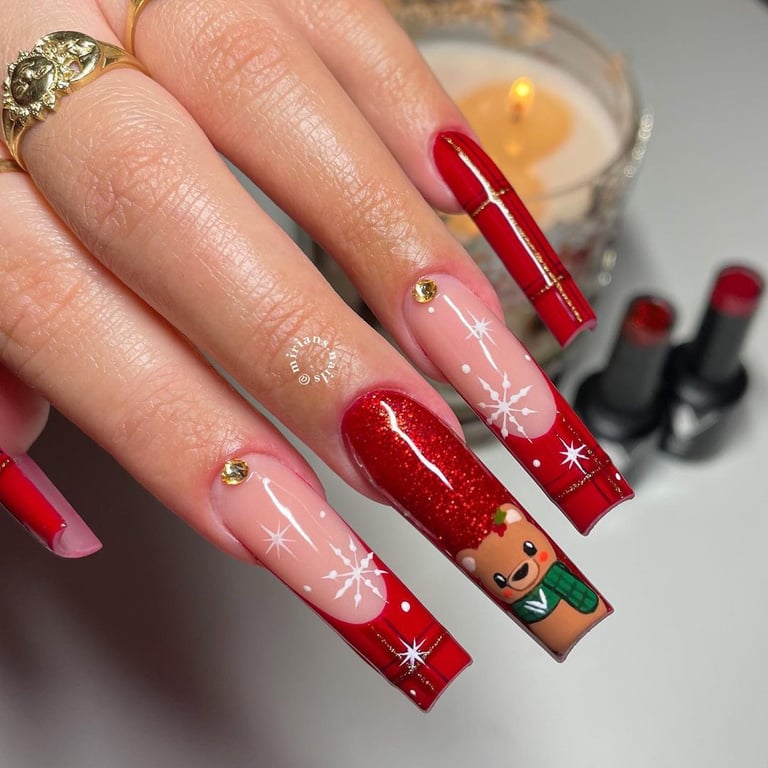 Classic Red Nails:
Sober yet impressive is what you are eyeing! Well, here is the answer to this.
Just go for pure red this season and flaunt your hot nails in style.
Red is a flawless color and when applied to the nails, makes them irresistible.
You can never be wrong with such a color. So, whenever in doubt, paint red and collect compliments for Christmas Nail.
Reference Link
Christmas Nail Ideas-FAQ's
Can You Wear Pink Nail Polish for Winters?
* Pink color generally signifies summers or springs. If you want you can go for pink in winters.
* But pink usually does not suit very lively winters. You can try red, white, blue or green colors for winter.
What is the Popular Color for Winter 2022?
* The popular color for winter 2022 is the sandstone orange to be precise.
* Because this time people have started ditching the regular bright and vibrant colors and are opting for something very cool and classy.
Is Black Nail Polish a Winter Color?
* Well, frankly speaking black is not a very ideal color when thinking about winters.
* Winters symbolizes snow and so does the white nail polish.
* Although there is nothing wrong in wearing black in winters but most often black is overlooked at this time of the year.
How Do You Do Gel Nails for Christmas?
* It is necessary for you to visit a professional if you want a perfect manicure.
* Gel nails for Christmas are an ideal way to look stylish as well as cute. You can ask your mani to design your gel nails as you desire.