When it comes to being the prettiest, every lady desires the best. From trying on different clothes to a huge variety of sandals, shoes, or sneakers, from earrings to anklets, from lipsticks to hair colors, every woman aspires to look their best. One very important aspect of a woman's beauty is the nails. Every time you step out, you try different versions of nail paints or nail designs, and no doubt they magnify the overall look.
Most of the time, you unintentionally forget about your toenails. Yes, they hold a very noticeable place in your beauty regime. It strikes your mind the moment you step out in a sandal! Those boring feet make you sad, and you wonder what could make them look just "wow". A nail paint with several elegant and chic designs can offer gorgeousness to your feet. A classy black toenail design is what your feet demand right now.
To make your feet look amazing, black can be an ideal option to try. Many different nail arts are defined using the magic of black. It suits well on all your outfits and is a pretty good method of making the toenails shine.
So, it's time to level up the feet game and wear sandals confidently. Ready to flaunt your toenails? In this article, we are presenting ten very stylish, elegant, and flawless black toenail designs for you.
11 Trendy Black Toenail Designs to Level Up Your Feet Game
Black and White Magic 
Black and white is a combination everyone loves to wear.
It suits any outfit, looks casually wonderful, and provides your feet with much-needed attention.
This nail design is easily doable and just requires brushes and colors.
Paint it according to your desire and make designs that best suit you. This design in the image is a must-try for people of any age group.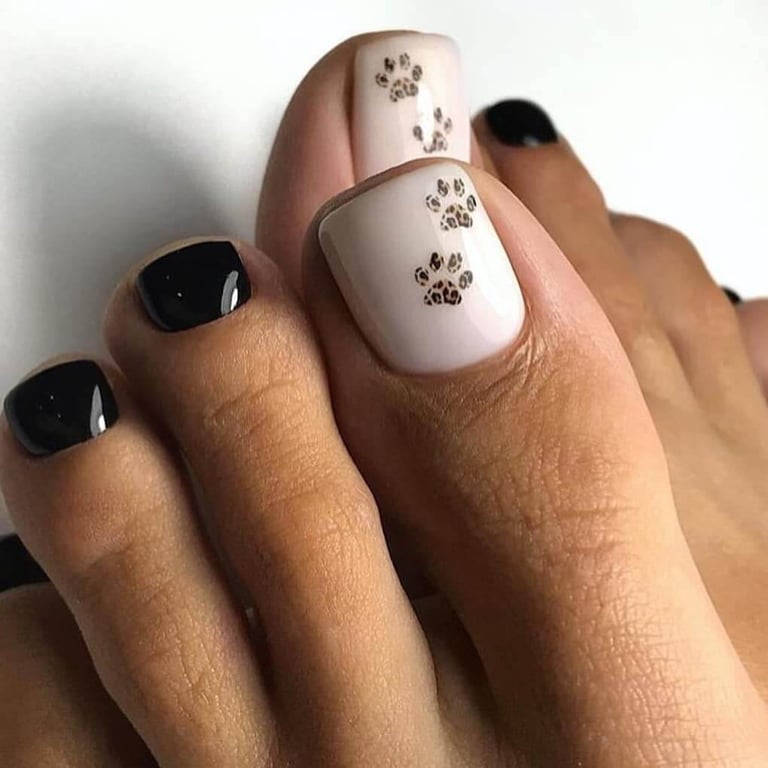 Also Read: Summer Watercolor Nails: for Your Next Refreshing Look!
Stunning Black and White Look
The never going out-of-fashion colors are here! This not-so-heavy color is best for a party as well as casual wear.
You can paint one toenail in silver and the others in black or vice-versa. It is pretty simple to do and looks ravishing. This classy black toenail design is loved by most teenagers.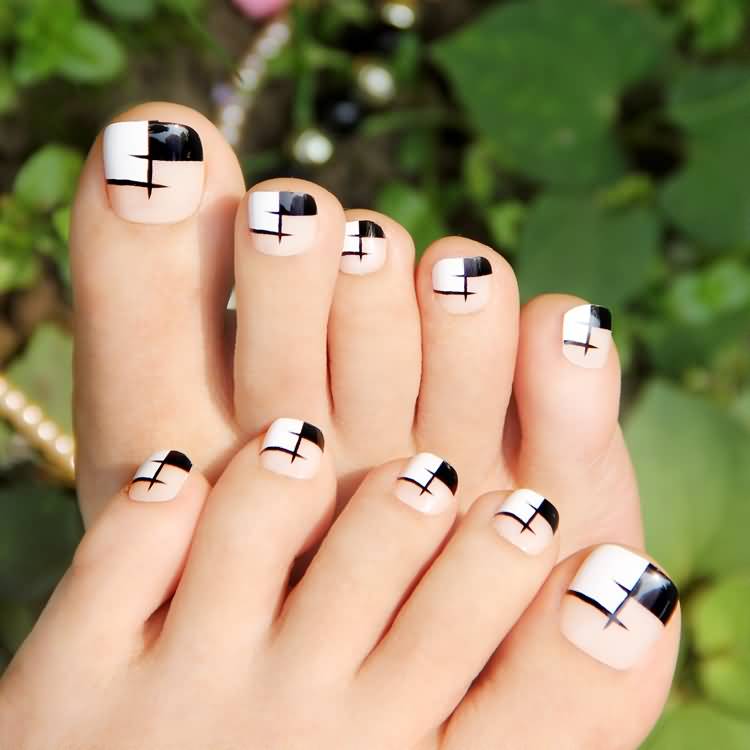 Black and White Design Glittery
Glitters with fine waves of black color are an absolute yes yes!

This elegant and light look is not only attractive but also makes you feel soothed to look at.

If you are searching for something classy and pleasing, give this toenail design a chance!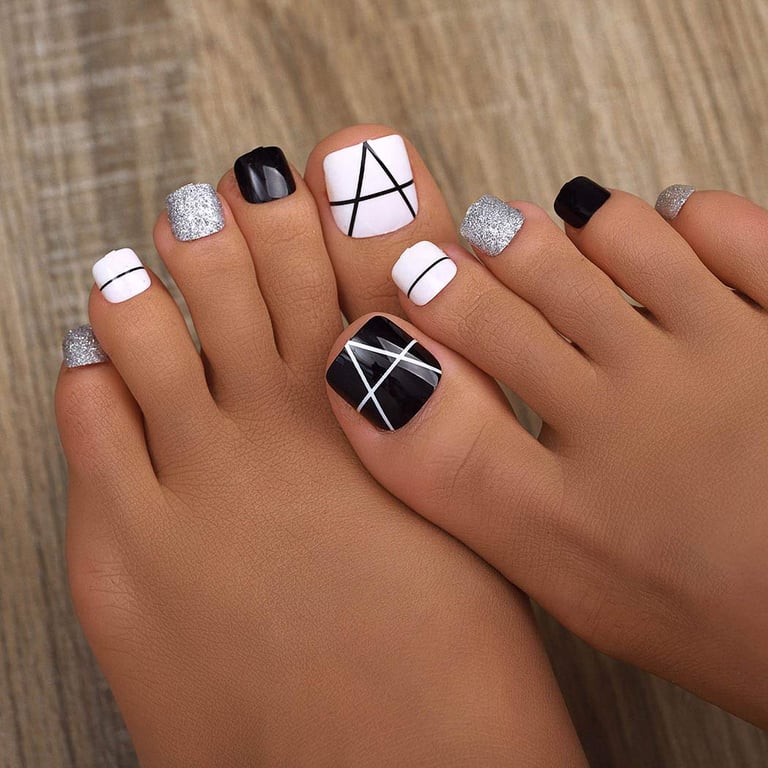 Simple Black
If you are a lazy panda like me, this toenail color is only for you!

Just paint the classy black toenail color, and you are ready to unleash your wildness.

Black is known for its boldness, and when painted on your nails, it defines your personality more remarkably.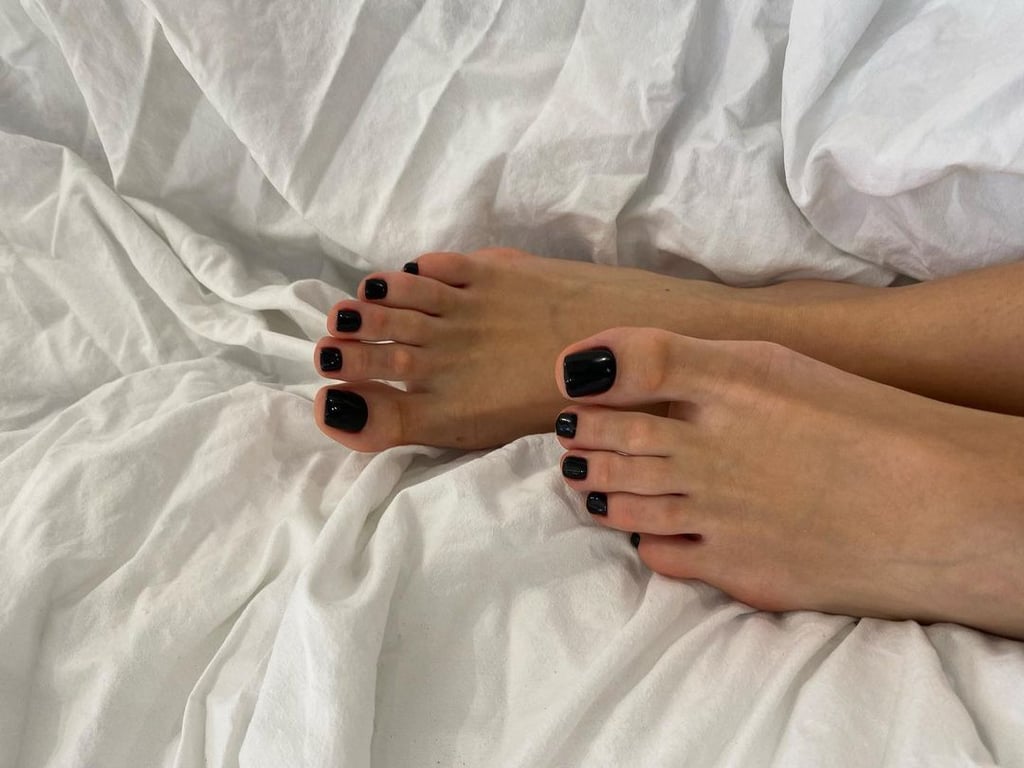 Classy Black Toe Nails
Yes, that's exactly what it sounds like. This is the perfect example of wearing black in a simple yet trendy way.
Some sprinkles of blue and green on a black base are the coolest trend to try.
This chic and graceful toe nail design is an impressive way to add style but with soberness.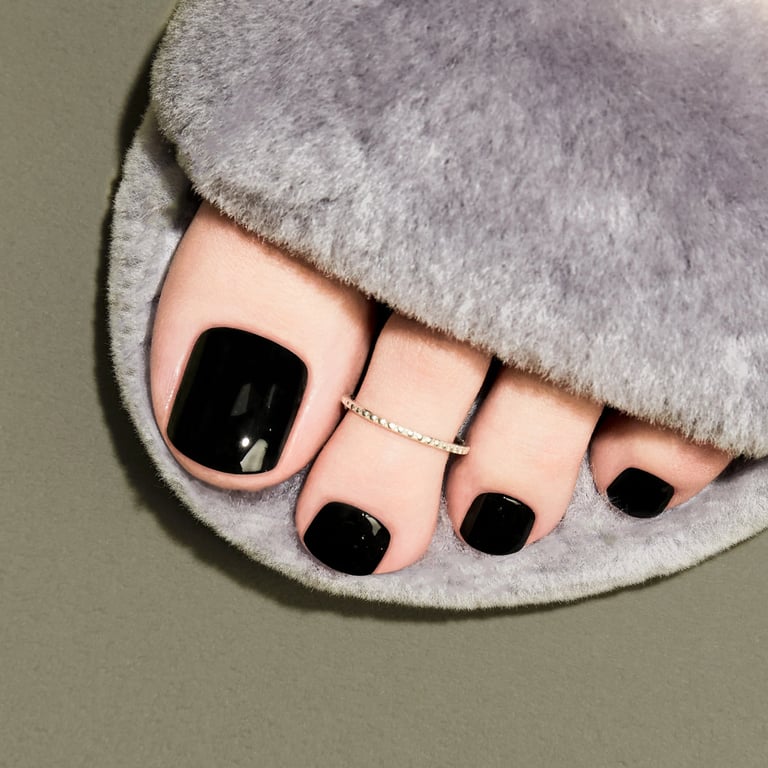 Abstract Maroon Look
To join the abstract trend, bringing them to your toenails can be the ideal way to level up your pedicure.
Add white or any color you desire with black to create this abstract look.
It may look tough but is the easiest to do. Experimenting with this look can be fun and satisfying.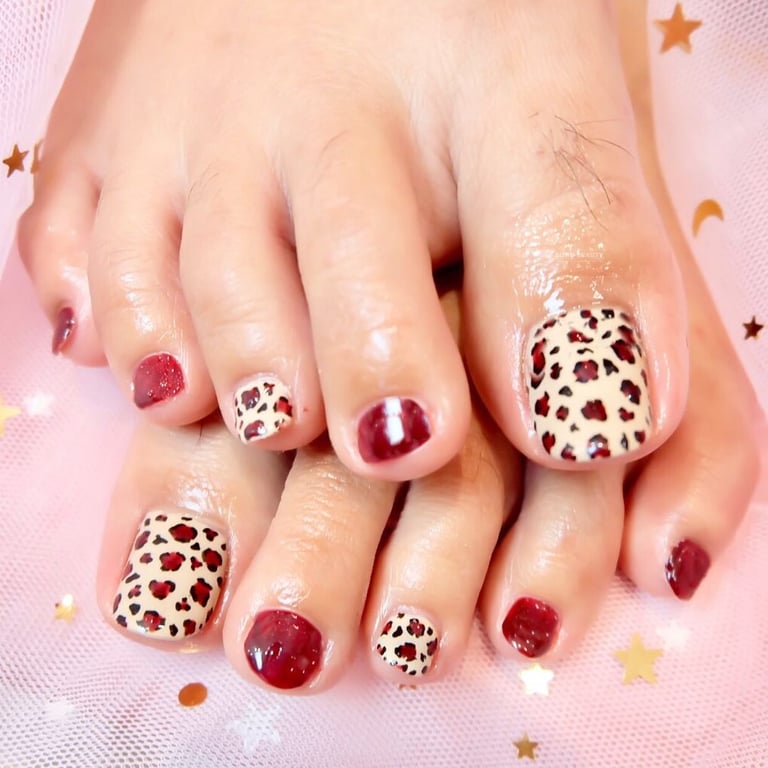 Black and White with Gold Touch

Black and gold are such a lovely combination of colors to amp up the magic of your toenails.
It gives an edgy yet soft look to your feet and makes it worth watching.
But this combination becomes more adorable when it is ornamented with cute little stones.
This toenail is a great nail art to try for the first time and looks gorgeous, so it is a must-try!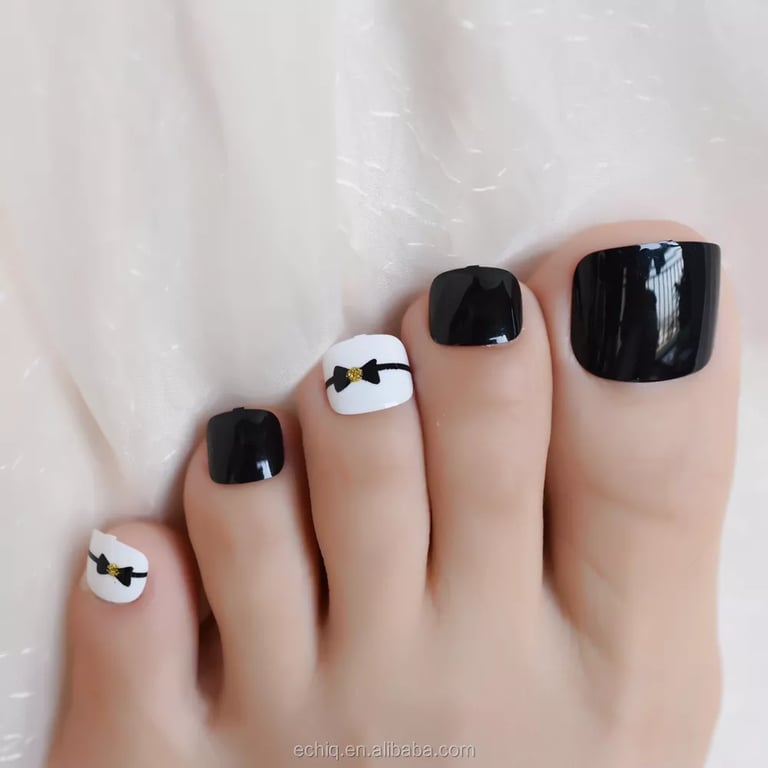 Also Read: Purple Nails With Diamond: Say Hello to the Purple Manicure!
The Timeless French Tip
Who doesn't love to get those French tips? It is the most loved and impressive nail art that has been in the trend for a long and has still maintained its position.
But trying black French tip is something flawless and chic.
Adding a glittery base to it might help you win all the compliments.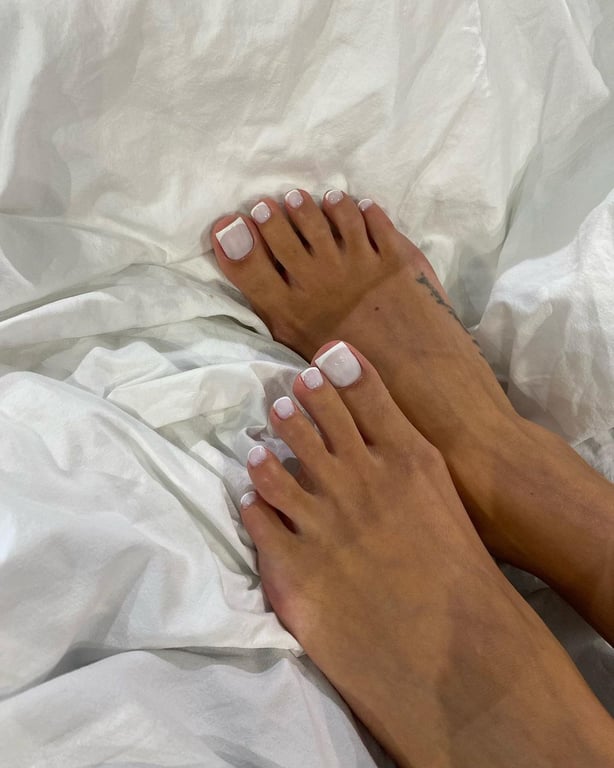 White Nails
Are you looking for something fun and stylish? A design that is unique and also eye-catching.
Well, these sophisticated white on your toenails will give you the full classy and cool vibe.
This is a great option to style black fashionably.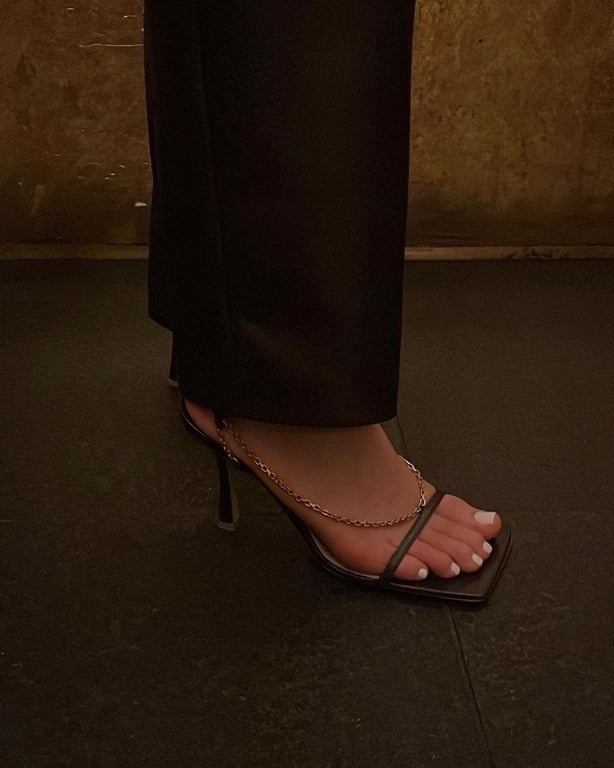 Baby Pink Vibes
This spectacular combination needs your attention!

Baby pink colors are a timeless mingle of colors and, when styled on your toenails, work like magic.

This modern and sassy pedicure is capable of making you feel happy and letting you win praise. It's just simply so pretty!

Try it for the most adorable.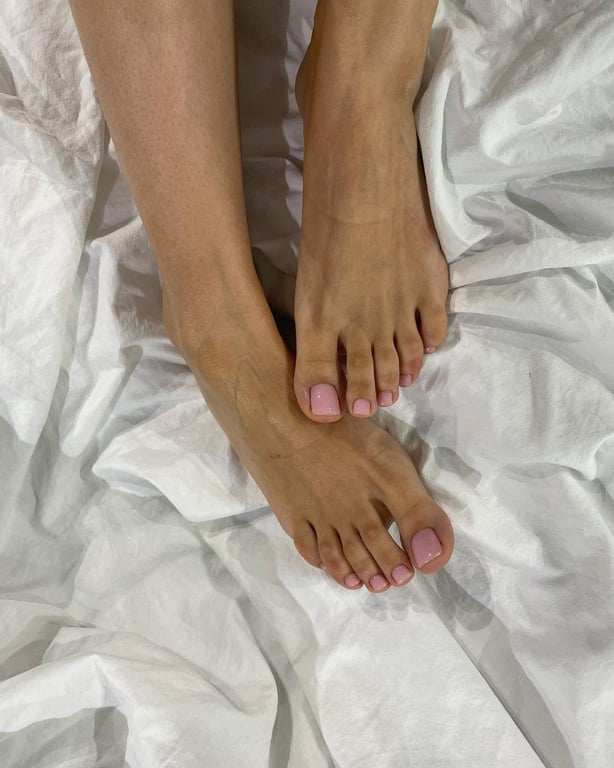 Dark Red Look
This look is highly in demand these days.

This black design is an elegant way to show off your nail art.

This classy red-toe nail design is a must-try to get the aesthetic look!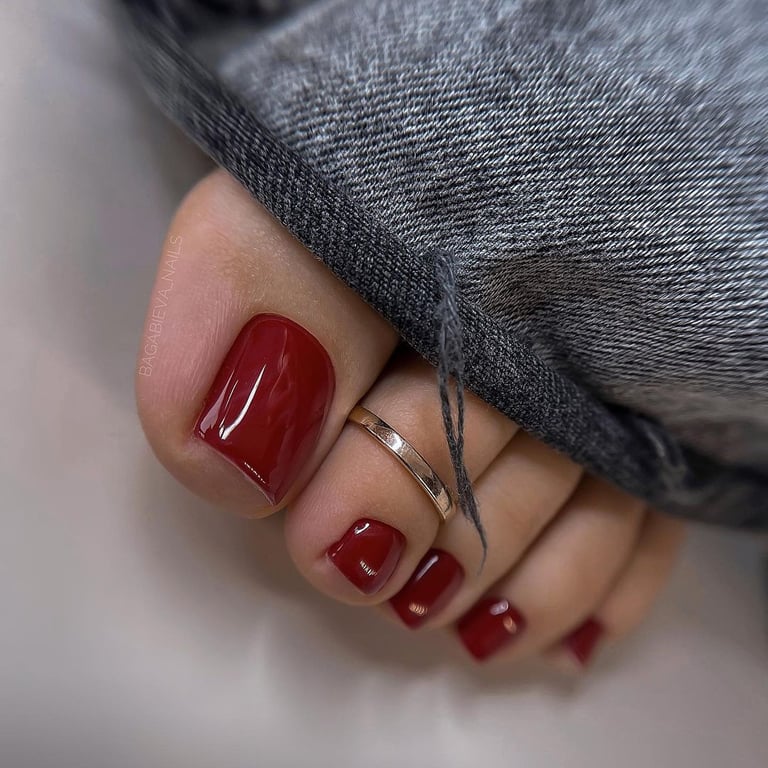 Also Read: 19 Black and Red Valentines Day Nails (Easy Designs and Inspirations)
Reference Link
Classy Black Toe Nail Designs-FAQ's
Is It Necessary to Use a Base Coat While Using Black Nail Paint?
* Yes, that's the trick with black nail paint, it is a dark color and often leaves traces even after you remove them. Your nails may look a bit black and dirty after their complete removal.
* To avoid this situation it is always better to use a base coat to protect the nails from getting stained.
* The base coat will help the direct contact of the nail paint to the nail's surface.
Does Black Nail Polish Look Good on Toes?
* Whenever in doubt, black is the answer.
* It looks gorgeous and striking on toenails and is always one of the best options to wear if looking for some trendy and pretty nail design.
Why Are Black Nails Popular?
* Black is an attractive as well as an impressive color to use as a nail paint.
* You can surely go for it to give your feet the best look.
Are Black Nails Classy?
* Well, a black toenail is a great way to define your fashion sense and boost your inner confidence.
* You can go for black nails for a classy and neat look.