Luscious, beautiful, and elegant locks are hanging freely and loosely in the air, everyone's eyes looking at you as if you are the queen. Haven't once in a while every girl imagined? Long relaxed hair has taken control over the fashion world; most women like their hair open, straight, and silky. But have you ever come across ponytail hairstyles? You will be astonished once you learn about its versatility and variability. Let's break the myth of long ponytails because short ponytails are equally as attractive and eye-catching as any long ponytail.
Ponytail hairstyles are simple, effortless, and require significantly less time. It gives a finished and appealing touch to your hair, making you unique and adorable. Ponytails are synonymous with comfort and simplicity; you can style your ponytail any way you like and collect all the praises.
To give you a new and refreshing look and to rejuvenate yourself, we are here with a wide range of ponytail hairstyles for all kinds of hair and matching accessories. So, pick and choose your favorite ponytail hairstyle and become the show-stealer.
Cute Ponytail Hairstyles
High Ponytail Hairstyles
Let's begin with the most loved ponytail style by most women. And that is the high ponytail.

This dapper and elegant-looking high pony is a fantastic way to style your long gorgeous hair.

And when a side flip accompanies this high ponytail

,

 you will compel the onlookers to utter, " Wow." 

This high ponytail with a side flip can be paired with any outfit, traditional or modern. Also, you can add some accessories for an enhanced look.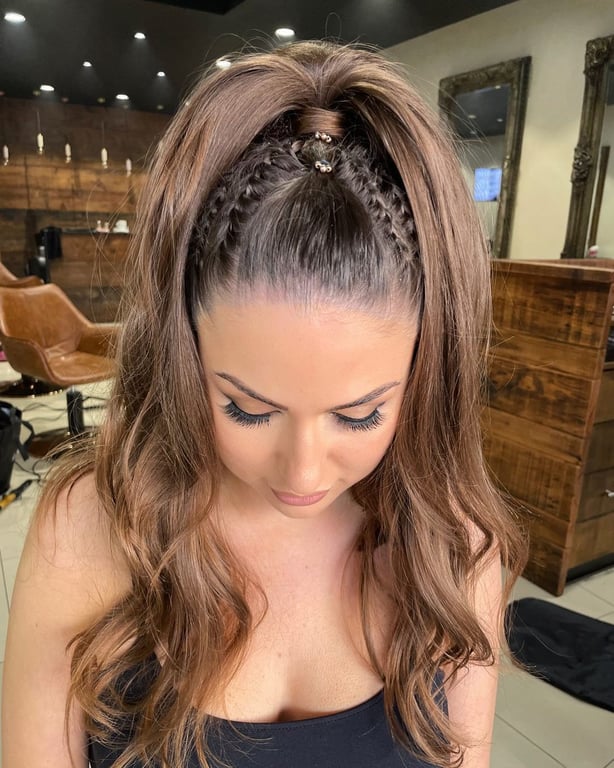 Simple and Sober Low Ponytail
Heading out to the market or gym! Style your hair with this low ponytail to get the aesthetic look.

It is tension free on the head and requires minimum time.

The soberest and simple look can be achieved with a middle partition. Or, if you want, go for a side partition. It depends upon your liking.

It can also be 

matched with a hairband or clips

to get the cutest and most adorable look.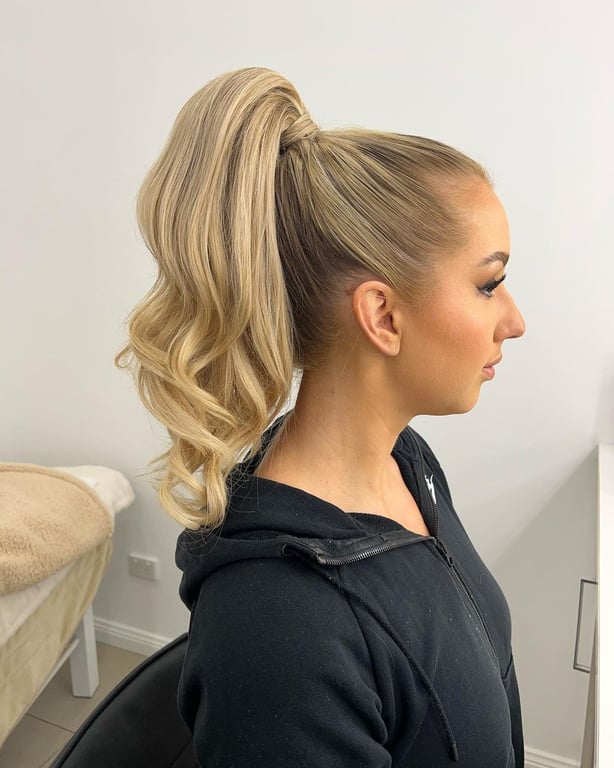 Also Read: Curtain Bangs: Get the Look for Effortless & Cool Hairstyles
Low Ponytail with Side Bangs
Stylish and sophisticated are the words defining this ponytail. It is super easy to style and is effortless.

Secure all your hair at the back into a low ponytail and take out some side bangs to get that professional look.

For styling this pony, you need to have bangs, which will add to the charm.
The non-complication of this low ponytail makes it loved by all. It is best known for framing

 your face.

 So, once in a while, it is a must-try!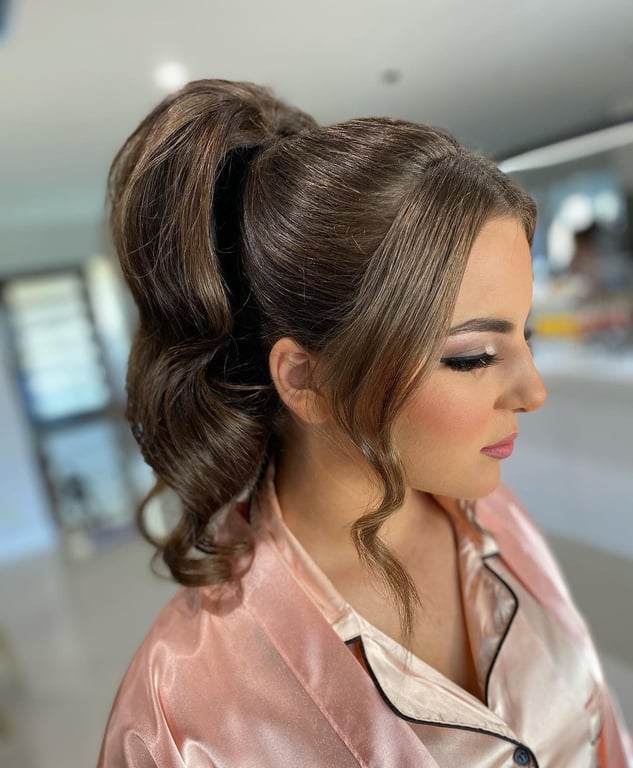 Wavy Ponytail
Ditch the mundane straight and 

curly ponytails

 and try this new style of adding waves to your hair.

A wavy ponytail gives a sleeker and neat finish to your hair. Style it with some hair products to get the desired look.

Try it with any outfit, and you are ready to nail this new look.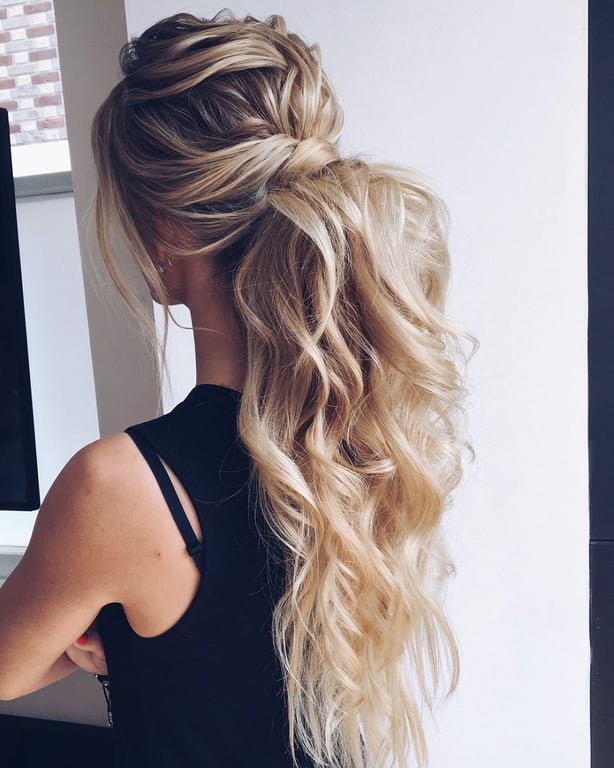 Voluminous Ponytail
One of the favorite styles worn by most celebrities all around the globe.

Yes, this illusion of giving your pony 

extra volume and dimension

 is highly in demand.

Use a curling iron to add texture and density and get your desired look.

When you step out with a voluminous ponytail, you are bold and elegant. Embrace it with complete confidence.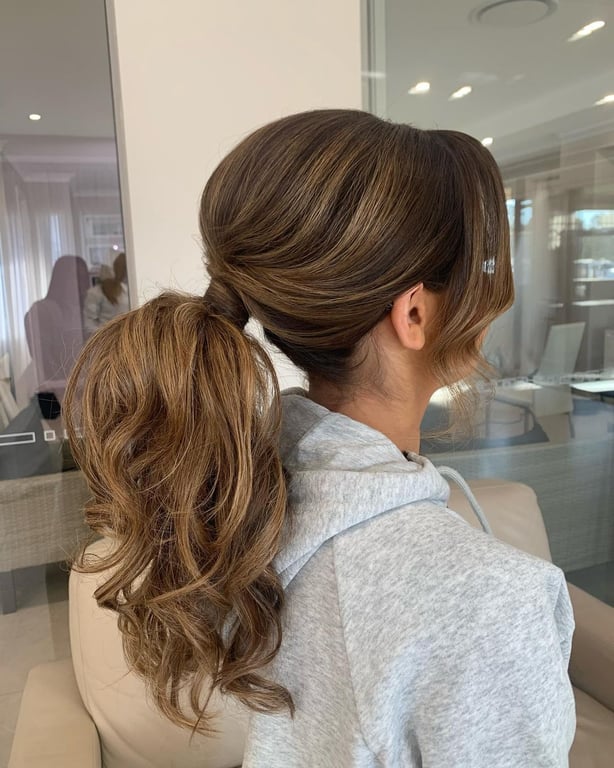 Braided Ponytail Hairstyles
These braiding techniques are sure to win hearts if you don't mind adding some twists to your regular ponytail. It makes you attractive and provides a different perspective to your hair, making it beautiful. For you to try some of these braids, we brought some fantastic styles; take a look.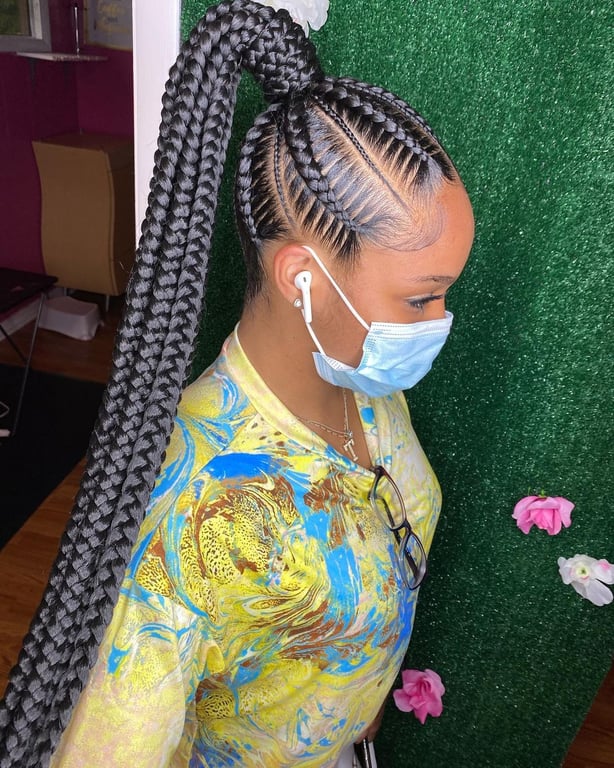 Side Braided Ponytail
Make side braids on both sides of your hair and secure the rest in a ponytail.

This

 captivating look

 will be your style changer, and you will look the cutest and the prettiest.

If you like, add some beads to the braids to highlight them and enhance their look. It suits best with traditional dresses.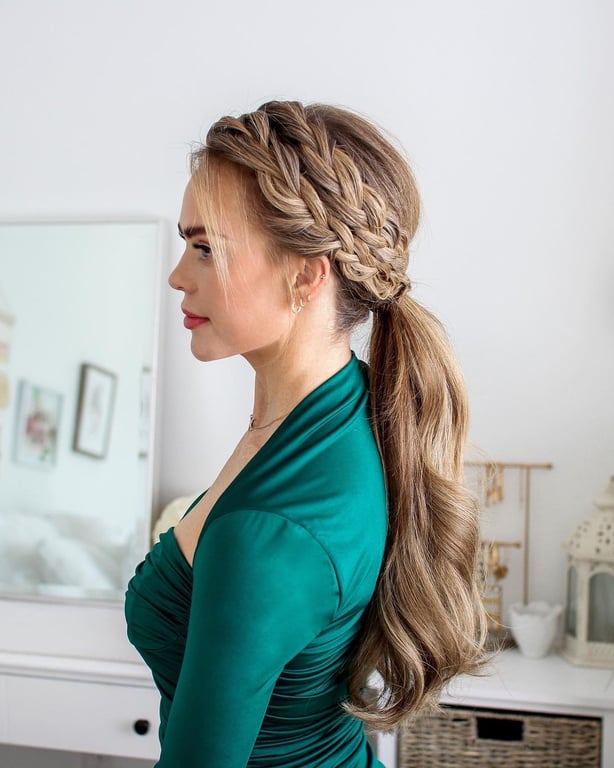 Messy Side Braided Ponytail
If you want to add a hint of femininity and modernization, messiness can be your friend.

Yes, this messy ponytail offers an artistic approach to styling your hair.

And when you add a

 side braid to your pony,

 it gives much-needed attention to your simple ponytail.

This ponytail can be worn on any occasion, be it festivals, parties, or a date. Also, it looks incredible with any outfit.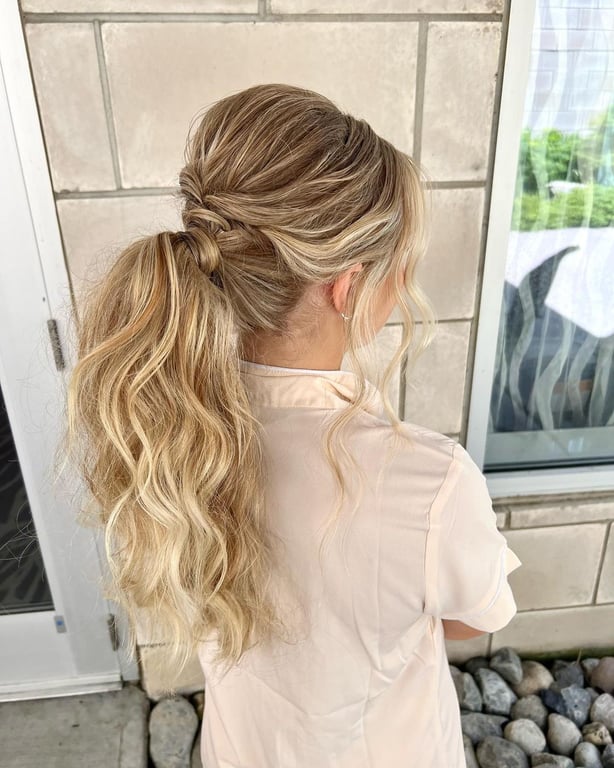 Long Braided Ponytail with Bangs
A side braid will add to the charm if you are blessed with very long and dense hair.

To emphasize your look, add bangs covering your forehead.

The long braided side pony distinctively presents richness and simplicity, and the bangs make the look more relaxed and fun.

You can add any of your favorite accessories to provide a funky look.
Ponytail Hairstyles for Black Hair
Suppose you worry that the color of your hair won't permit you to try different styles. You're mistaken because ponytail hairstyles look gorgeous on any hair color and face shape. So, here are some of the trendy hairstyles for ladies with black hair to make them just stunning: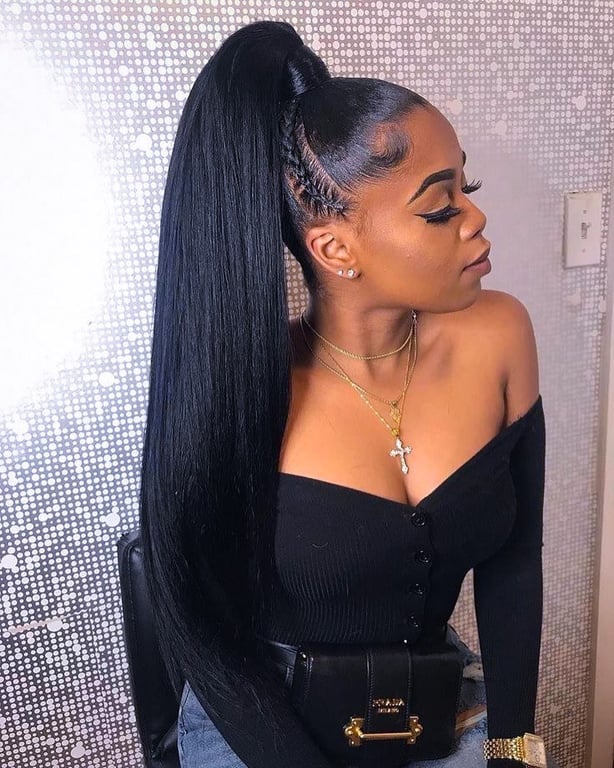 Sleek Side Part Ponytail
Ladies with black hair can try this hairstyle for a modern look.

Start by straightening your hair and add 

some shining serum

 to get the glow to your hair.

Elegantly make a side partition without any messiness to get a neat look. Make a side pony and reach the finish you desire.

This ponytail hairstyle is an excellent option for a date and can be paired with any outfit. Looks stunning.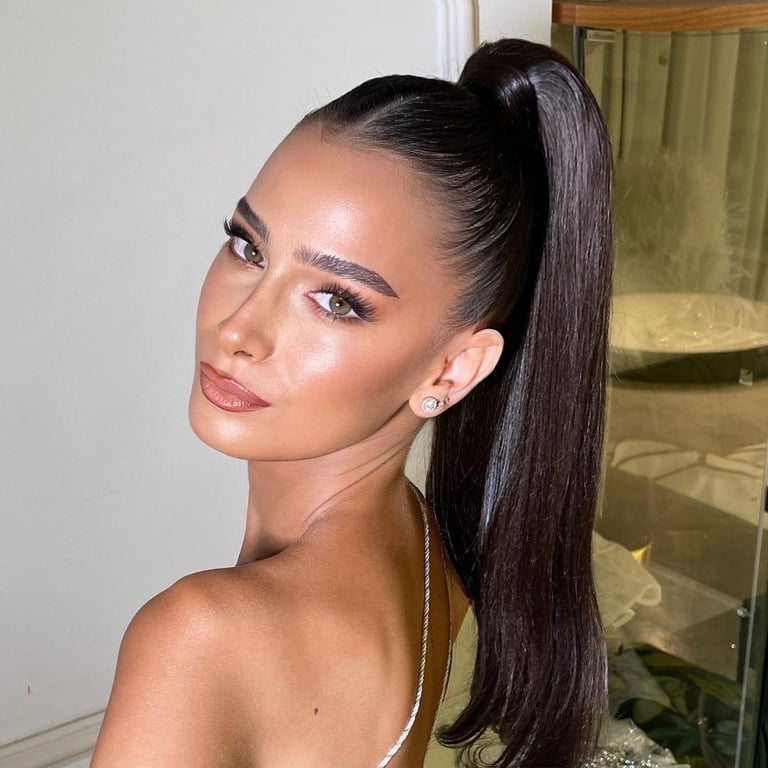 Also Read: Short Hair is Back! 23 Trendy Short Hairstyles for Women to Try
Bubble Ponytail for a Unique Look
Well, this is the newest invention in the range of ponytail hairstyles. And many people are adapting to this unique look.

This involves securing your hair in 

bubbles in a long ponytail

.

Transparent rubber bands are tied to give a bubble appearance. At the front, you can make a sleek style to complement the look.

This contemporary and graceful ponytail is a must-try for women ready to experiment.

You can also tie black ribbons at the end of every bubble to provide a more relaxed and funky look.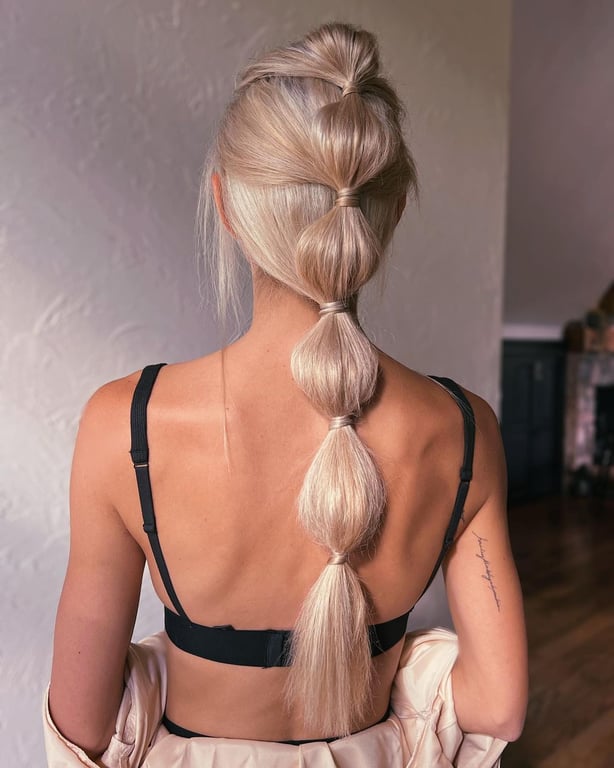 Braids Ponytail for Protection
Cute Ponytails Hairstyles can be the best option for offering protection and care to your hair.

You can make small braids with every tiny section of hair and let them hang freely. Now tie all of them in a ponytail.

This stylish and protective hairdo is greatly recommended for black women to get them the much-needed attention they seek.

It looked graceful and aesthetic when styled correctly and

 carried in confidence.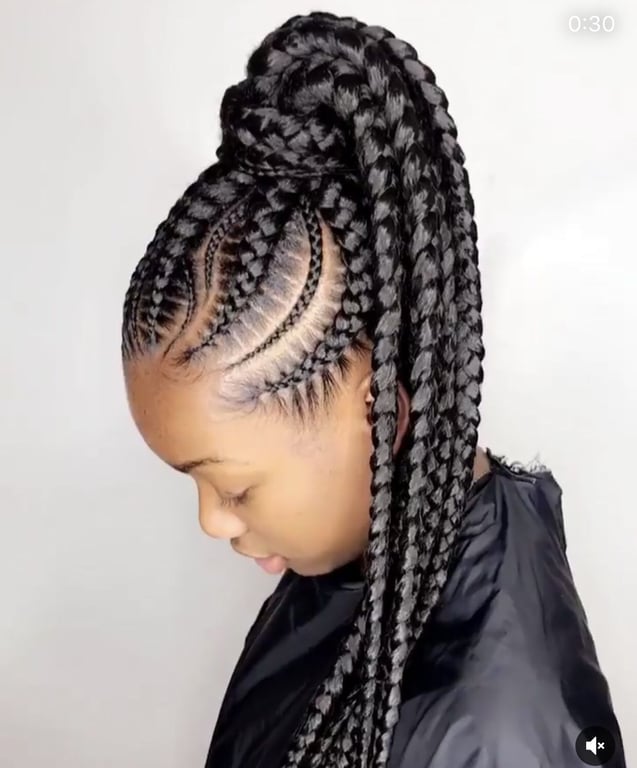 Crimped Medium Black Hair Ponytail
Give a surprising look to your viewers by crimping your hair.

Tie this crimped hair into a ponytail and style it with matching accessories. Pair this

 elegant hairstyle

 with an enticing dress to get the desired look.

This crimped hair looks great on medium-length hair. So, get ready to set the stage on fire with your new artistic look.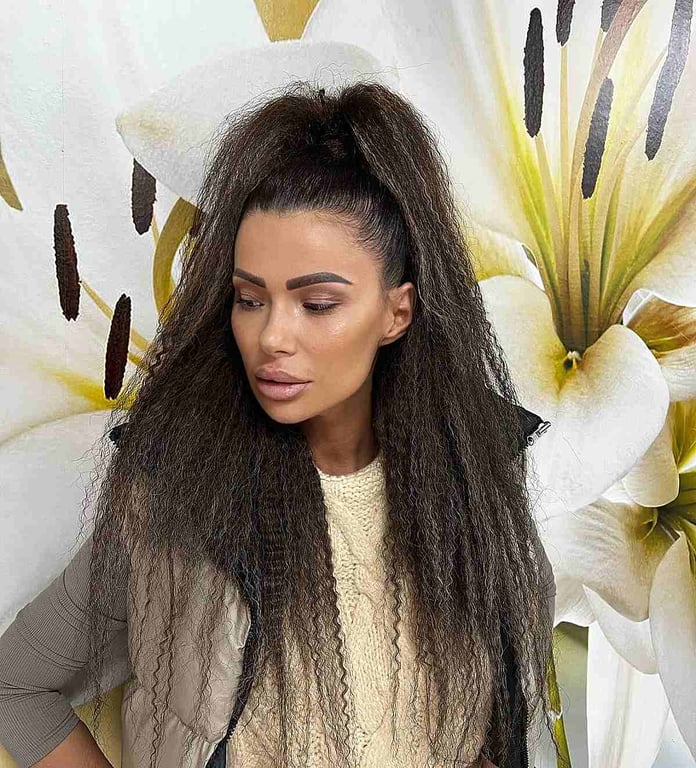 Reference link
Cute Ponytail Hairstyles-FAQ's
How to Do Half Ponytail Hairstyles?
* Detangle all your hair properly. Then take half of your hair or as much as you desire and tie it with a rubber band.
* Let the other half of your hair hang loosely down the head and detangle them properly.
* Now secure all your baby hairs with clips to get a finished and stunning look.
How to Do Ponytail Hairstyles for Black Hair?
The article " ponytail hairstyles" above mentions all the trendy and fashionable hairstyles that you can take inspiration from and apply to your hair.
Which Face Shape Is Best for a Ponytail?
* Well, according to most of the research it has been found that heart-shaped faces provide the best version of a ponytail.
* But a ponytail is a very versatile style and it suits best all face shapes and all types of hair.
What Are the Benefits of a Ponytail?
* Talking about the benefits of a ponytail, there is a long list. Firstly, it is comfortable for every woman out there.
* Secondly, it offers protection to your hair by securing all the hair and tangles it less.
Thirdly, a ponytail hairstyle looks awesome and stunning on every occasion and dresses or accessories.
* Altogether, it is one of the most stunning options to try a different look.
Which Haircut is Best for High Ponytail?
* Mostly layered haircut is best suited with a high ponytail.
* When you are opting for a high ponytail, volume is the key. So, get a haircut that offers you the maximum volume and texture.