The title is enough to make you surprised. Well, that's the 2022 trending nails – dragon nail designs. Dragon nails can sound offbeat and deviate from standard beautiful and pretty nails. Some extraordinary nail designs is what everyone loves trying. So, go ahead and have a look at these dragon nails.
This does not mean dragon nails are not pretty; these are an absolute treasure in fashion. Dragons signifying wildness and fierceness can be a challenging yet fantastic way to design them on your nails. A class of people is fond of dragons and the mystery behind their existence. So, if you want to add these mythical and magical creatures to your life, what better way to design them on your nails?
When it comes to nail designs, the options available are limitless, but when we talk about dragon nail designs, you may need clarification. But never worry because your confusion ends here. Some shortlisted versions of dragon nails are here with twists to make you feel bold and fiery. Go on, have a look:
Dragon Scale Chrome Nails
This gorgeous transition of green and black tones can be ideal for designing dragon scales on the nails.
It looks royal and wild and can be your perfect dragon nail for the season.
Don't think twice because it's green and black; go for it!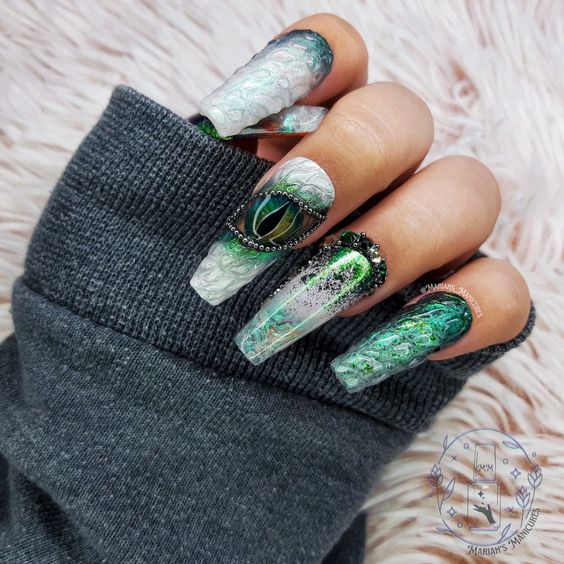 Piercing Dragon Eye
To create that, it is looking right at you; a fierce dragon eye on your second finger can be an ideal option.
A combination of different dragons representing colors with an eye carved on one finger is perfect.
For your new fiery nails, this is a must-try!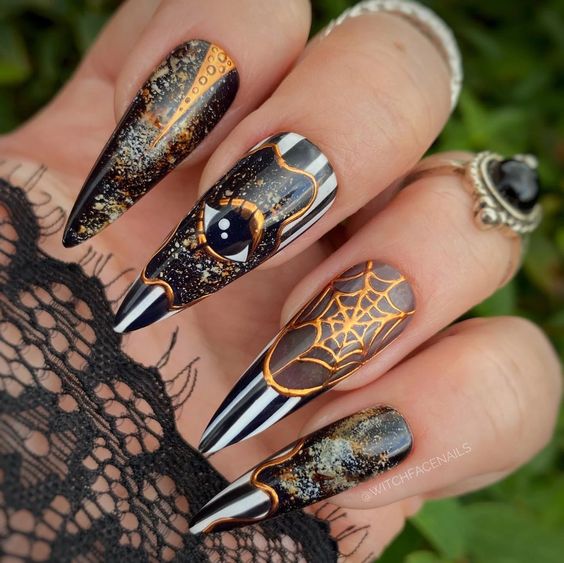 Also Read: Lavender Nails With Design: For a Calming and Graceful Look Lavender Nails Designs
White and Black
Get ready to rock the most awesome nails of the season.
The combination of vibrant and eye-catching colors, white and black, is an excellent way to amp up your nail game.
Create those dragon scales with white and black, and you are good to go!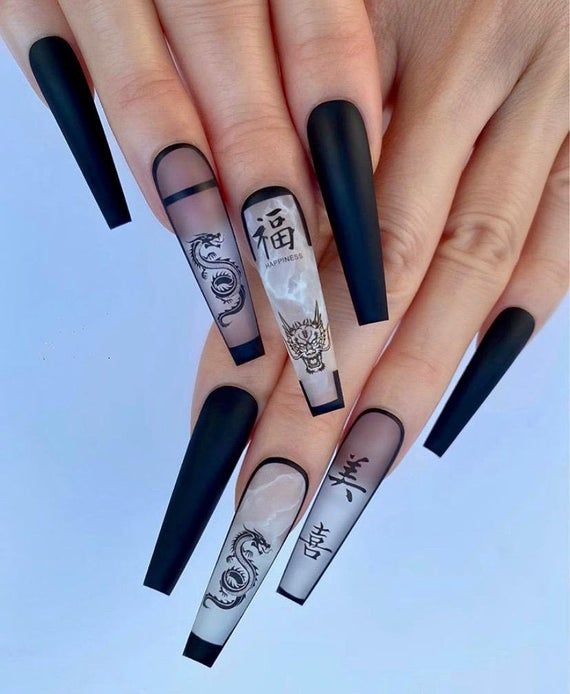 Bright and Fantastic Red
The savage red color is not just a color; it's an attitude.
And when you apply red and some streaks of black with dragon designs, it is another name for beauty and boldness.
Without any doubt, you can go for this dragon nail design because it is just so pretty!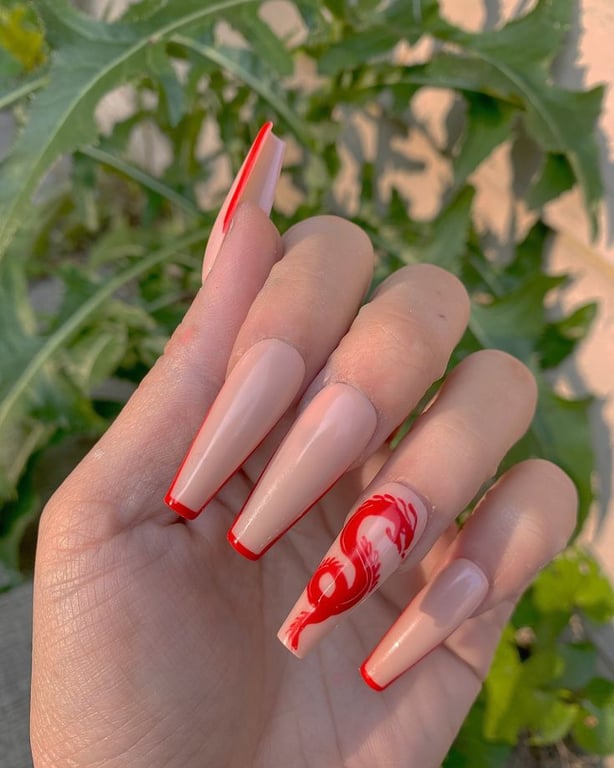 Classic Shimmery Green
Green is often considered the dragon color. Though nobody has seen a dragon, green is mostly a dragon symbolizing color.
Some green dragon nails are a sure yes! Yes!. Please go on; give it a try! You will surely love it.
The added shimmer is just wow!
Also Read: Let's Discover Different Pink and Blue Nail Designs
Blue Dragon Nail Designs
Blue is a universal color. Whatever design you like can be painted on the blue nails.
Just look how elegant and worth your time are these blue dragon nail designs.
Ultimately a perfect way of showing off your long and beautiful nails.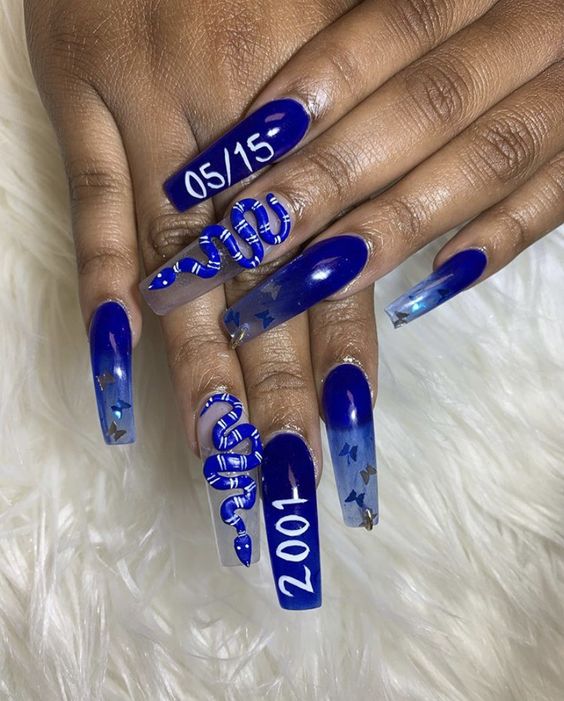 These Perfect Colored Dragon Nail Designs
Wondering how dragon nails can be your best friends?
With these color combinations and a design of dragons, the wildness you have been searching for can be found.
This is a great option to look for while considering dragon nails.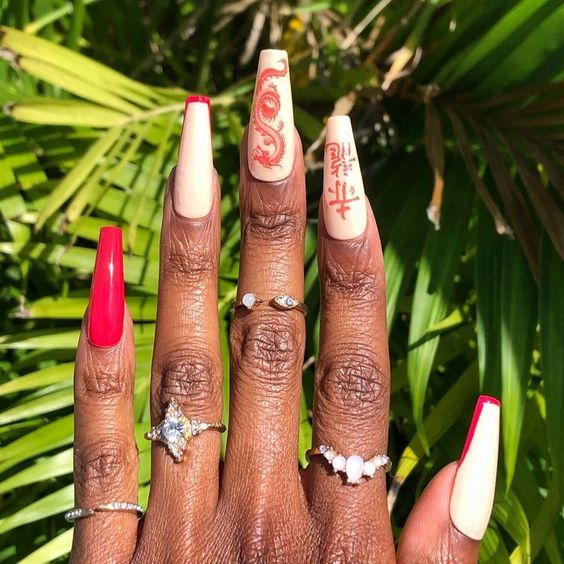 Dragon Black Nails
Simplicity with some uniqueness is always welcoming and pleasing.
To create this damn hot look, paint your nails jet black and design this fierce dragon on one nail.
You can also apply a dragon sticker for ease.
Pair this look with some jewels for a more enhanced look.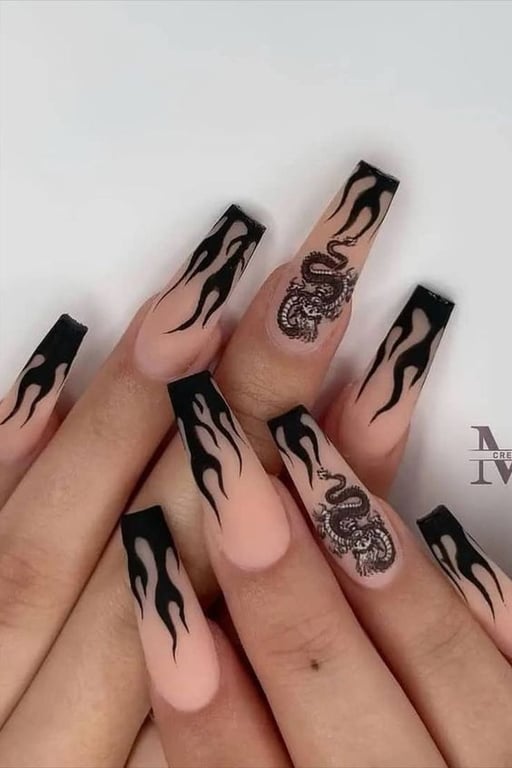 Coffin Dragon Nails
Coffin-shaped nails with a dragon design are the most offbeat way to create a different look.
For a new nail fashion experience, apply the lavender hue to the nails.
Now draw a dragon on one nail with a black color. This is simple, sober, yet inviting.
A must-try!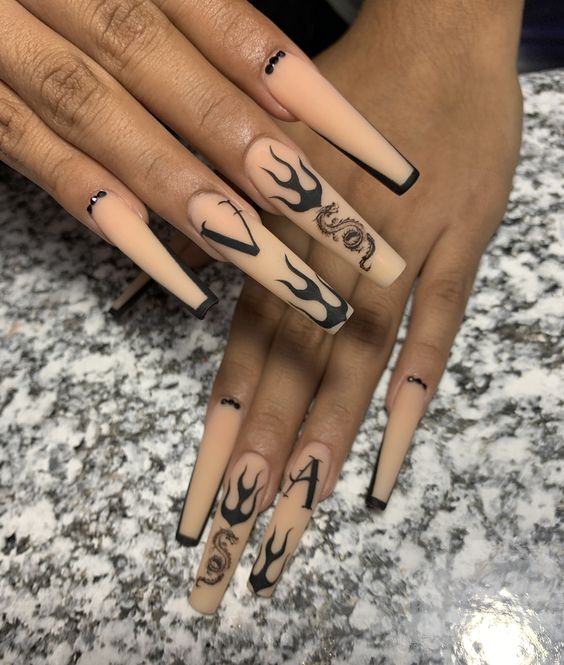 Neon Dragon Nail Designs
To add fun and attractiveness to your dull nails, neon is the best to consider.
Neon nails with dragon design are yet another masterpiece, and believe me, the many compliments you will earn from this.
Create the same look as in the image, and rock it!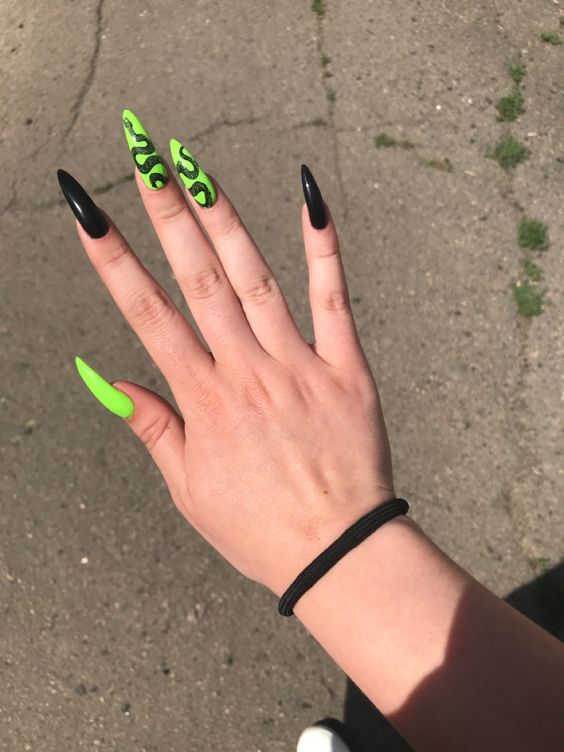 White Colored Dragon Nails
Yes, you read right; even white can be an ideal way of adoring your dragon nails.
Coffin-shaped nails with a white base and a dragon on one of the nails are so good.
This is a very calm, soothing, yet very cool and funky way to give a hint of modernity to your regular nails.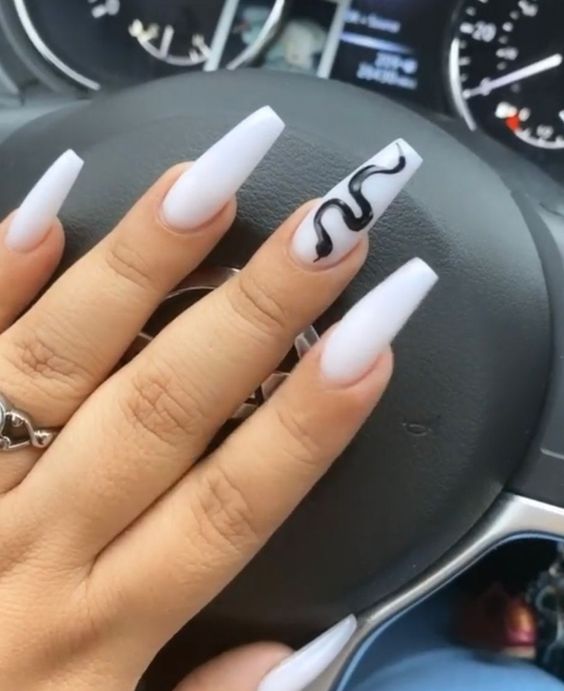 A Glittery Dragon Nails
To make your nails look more glammed up and fierce, a touch of glitter can be the best option to try.
Some dragon designs and glitter with the combination of black color is a treat to the eyes.
So, what are you thinking? Paint it.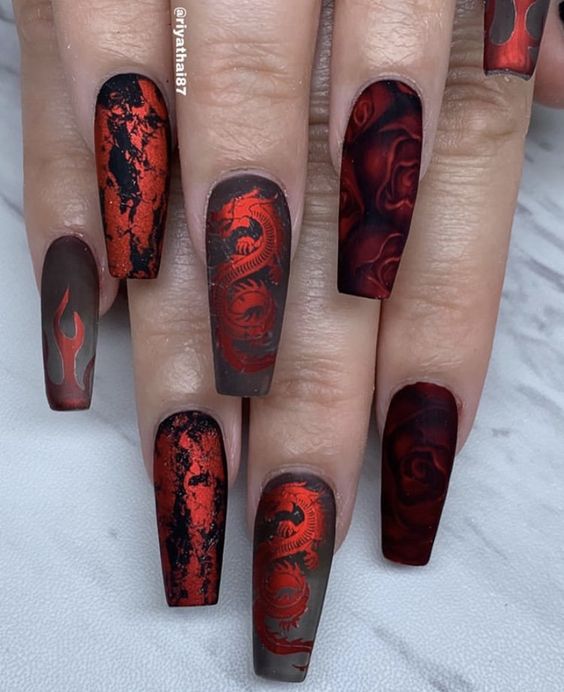 The combination of Pink and White
Yes, it's a fabulous look. Believe me.
Color the nails white and then draw some dragons with pink.
A nail art, both cute and bold, is what this dragon nail design offers you. Try it!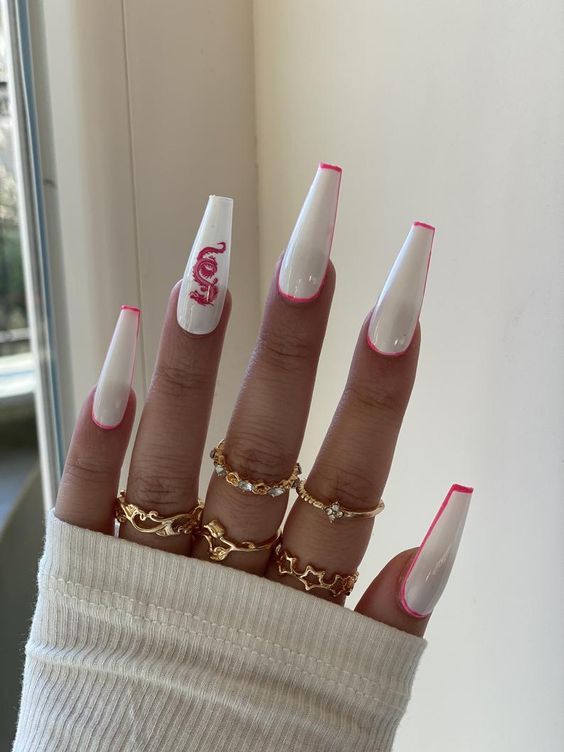 Also Read: Nail Designs for Men: Explore Your Inner Wildness
Conclusion
The dragon nail designs are becoming the talk of the town, and if you see them, they are right and not very bold. Instead, they are refreshing and savage for your next manicure. Don't think twice before getting these dragon nail designs on your nails; they can become the source of those priceless compliments because it's time to channel your inner wildness.
Reference Links:
Dragon Nail Designs-FAQ's
How Do You Do Dragon Nail Art?
* Well, doing dragon nail art requires some practice and patience.
* So, it is advised to get it done by a professional to get your desired nails.
* Also, watch some tutorials on painting your desired dragon nails by yourself and become a pro.
Are Dragon Nails Trending in 2022?
* They are trending in 2022. And these dragon nail designs are slowly making their way through people's hearts.
* Most ladies are ready to experiment and look forward to some bold and wild nail art.
If you are prepared for a change, this dragon nail is your next option to consider.
Can You Use Stickers for Dragon Nail Designs?
* Yes, of course, you can. It is super easy and time-saving.
* Also, it is super stylish and makes your dragon nail designs worth trying.