The most loved season, autumn, has already knocked on the door. The slight coldness in the weather fills you with happiness and energy. Autumn is an adorable season, and there is possibly no one that does not fall for autumn. The arrival of this joyful and merry season marks the beginning of some fun and craziness. What do you think about bringing the charm and beauty of autumn to your nails? There is no doubt that you are going to fall for these fall nails! Some pretty nail designs inspired by fall are blessing your search engine today.
Fall nails are trending and are making every lady consider coloring their nails in pretty fall colors. They are an interesting approach to gorgeous nails. So, get ready to captivate everyone with your flawless nails because, in this article, we are presenting to you some very cool, chic, graceful, and unique fall nail ideas to try. Scroll down, have a look, choose your favorite, and become a charmer.
Full Shimmer
Burgundy is such a pretty color to apply to your fall nails.

This nail color is vibrant, 

outshines every other color

, and makes you look flawlessly graceful. It is a must-try!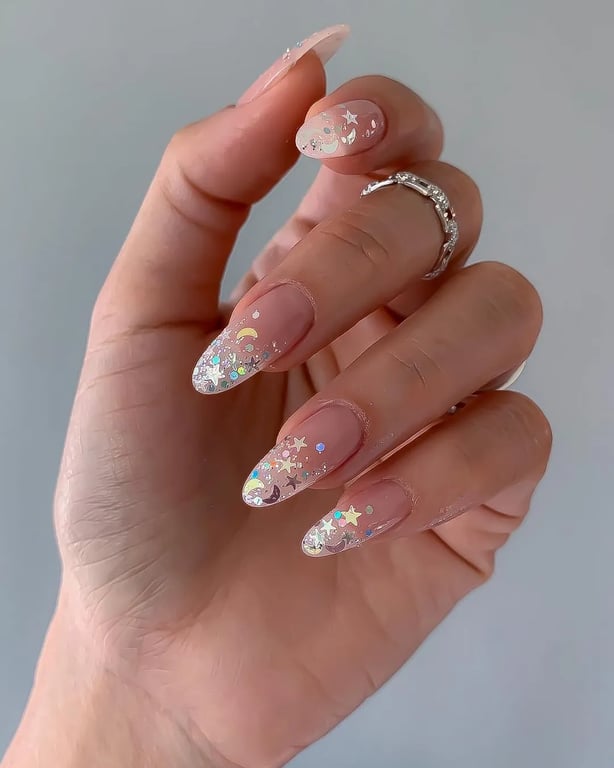 Magic Burgundy
Burgundy is such a pretty color to apply to your fall nails.
This nail color is vibrant outshines every other color and makes you look flawlessly graceful. It is a must-try!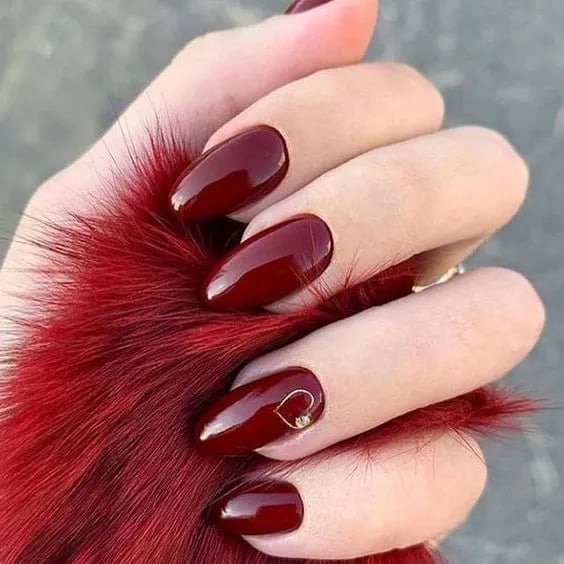 Classy Green
Despite being an unexpected choice for falls, green is a fantastic color that makes your nails stunning.

The richness this avocado green can bring to your nails is just unmatchable. Worth trying!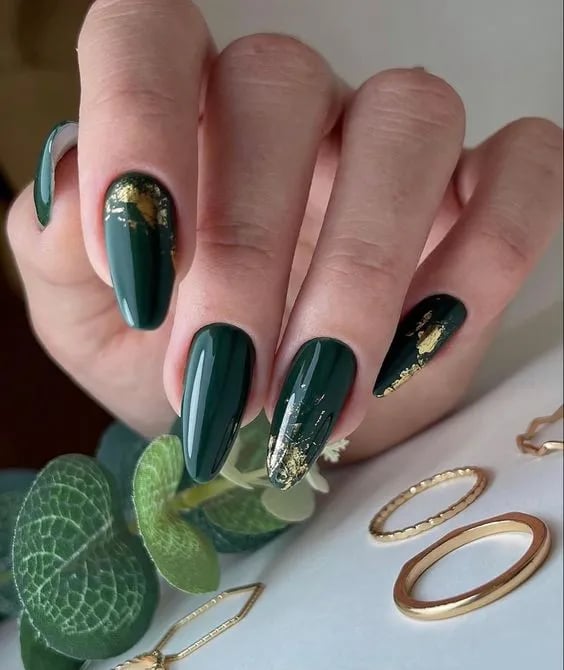 Also Read:- Learn About these Nail Shapes To Plan Your Next Manicure
Pleasant Purple
This pastel purple is another very popular fall nail color.
It is just perfect in its simplicity. You can rock this in actually every season!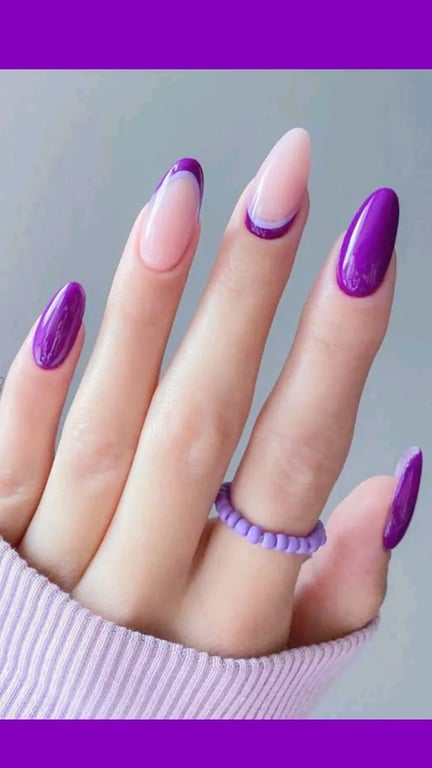 Pretty Florals
If you want to keep it low this season, floral art can be the best thing you do with your nails.

Apply any nude color, and ask your manicurist to paint some lovely floral designs for an adorable look. If you want to keep it low this season, floral art can be the best thing you do with your nails.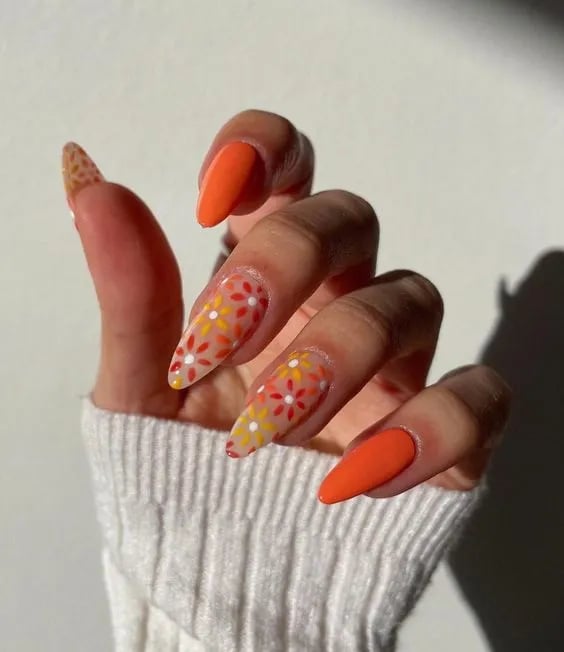 Twisted Tips
French twists being the classic nail designs art of all times are an excellent method of welcoming the falls.

Go for 

combining two shades

 of the same color to get a unique look.

If you like minimal colors, then these fall nails are indeed for you.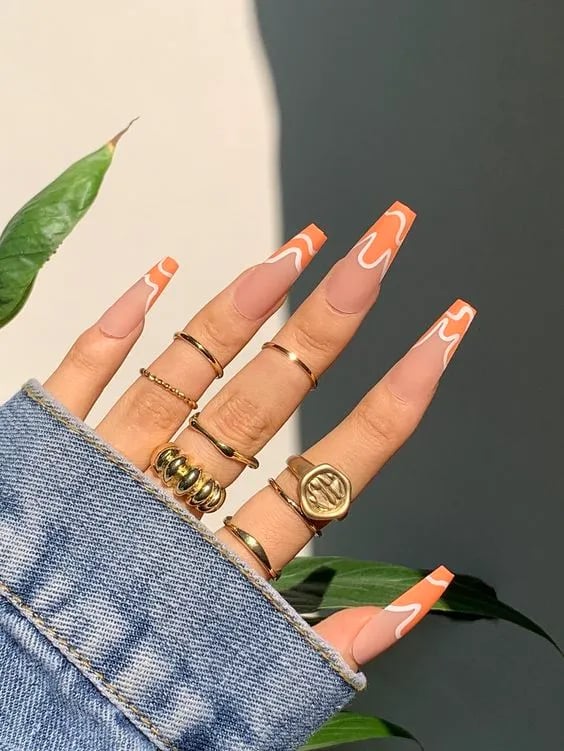 Dark and Dreamy
Just like the arrival of falls starts with longer dark and colder nights, this nail look is also dark and dreamy.
Some glittery dark emerald green can be your next obsession. Just so pretty!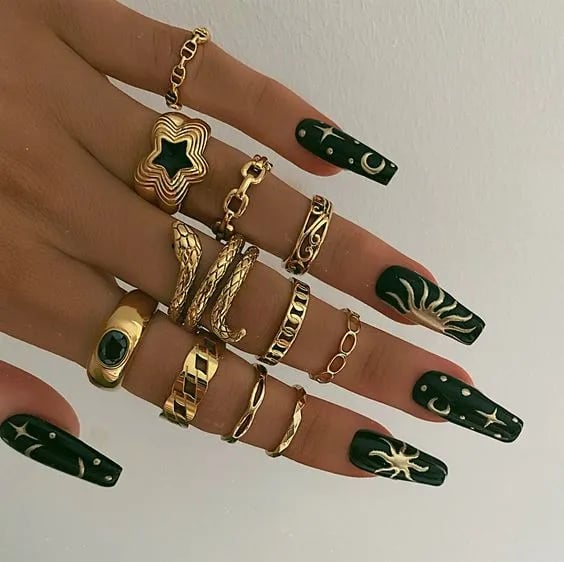 Also Read: Blue Snowflake Nails: Time To Welcome The Winters
Attractive Red
Red is not a color, it's an attitude! The bold cherry red color is enough to explain your aura in the room.
This eye-catching red is surely a yes! Yes! For this fall. This can be the best fall nails you have done in a while.
Multi Colored Moons
This fall nail has my whole heart! It is the prettiest version of fall nails.
Try mixing some lighter summer colors with darker fall shades to create an alluring and glamorous look.
It is so cute and appealing.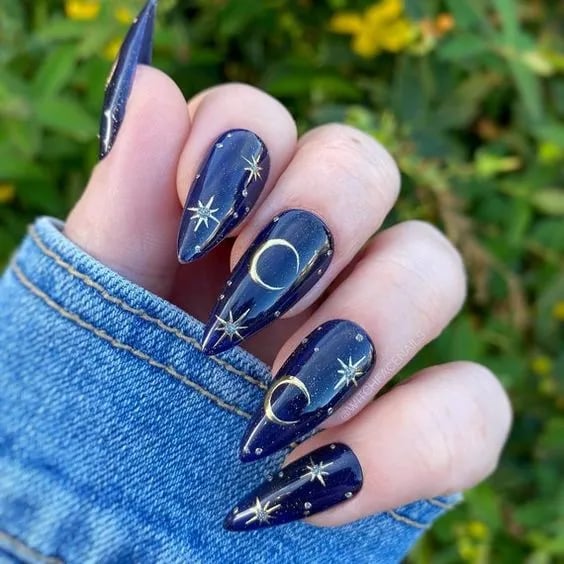 Autumn Colors
This masterpiece is

"wow"

. Because when a dilemma strikes, we end up painting the same colors on the nails.

So, when confused, go for the autumn colors. Paint each nail with fall color and apply a shiny top coat to enhance the effect.

It's a perfect choice for the ones wanting a sober yet inviting look.
Sweater Styles
This is the freshest and newest invention in the fall nails category.
These nail stamps look just like a sweater and give you a cozy feeling. Some bright colors can be the base of your look.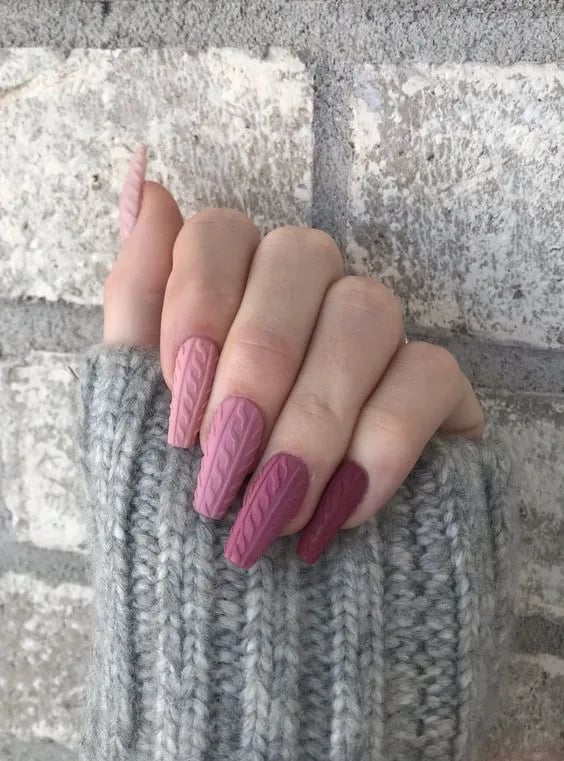 Mixed Media
If you are ready to experiment, this mismatched nail art is perfect for you.
Ask your manicurist to pour his heart out and mix some chic and funky colors into your nail
This mixed media is for the sassy ones.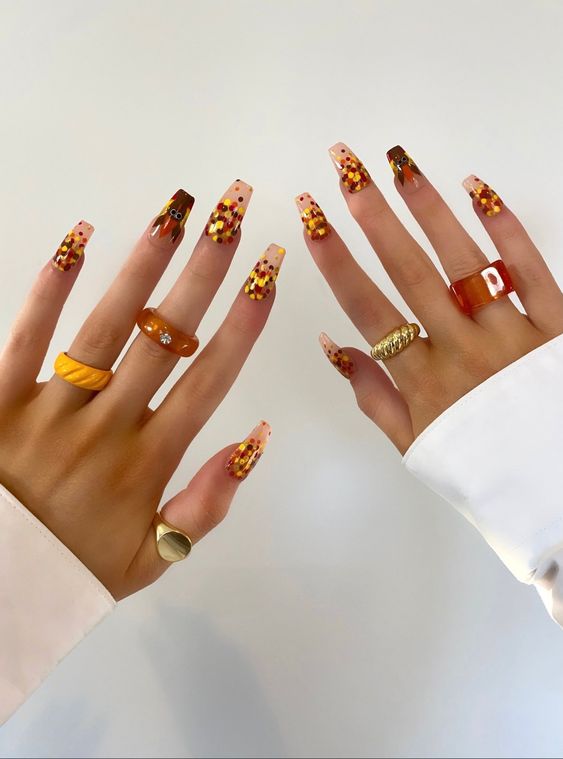 Golden Tips
Fond of French tips? Time to add some royalty to it.
Fall nails with golden color are sophisticated to look at and provide a comfy feeling.
Just color the tips golden for a simpler yet attractive look.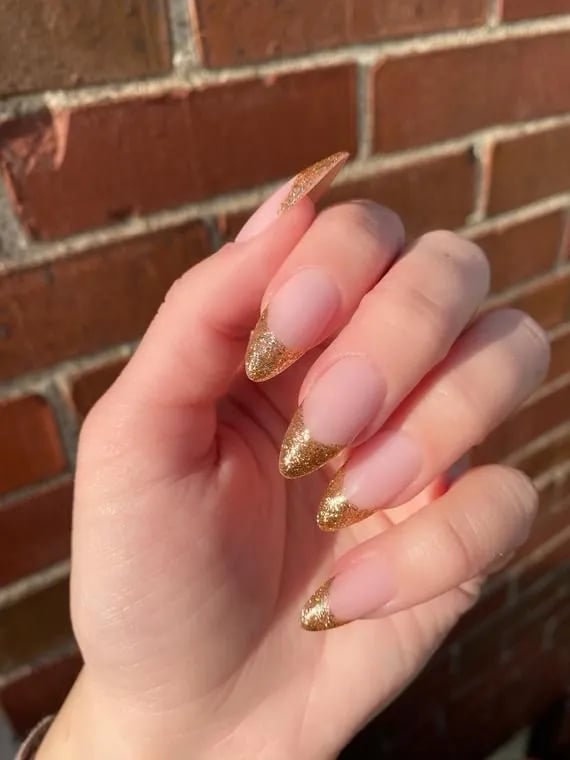 Fall Nails With an Ombre Touch
Ombre has the quality of making any nail art magical.
A combination of bright orange and red Ombre is something every lady wishes for.
This extraordinary mix is exceptionally glamorous.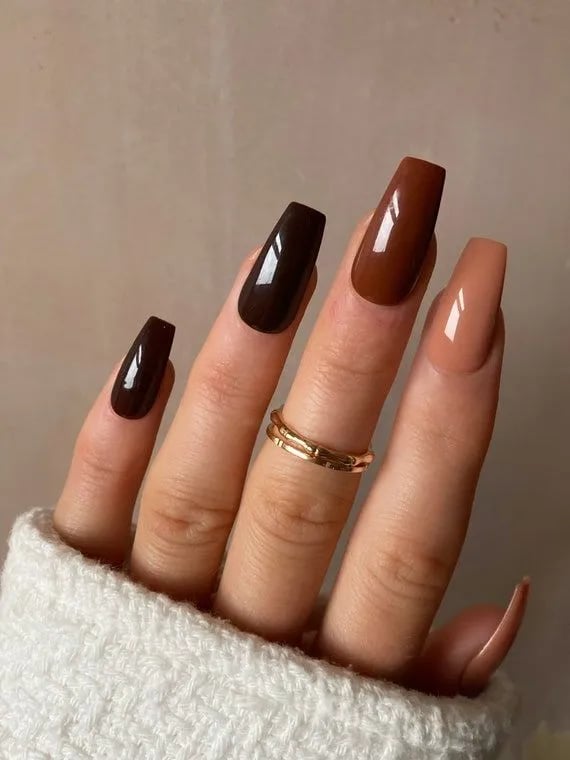 Butterfly Nails
Is this what you have been searching for? The biggest trend of 2022 is here.
You can use this butterfly trend for your fall nails. Color them in some autumn colors with a nude base for the cutest look of all.
These gorgeous fall nails are a must-try for a beckoning look.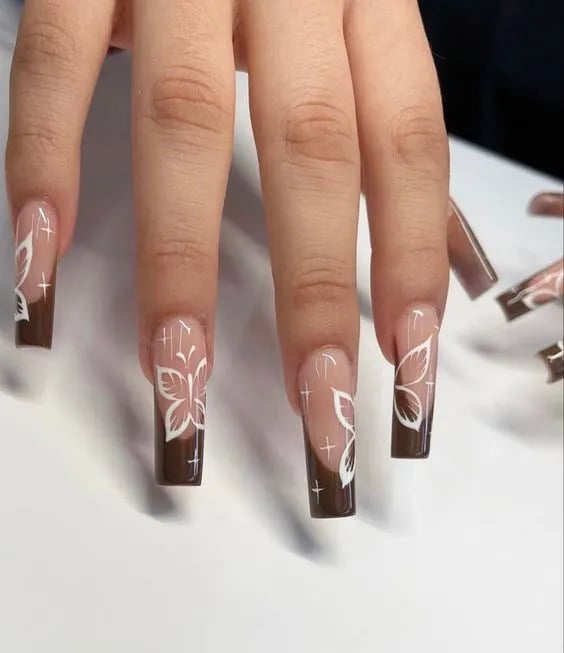 Pearly White
Well, add some royalty to your boring nails. Fresh white color with some pearls is a great fall nail option to go for.
They provide a unique as well sober look to your nails.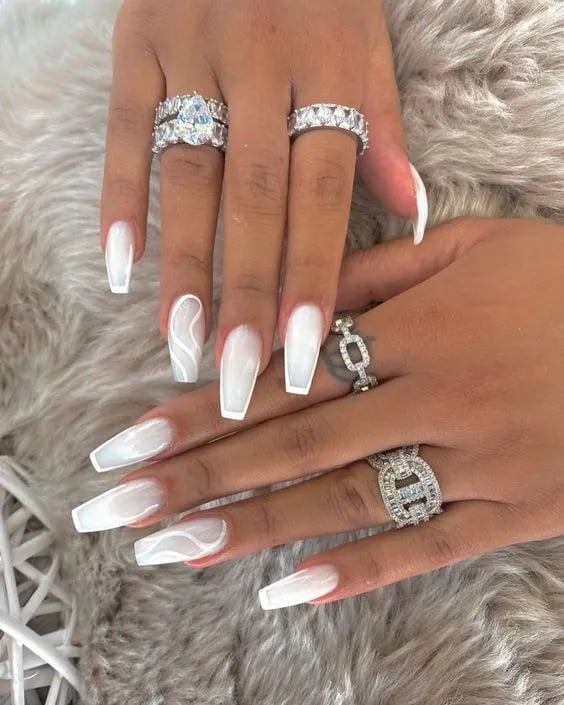 Rainbow Swirls
Something zesty and funky is the new trend this fall.
Go for making some rainbow swirls for a perfect fall nail. Looks cute.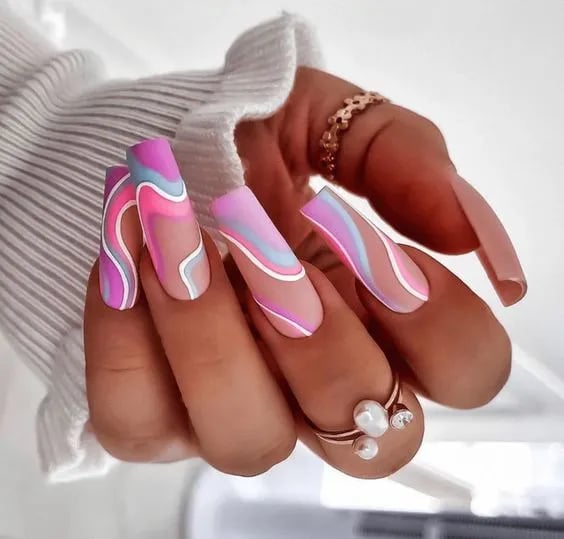 Geometric Nails
With this, you can outshine every lady out there.
Geometric nails are an artistic approach to a very stylish fall nail design.
For a divine and graceful look, go for it.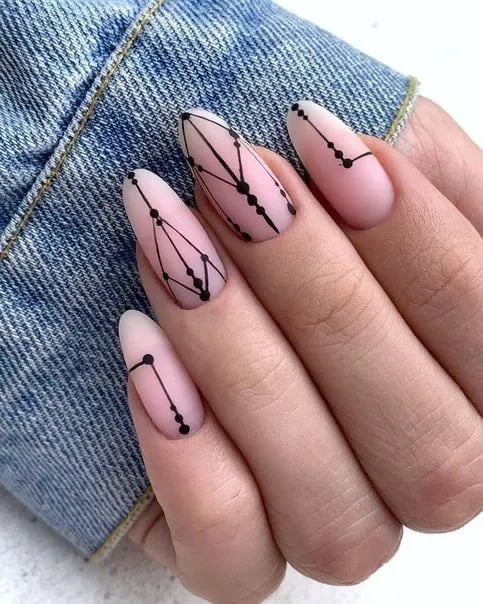 Sober Orange Nails
These subtle orange fall nails are just so pretty and eye-catching!
You are going to fall in love with these subtle beauties.
To match your every fall outfit, this is the ideal way to create some magic.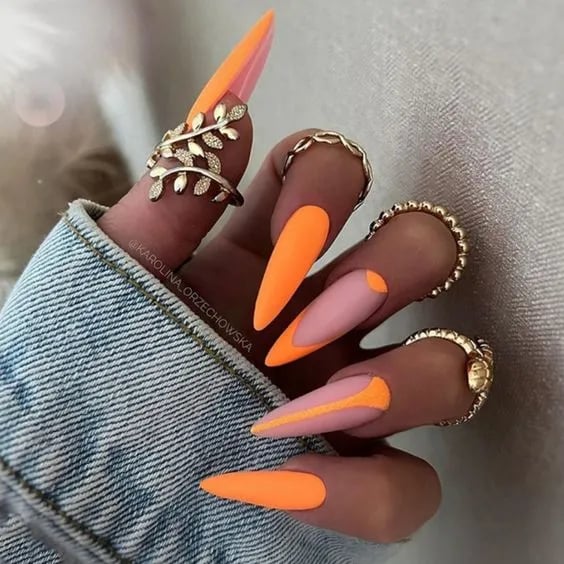 Mixed Pattern Fall Nails
Choosing is what everyone hates. But with these fall nails, we rid you of this situation.
Go for a mixed pattern with a fall color palette for a different and exciting look. It is fun as well as groovy.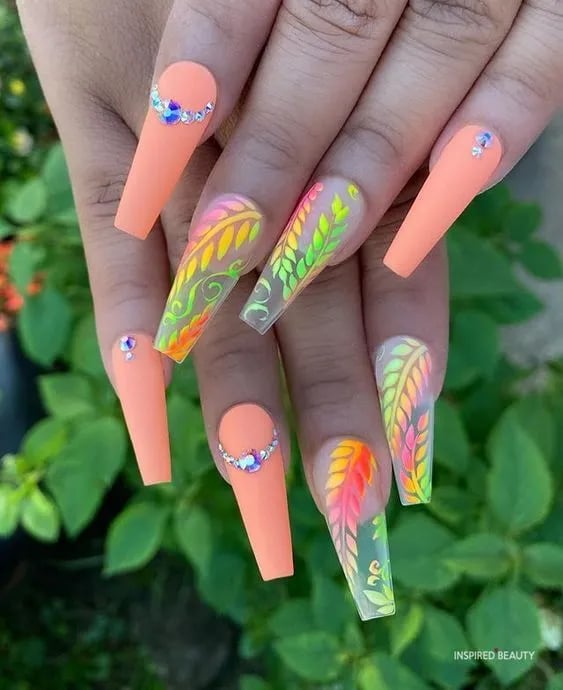 Fall Leaves Nails
Say hello to your elegant fall leaves nails! They are just so gorgeous to look at.
Against a neutral background, the stamping of fall leaves is an exceptionally wonderful choice to rock your fall nails.
Secure the stamps with a top coat.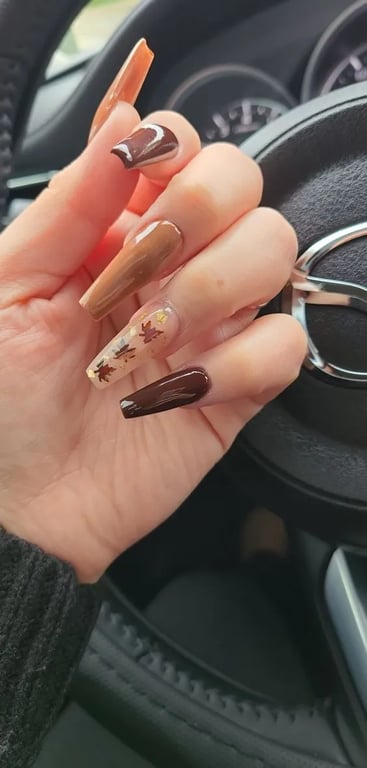 Matte Fall Nails
Simplicity is particularly attractive. And when this simplicity reflects on your nails, it is enchanting.
Just paint each nail with a different fall matte color and add a glance of shine to it.
This is both sophisticated and graceful.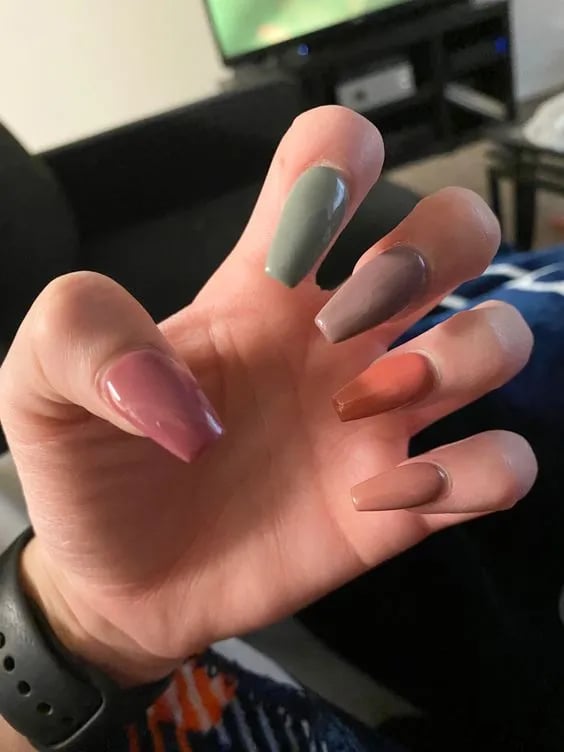 Classic French
Classic French is a style known to all and also loved by all.
Let's bring that era again and this fall, color your nails with the classic and sassy French tips.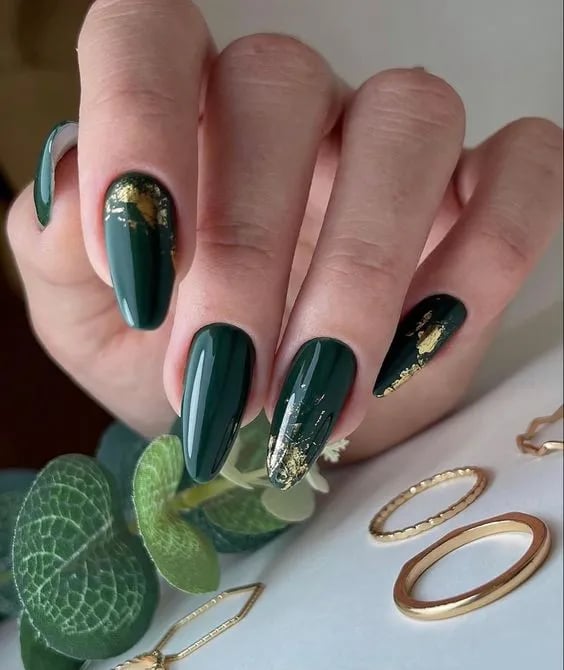 Shades of Khaki
Trending as always, the olive color is ruling our wardrobe.
Paint your nails in olive green and your fall nails are ready to rule the season.
It is sophisticated and refreshing.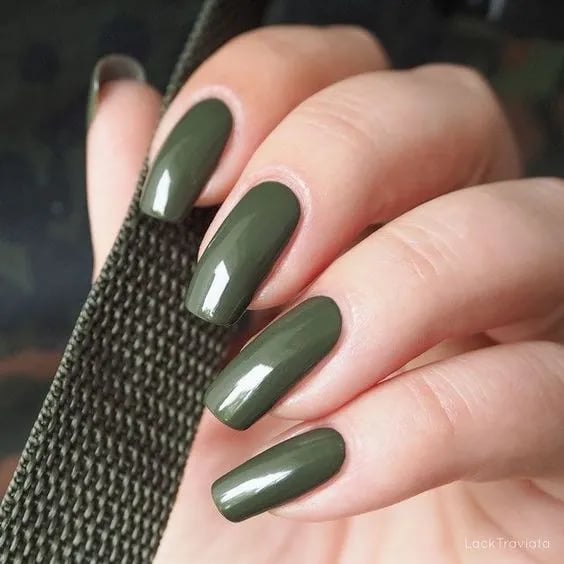 Clay Fun Fall Nails
That vibrant and attractive clay color on your nails is just irresistible.
It looks so good for the falls and is just simply fuss-free. Worth your precious time. Go for it!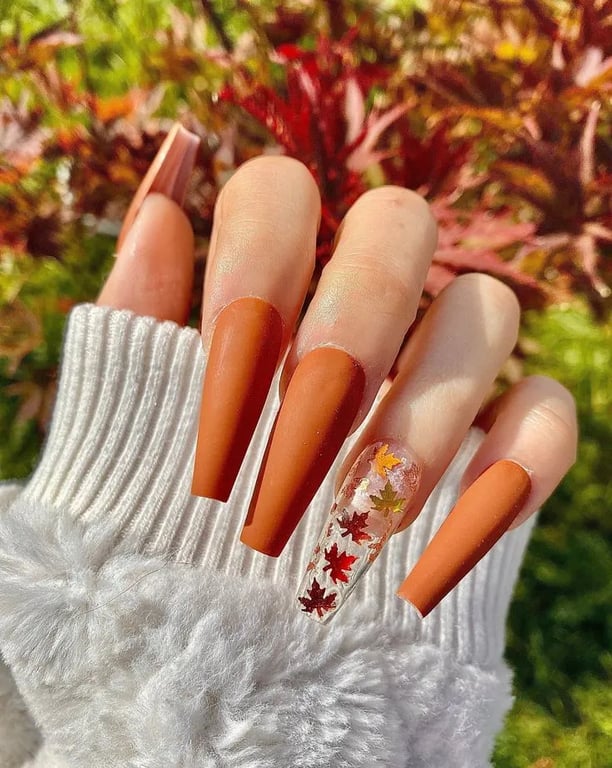 Also Read :- Aesthetic Goth Nails: Captivate With Your Wildness
Reference Link
Fall Nails-FAQ's
What Is the Most Popular Nail Color for Fall?
* Red has always been on the priority list of all women.
* As of 2022, dark red is ruling the category for fall nails.
* Also its just not dark red but if you like some lighter version of red, go ahead.
What Colors Are in This Fall 2022?
* Neon orange, emerald green, and golden yellow are some of the popular dark colors.
* In the bright color area, peachy and beige colors are trending.
* Depending upon your nail shape, choose your suitable color.
When Can You Start Wearing Fall Colors?
* Well, there is no rule saying only at fall time you can wear the fall colors but if you choose to wait till fall arrives then start rocking the fall colors from September or October month.
* You can even wear fall colors after October or before September also.
What Colors Should You Not Color Your Nails in the Fall?
* Falls are symbolized by dark and vibrant colors, matching the environment.
* So, neon colors are mostly avoided in the fall season.
Is White a Fall Color?
* White is not a fall color but it is trending nowadays to wear white for an offbeat look this fall season.
* So, without any doubt, you can grab it.