This fishtail braid is less like a fishtail and more like a piece of art. This complicated yet beckoning hairstyles is on every lady's to-do list. What's stopping you from trying on this beauty? Well, I know the intricate work is making you feel intimidated. But not to worry, because, in this article, you will come across some easily doable steps for braiding the fishtail hairstyle.
It's more like a pony but twisted and elegant. If you are bored of tying your hair in the same mundane form and it's making you bored, the fishtail braid is a must-try!
What is a Fishtail Braid?
A fishtail braid is like a french braid, but it involves using two sections of hair for braiding. For every quarter, the hair is pulled from the outer side and weaved together. The fishtail braid is not as complicated as you think; once you learn the technique and the process, believe me, this fishtail braid is going to be go-to-style. But every work requires patience and practice and so to become a pro at braiding these super gorgeous fishtail braids, go through these steps and embrace your beauty.
Also Read: Blonde Highlights for Your Next Exquisite Look!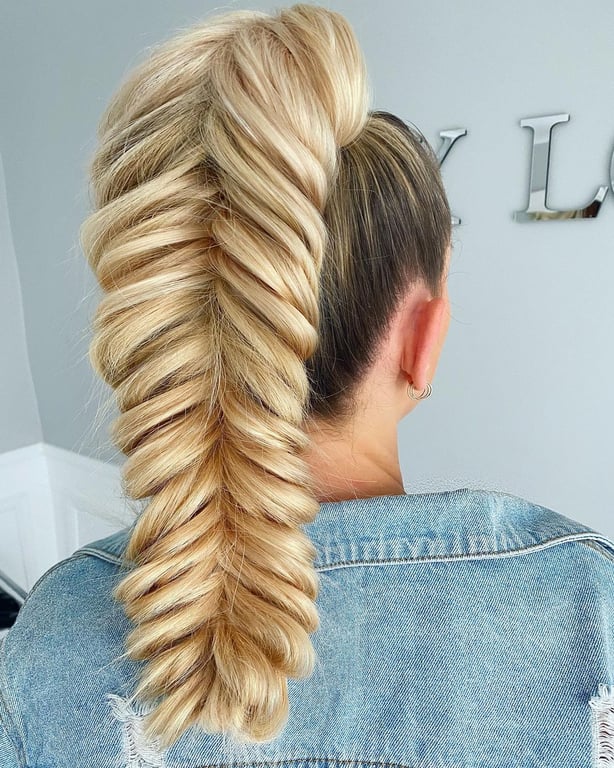 Steps to Style Your Fishtail Braid
Step 1: Begin With Unwashed Hair
Second or third-day hair is ideal hair for braiding fishtail hair. It helps in making the grip for braiding.
Natural wavy hair is perfect for fishtail braids. If your hair is straight, try curling a little to get that wavy texture.
Always begin with unwashed hair to get the desired braid.
Step 2: Add Some Volume
Adding volume to the hair is always a good option. Instead, it makes your hair soft and gives extra room for a gorgeous hairstyle.
Use a volume booster hair spray at the roots or backcombing the hair.
With this voluminous texture, your fishtail braid will get new heights of beauty. Give it a try!
Also Read: Box Braids [latest Designs + DIY Guide]
Step 3: Part the Hair
Parting the hair is always a better choice for a fuss-free experience.
Part it into two sections and then start the process, ensuring fewer complications.
Step 4: Comb Your Hair to One Side Or Make a Ponytail
Detangling is the key to happy and healthy hair!
Before the start of any hairstyle, always thoroughly detangle and smoothen your hair for a long-lasting finish.
After combing, gather all the hair to one side for this romantic look. The benefit of the shoulder fishtail braiding is that it is so pretty! You can even make a ponytail to make your job easier and mess-free.
Step 5: Divide the Hair Into Two Sections
Now, divide by equal sectioning of the hair to start the braiding.
Depending on the type of style you want, either braid a messier pony or weave tightly for a finishing touch.
Step 6: Start With the Braiding
Take a thin section of hair from the left side and weave it together with the right side portion.
Repeat this by crisscrossing down your hair length.
This process may seem time-taking and boring but believe me, the result will be all worth it.
Step 7: Comb the Loose Ends
Comb the left portion for a better texture and volume.
If some of your hair is loose from the braids, don't worry because the messier the look, the more beautiful your hair is.
Step 8: Tie the Left Portion With a Rubber Band
A braided hair is only complete using a rubber band; tie the loose ends with a rubberband to secure the fishtail braid for a more extended period.
You can leave the loose ends as much as you want and as less as you want, depending on what type suits you.
Step-9: Time to Loosen the Braids
To give your pony an elegant, classy, and sophisticated look, with the help of your fingers, try pulling the braids from both sides to loosen the tension.
Pull some of the strands from the front for a modernized look to give it a graceful and youthful touch.
Step 10: And You Are Done!
Now your job is done, and you are left with this pretty hairdo.
To complete the final look, use a finishing spray for texture and dimension, and you are done!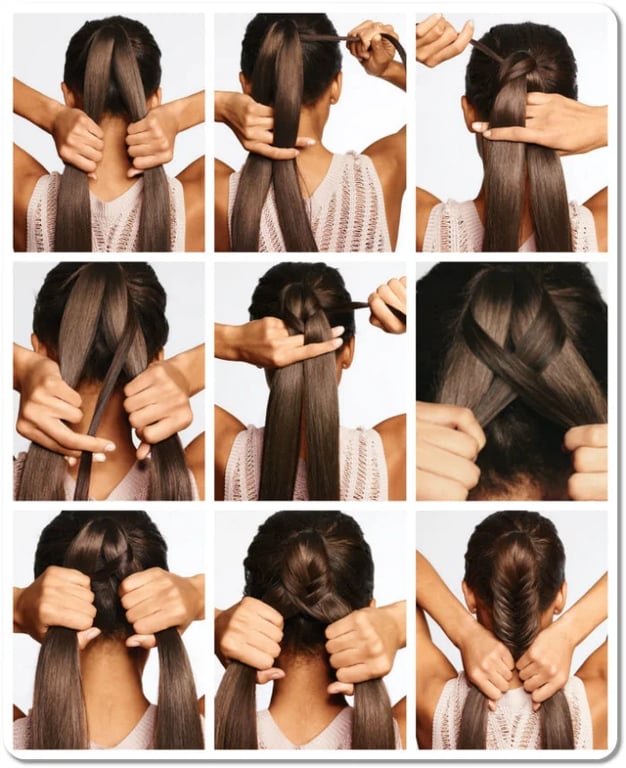 Conclusion
Visiting a salon whenever you want a new hairstyle can be expensive. So, why not learn some hairstyles and style your hair with perfection? These ten steps for braiding a fishtail are worth your time and a save for money. Could you go on, try it yourself? But remember to be patient while trying this, as it is a bit tedious. The outcome is worth every second.
Also Read: Top 13 Dirty Blonde Hair Colors That You Have to Try!
Reference Link
Fishtail Braid-FAQ's
What is the Difference Between Fishtail and French Braid?
* The significant difference between a fishtail and a french braid is that a french braid uses three sections of hair. In comparison, a fishtail uses two sections of hair only for weaving the hair.
* Both may look similar, but a fishtail braid is much more intricate and looks like art.
Is Fishtail Braid Hard?
* Though a fishtail braid is a sophisticated work of styling hair, it is easier than it seems.
* Once you learn the technique and start practicing, the fishtail braid will seem nothing to you.
How Long Does Your Hair Have to Be to Do a Fishtail Braid?
* For any braiding hair, the hair must be at least medium length for a graceful look.
* The hair should be 5 to 6 inches long for a perfect fishtail braid.
How Do You Do Two Fishtail Braids on Yourself?
* The process is simple. Just divide your hair into two sections.
* Make an elegant fishtail braid form both the sections of hair by going through the steps mentioned in this blog.
* Do not miss out on any step or else the result will not be satisfying. And remember, be patient while doing the fishtail braid.