Do you like going to parties? Then you must hear about French Manicure with rhinestones. Every party girl wants this kind of Manicure on their nails. It's an excellent choice for weddings also. Manicure adds life to your nails, and these rhinestones add blaze to your nails. Choosing only a few stones can catch the eye of everyone towards you. So, let's discover more about nail designs with rhinestones. If you don't have any idea about it, we are here to provide you with all the information.
Beautiful nails demand beautiful décor. Why not? If you design and decorate your house, dress, and working space, then why not nails? So, here we are with beautiful nail decors using rhinestones.
What is a French Manicure with Rhinestones
It's a unique way to excite your life by spicing up your nails. Before knowing how it is done, on what occasion it is used, and the cost of having this on your nails, you should know about French Manicure.
French Manicure is a kind of Manicure in which a white polish is applied over the tip of the nails. There is a stroke of less apparent or pail polish under it. However, there are two types of manicure- French Manicure and American Manicure.
The French-style Manicure comes in a pastel version, while American Manicure is slightly different. It uses creamier colors instead of the stark white color used in French America. For a more natural look, you can try American Manicure.
However, these days French Manicure with Rhinestone is the most popular. Naturally, Rhinestone is a rock crystal that is collected from the river Rhine. Yes, you guessed it right, It is named after this river. However, today the name "rhinestones" applies only to those materials of lead glass known as crystal glass. The Rhinestone you use on our nails is made of this crystal glass.
Where do French Nails with Rhinestones look good
A French rhinestone manicure is perfect for a wedding or a party. This dapper nail art is easy to create and looks fantastic. It can be put by anyone, whether you are an average girl or a trendsetter. For a wedding, it can be worn by any skin tone. But it is essential to consider the shape of the nails before applying.
It is also perfect for a party look because it looks elegant and sassy simultaneously. It is also a classy option for a bride or a bridesmaid. It can match any kind and color of the dress. It is suggested to put it on when wearing a white dress and red lipstick, giving you a perfect look. French tip with rhinestones can make your face simple and complete.
You can also put it on when you don't want to experiment with colors on your dress. Then, place your nails in the centre and try to decorate them with these rhinestones Manicures.
Also Read: Everything You Need to Know About Base Coat
Top 10 French Manicure Designs with Rhinestones
Since they are so trendy these days, we will tell you about 30 different designs of french Manicures with rhinestones.
Rhinestone Monochrome Nail Art:
It is perfect for any girl's party in which you want to go monochrome.
Monochrome black is very famous.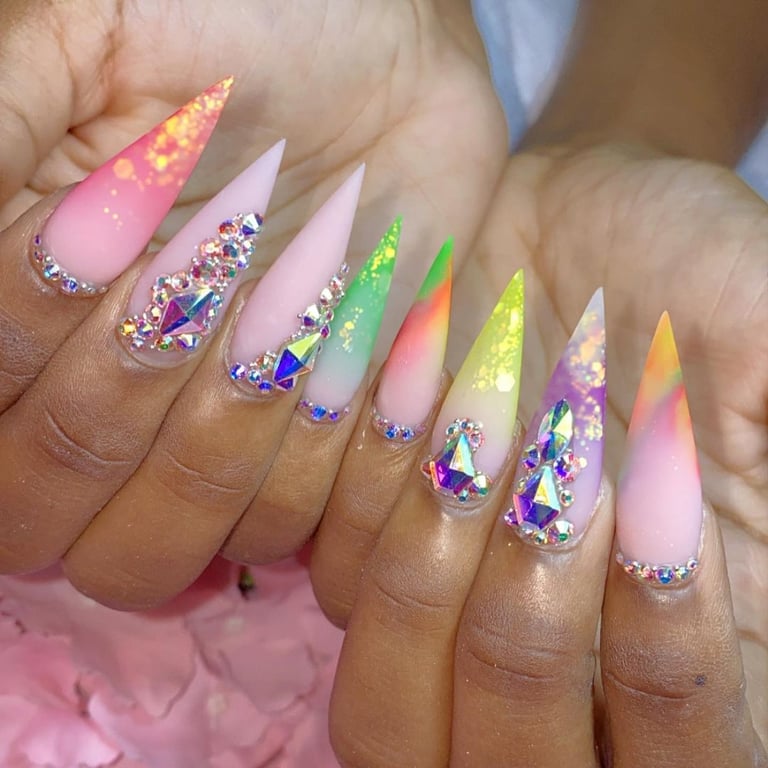 Green color Sharp Point Rhinestones:
You can do it with white as a base coat.
It gives you a simple but elegant look.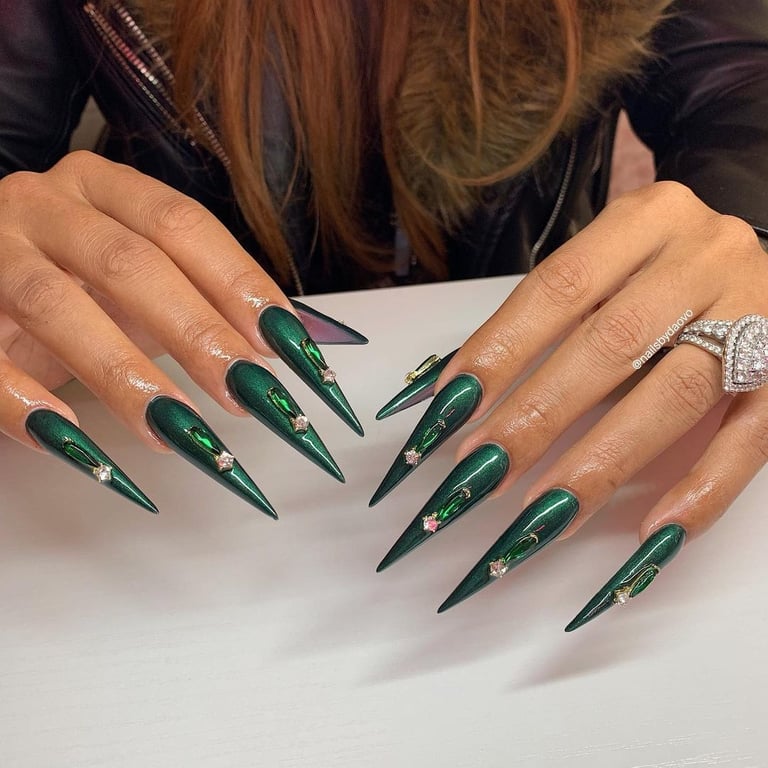 Simple Yellow French Tip with Rhinestones:
It is simple but goes well with casual and formal wear.
Across the world, a yellow color is associated with women.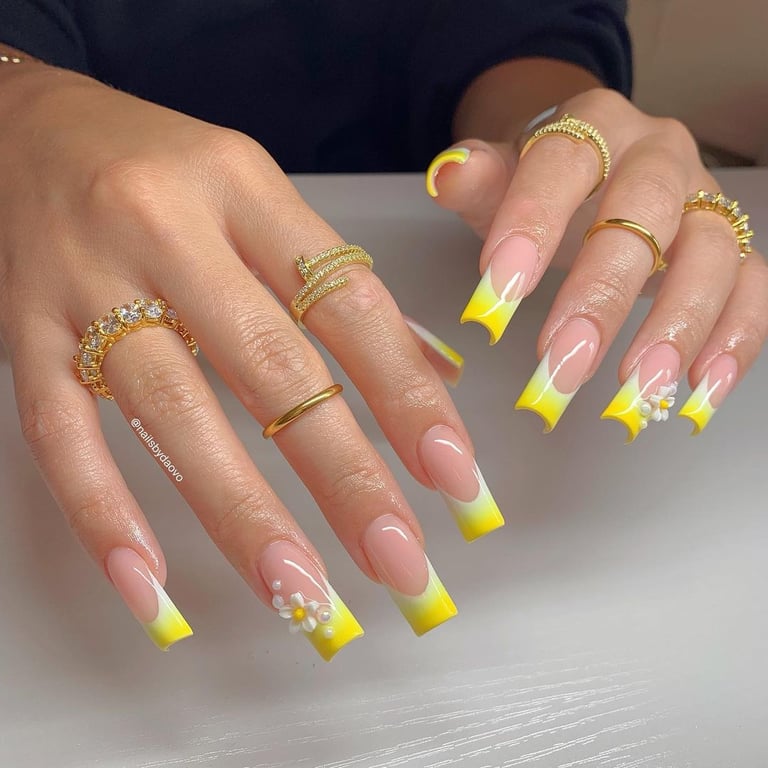 Glitter Rhinestone Nail Art Design:
It is for those who don't want simple designs on their nails.
It is perfect for a party look, especially for a night, as it shines bright.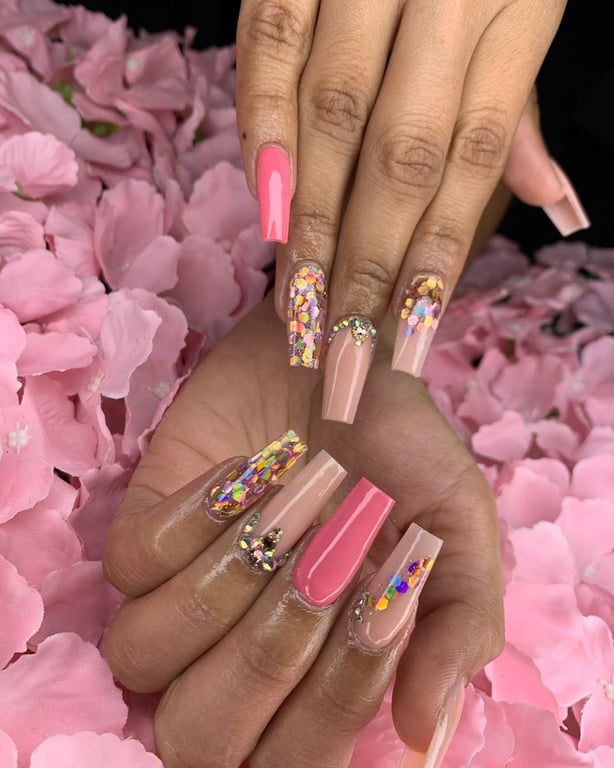 Spider Rhinestones Nail Art Designs:
Are you a spider lover?
If you are looking for some cool funky and black spider designs, then you can try this.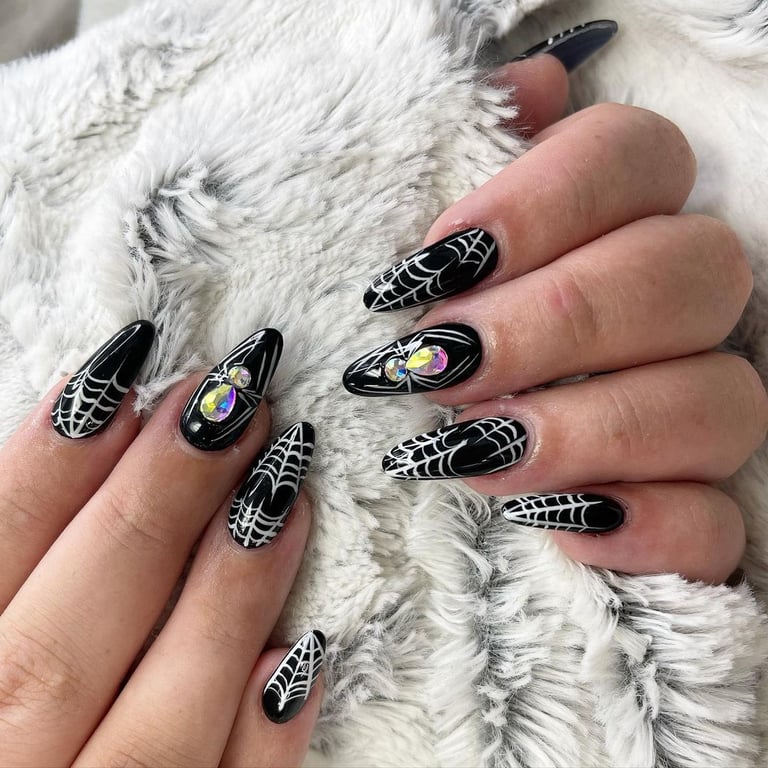 Also Read: How to Apply Nail Stickers and Remove Them Safely
Point French Manicure with Rhinestones:
This is a pointed-style nail designs.
Some girls like pointed nails. This style is best suited for them.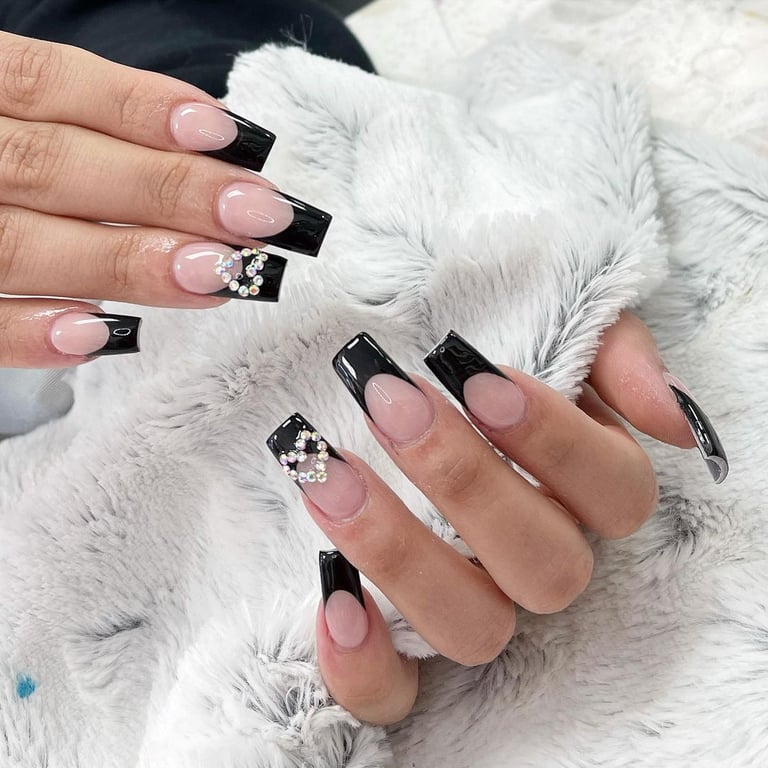 Edge French Manicure with Rhinestones:
In this style, Rhinestone is usually put on the edges of the nails.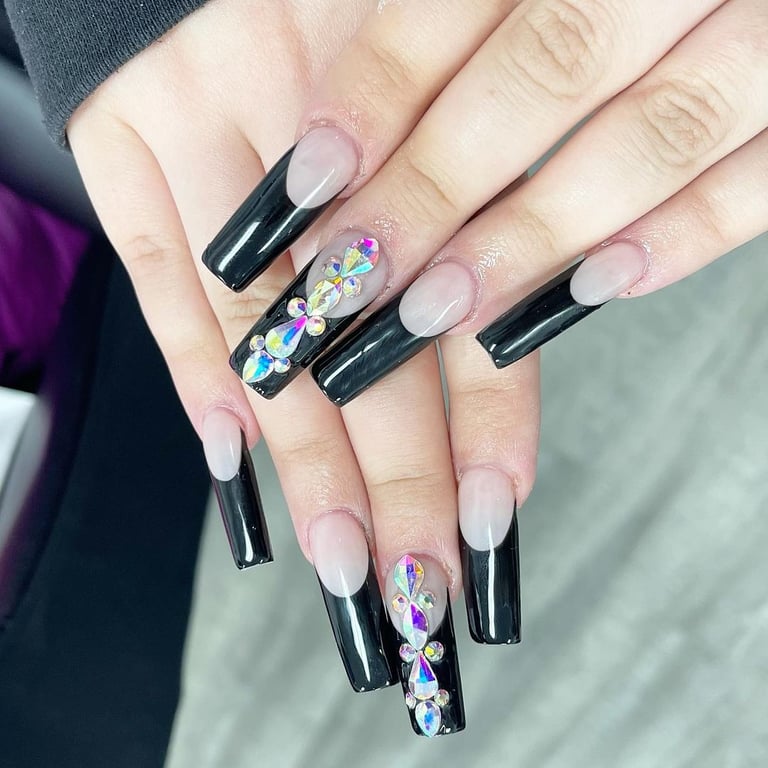 Triangle Rhinestones Nail Art Design:
This is a style in which triangles are made on the nails using rhinestones.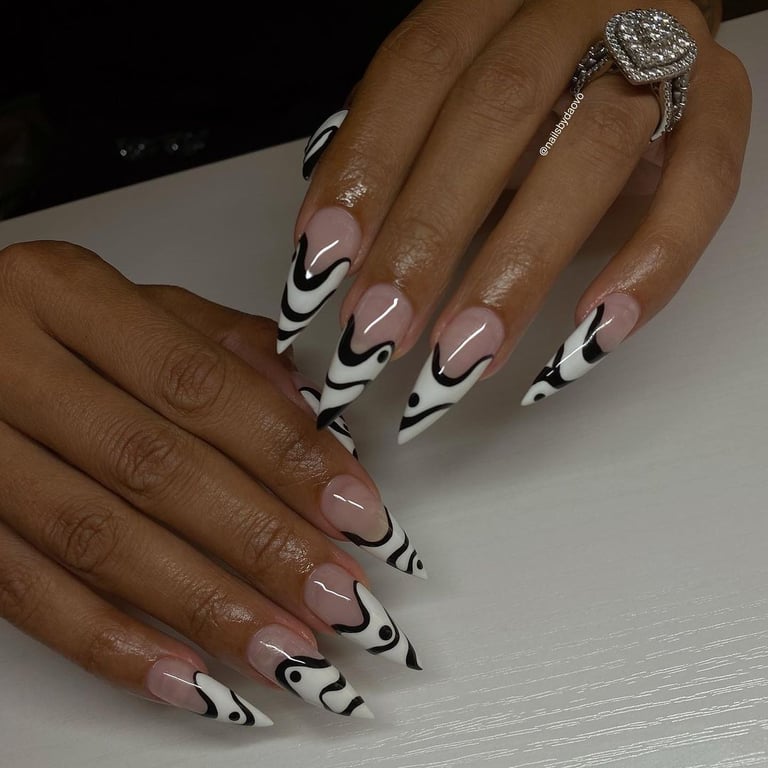 Flower Rhinestones
In this style, the flower is made on the nails using these stones to create a beautiful look.
It is commonly used at weddings and parties.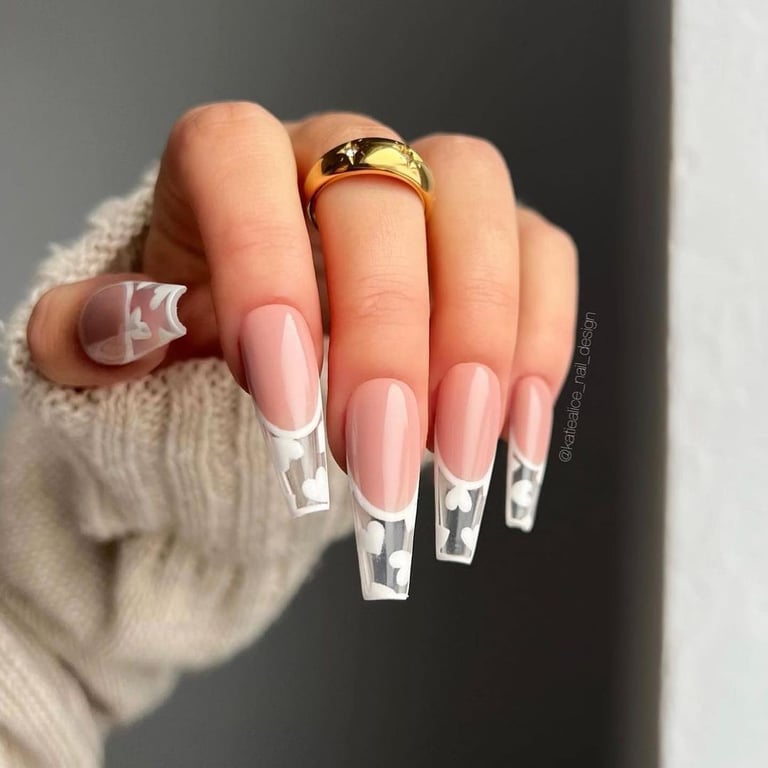 Heart Shape Rhinestones:
This is widely used by brides or bridesmaids.
Young girls, on the occasion of Valentine's Day, also put hearts made up of rhinestones on their nails.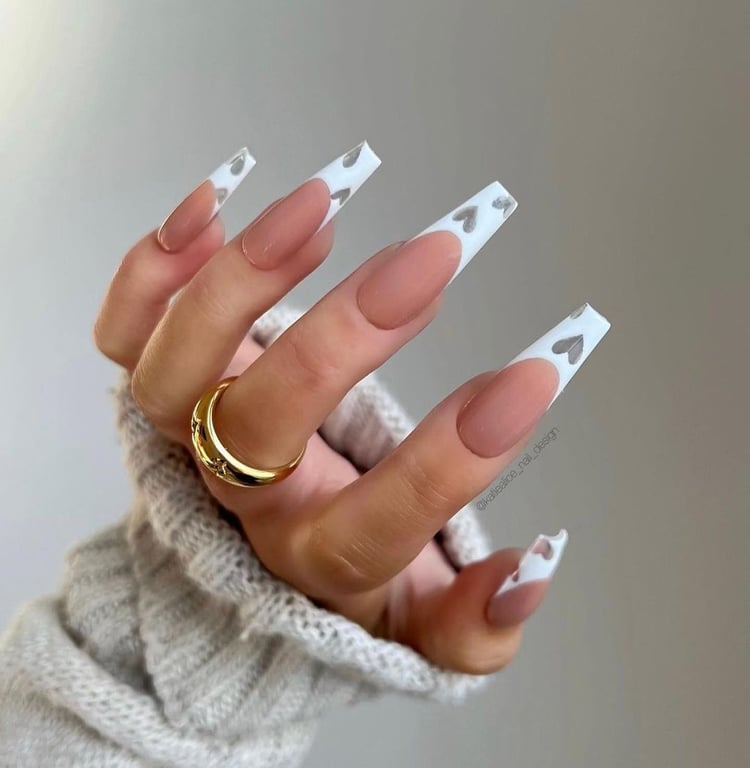 Also Read: Substitutes for Nail Glue That are Long-Lasting & Safe
How do a White French Tip with Rhinestones?
Doing a French Manicure with Rhinestones is a must thing these days. It gives us a fantastic look, and our nails blaze. These are some easy tips to do a white French tip with rhinestones. Read below:
Firstly, clean your nails properly.
Then apply nail glue to your nails. You can also use acrylic and monomer.
Now apply transparent nail polish to your fingernails. After that, apply any nail paint of your choice.
Again, apply fine nail polish to your fingernails.
On the tip, use rhinestones. That's how you French Manicure with Rhinestones easily at home.
Reference Link
French Manicure with Rhinestones-FAQ's
What is a French manicure?
* A French manicure is the soft version of Manicure that uses dark white colors. By doing this, you can shape your nails and look fantastic.
* Getting French manicure, once in a while can be great idea.
Is the French tip with rhinestones still in trend?
* Yes, it is in trend. It is the first choice of bride these days. Also, it can be worn on a simple day.
* So, don't wait much now, go on try it.
What is the average cost of a French Manicure?
*The average cost of a French Manicure is $35.
* However, it may cost you more or less depending on your chosen parlor.
Can I do a French manicure with jewels at home?
Yes, you can do this at your home by yourself. Follow these steps:
1. For this need, you need to clean your nails.
2. Use a nail tab a little below the nail tip and try to create a curve.
3. Now, apply a coat of white or whatever color you want on your tip. Let it dry.
4. Then put another coat of nail paint on the tips of the fingernails.
5. Once you are done with it, apply transparent nail paint over it. You can use glitter transparent nail paint also. You can use a single coat also but applying a double coat will stay longer.
How Long Does a French Manicure Last?
* Basically it lasts upto 2 to 3 weeks if the gel polish is used.
* And if the regular polish is used, it lasts only upto a week.