Something unique is what everyone desires. A look that escalates your beauty and compels others to appreciate that flawlessness. When it comes to outfits, you choose the best. But what about those nails? Don't they deserve your special attention? A timeless color, gold, can provide a classic, modern, aesthetic look to the nails. And believe me, these nail designs will become your perfect partner for the season. Gold tip nails are in the trend and are making their way through people's hearts.
You can make any nail color much more interesting, sophisticated and graceful just by adding golden tips. Even just the gold tip nails look gorgeous and revitalizing. Add this new charm to your nails and become the diva you are! Gold foil tips are a trend now; everyone is enjoying these beauties. It is a pretty simple way to apply gold tips and is also easygoing.
We are here with some pretty gold-tip nail ideas for your next manicure day. Take a look, choose your favorite, and channel your inner fashionista:
Nude Shades With Gold Tips
This is the simplest yet most attractive look in the golden nails race.
Nude shades are themselves the prettiest and when you add golden tips to them, they are just incredibly beautiful.
If simplicity is what you have been searching for, this nail art can be the best thing to consider.
Almond-Shaped Nails With a Twist
The speciality of almond nails is that it is very versatile. French tip suits these nails.
So, gold tip nails look aesthetically pleasing and offer a very soothing look to the nails.
Getting almond nails can be a good idea, go for it and make those nails shine in gold.
Shimmery Gold Tip Nails
If you like gold but with a twist, give the shine to those shimmery gold.
Golden tips with shining shimmer are always the best choice to make your nails gracefully majestic and overwhelming.
Surely a must-try for a unique and sassy look.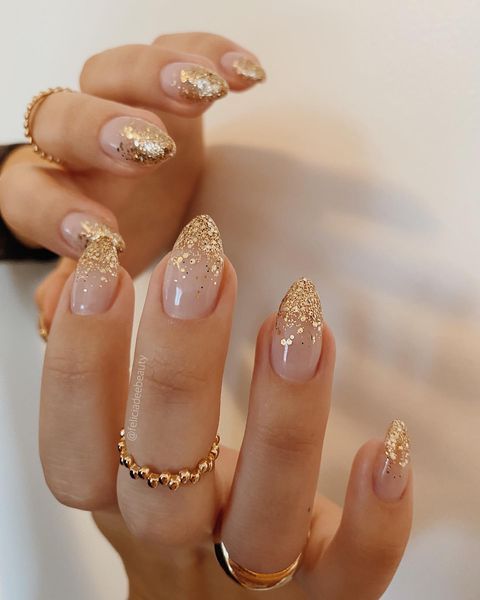 Gold Ombre Tips
Wondering if this is even possible. Well, yes it is.
These Ombre-designed gold tip nails are just wow! They are irresistible and irreplaceable.
These golden tips in an Ombre style can be your next obsession. For a unique look, go for this nail art and surprise everyone with those beauties.
A must-try!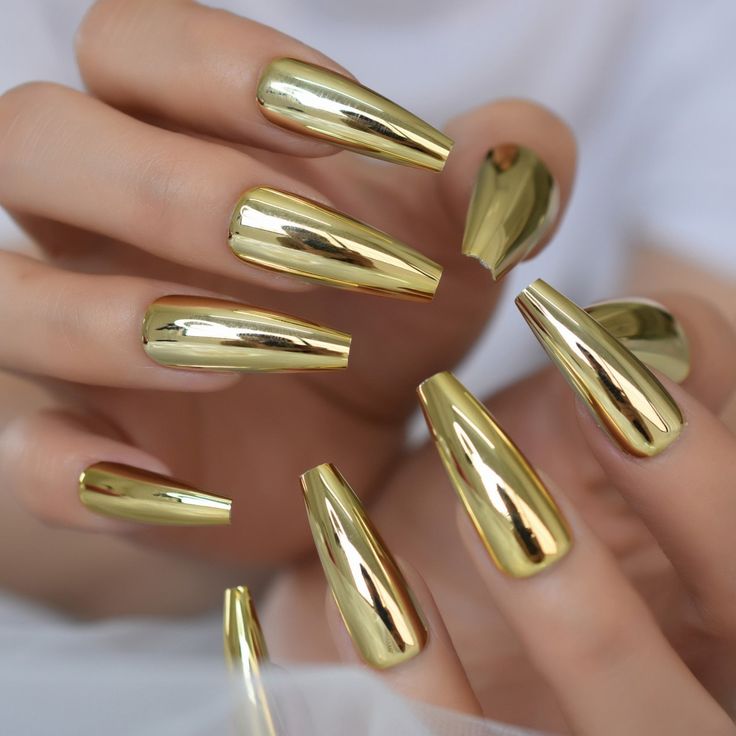 Read Also:- Bring The Sassiness Of Coffin Nails To Your Next Manicure
Black and Gold Tip Nails
What about mingling the two most loved colors and enchanting everyone?
Black and gold tips are a perfect combination of aesthetics and sophistication. If just gold is not what you are looking for, pair it with black to get the desired look.
Pair these with some jewels for an attractive and impressive look.
Worth your time!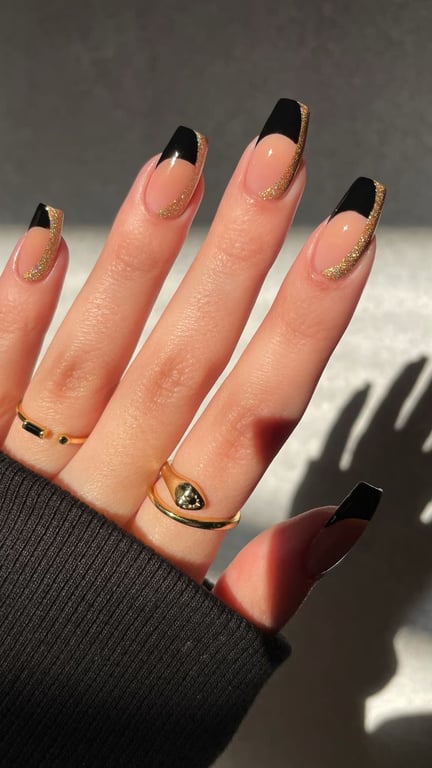 Green and Gold Combo
Yet another masterpiece is here with a twist.
Emerald color is the most luxurious stylish color and when this is imprinted on your nails, oh! They are just so elegant.
Make a statement look with the combination of green with gold tip nails and collect all the compliments. Give it a try!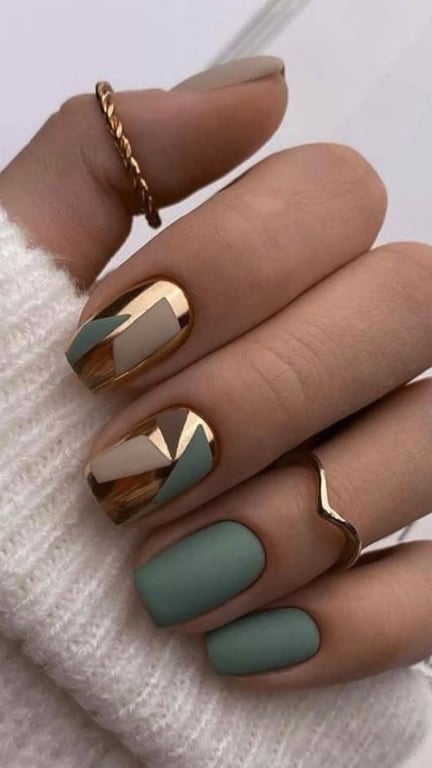 Red With Gold Tip Nails
Here we are with another gorgeous all-time favorite of many ladies.
Red nail paint with some gold tips offers you a royal and classic look.
These are so versatile, you can pair them with any outfit and just rock it.
It is time-saving because you need not change the color every time you step out in an outfit. It is timeless yet so fresh.
Golden French
This time provides a different version of French tips.
Go for golden tips in a V-shape for a unique appearance.
It is so fresh and illuminating, you are just gonna love it!
A must-try for a creative and exciting look.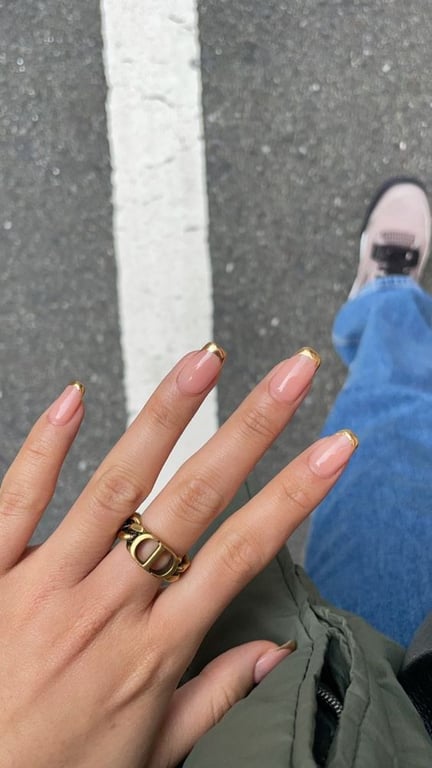 Read Also:- Know How to Store Nail Polish (& Get Easy Organization Tips)
Short Nails With Gold Tip Nails
Short nails are trending and when you give them the beauty of gold tips, they are just flattering.
As much as long nails are pretty, short nails are also becoming the talk of the town and have started ruling the fashion industry.
Gold tips on short nails are subtle yet impressive. Easy going and also fashionable.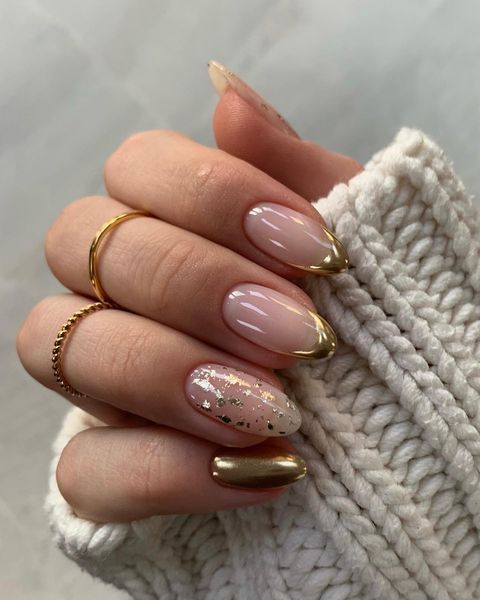 Classic Gold
Nothing is as beautiful and elegant as the strokes of gold on the tips of healthy nails.

Fuss-free, equally elegant, and stylish, these gold tips are just mesmerizingly attractive.

If painting those gold lines is troubling, gold tip stickers are available in the market. Even those can provide you with the desired charm and will be super easy to apply.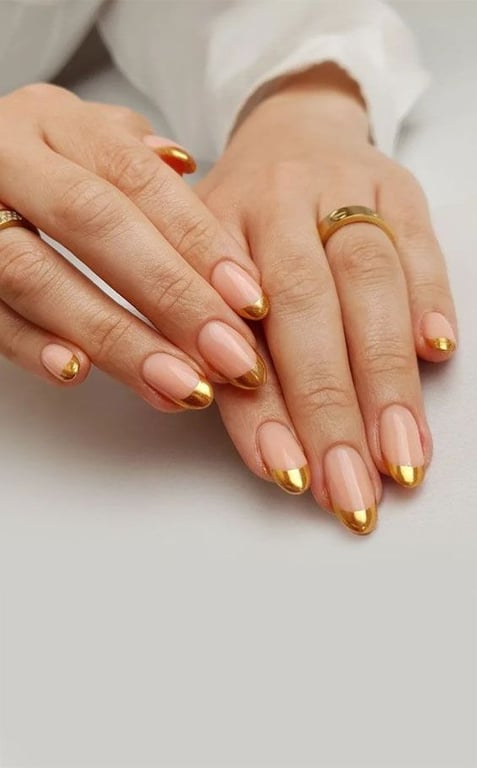 Very Long Gold Tip Nails
If you are a fan of long nails, something different is what these gold tips can offer you.

Nude shades, vibrant colors, or even bare nails with golden tips are exemplary ways to boost your long nails.

These are very stylish and breathtakingly astounding. Try it!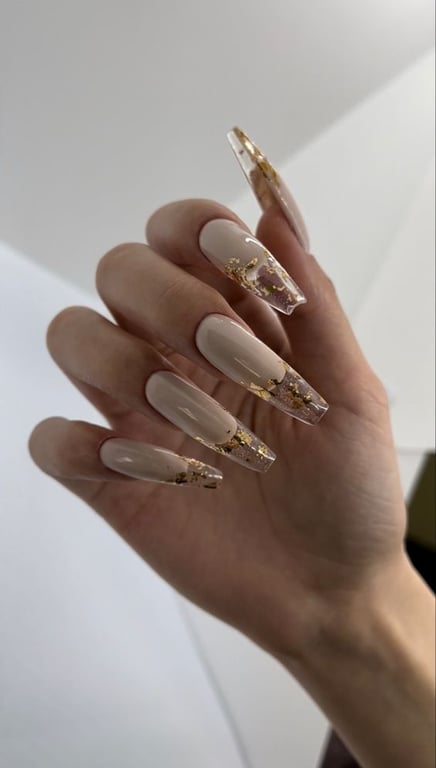 These classic, timeless and romantic gold-tip nails are worth your time and fashion sense. They look so elegant and awe-inspiring; you will surely fall in love with these lovelies. Consider adding gold to your next manicure for a unique and exceptionally unique look.
Also Read: Fall Nails: Inspire Yourself With These Beauties
Reference Link
Gold Tip Nails-FAQ's
How Do You Do Gold French Tip Nails?
* Gold tipped nails are easy once you learn the technique. It requires patience and practice for a perfect finish.
* Just make a stroke of golden color at the tip of your nails gently and in one go.
* If this is a troublesome task, you can anytime go for gold foil tips. Just stick them on the tips and you are good to go. Very easy and pretty!
What Nail Color Goes With Gold?
* Well, gold is a universal color. It pretty well goes with every color and has the quality of amplifying the beauty of nails.
* Red is such a color that is the most accepted and elegant color that goes well with gold.
* Besides red, any bright color looks perfectly charming with gold.
What Color Is Complementary to Gold?
* Colors such as slate gray, olive green, dark tan or chocolate brown work well with gold color.
* Choosing a lighter shade can be a good idea to make the look complementary with gold.