Experimentation is a part of life, and it must accept new adaptations from all sides. Everything from your hairstyle to your dress and Nail Designs must be flawless. Now we are talking in the article about the Best Halloween Nail Designs, and for this, the Blood Nail Designs are the best for a Halloween party.
Your nails play an important role in completing your look and adding to the thrills. They help you to express yourself and add an extra level of excitement to your life it was thought that ghosts and monsters have big nails, and the blood nails were inspired by this thought for Halloween.
These blood nails are perfect for Halloween, a night of sobriety and spirituality when everyone dresses up as dangerous thrill-touching wears, and it's complete with the thrill-touch nail designs.
To enhance your Halloween look, just apply these blood nail designs. Just grab all the attention with the look. Nails look fashionable. You can experiment with this not only with red but there are a lot more designs that you can choose for Halloween. We are exploring the new designs.
There are some Blood Dripping Nails Designs 
Blood Drip Nail Design
This is a unique concept that has hacked all the manicure designs. One of the most stylish and simple to create is this blood drip nail design.
Choose any light color, combine it with the blood-red color, and apply.
The base is light in color and the red color is applied like the drops which highlights the huge effects.
That looks scary, like your hands are dipped in blood. That looks perfect for a Halloween party.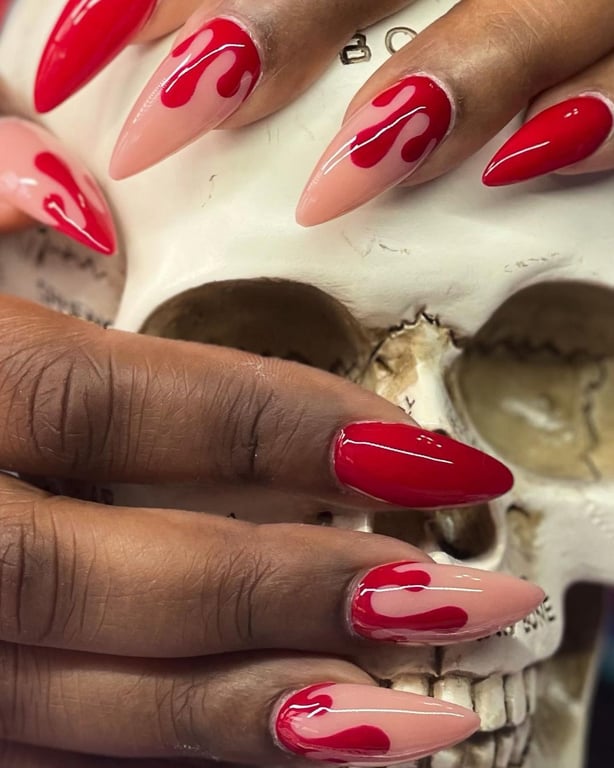 Also Read: Curtain Bangs: Get the Look for Effortless & Cool Hairstyles
Blood Splatter Halloween Nail Designs
This was a spooky, realistic nail design. These splatters of blood look like horrific nails.
The blood drips combined with the blood-splatter nails are perfect for a thrilling look.
Just apply it by using a toothbrush to spray the fake blood splatter into a nail coat of polish.
Its nails are a damn crime scene for Halloween night.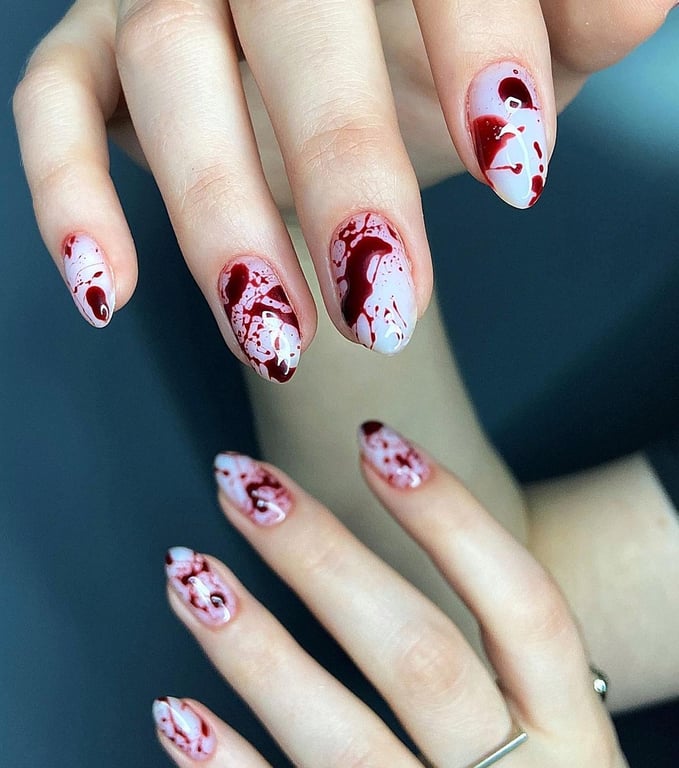 Scream Nail Designs
This was a classic Halloween design. Many people loved to try this one.
This design completes this look on Halloween night.
Take the black color for the base and add some blood drips. If you make a little ghost with the white color, then complete this design.
I must try this one for the beautiful and sinister design for the party.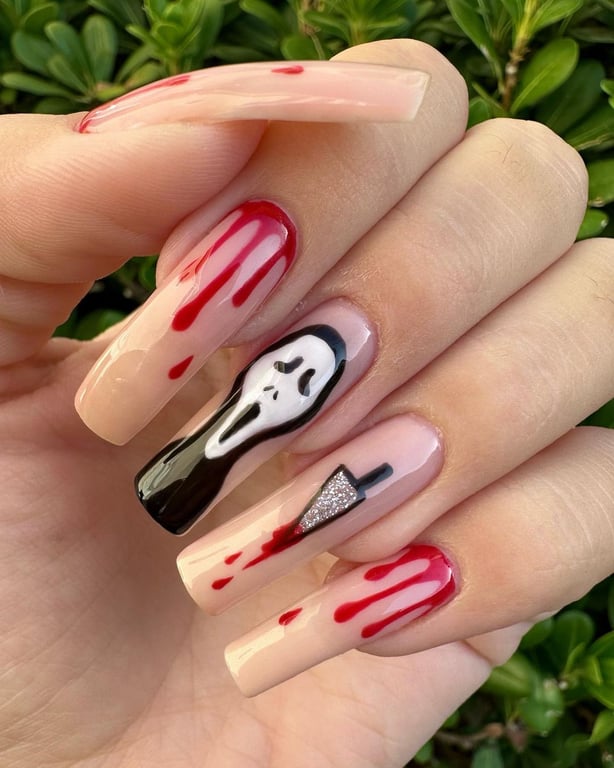 These are Some Scary Halloween Nail Designs
Tortoiseshell Ghost Nails Design
You can create different kinds of creative manicure designs for your nails.
Like, you can make ghost designs with a combination of different chic backdrops.
Apply a light white base and some backdrops to the nails, as well as the tortoiseshell-inspired ghost print in the nail manicure. This is cool and amazing for Halloween night and for Halloween Nail Designs.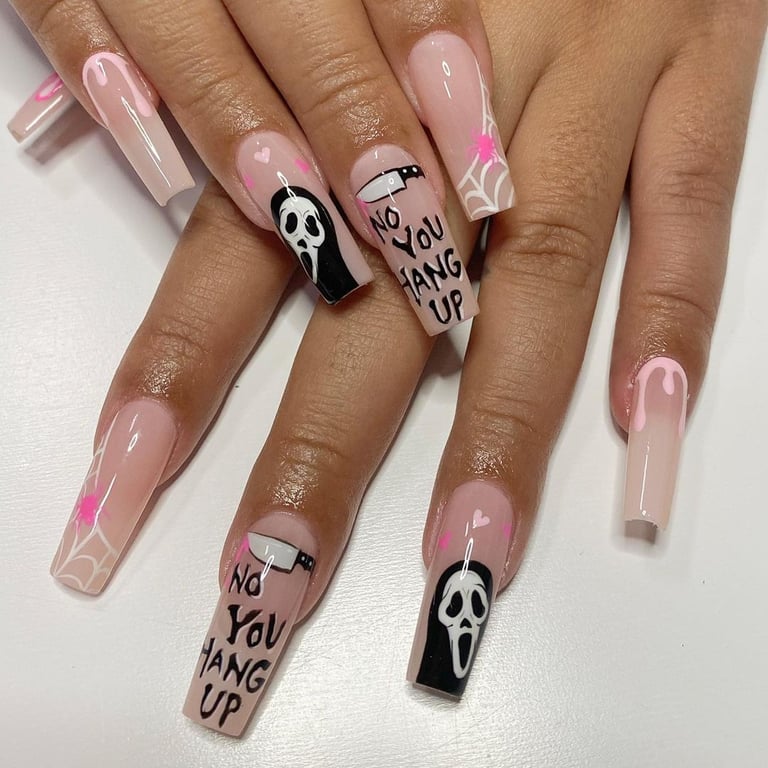 Also Read: Christmas Nail Ideas to Make Your Nails Merry and Bright!
Nails for the Eyeballs with some cool Ghost Touch
This is a crazy, scary manicure for Halloween night.
If you are a spooky soul, then you will love to do this one.
This work requires a perfectionist to make the eyeballs look realistic.
This improved your thrall appearance. You must try this one for a new eyeball nail design.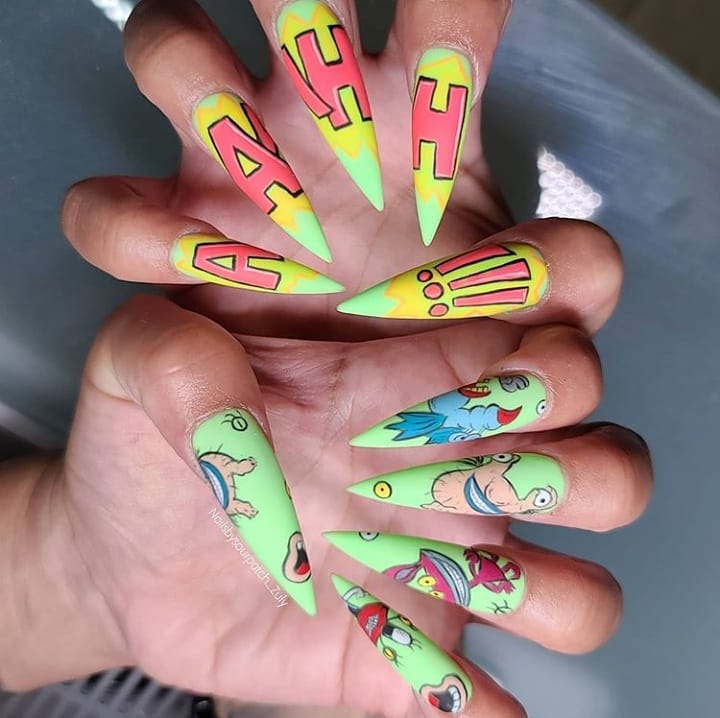 Cute Vampire and Ghost Nails Design
Vampires are powerful and popular, and mostly on Halloween nights, people love to dress up in vampire costumes.
If you also touch like a vampire, then you must apply these vampire nail manicures.
Vampires are famous for their teeth and the black-red combination.
Create a tooth manicure on your nails with a combined red and black background.
You just love this. Vampire Teeth Halloween Nail Designs looks dangerous and has an eye-catching design.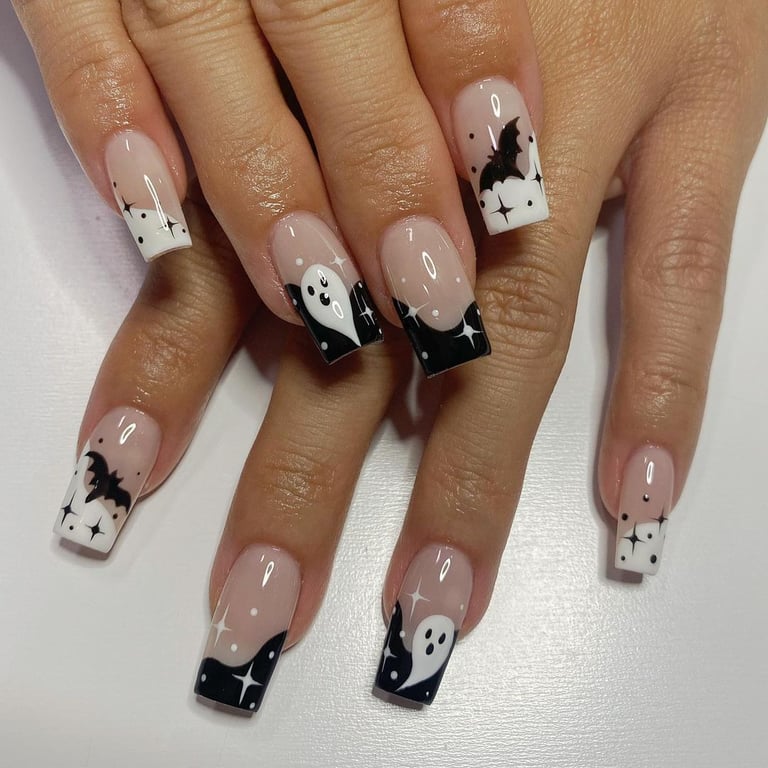 Moon and Crow Halloween Nail Designs
This is also a different, intricate example of a good, scary vibration design.
You have to choose darker colors like grey, black, brown, or yellow.
Make a light coat of base and use the black to make a shed of trees and crows and a moon made of light yellow.
This gave your Halloween night a simple, clean, and unique horror look.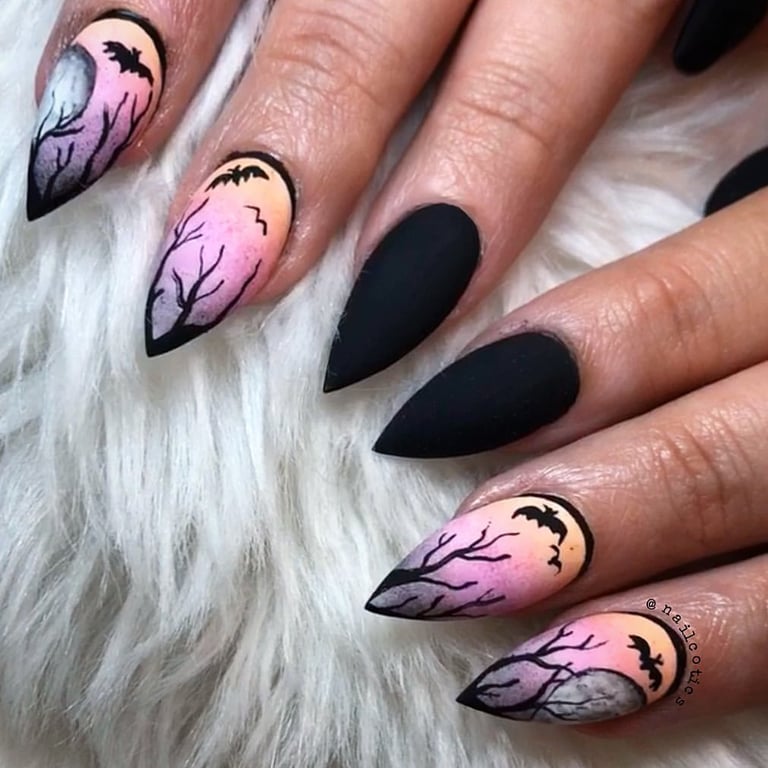 Ghost Eyes with Neon Green Color Nails
As you know, Halloween is a chance for you to create a creative experiment with your looks.
You can do this with the scary eye manicure. It makes monster eyes on your hand with a neon green color.
This was very simple to do: just apply the black coat on the base and make the eye neon green.
This glow-in-the-dark polish is the eye-siker at the Halloween party.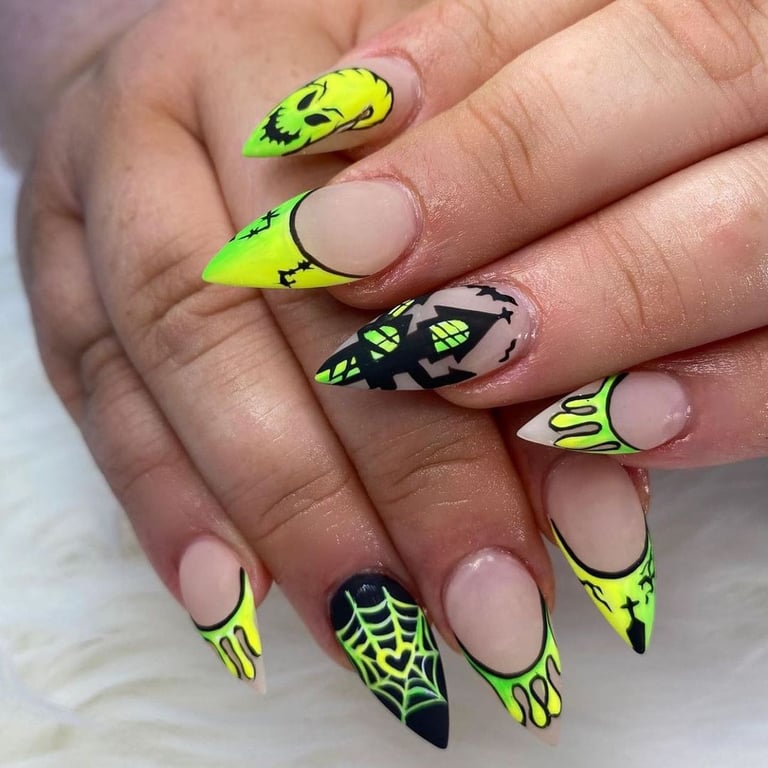 False Nails in Solid Black Stiletto
Halloween Nail Designs as False Nails in black stiletto is an amazing glossy nail design.
You don't have to make any effort. If you have long nails, then apply the dark black color to your nails for a killer look.
Another way is that you just take a false nail and apply the black color. It just looks gorgeous and black is perfect for all kinds of parties and especially for Halloween nights.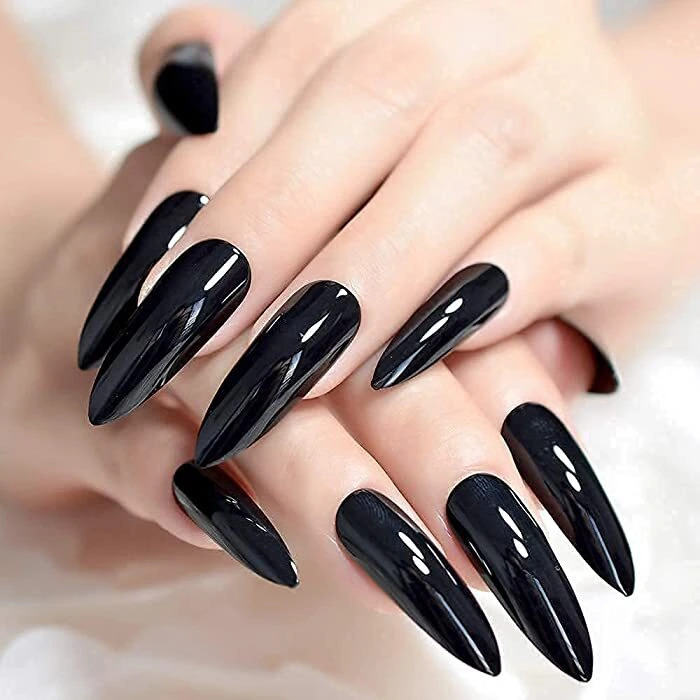 If you want to add some Funky Nails Designs, then must try these:
Halloween Pumpkin Halloween Nail Designs
This was not a particularly spooky manicure, but you wanted to try something different with your nails, so you should give it a shot.
Make a pumpkin on your nails with smiling teeth.
With some spider net print in the manicure, this looks cool and spooky and gives some fun effects with this color of pumpkin.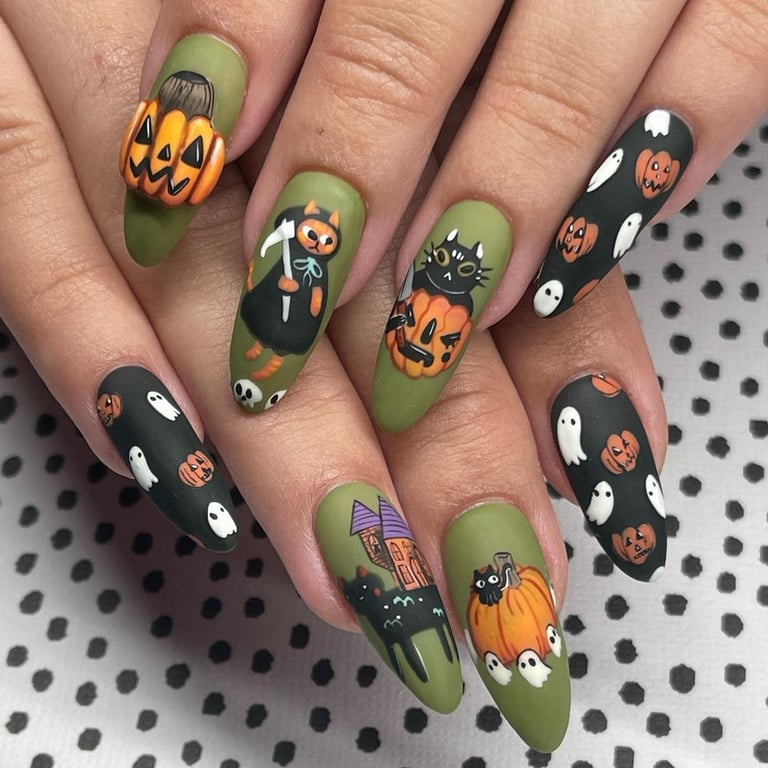 Nail Art Inspired by the Addams Family
The Addams are one of the most famous and incredible characters in caricature.
If you are a fan of these characters, then you must try this manicure.
You have to be an artist or buy press on nails because it is difficult to self-create this design.
Halloween Nail Designs are cute and eye-catching designs that looked cool and funky.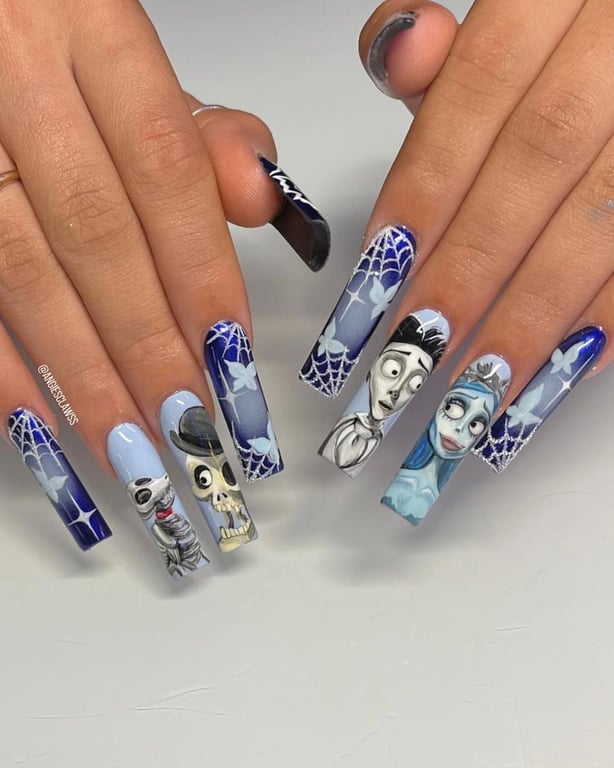 Designs for Nightmare Nails
This, as well as super cool party manicures
But for this, you have to go to a parlor for this manicure.
This was creative and grabbed all the attention with this manicure.
You can choose your favorite character for this manicure.
Lightning Bolt Halloween Nail Designs
This is an electrifying design that looks damn cool.
But it is very easy to apply this one. You just have to take any darker colour.
Apply this as a base and take green to make the zigzag design look like an electrifying look.
Halloween Nail Designs gives a fresh new look.
How we forgot the spider for the skoopy look.
Apply black color to the tip of the nails and take a tiny brush to draw the spider web of a spider.
This is the easiest manicure that you could do in your home.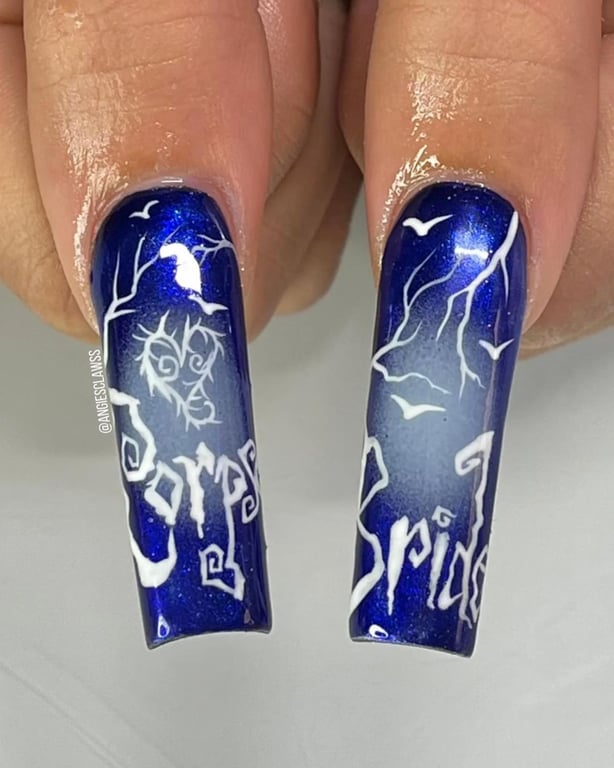 Also Read: Top 13 Ombre Nail Designs to Grab All the Attention
Nail Designs Inspired by Monsters and Mummies
We also can't forget the mummies and monsters you can dress up as well.
But you can create Halloween Nail Designs. If you apply it to the nails, then you can create an artistic design.
You just have to take your favorite crystals and each nail makes a unique nail design.
This is a cute, cool and funky nail design.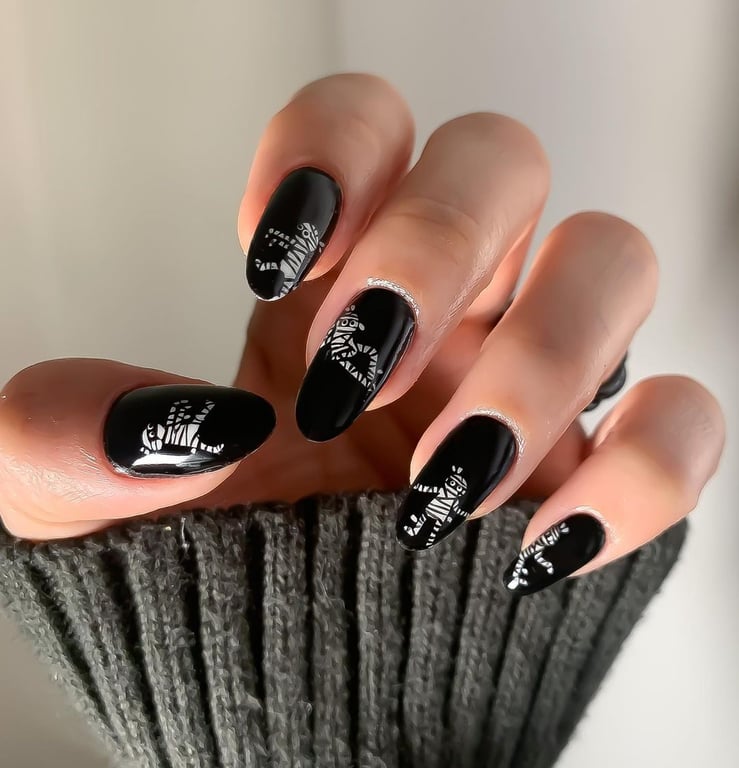 Cute Ghost Halloween Nail Designs
This is a lot of fun, and damn! Halloween Nail Designs are some really cool-looking designs
Most kids love to apply this kind of design because it is cute looking.
It is very easy to apply these designs. You can create a different ghost, spider, or skeleton for anything that you love.
You only need any color for the base and bright nail color to make a ghost and different star moons. You will love this one. It is one of the fun facts that you must try at least once.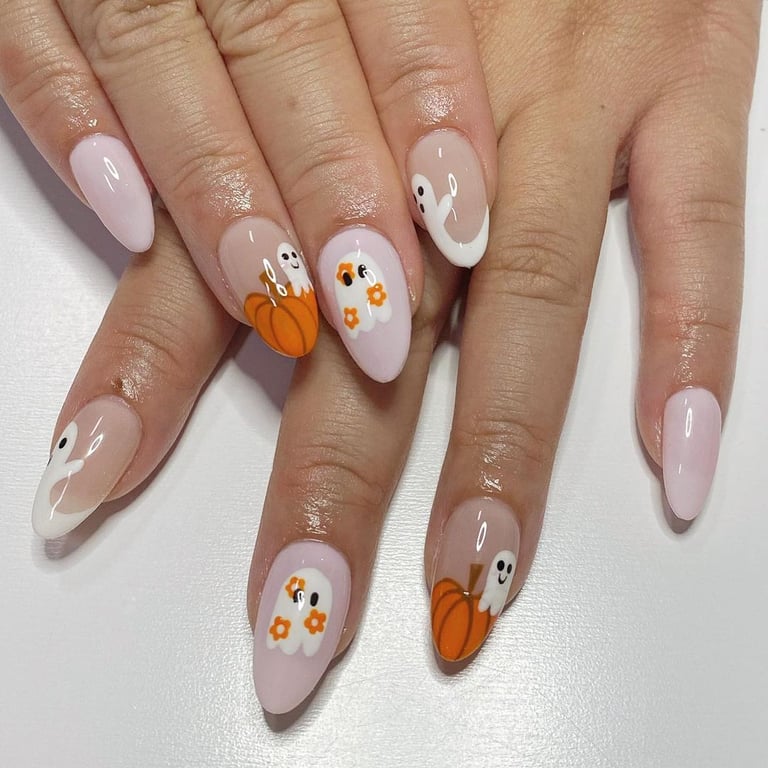 Reference Link
Halloween Nail Designs-FAQ's
How to Do Blood Splatter Nails?
Blood nails are one of the most attractive nail designs. First, you have to take two types of colors, like white and bright red. Do the white base on your nails, then take an old brush to spread the red color on your base coat. This was an easy step to do these blood splatter nails.
What Can You Draw on Halloween-inspired Nails?
There are many nails ideas a very popular one is the blood drip nails, blood splatter nails, nail designs inspired by monsters and mummies, and false nails in solid black stiletto this one is simple but one of the most attractive designs, making a creative miniature manicure to do for funky experiments.
How Do You Do Blood Splatter Nails With Gel Polish?
For long-lasting gel polish, this is a good choice for blood nails because we need bright effects that highlight the blood splatter nail design. This was glossy and smooth without any stickiness.
What is the Impact of Nail Design on One's Personality?
Nails have strong effects on your personality. Like the short nails indicate smart, decent, sweet effects, the mid-length nails give cool, fun-loving effects, and the long nails indicate bold, strong, and fearless efforts.