All of us know how to apply nail polish on our fingers. But how many of you know How to store nail polish? Normally, any branded polishes have a shelf life of two years, but this durability can be increased or decreased, and it depends on how you store them. And since nail care is your priority, this article is a must read.
I guess you don't want to use clumpy nail polish. It is of no use in either manicures or pedicures. Sometimes, the nail polish becomes discolored also. But you can prevent your nail polish from being destroyed by storing them correctly.
In this blog, we have collected much information regarding storage for nail polish. Because if in case you have so many bottles, you can't take the risk. Isn't it? Also, we'll tell you some unique ideas to organize the nail polish.
Here are Some Best Ways to Store Nail Polish:
Well, we all generate our ideas and use our minds to store the polish that we have. But are you doing this in the right way? To know whether you're right or wrong you need to read these ideas.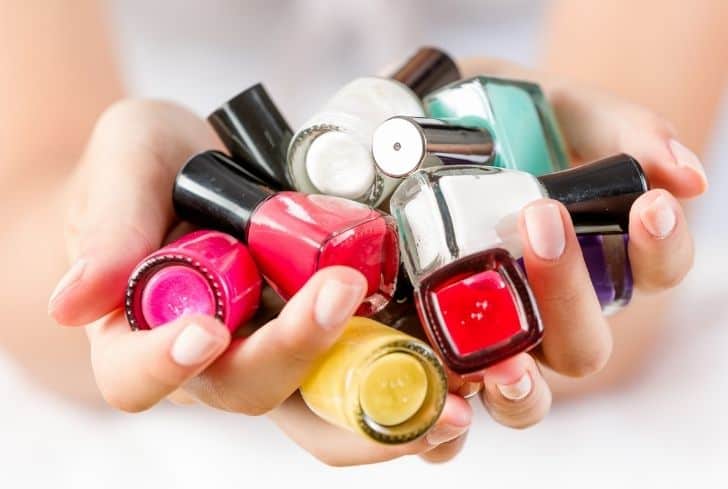 1. Cleaning and Tightening the Bottle is Important
To store nail polish properly, you need to close the bottles tightly. It protects the solvent from evaporating. First, you need to clean the nail polish that spills over the side of the bottle. This caused a gap when you sealed the bottle. Due to this gap, the solvent evaporates sometimes. Thus, it is good to practice cleaning the bottleneck properly.
Some people leave the bottle open while applying coats. Girls! This is the wrong way. Yes, cover the bottle tightly, even between coats. This will prevent your nail paint from getting thick. However, there are more permanent solutions to SAVE your polish. But believe us, it works. This will boost your nail polish's shelf life.
2. Store Nail Polish in Cool N Dry Place
Heat is the BIGGEST evil for your nail polish. Store them in a cool environment that has a compatible temperature. Even though this will not completely stop the degradation of the compounds in nail paint, it will be at a slow pace.
3. Say a Big NO to UV Rays!
Does anyone tell you not to hang your wet clothes for a day in the hot summer? Yes, you guessed it right. Your clothes get discolored when left for a long under UV rays. Your nail polish also obtains discolor with prolonged exposure to the sun's rays. It worsens in the case of gel polish.
To let your gel polish dry, you must put your hands under UV rays, whether artificial or original. This means that the rays of the sun harden it. So, never leave your nail polish under the sunlight. Do you get it?
Well to know more about gel nail polishes you can read our article on Expert Hacks to Fix Bubbles in Nail Polish. This will give you a chance to explore gel polishes.
4. Keep the Bottle Upright
One great tip for How to Store Nail Polish is Always putting your nail polish bottles in their upright position. The polishes shouldn't be placed on their sides. It may cause forming clumps. Also, it gets thick while on its side. It causes the brush to be stuck. Due to this bottle will be hard to open.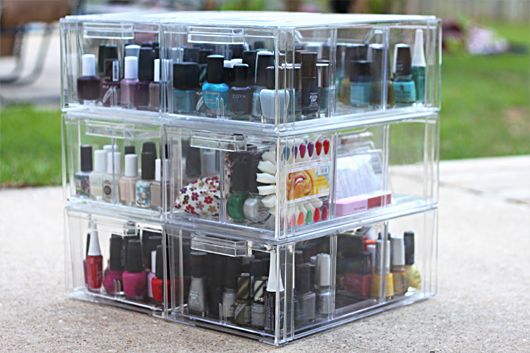 5. Girls, Swirl them Occasionally
If you love your nail polishes, make sure you mix and shake them at least once a month, especially if you are not a frequent user. Shaking the nail paint protects them from becoming stagnant.
However, while mixing the nail polishes, don't shake the bottle. The better way is to swirl them, moving them from right to left like a pendulum. So, these are the nail polish storage ideas. If you have these ideas, share them with your friends.
Also Read: How to Take Off Acrylic Nails: Easy Steps for Safe Removal
What is the Shelf Life of Nail Polish?
Your nail polish doesn't have a specific shelf life. It depends on the brand you're purchasing. Do you know how long nail polish is good for you? How long does your nail polish last?
Some say that regular nail paint, if not opened, can last for 18-24 months on average. In the case of gel nail polish, the unopened bottle may last for 24-36 months. Any polishes start expiring once they have been opened. So, try to unbottle them only when you need them.
Well, if you store your nail polish in a cool and dark place, it can last for more than two years. It is crucial to pay attention if your nail polish shows any signs of getting spoiled or damaged.
How Long Does Nail Polish Last Once Opened
We girls like to collect so many make products before thinking twice. But when it comes to shelf life it makes us worried. We wish that our make-up product last longer. Like other products do you even think about how long your nail care product lasts?
It all depends on when you open the bottle. The opened bottle can last up to 5-8 years. Isn't it amazing? So, if you have so much nail paint, avoid opening it too soon. Well, after opening the bottle, it lasts up to two years. But to make it last longer, you need to follow these tips.
Should We Keep Our Nail Polish in the Refrigerator?
Can we store nail polish in the fridge like our lip balm? Can nail polish freeze? There is debate on this topic. Some say it's GOOD, while some say it's BAD. You can keep them if you don't have any cool place in your house.
Well, keeping nail polish in the fridge makes them thicken. You need 30 minutes to make it normal before applying—however, cold slow down the expected degradation of nail polish. Then, the solvent will evaporate slower.
Remember one thing: if you want to store your polishes in the fridge, you need to keep the bottle upright. In the case of the refrigerator, keeping the bottle on its side will do more harm. This is another example of a perfect tip for How to Store Nail Polish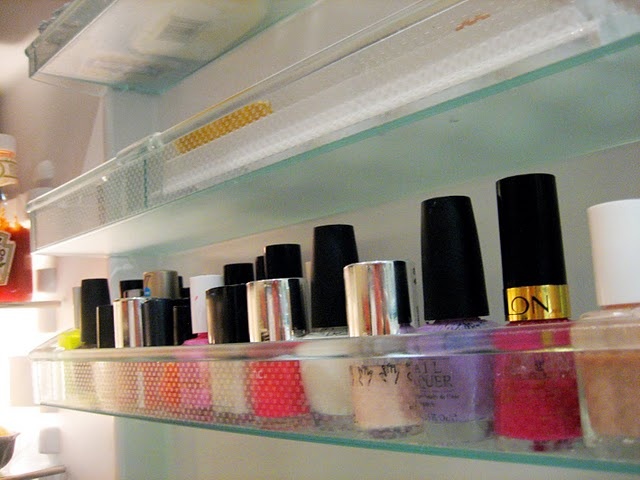 Where Should You NOT Keep a Nail Polish?
If you love your nail polish, it is good to store them in a cool and dry spot. To make your nail polish live longer, avoid keeping them under sunlight. Here are given some places where you should not keep your nail polish:
Near Window:

 Windows is evil to nail polish. They allow a huge amount of UV light and heat to penetrate. This penetration can affect the shelf life of nail polish.

In the Bathroom:

 The bathroom is where the temperature fluctuates most. Sometimes, it becomes too hot. This sudden change can cause the breakdown of your dyes in the nail polish. So, avoid keeping your nail polish in your bathroom.

Open Flame or Electrical Spark:

 Nail polish is flammable due to its nature. Since they are highly flammable, avoid keeping them close to any open flame, such as a fireplace or stove. Also, don't keep them near the heater or electrical outlets.
Essentials Tips on Storing Nail Polish
Don't store nail polish bottles near any source of heat.
Make sure that the bottles should be in an upright position.

Don't store nail polish in the bathroom due to inconstant temperature.

Do store them in a cool and dark place.

Don't store them under heat or sunlight, like on a balcony.

Don't store them in the fridge. It makes them thicken.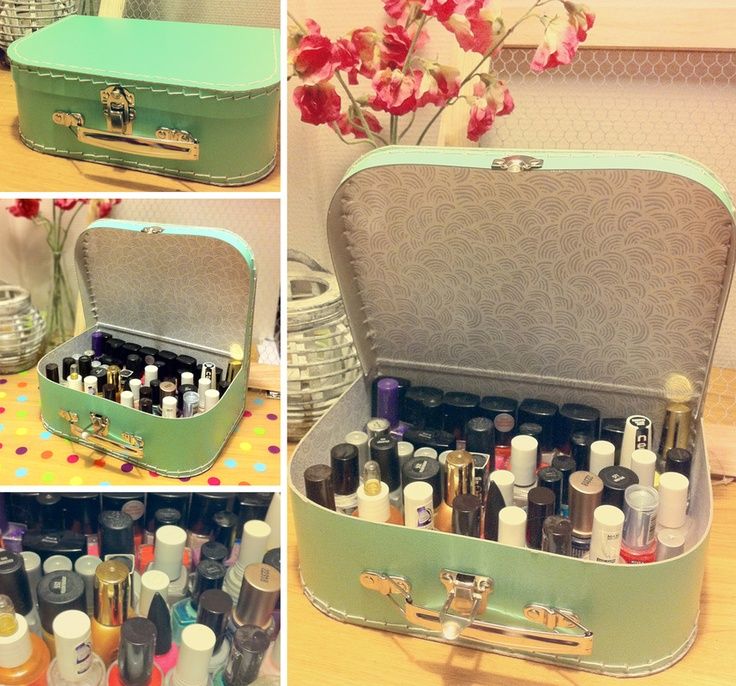 Also Read: How To Prevent Hangnails and Heal Cuticles [Preventive Tips]
Nail Polish Organization 101
Nail polish organization is a relatively easy job. If you find it difficult, don't worry. We'll present you with many amazing ideas. If you're curious to know how to store nail polish? Just scroll down for better organization tips!
Well, some are lazy, and some have OCD (obsessive-compulsive disorder). They need everything to be perfect and clean around them. Also, it is good to organize if you're a working lady, as it doesn't create a fuss when you want something from your organizer while getting ready for the office early in the morning.
Points to Be Noted Before Organizing Your Nail Polish
There are many things you need to keep in your mind before deciding where you should store your nail polish.
Do you want to show your collection to your guests? Or you're among those who don't like sharing their beauty products? Choose accordingly.

Consider your collection. Estimate how big it will be in the future. Then according to this calculation, select a drawer that can embrace all your nail polishes.
Nail Organization Classification
If you're sick of nail polish and love to collect many more, even if you don't need them. The organization is very important. So that you can easily find the color or the brand of nail polish you want on certain days, here are some pretty ideas that might be helpful if you're confused about how to store nail polish.
1. Organize Them by Color
This is the best possible way to organize your nail paint. Suppose you are wearing an LBD and want black nail paint with a matte finish. Here comes the role of organizer. You can put them all in a box and on shelves by labeling and dividing them like all the shades of orange in one box and all the shades of black in another. You can also use a wall shelf for this.
2. Organize Them by Brands
If you love exploring different brands. Then this hack will help you to know How to Store Nail Polish. Different brands of nail polishes have different-sized cans. So, you can easily distinguish between them if you put them separately. You can also put them on the shelf or in the drawer. The choice is yours.
Here are some Modern Storage Solutions for Your Nail Polish
It is easy to buy. But we should focus on reusing and recycling old and waste products. So, don't buy any fashionable organizer. Instead, reuse those boxes that are now of no use. Here are some tips on using your oldies for nail polishes.
Spice Tanks:

 If your old spice tanks are available at home. Utilize this for organizing your nail paints. This is the best option, and you can display it too.

Tiered Racks:

 Tiered Racks are so convenient to put your polishes in. Because it has layers, you can easily find any nail paint so that all bottles can be caught easily with just one look.

Plastic Toolbox:

 You can also turn your old plastic toolboxes into nail organizers. Trust me; this is a fantastic place for your nail paint. If you're creative, then you can decorate your toolbox.

Vintage Purses:

 If you have a vintage purse. You can turn it into your nail paint organizer. You can decorate it with stickers.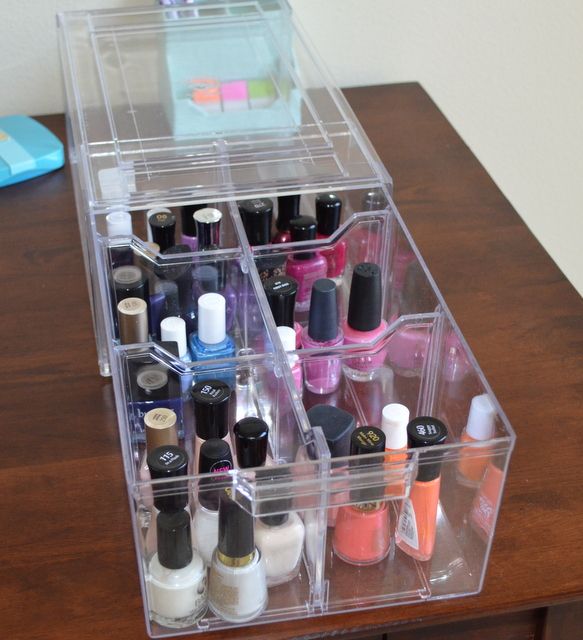 You can also apply all of these ideas for How to Store Nail Polish. Because gel nail polish also needs a cool and dark place to live longer.
Conclusion
From the topic mentioned above, you now know How to Store Nail Polish and everything about the storage and organization of nail polish. If you love nail paint, you should store them properly so they last long.
Also Read: DIY Cuticle Remover | 9 Methods to Manage Your Cuticles at Home
Reference Link
How to Store Nail Polish-FAQ's
How Long Is Nail Polish Good For?
On average, nail polish lasts for around 18-24 months. This is about regular nail polish. However, gel polish lasts for around 24-36 months. Nail polishes start to expire once they are opened. Thus, if you aren't considering applying the polishes immediately, don't open it.
Can Nail Polish Freeze?
There is a lot of confusion about whether we should store our nail polish in the fridge. Keeping bottles in the fridge makes your nail paint thicker. Due to this, you can't apply it before it becomes normal, which will take at least 30 minutes.
Does Fingernail Polish Expire?
Yes, like other beauty products, it also has an expiration date. The unopened bottle can last for more than two years. However, the opened can last for two years if you keep them properly.
How to Clean a Nail Polish Bottle?
Take cotton balls. Then wipe the bottleneck of the nail polish bottle finely. By wiping, you're ensuring that the bottle is cleaned, and now you can tighten the bottle with no air coming in.
How Long Does Nail Polish Last Once Opened?
Once opened, any nail polish can last for around two years. This can be increased by storing them correctly and protecting them from heat and light. Temperature matters most for nail polish. Cool temperature suits them.
How to Store Nail Polish Remover?
Like nail polish, you should also keep your remover far away from the sun's rays. Also, it needs to be stire in the upright position in a cool spot. If you want your remover to last a bit longer, then tight them properly.
How to Keep Nail Polish From Drying Out?
To protect your nail paint from drying, you need to keep away from any light source, whether it is sunlight or artificial UV rays. Always keep them in a cool place. One more trick is very important, and that is to clean the bottleneck of your bottle of nail paint.
Is Heat Bad for Nail Polish?
Yes, it well-known fact that heat is the evil of nail polish. As it causes them to dry badly. When your nail paint is exposed to heat it starts drying. It makes them evaporate.