Protecting hair is always the priority of most women out there. Letting your hair loose every time can result in damage. Hair loss is the major and the most threatening side effect of using a lot of styling products or giving heat to the hair. Damage to the hair is a sign that it is asking for some protection. What better way to provide protection than to secure the hair into these trendy and super stylish knotless braids hairstyles?
Yes, with this new and stunning hairstyle will not only protect your hair but will also provide you the coolest look. Now you must be thinking, what are knotless braids? Well, as the name suggests, these knot-free braids for curly or wavy hair are achieved using hair extensions. 
This hairdo came into the limelight when it was known to offer less strain on your scalp and therefore provide better protection. Because of extensions, knots are made very quickly, giving the best result without causing any trouble to your hair.
If you prefer to avoid managing your big curly hair every day and more than a style, it has become tiring; this article is for you. Read some of these fashionable and elegant knotless braids to take inspiration from:
Heart and Triangle Braids
Have a lot of work to do? No time for hairstyling! Need not worry. Because with this lovely hairdo, you can easily slay the day.

Giving your scalp the heart and triangle braided look and making knotless braids can be attractive and classy.

Make a bun out of the braids; this will enhance your look and make you feel comfortable.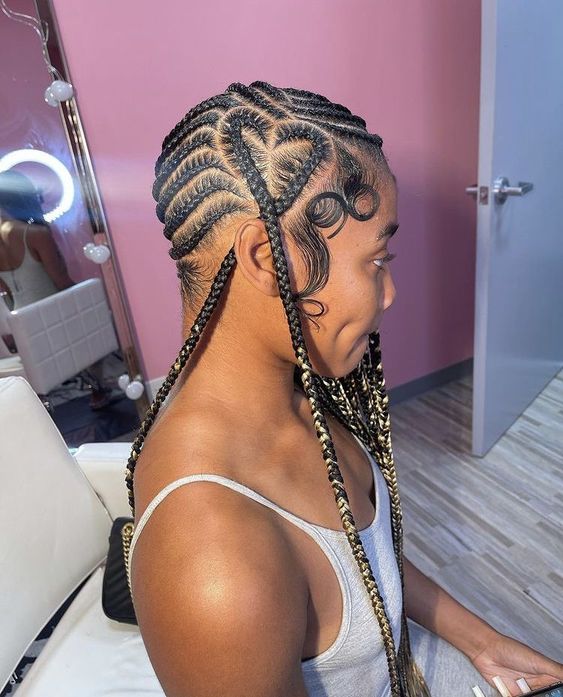 Modern Hair with Curls
If you have shoulder-length curly hair and want some twist for it. Go for this simple yet trendy hairstyle.
Make the knotless braids and let some of the curls loose towards the end. Giving the touch of braids as well as showing off your curls, this is the chicest and most pretty hairdo.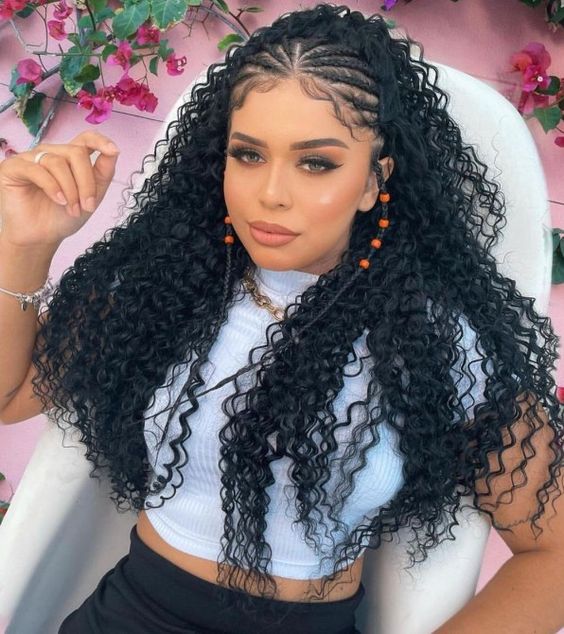 Also Read: Stylish Cornrow Hairstyles for Girls [2022 Latest Designs]
Jumbo Knotless Braids
Ladies with dense, curly hair, this jumbo braid is the savior for you. Since the braids made out of dense hair are very thick, hence the name "jumbo braids." 

Please give it a contrasting look by losing some strands of your 

curly hair alongside the thick braids

. This is the best way to look super stunning and divine.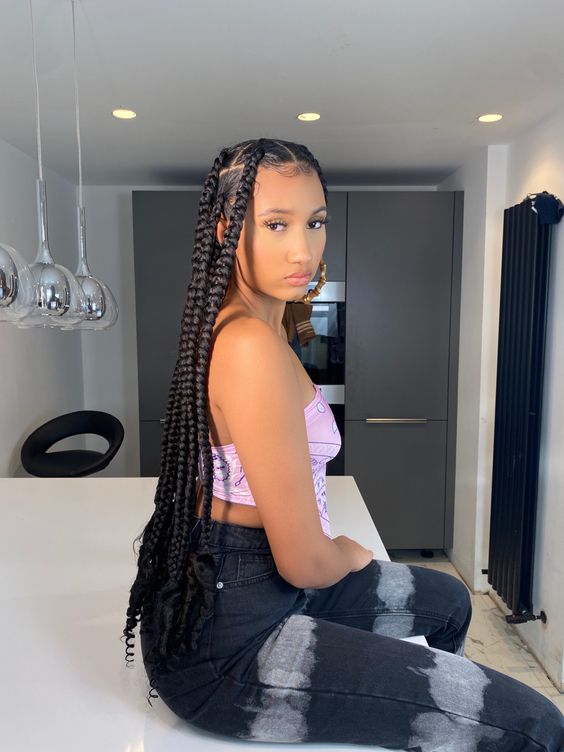 Half Braids Half Curls
Are you worried about the thinness of your hair? Time to impress with your new look. Make knot-free braids with half your hair and let half your curls loose.

This curl and braids will give the illusion of more volume. So, get ready to define sassiness.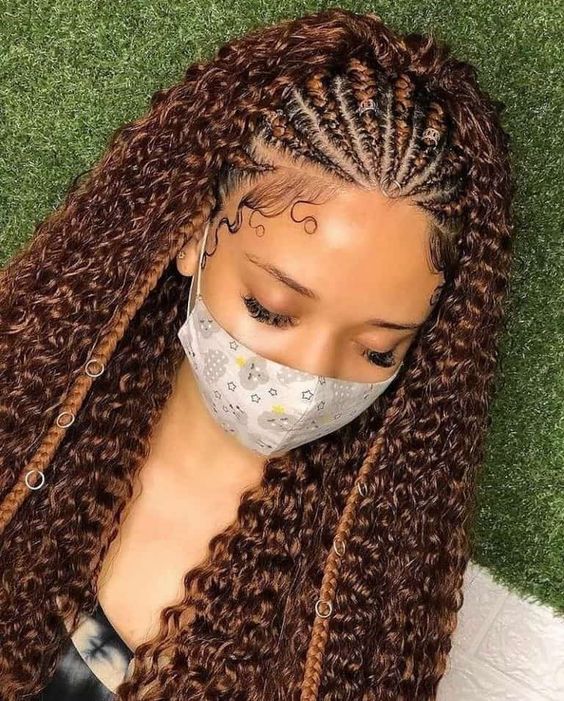 Knotless Passion Twist
Want to look hot? Then this passion twist will be your favorite style for this summer, as it comes with the advantage of being waterproof. 

Yes, that's the biggest twist with this hairdo, providing your hair the texture, dimension, and much-needed happiness.

 It is a different form of 

two-strand twists

 with a more feminine touch. This passion twist is known for offering the most polished and refined look.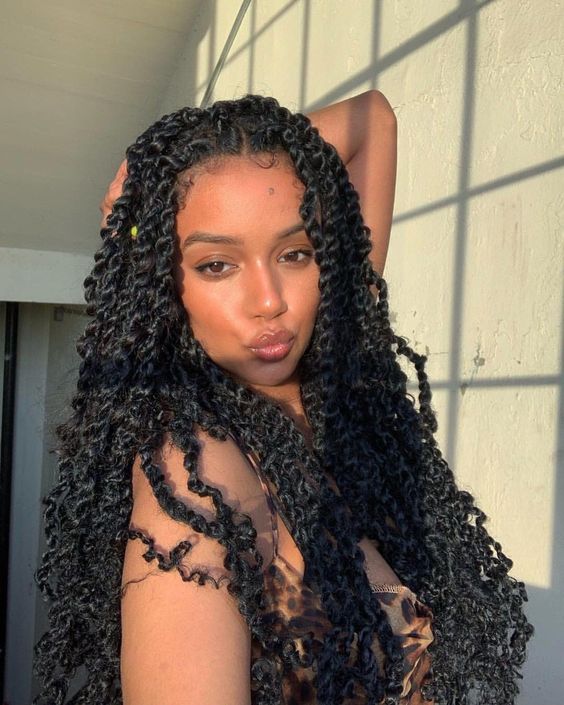 Also Read: 15 Amazing Balayage Hair You Must Try
Knotless Box Braids
Undeniably knotless box braids are the perfect way to define femininity, creativity, and class. This hairdo gives you the confidence to carry your big curly hair in style.

The most significant advantage of knotless braids is that they can sometimes last up to a month. Making your one job easy and making you gorgeous as well.

Knotless box braids are unlike regular box braids that exert tension on your head. These braids are almost natural because it starts with your natural hair, and extensions are fed into it step by step.

With these braids, your hair is less exposed to damage. But you need to maintain these knotless braids by spraying with some leave-on sprays and oils and tying all your braids at the back at night.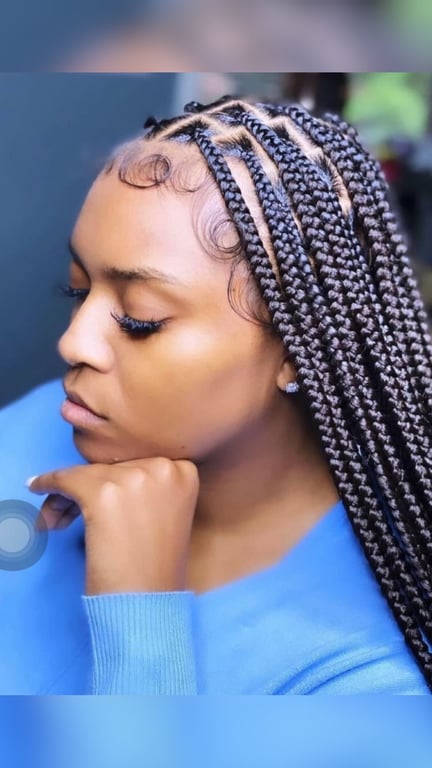 Twist It with Beads
To achieve a dapper look, add beads to your hair. Yes, adding beads to your knotless box braids will give you that beachy and summery feeling.

This is the best way to install some fun in your dull hair.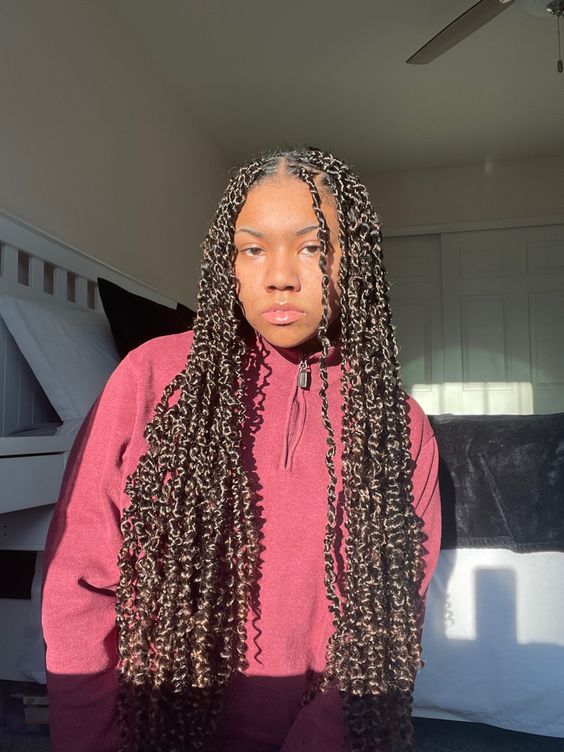 Long Dapper Braids
Like your luscious and shiny long hair to steal hearts! Go for it. To achieve the artistic look, make knotless braids and let all your hair hang with either a side partition or a middle partition. 
This looks extremely simple yet very sophisticated.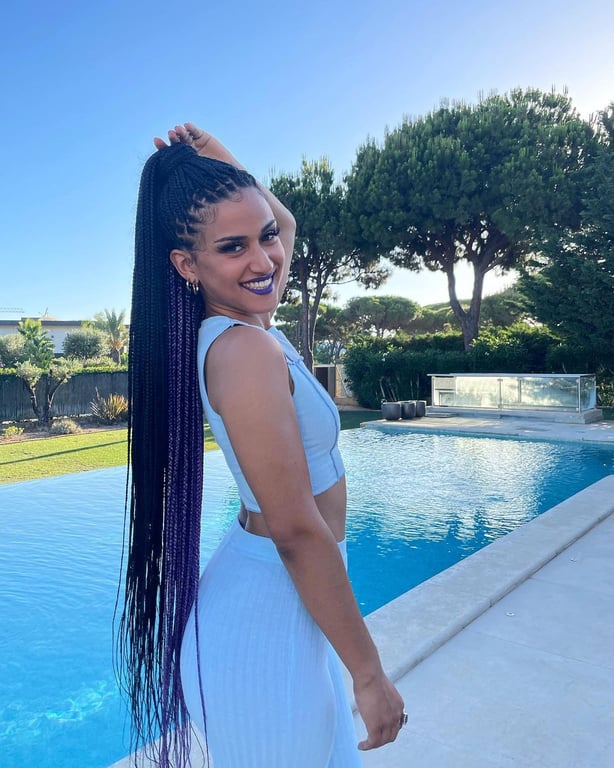 Unique Hair with Colors
Knotless braids don't mean you are stuck in the same style for days; you can even try coloring your hair to add fun. 

Yes, mixing some colors with your natural hair can be fun; it can give you happy hair with a twist.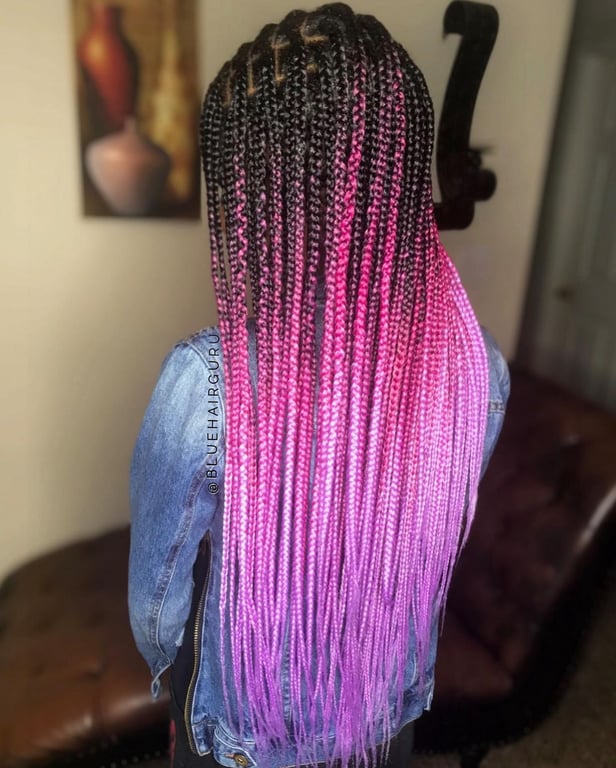 Red Funky Braids
Red has been the color of glare. Applying this color to your hair prepares you to become the center of attraction. 

Flaunt your red color with passion. This is the most feminine and 

effortless style.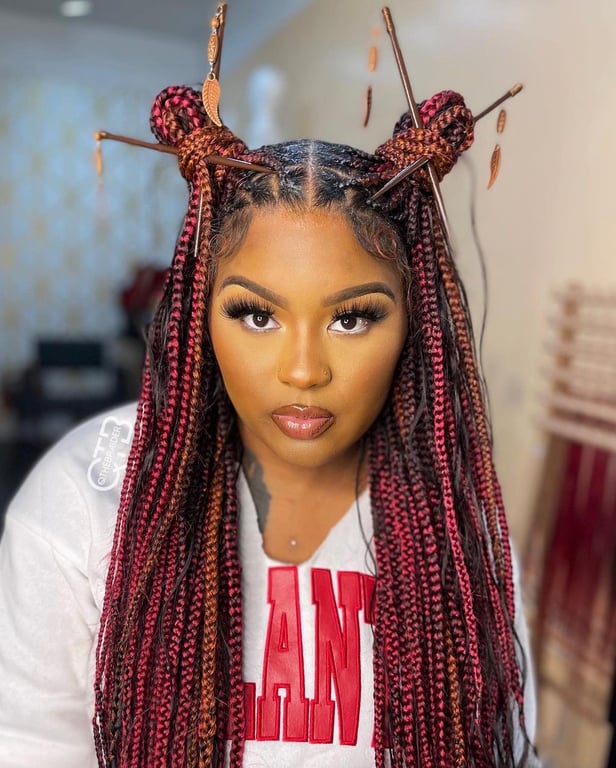 Short and Sweet
Suppose you like to keep your hair short and also stylish. In that case, knotless braids can provide you with the opportunity to become much more attractive. 

But with short braids comes the pain of fine and thorough work, which means you are required to spend more time at the salon to get your hair correctly braided.

 So, if you are a person of patience, this hairstyle is a must-try.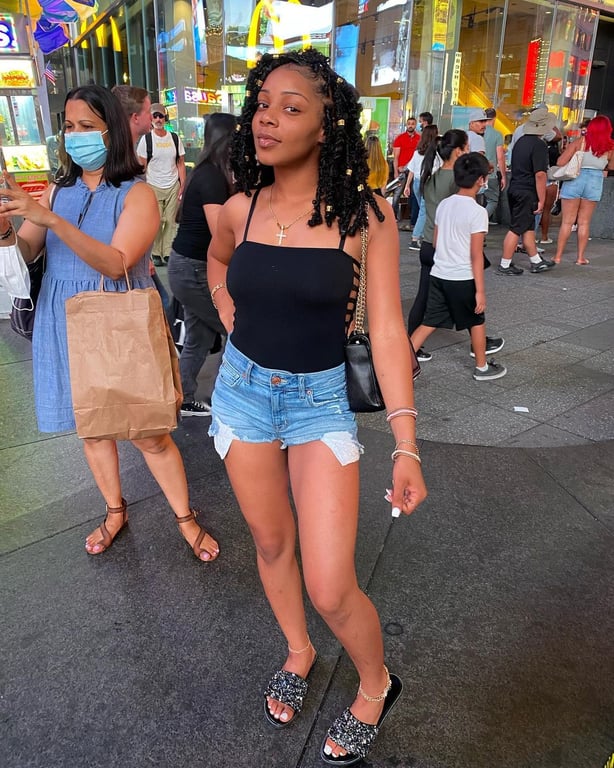 Medium Knotless Braids
For most women, medium knotless braids are an ideal way to secure their hair. Because of medium hair, they are pretty manageable, look graceful, and can last long with regular touch-ups.

Curly hair is very troublesome to maintain if not taken correctly. And maintaining long curly hair is another challenge. Therefore 

medium lengths are the best way to look charming

 and have less pressure on your hair.

Medium knot-free braids can be your best friend once you install them in your hair. This hairstyle is a must-try!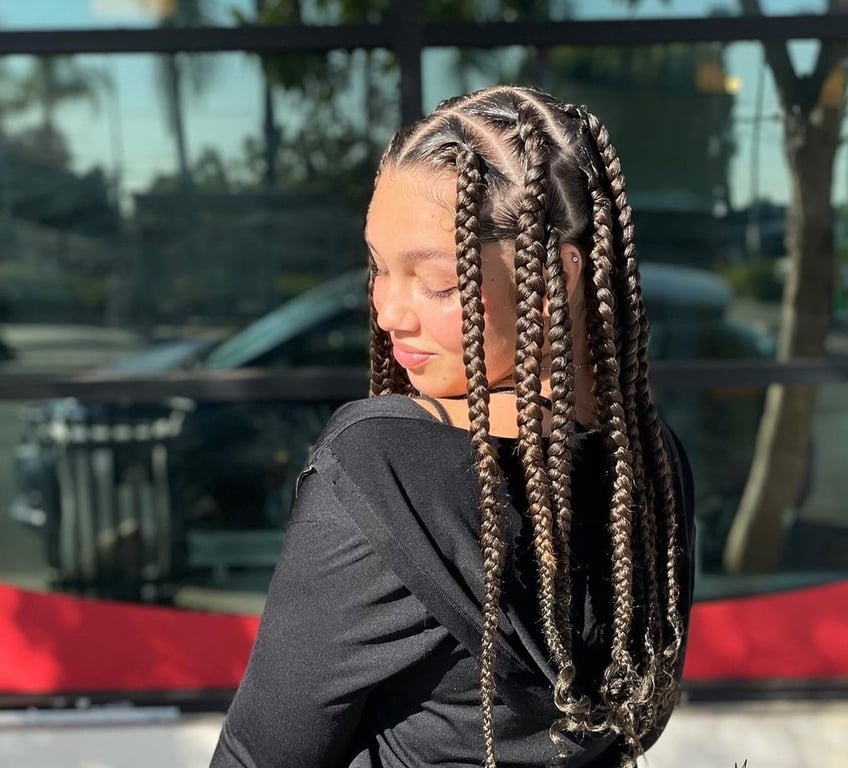 Also Read: Short Hair is Back! 23 Trendy Short Hairstyles for Women to Try
Long Knotless Braids
These are not as thick as jumbo braids; they are just another version of jumbo knotless braids. The hair is divided into several sections with more significant segments of hair to give your hair lesser strain and protect the scalp.

This will last longer and make your hair damage accessible. This will appear fancy and modish when applied correctly.

Ask your hairstylist to add some accessories to emphasize your facial features. With this amazingly wonderful hairstyle, you are going to appear beautiful.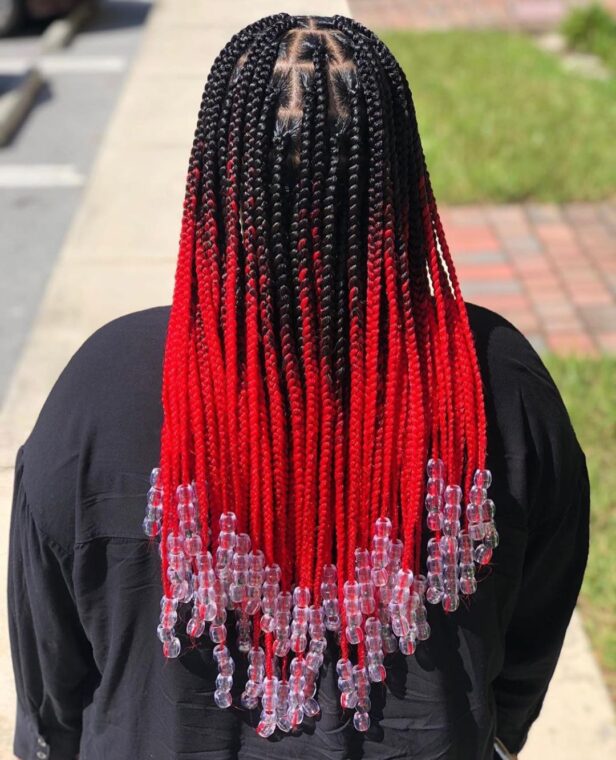 Reference Link
Knotless Braids-FAQ's
How to Do Knotless Braids?
* Well, knotless braids are easy once you learn their technique. You can try learning this technique by watching video tutorials on knotless braids. Still, for now, I will explain the steps for your clarity:
* Prep your hair and comb it nicely to detangle all of them.
* Divide your hair into different sections and add the styling cream for a better texture.
* Take each part one by one to braid them into knotless braids by starting with your natural hair and then adding extensions for proper coverage.
* Repeat the same step in each section of the hair.
How to Style Knotless Braids?
Styling these braids can be very easy once you are a pro. But if you want your hair to look perfect, it is advised to visit a salon and choose your favorite braids to grace your hair.
How Long Do Knotless Braids Last?
Depending upon your hair type and the kind of braid you installed in your hair, the braids can last upto one to two months with six to eight weeks of regular touch-ups.
What Are Knotless Braids?
Knotless braids are a new invention in the fashion world. It is designed to protect your hair by putting less strain on your scalp and to make you the most remarkable yet most stunning. Unlike regular braids, it is knot-free, starts by braiding your natural hair, and is then fed extensions into it. They can be fantastic for curly or wavy hair and can protect your time on routine hair styling.
How to Do Knotless Box Braids?
Knotless box braids can be done with utmost patience and practice. Ask your hairstylist to make the knotless box braids for you with precision; it takes a little longer than the usual box braids.