What is the perfect color? A question that can have thousands of answers. And when a situation like this arises, we need clarification about which color to choose. Today, I will mention a color you already have in mind. Lavender. Yes, just like you imagined, reading the word, it is an epitome of calmness, elegance, and exquisiteness. Lavender nails with design are highly in demand these days. The lavender nail designs are here to impress and allure you with their charm.
Representing charm and gorgeousness in its way, lavender has started to rule over the fashion world. Ladies are adopting shades of purple, especially lavender, in their style statements, and why not? Lavender is just elevating elegance. One very noticeable part of a woman's beauty regime is her nails. And when nails are happy, you are happy.
This season enchants everyone with lavender-colored nails. And believe me, you and the people around you can sense the relaxation and pleasure lavender color adds to the environment. Lavender nails with design are trending, and Instagram is flooded with exemplary lavender nails. We have made a collection of some trending and stunning lavender nails with designs for your next look of the season. Go grab them!
Beautiful Butterflies
Butterflies' beauty is known to everyone. And when these beauty-laden butterflies are added to your nails, the look is a hundred times beautified.
Lavender color nails with cute little butterflies on them are just worth watching!
These are just so pretty!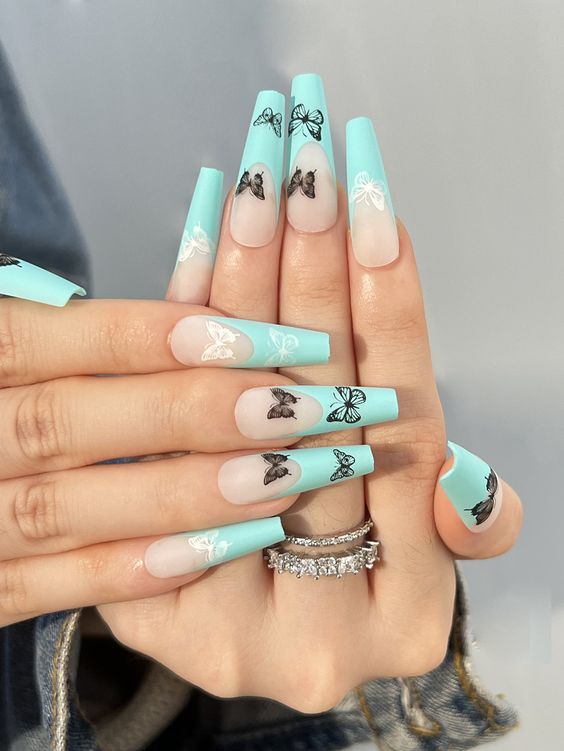 Floral Lavender Nails With Design
All love flowers, and it's the flowers that add charm to your beauty.

Lavender base and white floral designs are enough to make your nails stunning and alluring.

This nail art is a must-try for a softer look and summer qualities

!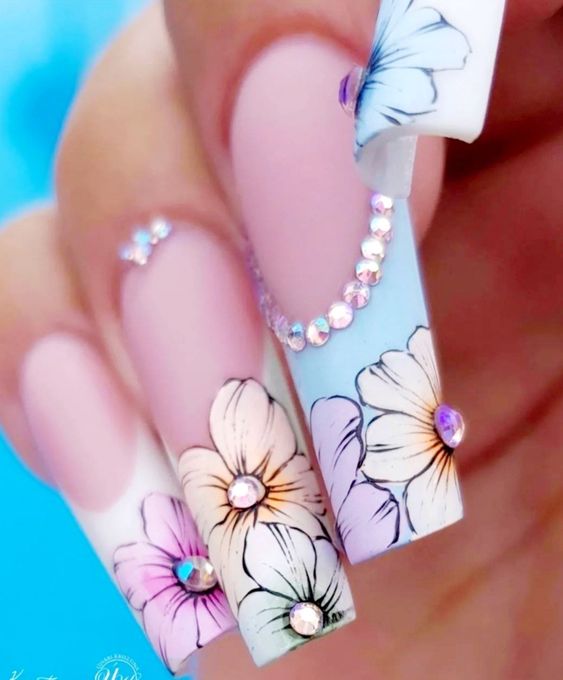 Sparkling Lavender
A twist can be added to the lavender color by just adding some glittery effect to it.
It is an elegant way of flaunting your gorgeous nails. Also, these sparkling lavender nails are a perfect match for a wedding look.
You can try this nail color this wedding season and of course, collect all the compliments.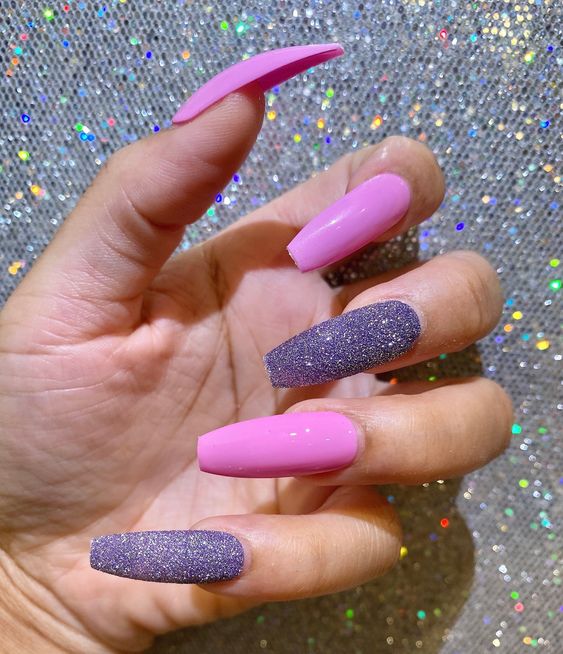 Also Read: Let's Discover Different Pink and Blue Nail Designs
Lavender Mermaid Designs
This is yet another example of how lavender color can make you look the queen of beauty exceptionally.

Mermaid lavender nails with designs like embellishing with pearls or stones are in demand these days.

Look how breathtaking it is!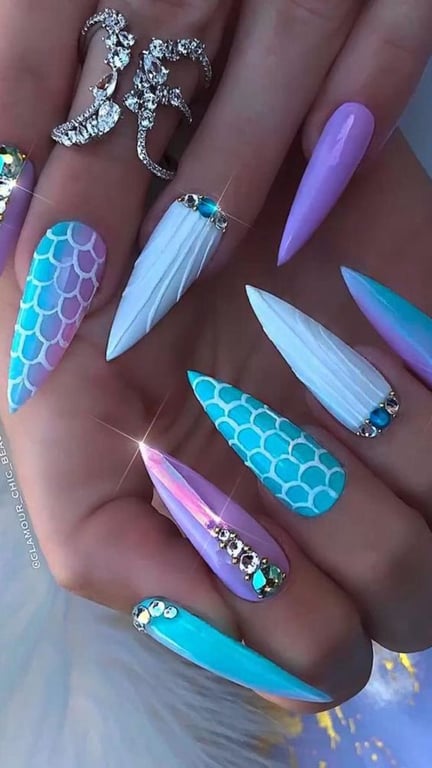 French Tip Lavender Design
French tips are enduring beauties. Simple as well as classy is their type.
A lavender French tip is an ideal way of a long-lasting impression of beauty.
It is just so captivating.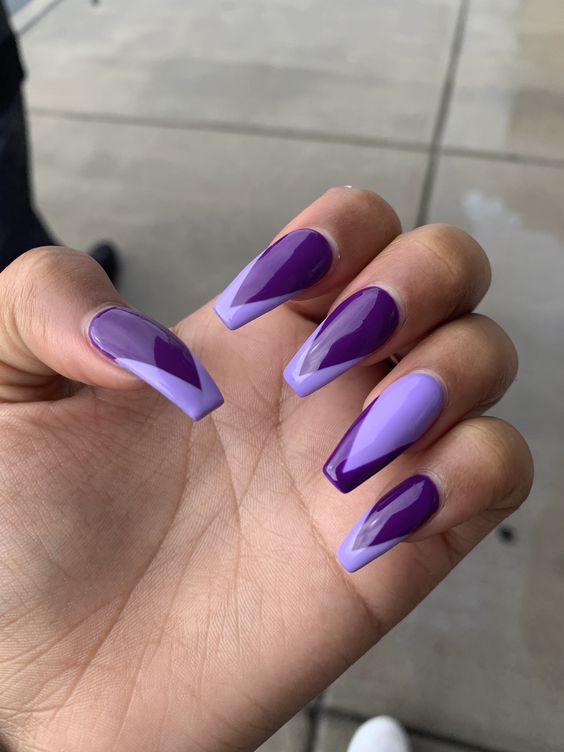 Translucent Lavender Nails With Designs
This is my personal favorite lavender nail. It offers the calmest and most soothing yet inviting look to your nails.
Transparency is what makes it unique and stylish.
Add some floral or butterfly designs to the nails and it is all done!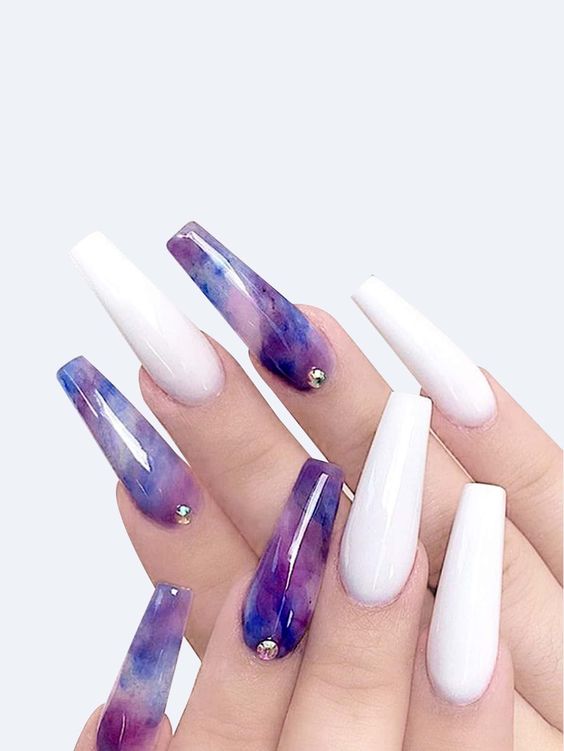 Cloudy Effect
What if you bring happiness and peace to your nails? It is not only relaxing but also super stylish.

Yes, this cloudy effect is one such nail design.

It is created in a way that gives a warm and beautiful night effect with the strokes of lavender color.

If your heart desires creativity, this lavender nail with designs is a must-try!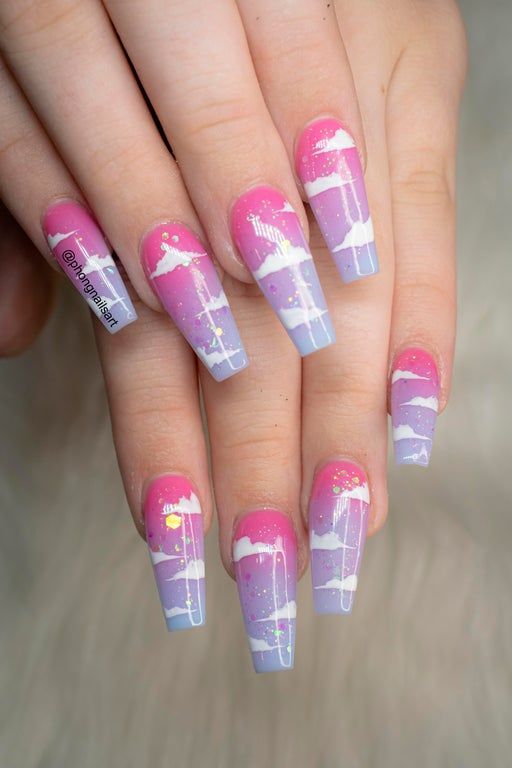 Abstract Pattern
The abstract is something that uniquely defines inventiveness and beauty. It is a perfect example of lavender nails with design.
Pair that gorgeous lavender color with some abstract patterns to make a bold look.
Time to surprise everyone with the coolest look.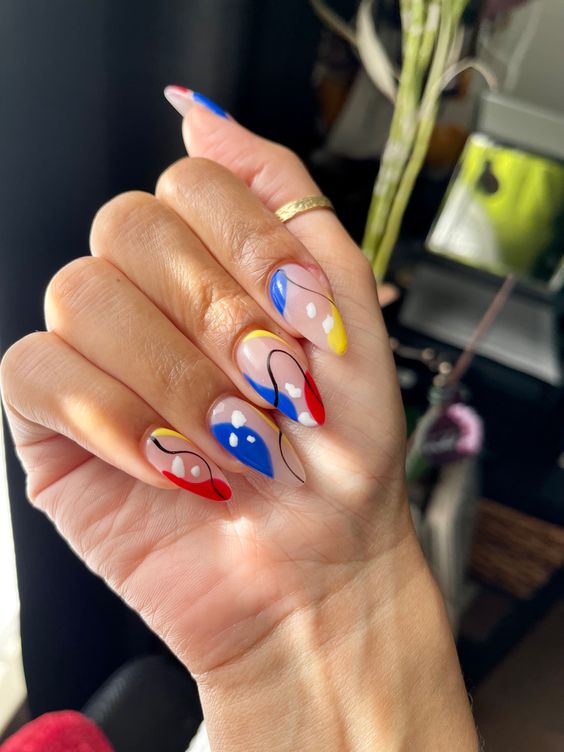 Also Read: Nail Designs for Men: Explore Your Inner Wildness
Lavender Nails With a Halloween Look
For a creative and stylish look, design a Halloween look on your lavender nails.

Sounds a bit odd? But it is one of the unique looks to get ready for Halloween.

It is pretty yet attractive. Experimenting with this can be fun and cool.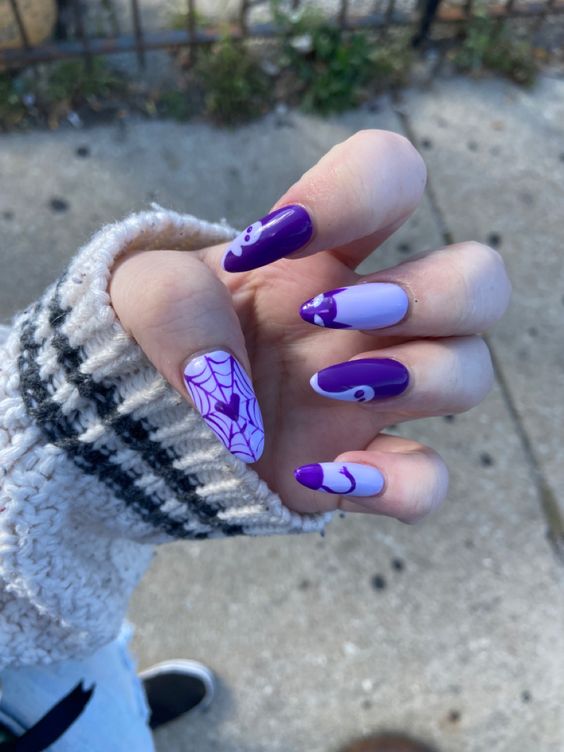 Jeweled Lavender Nails
This version of lavender nails can be your next hot and happening thing.

Giving a royal look to your nails can never be boring; instead, it is super luxurious.

Just a suggestion, by the way,

 you are gonna love it!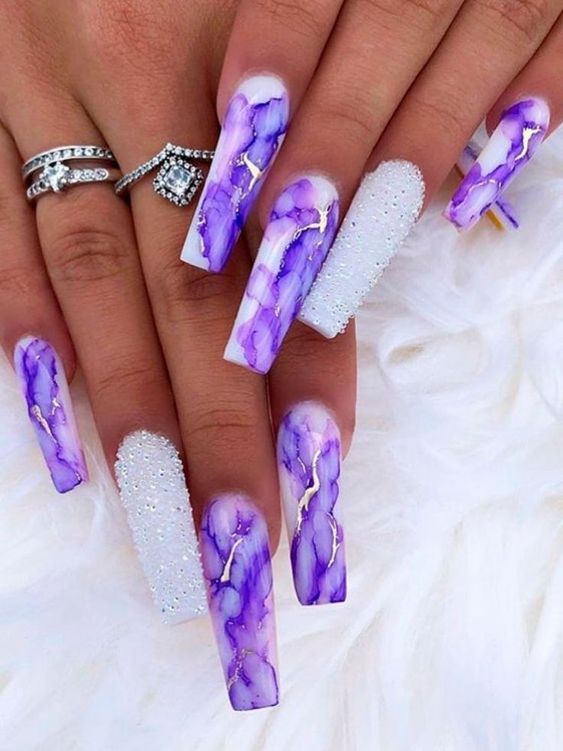 Lavender on Lavender
This special invention for nail art lovers is a treat to the eyes.
The Lavender base color with soft and soothing lavenders on them is just wow!
It is an intricate design and demands your patience but believe me the final look will be worth the wait.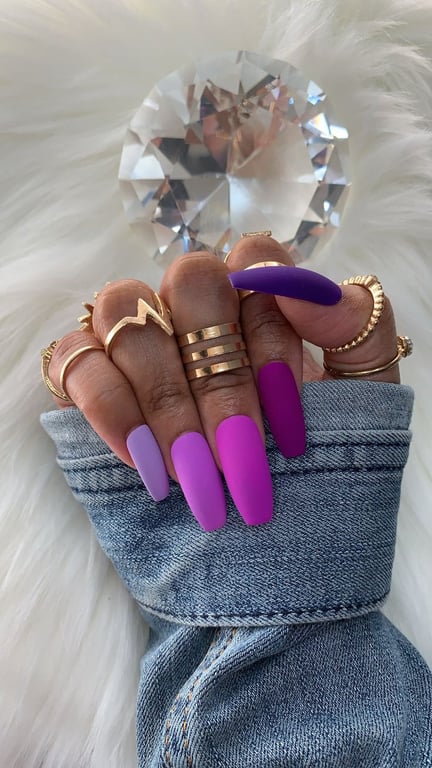 Lavender Daisy Nail Design
The main attraction here is the daisies on a lavender background.
These lavender nails with designs of daisies are so chic and adorable that you can't stop yourself from backing away from this.
These nails are serene to look at and help you earn some pretty praise.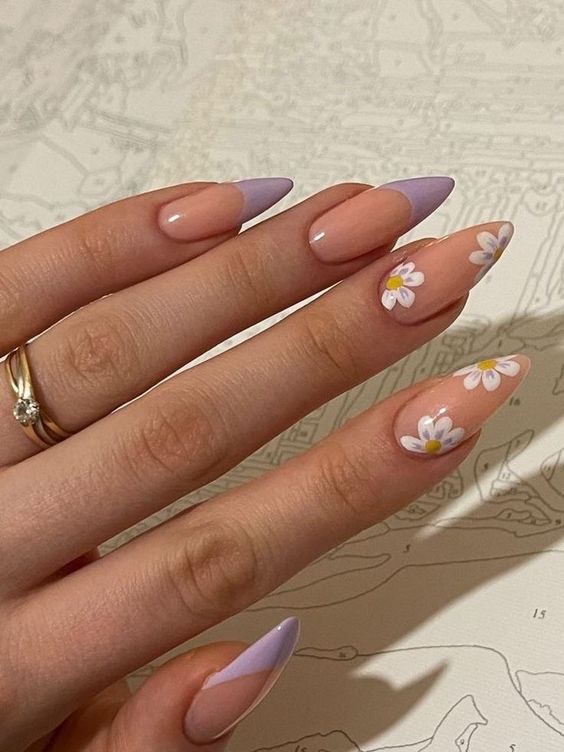 Purple Ombre Nails
Ombre is in the limelight and exactly they are worth your attention.
The lavender shade of purple when applied to the nails in the Ombre version, is stunning and peaceful.
A piece of jewelry to these nails will be like the cherry on top.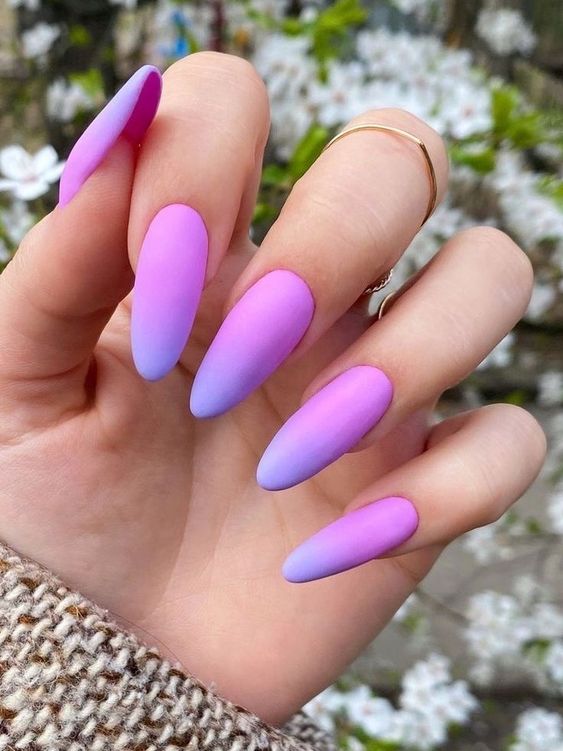 Swirls of Lavender Nails With Design
Nail designs are all about exploring your inner artist.
Channel your creativity on the nails with lavender colors. Make swirls of lavender in a creative and cool way.
Make a striking look.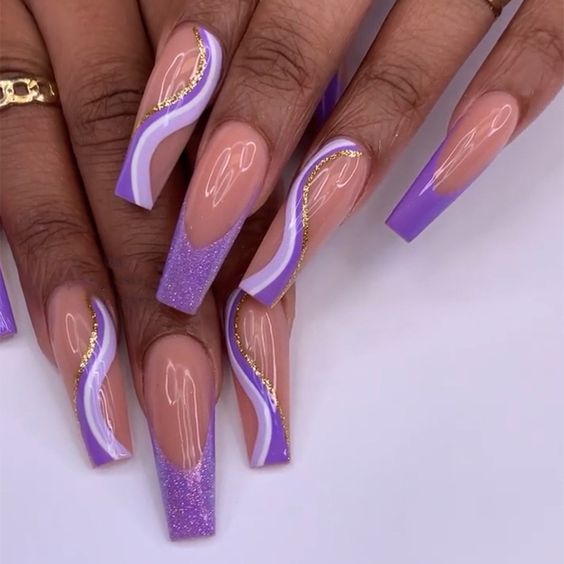 Gold With Lavender
It is so obvious from the name that lavender when mixed with gold, magic is created.
You can either make gold tips with a lavender base or go for painting some golden designs on the lavender background.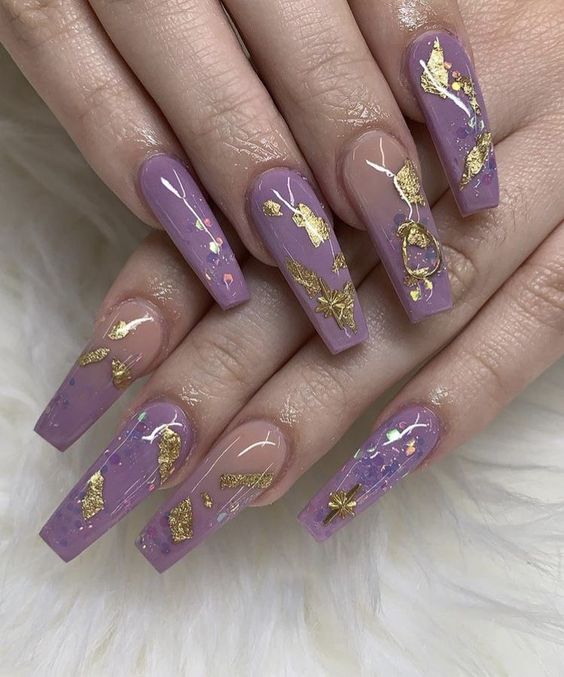 Marble Lavender Nails With Design
Marble nails are damn beautiful to look at. You need to experiment at least one time with these marble nails.
Lavender marble nails are so elegant and enticing, you will surely need more of them.
Worth trying!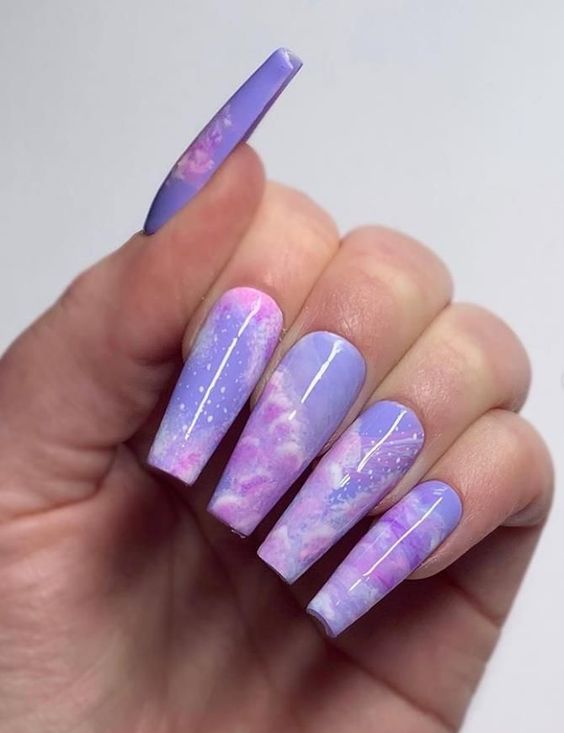 Also Read: Simple Mermaid Nails: An Elegant Way of Elevating Your Fashion
Reference Link
Lavender Nails With Design-FAQ's
Are Lilac and Lavender the Same?
* This is something which most people get confused about.
* Let me clear this out, Lilac is a color which has got the pinkish tinge whereas Lavender has the bluish tinge. That's the main difference between these two colors.
What Color Combination Goes Well With Lavender?
* Lavender is a color that can brighten up any color.
* Mostly lighter shades go well with lavender such as white, gray or even pink.
Are Lavender Nails in Style 2022?
* Absolutely yes they are! Elegance and chicness are a perfect quality of lavender.
* People are loving it and are making this color a part of their beauty regime.
* Just go for it!