Stuck between wanting a refreshing and stylish cut but don't like chopping those beautiful locks? The answer to your problem is the layered haircut. These super gorgeous layers add dimension, texture, and the illusion of thickness to your hair. It fits perfectly well on all face types and also enhances your features more remarkably. With layered haircuts, hairstyles of any sort suit your face.
Layers are known for their versatility in suiting any hair, be it long, short, medium, curly or straight. Layers, when perfectly designed, make you more enticing and scintillating. Getting these tousled layered haircuts can easily make you more jazzy, trendy, and fashionable.
There are a variety of layered haircuts to style every type of hair. So, don't be confused, and just scroll down to choose your impeccable cut.
Long Layered Haircuts
Layers of long, shiny, dense, luscious hair add to the charm and can make you look totally artistic and divine. 

So why not add passion and make your hair lovable by all?  Take inspiration from some of these long layered haircuts.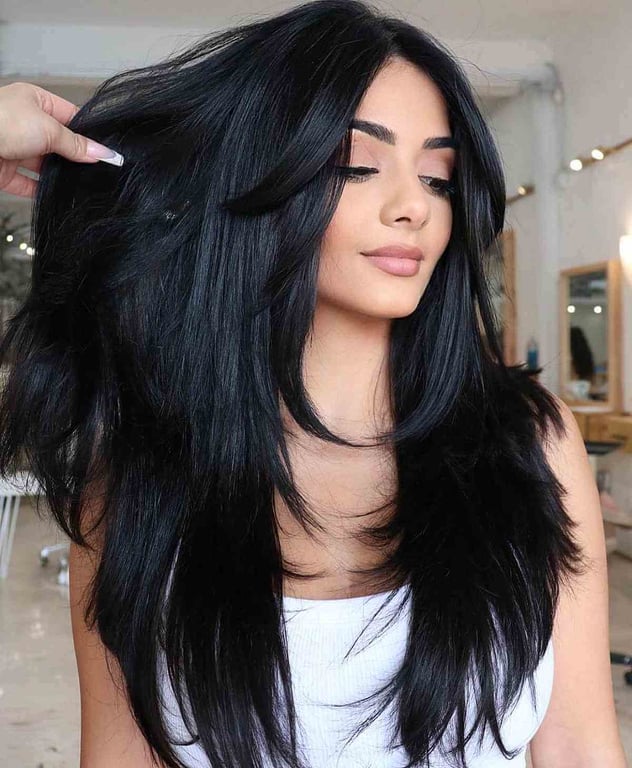 Long V-Cut Layers
Having long hair comes with the advantage of varieties of styling. Long hairs are so adaptive that refining them with layers will enhance your look making you the prettiest. 

Giving your precious hair the beauty of a v-shaped cut will make you more attractive and stunning.

Short layers followed by longer layers add the natural bounce to your hair and you are all set with this happy hair.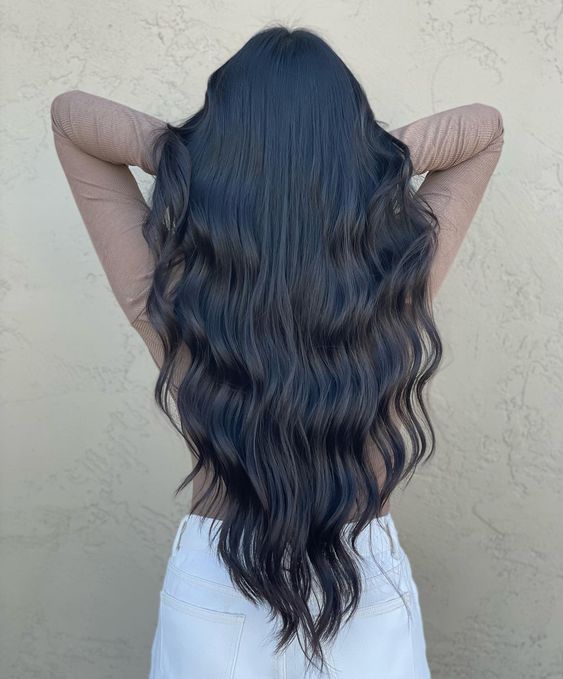 Also Read: Best Shoulder Length Haircuts for Your Next Absolute Look
Straight and Elegant
That straight, silky hair has your whole heart! Want this elegant look but with a twist? Then go for this layered cut on straight hair giving them this chic and sublime look.

Impress the crowd with your drop-dead gorgeous layers.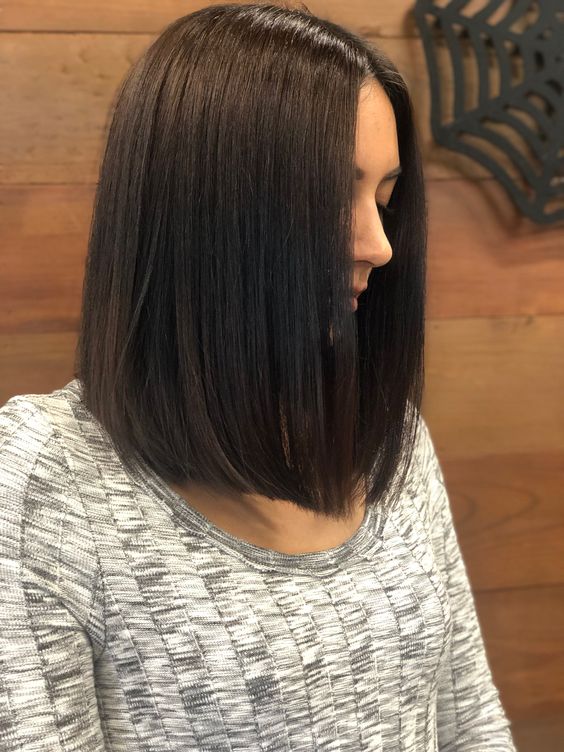 Long Waves for Beautiful Hair
Fond of the beach, add some beachy illusion to your hair! Get this long layered wave styling with confidence and rock the look.

Layers will add to the volume and the wavy look will make your hair eye-catching as well as casual.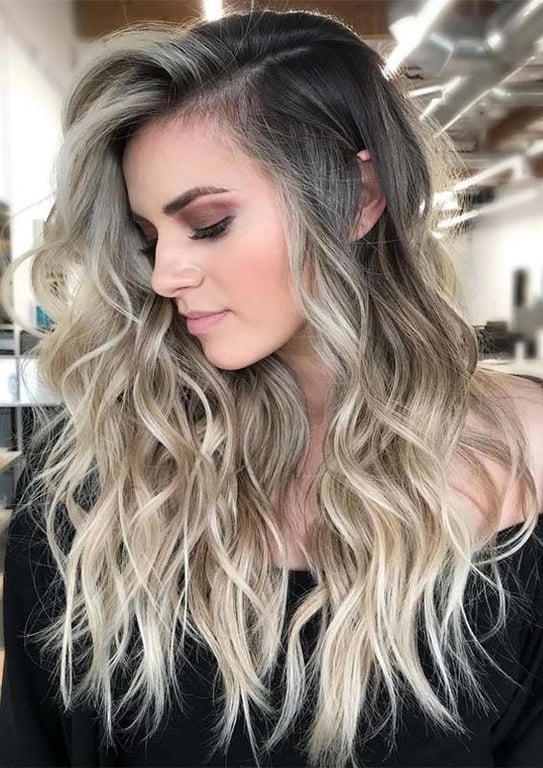 Long Tousled Hair
Adding bangs to layers! Whose heart are you gonna steal today? Bangs have the specialty of highlighting your face and providing you with a ravishing appearance. 

Curl some of the front layers to get a bold look.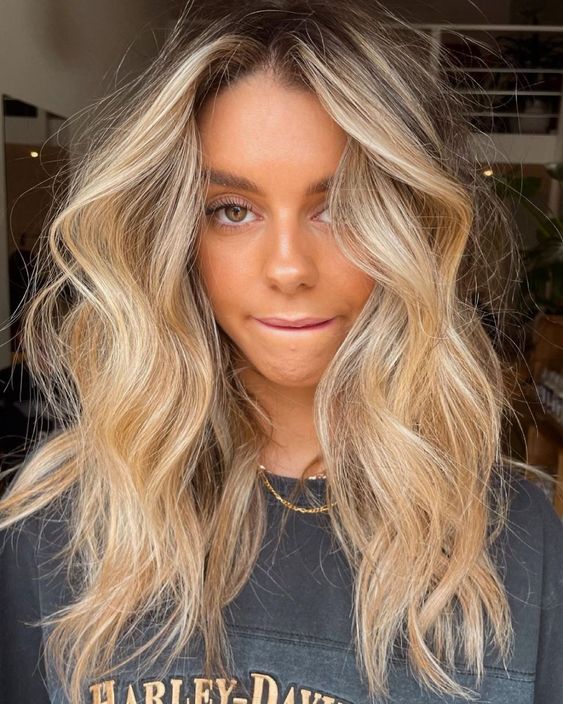 Front Layered Haircuts for Long Hair
Without chopping those long and shiny locks, framing just your front hair can do magic. It reveals your face impressively and helps you show the better version of yourself with dignity.

Yes, a perfect haircut can boost your inner passion and you can carry yourself with confidence. Some of the trendy front-layered haircuts to take motivation from.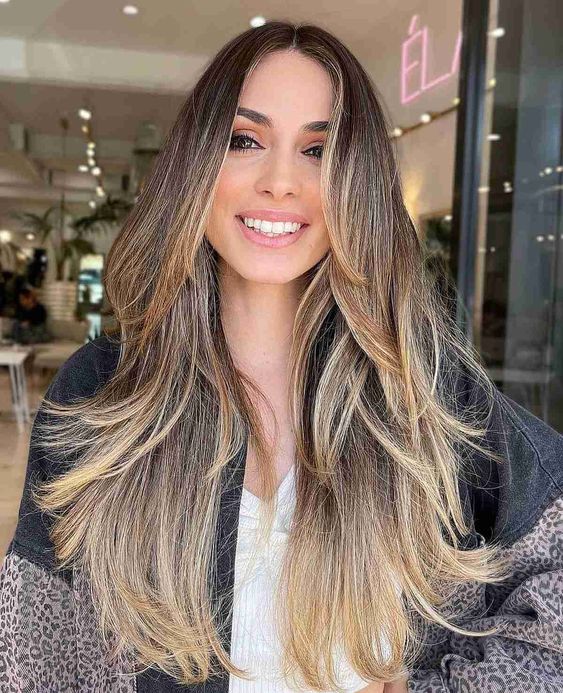 Front Layers With Highlights
Highlighting your hair can make you the center of attention. Jazz up a little by adding front layers to your long hair and highlighting them with reddish-brown, ash-grey, or any other color of your choice.

Perk up your layers with a middle partition.
Long Layers With Bangs
Bangs got this fun vibe and is loved by all. Thinking about changing your look? Go for bangs on a long layered haircut.

These are face-framing and make you much more pleasing and appealing.
Voluminous Long Hair for Thin Hair
Distressed about your thin hair? Not to worry anymore! Because this tricky,  layered cut for thin hair will leave you astonished with its results.

Layers when correctly styled can give a perception of volume and density. So, if you are upset about thinness, it's time for you to be joyous again with this long hair layered cut.
Long Shag With Curtain Bangs
Shag is one of the most accomplished hairstyles, and it goes very well with layered curtain bangs.

If you are searching for a revitalizing look, then lady, this hairstyle is a must for you. Curtain bangs are face-framing, so what are you waiting for? Pop up your hairstyle with this long shag.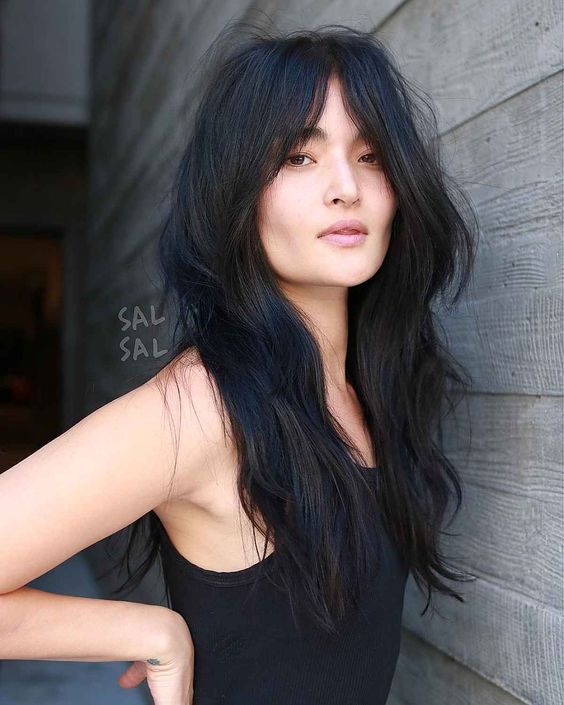 Chubby Face Long Layered Haircuts
Round face ladies' attention! These special layered haircuts are just for you. A chubby face is not only cute but also very adorable.

A layered haircut is known for its versatility and it can mold itself on any face, so let's look at some of the trendy chubby face layered haircuts.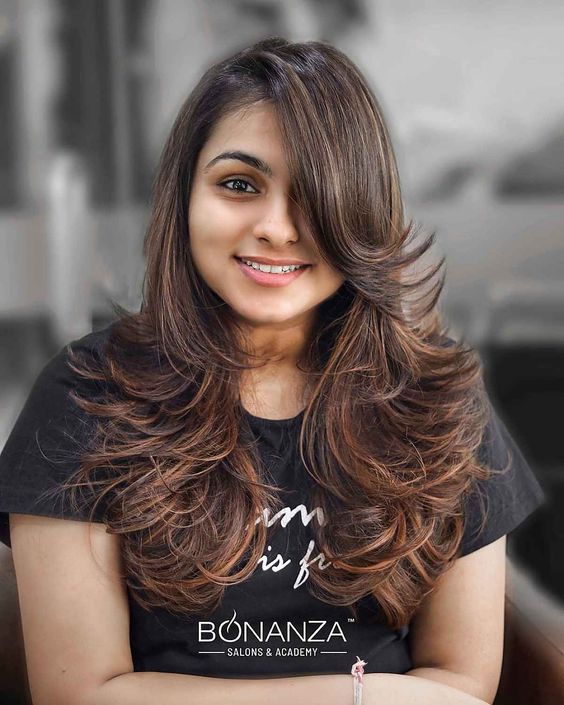 Curls With Side Bangs
Curls offer you the asset of meeting with any shape and when they are paired with little bangs, they can make you more desirable. 

Curly hair with side bangs on a chubby face can offer you a slightly slim face illusion. So, get ready to turn heads towards you.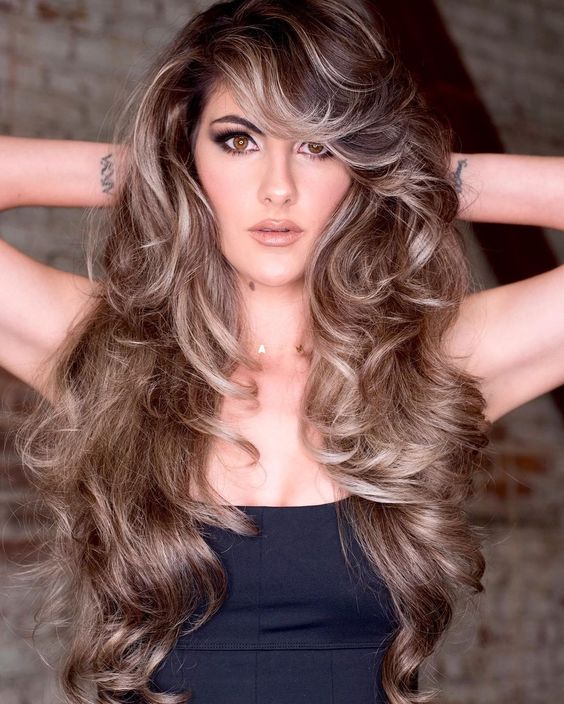 Sleek Hair With Longer Bangs
Round face adapts to this haircut with utmost love and precision. such a haircut can do wonders.

And with the addition of bangs, you are going to look stunning. A nose ring with sleek hair will provide you with the most amorous look when followed by longer bangs.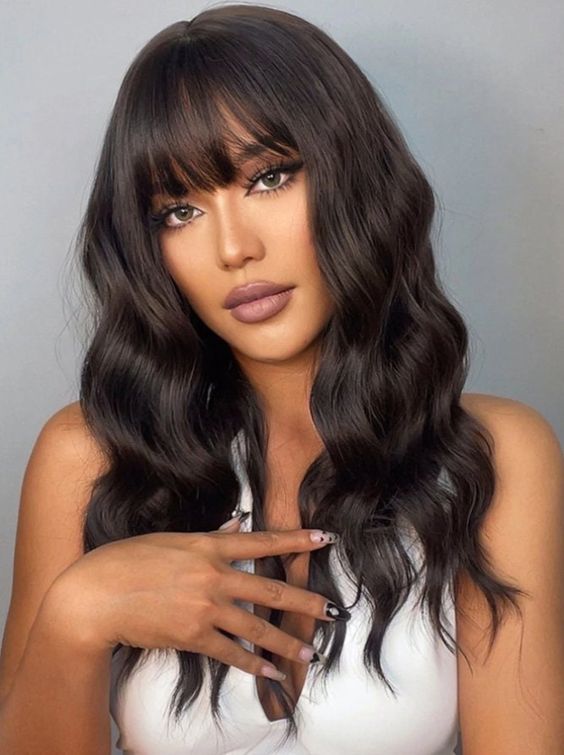 Long Layered Straight Hair
Who said straight hair won't look perfect on a chubby face? Well, it's time to break the myth.

Long hair when styled in layers can prove to be magic on chubby faces. So, straighten up your lustrous hair and get ready to enjoy the glare.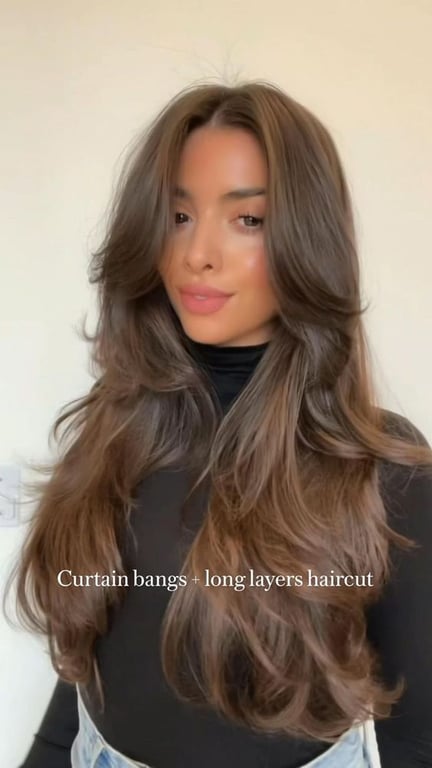 Appealing Middle Part Long Bob
Most of the chubby-faced ladies are huge fans of middle parting. And yes they provide you with the coolest yet cute look. 

When this middle-parted hair is cut in the form of a long bob with layers, this can make you more gorgeous and whimsical.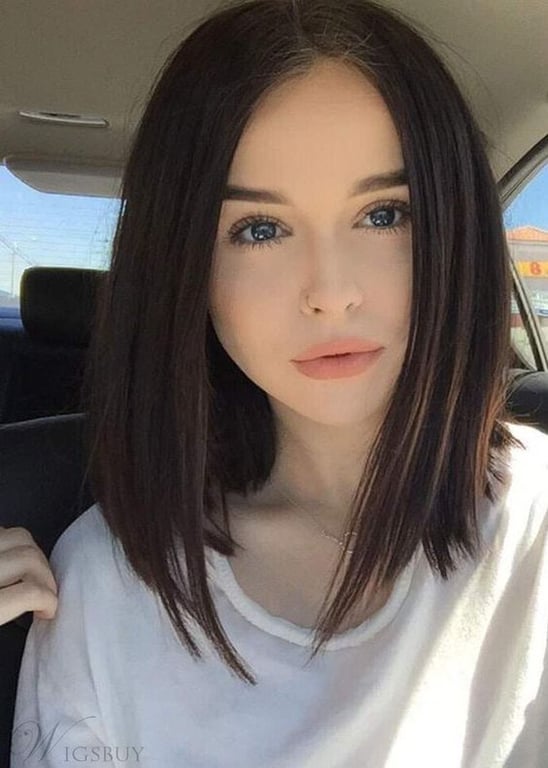 Medium Layered Haircuts 2022
Often in the race of long and short hair, medium hair loses. Yes, that's the sad reality. But nowadays medium hair is not overlooked, it is making its place on the top charts of fashion and is becoming everyone's favorite haircut.

This is one of the trendy haircuts that is setting its foot firmly in the fashion world. So, if you are looking for a change and want a stylish and attractive haircut, scrolling down below may help.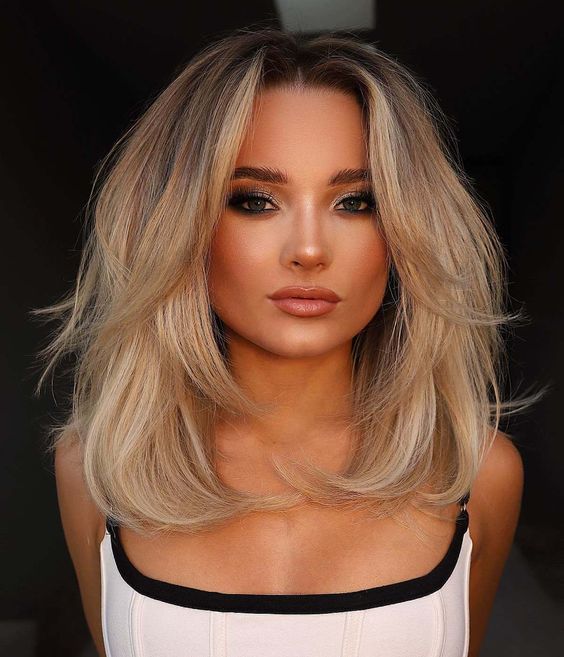 Wavy Curtain Bangs for Luscious Hair
To get a softer and finer look add layers to the wavy hairs. To look more attractive and charming, air those waves with curtain bangs. 

Wavy hair is gaining popularity day by day because of its adjusting nature to suit any kind of texture. Rock this curtain bangs with any kind of outfit or accessories.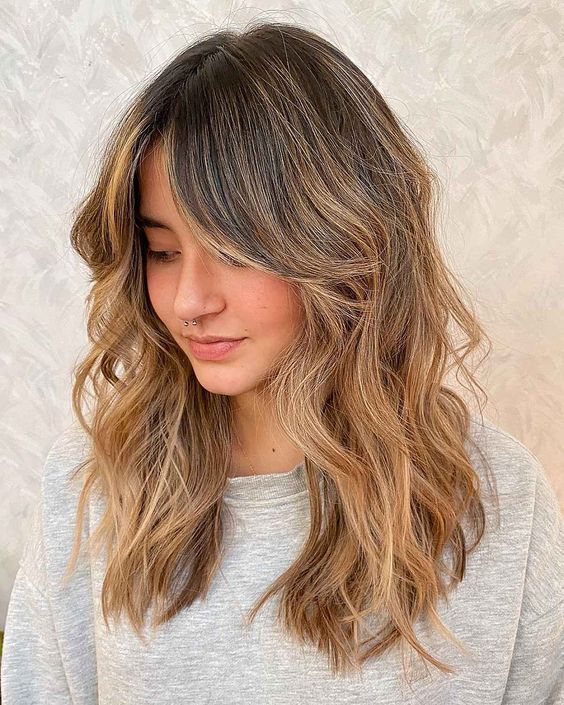 Sun Bright Blonde
Medium-length hair when colored offers you extra attention and makes you look very gorgeous. 

If you are up to experimenting, consider bleaching your hair. Boldness and sassiness come with this blonde. A must-try.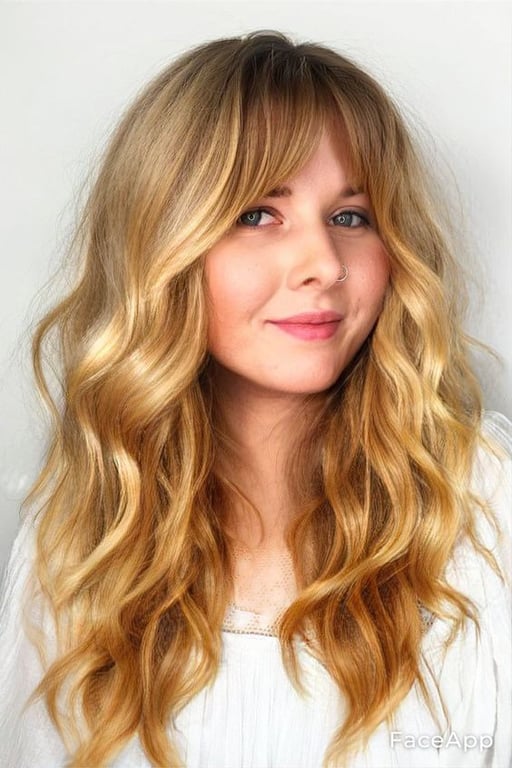 Curly Shag for Volume
Dazzle your hair with a shoulder-length curly shag haircut. Add some bangs to enhance your look.

Curly medium hair looks perfect with a layered shag cut. You can totally opt for this style if you have the beauty of curls.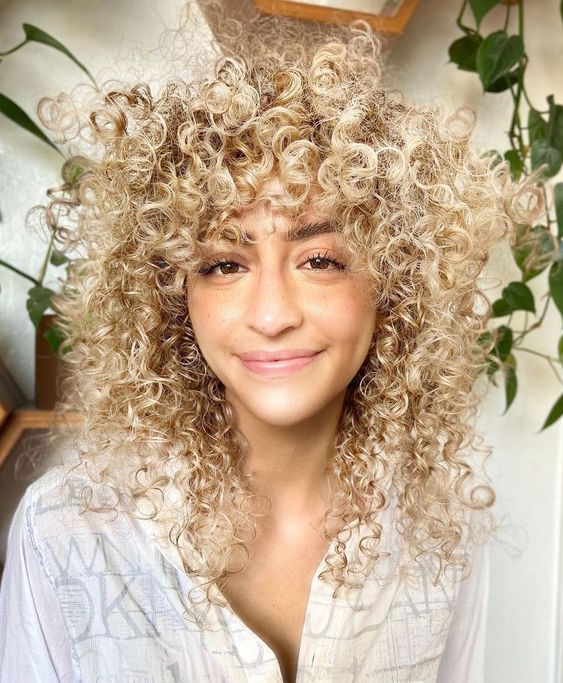 Baby Braids
As the name suggests, baby braids are one of the cutest and most tidy looks of all. Secure some of the front strands into baby braids and let the back of your hair fall freely. 

Medium cuts look extremely endearing with such braids. For a more stylish look, add some accessories.

These stylish, hair-friendly, easy-to-do haircuts can prove to be the game changer in your personality and you can easily win hearts with your gorgeous looks. Do try the ones that suit you and become much more beautiful.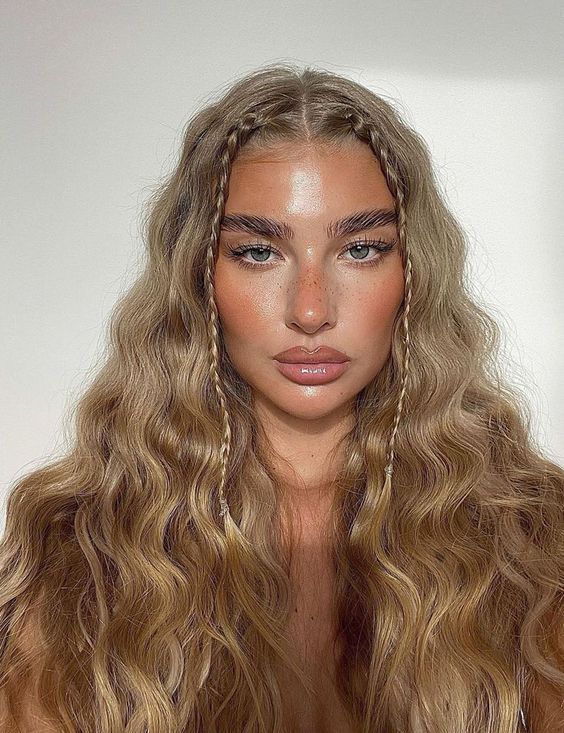 Reference Link – 
Layered Haircuts -FAQ's
What is the Purpose of a Layered Haircut?
* Well, the most basic purpose of a layered haircut is to make you look extremely gorgeous and a better version of yourself.
* Moreover, layered haircuts were specially designed to provide movement to the hairs by removing the weight.
* Also, layers add dimension and volume to the hair defining its beauty in a more remarkable manner.
* Layers have the capability of adding life to monotonous hair.
How Long Does a Layered Haircut Last?
* Having a layered haircut comes with a regular visit to a salon every 6 to 8 weeks.
* Because layers are known for their different layerings and when they grow they can give you the look you may not like.
* So, regular touch-ups to always have fresh layers are much needed.
How to Maintain a Layered Haircut?
* Since layers are popular for providing density and richness to the hair, you need to blow dry your hair after every wash to make it look more voluminous.
* You can also use some volumizing cream for a finishing touch.
* Also, brush your hair properly so that each and every layer gets the proper limelight. Detangle every bit for a pretty look.
Which is Better: Layer or Step Cut?
* This is one of the most asked questions by a majority of ladies out there. Well, the basic difference between a layer and a step cut is that layers are more suited to thin hair because it provides dimension and volume making it elegant.
* On the other hand, the Step cut is best suited for thick hairs with a wavy or straight texture.
* However, either of the two cuts looks extremely enticing once you get it, even if you have thick hair you can get layers as it fits perfectly well.
How Many Layers Can You Get in Your Hair?
* This totally depends upon your desire. There are a variety of layered haircuts to try.
* You can get as many layers as you want and also you can get as few layers as you want. It is entirely dependent on your face shape and requirement.
Why Does My Layered Hair Look Choppy?
* This situation can arise if you are cutting your hair in horizontal sections.
* It is advised to get a layered haircut only by professionals to avoid the unwanted choppy hair which may not give you a pretty hair.