Long Wolf Cut have been in fashion for a long time now. The haircut was popularized by TikTok trends and now is the highly worn haircut by Hollywood celebrities. This is a hybrid haircut of the layered shag and mullet haircut and looks super cool on every face shape. You can try this festive season to rock the look. There are many variations of this haircut and it is easy to maintain so that you can try it without any second thought.
Wolf cuts are cute, appealing and an easy way to amp up your hair game in just no time. It looks surreal and enticing when paired with bangs, messy style or any other hairdo that amplifies the overall look. Wolf cuts have been in the showbizz since a long time now. Creating history with it's wow look and offering women uniqueness they have been searching for, wolf haircut has come a long way.
Here are some trending styles of a long wolfcut for you to try:
Wolf Cut Long Hair 
This is the classic wolf cut for long hair.
Get some layers as we do in a classic shag hairstyle.

And a mullet cut to shape the top hair accordingly.
Wolf Cut Long Hair Straight 
This is particularly for wolf cut straight hair.
You can get a layered haircut similar to the picture shown above to make the layers more visible in your straight hair.

You can get some bangs also in this haircut to enhance the look.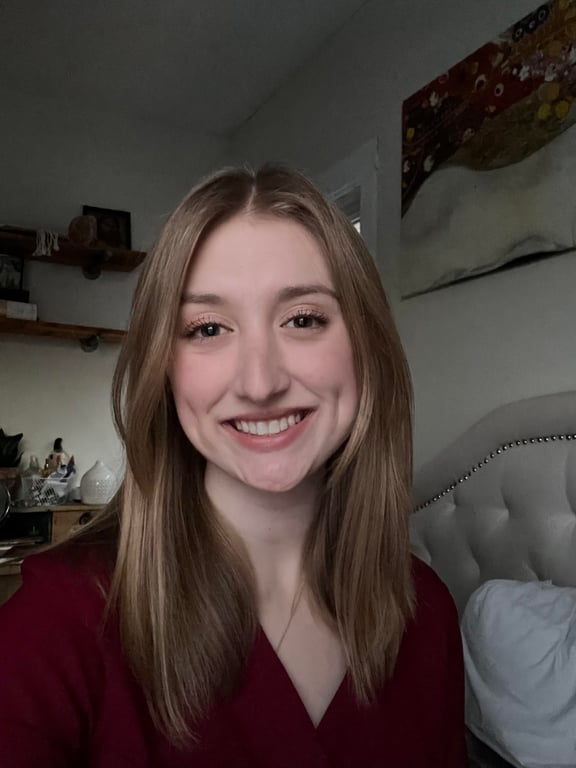 Also Read: 17 Variations Of The Popular Wolf Cut Men
Wolf Cut Long Curly Hair 
This is particularly for curly hair.
You can get a shaggy haircut on your curly hair. Shaggy layers on long hair is so dreamy and exciting, you are going to love it!

This haircut will make your hair much more manageable and offer you better styling options.
Long Hair Wolf Cut Female 
This is very much similar to a classic wolf cut.
You can get some layers chopped in any length of hair. Chopped hair with added texture are attractive and pleasant.

Mullet hair will amplify the simple hair and make you look fashionable.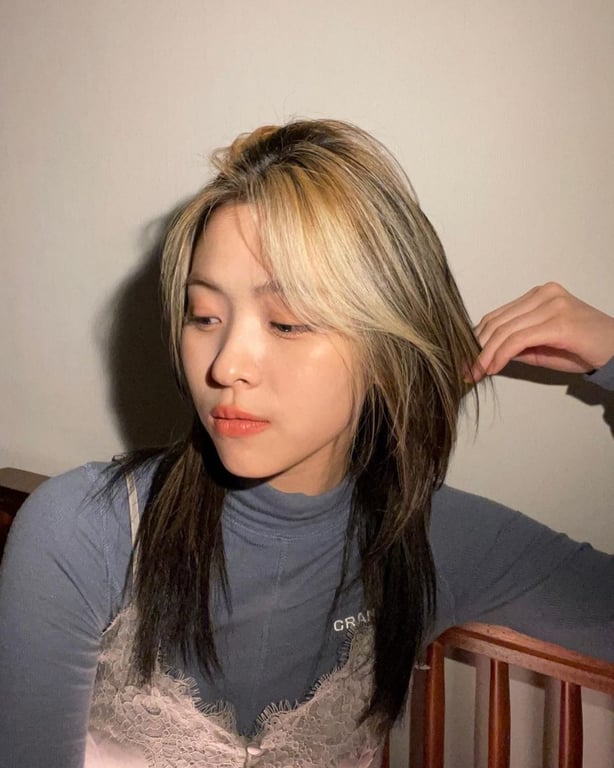 Wolf Cut Long Wavy Hair 
Wavy hair always gives us beachy vibes so why shouldn't we try this haircut on those.
Try getting some layers just as you get in a shag haircut.

This is an excellent, easy to manage, low maintenance haircut for wavy hair.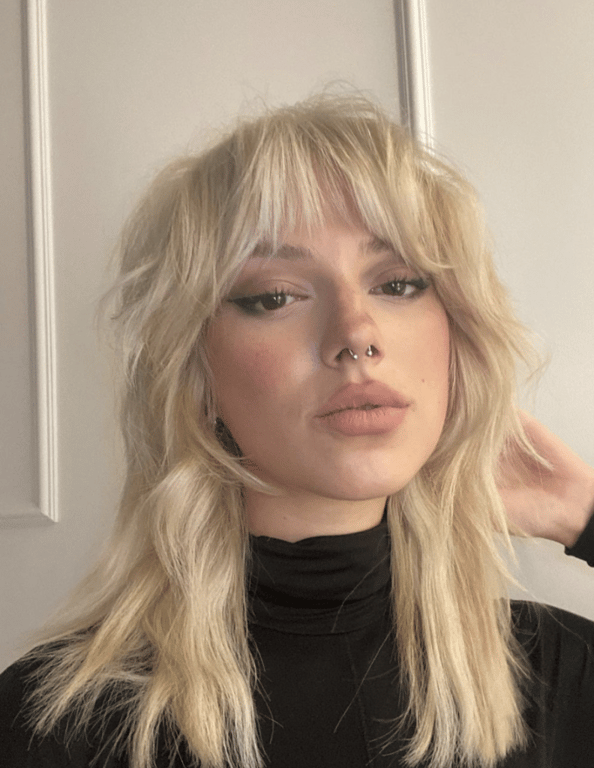 80s Wolf Cut Long
Shag haircuts and mullet haircuts have been in fashion since the 1980s.
You can use the picture for reference.

This is a combination of two stylish haircuts.
Wolf Cut Long On Copper Hair
Copper hair looks super sexy with this haircut.
Get some layers done by your stylist.

Copper hair give an extraordinary look to every haircut.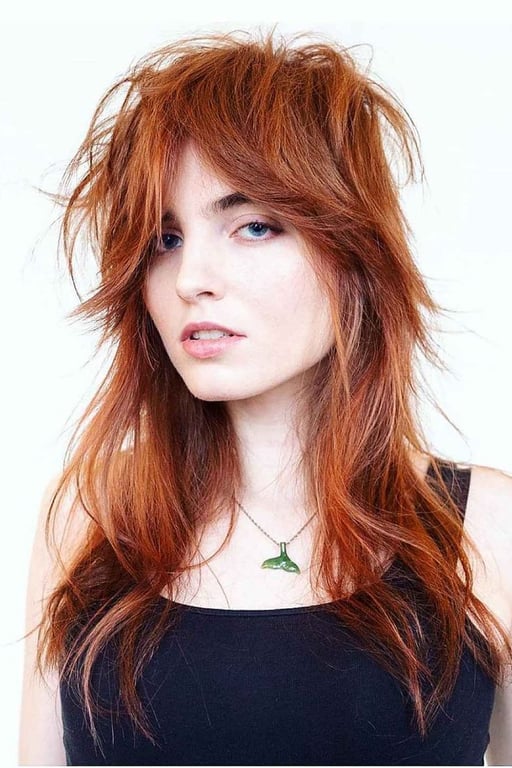 Also Read: 21 Impressive Short Wolf Cut Ideas To Try This Season
Wolf Cut On Long Hair With Bangs
Bangs are loved by every girl.
Layers and bangs are the best combination to get with a hint of mullet.

Length of the bangs can be decided on the basis of your preference and face shape.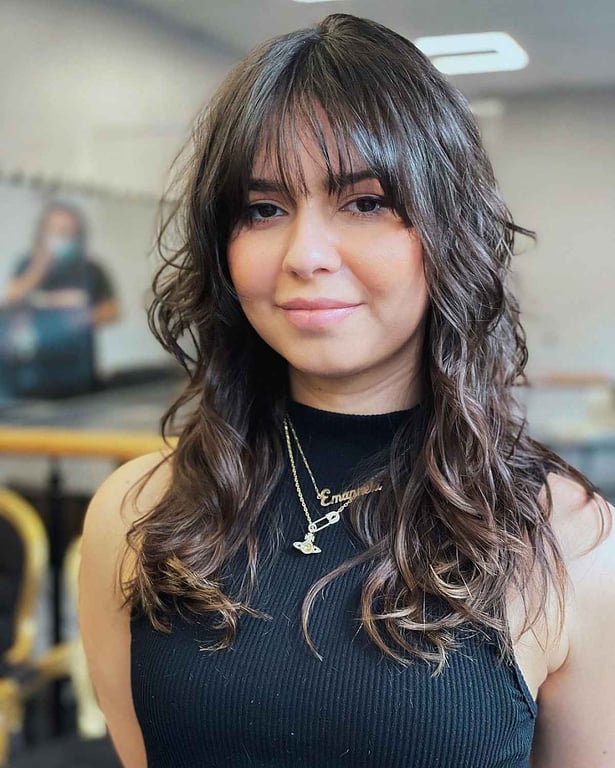 Wolf Cut On Long Hair With Curtain Bangs
Curtain bangs give a definitive shape to your face.
Curtain bangs give a formal look so you can try them for an office look also.

Bangs are stylish yet classy.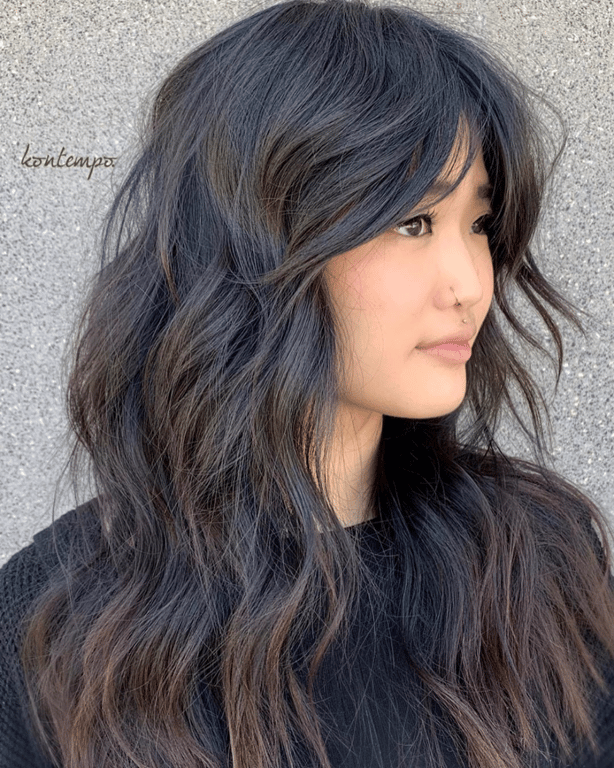 Platinum Wolf Cut Long Hair
Every haircut suits platinum hair.
You can get your hair bleached first for this look.

And then you can get a similar haircut as shown in the picture.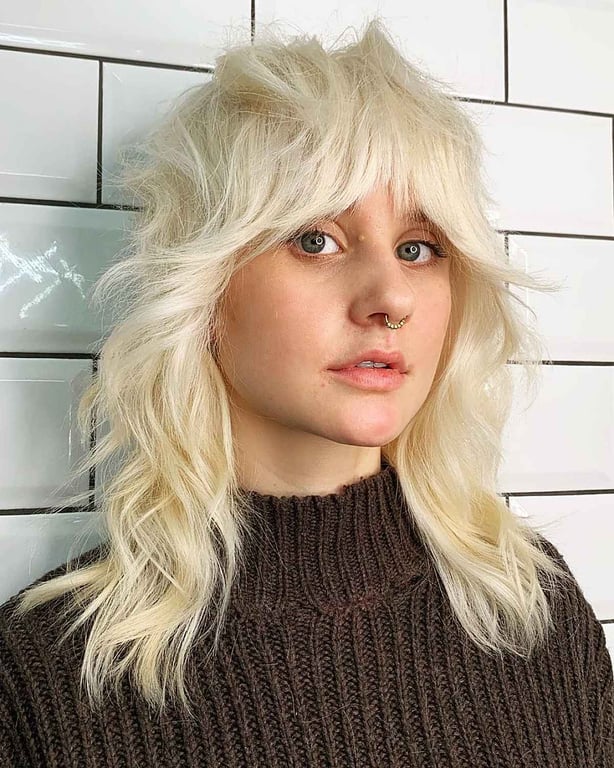 Very Long Wolf Cut
This is for very long hair.
Long hair gives this haircut an astonishing look.

You can get some bangs also for this look to try something different.
Textured Wolf Cut Long Hair
This haircut will give life to your hair.
Textured haircuts remain on the top when it comes to a messy look.

Bangs will also enhance the haircut and make it more messy.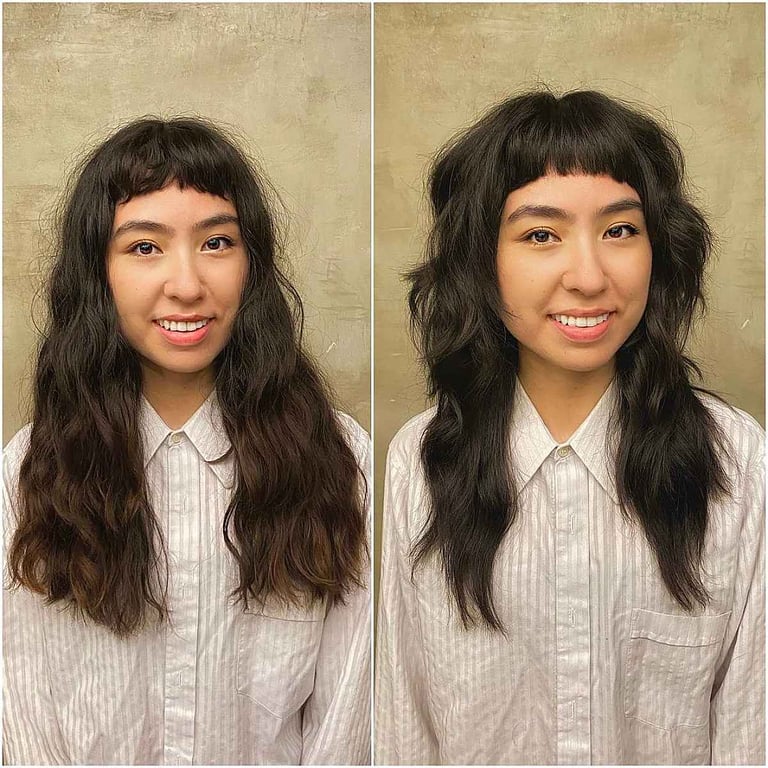 Waist Length Wolf Cut
The sexiest of all, elegant wolf cut waist-length hair.
Get some layers chopped by your stylist.

Length and mullet top make this haircut super sexy.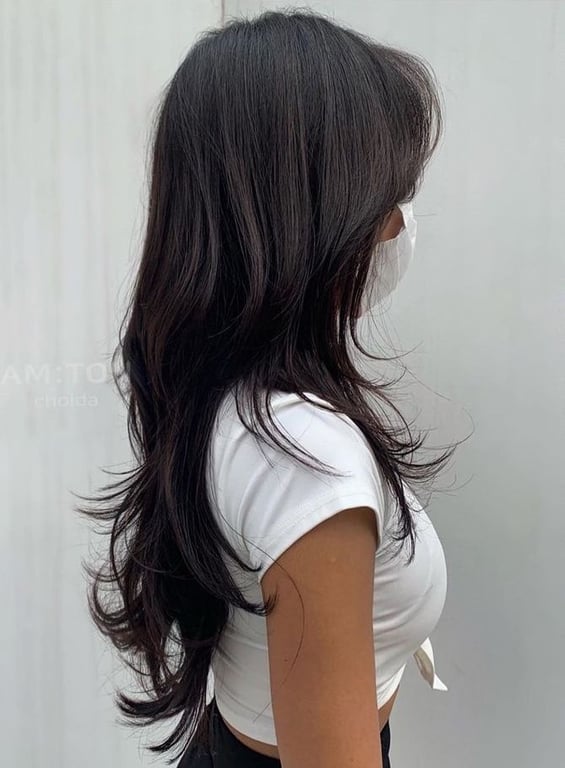 Also Read: 11 Messy Edgar Haircut: Your Next Hot Look
Long Wolf Cut For Medium Length Hair
This is for medium length hair.
Highlighted hair with this haircut looks the best.

Mullet hair looks good on medium length hair.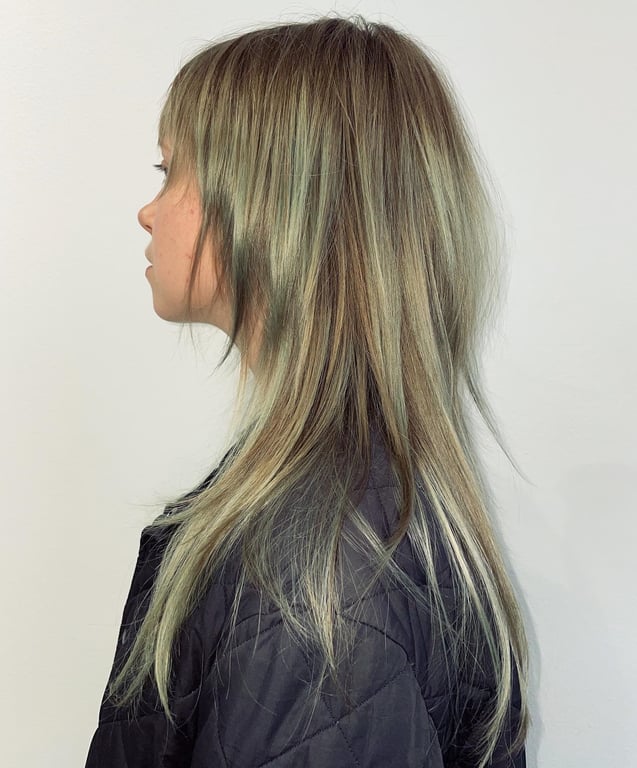 Ash-Blonde Wolf Cut Long
Ash-Blonde hair is in fashion these days by being the most trendy hair color.
This is just the classic wolf cut long on Ash-Blonde hair.

Bangs will look good on this particular haircut.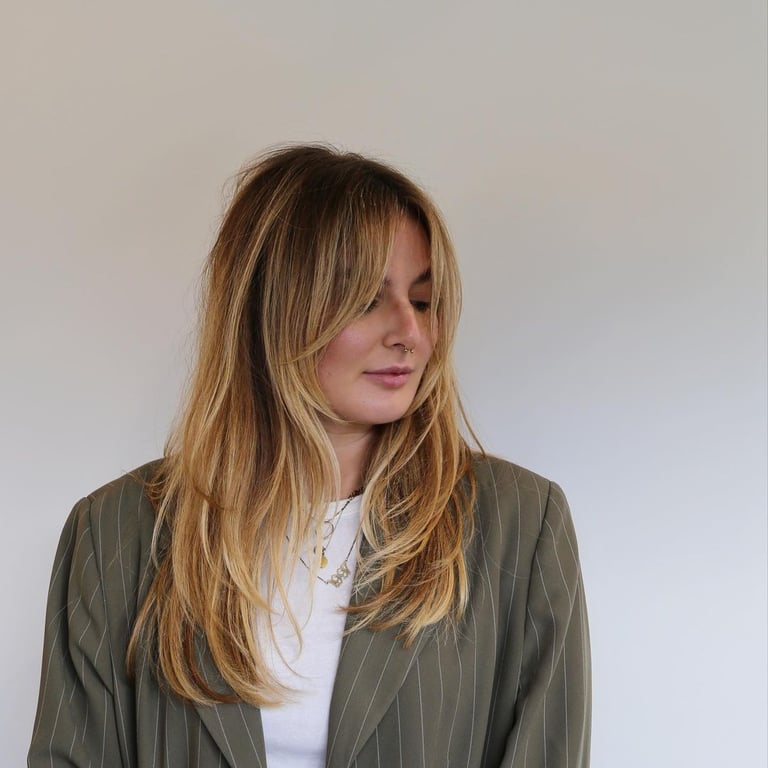 Conclusion
To sum up what has been stated so far in this article, we have covered fifteen different styles of wolf cut long hair. You can check and try any of these because they will suit any face shape and any type of long hair.
You can also try mixing two different styles so that you can experiment with the haircut and get a totally new haircut of your own.
Do let us know if you have any doubts.
Happy Hairstyling!!! 
Reference Link
Long Wolf Cut-FAQ's
How To Style Long Wolf Cut Hair?
You can style a long wolf cut as you like. We have covered 15 different styles of the haircut, you can get an idea from them if you have long hair and want to carry a chic look.
How To Cut A Wolf Cut Long Hair?
A long wolf cut is a combination of shag haircut and a mullet haircut. Just like the shag haircut, you have to chop some layers and style a mullet haircut on the top.