In the era of modernism and perfection, everyone searches for a style that defines them, portrays a unique version of their fashion sense, and makes them irresistible. Because we strive for supremacy. When you feel best, you look best, and you attract the best. So, to give your look impeccability, we are here with the most wholesome haircut, men's fade haircut.
What is a Men's Fade Haircut?
Men's fade haircut is not just a haircut loved by most men. Still, it is also a representation of youthfulness and excellence. The finishing of a fade is what you could die for! A faded haircut involves blending and gets longer towards the top. Whether you are going for high fade, low fade, medium fade or fade with buzzed sides, there are a lot of possibilities to choose from. 
With every kind of fade comes the cost of maintaining it. Since it is all about updating and finishing, you must make frequent trips to the barber to keep your faded haircut intact. Every fade demands a different requirement, so if you are a busy person but also want to look stylish, do not worry because we have trendy, high-class and worthy fade haircuts for men.
Low Fade Mens Haircut
A low fade works perfectly well if you want an edgy yet smooth look, just like the man in the picture.

Low fade haircut men

are trendy among men of every age group and offer you a neat look.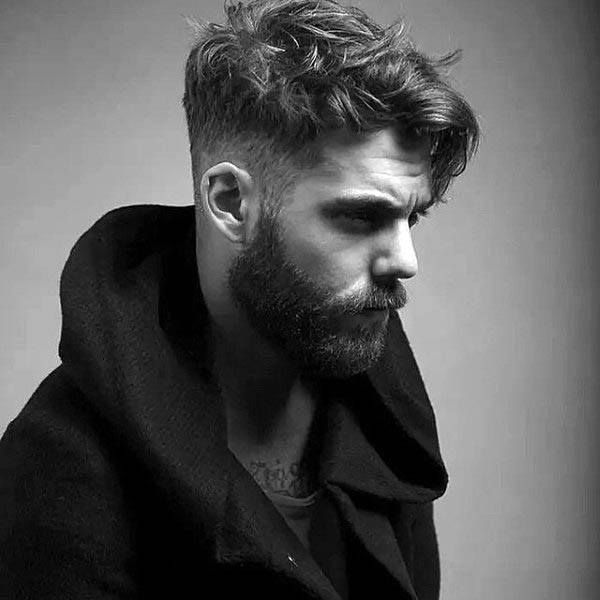 Men's Bald Fade Haircut
Mens bald fade haircut

has been in the trend for so long. The short hair looks sharp and provides a bold look.

This skin fade haircut is best for men wanting an effortless style.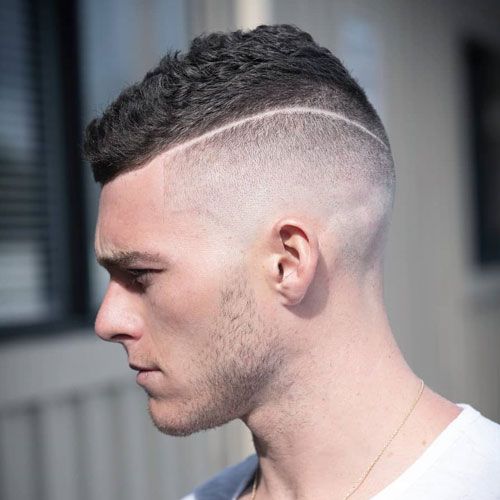 Also Read: 15 Stylish High Fade Haircut For Men To Rock Their Look
Skin Fade Men's Haircut
The

skin fade mens haircut

is for men wanting a daring yet incredible look.

The high-top hair usually starts from the crown and gives a neat gelled-up look when styled correctly.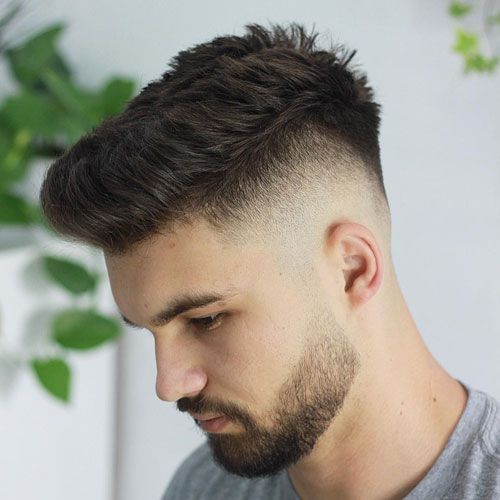 Mid Fade Haircut Men
The gradual mixing of a

mid fade mens haircut

in every aspect of your head is a particular way of rocking the fade.

The lower is usually bald and blends towards the top, with the most hair on the top. Style it the way you desire.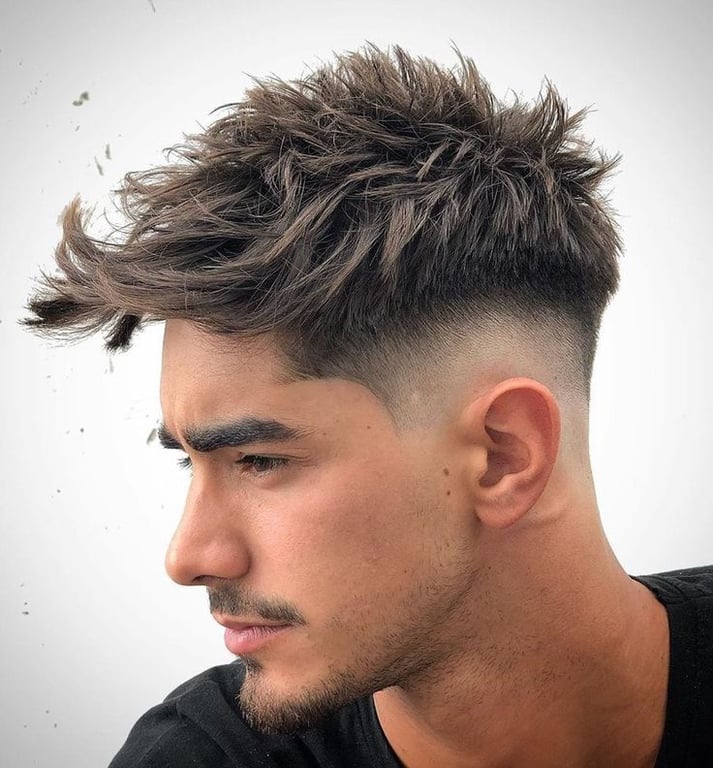 Temple Fade
For instance, it may look less like a fade and more like a regular haircut.

But the little transition near the neck is what this temple fade is. It is best for men looking for a simple yet cool look.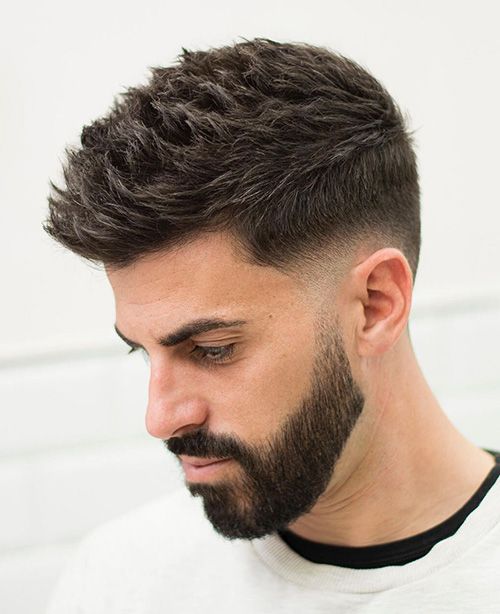 Buzz Fade Haircut
This razored look is bold and requires the buzzing of almost all your hair.

The wildest look can be achieved from this haircut. Looks great with any outfit.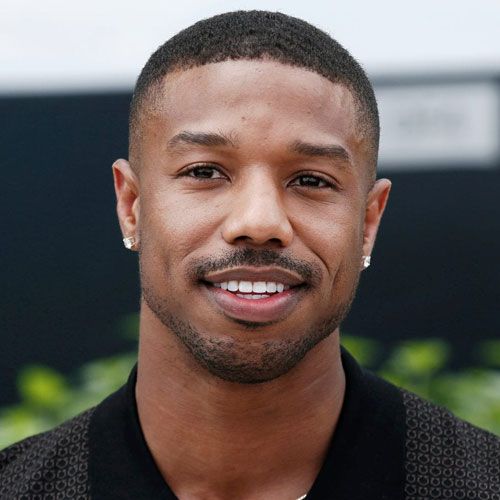 Fade Haircut for Longer Hair
This fascinating and well-designed stylish longer hair fade look is so perfect.

The

men's fade haircut styles

for long hair are best when slicked back or held loose with a gel. Your dapper side is desirable in this cut.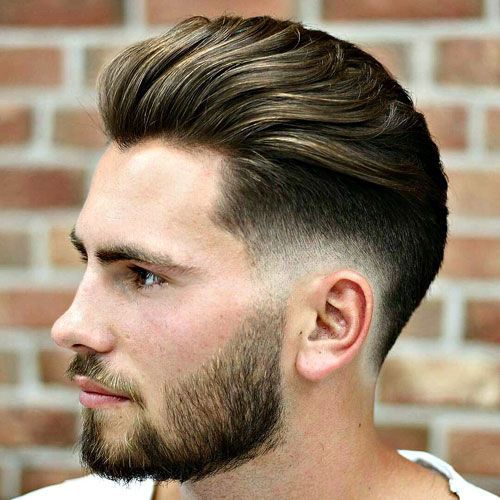 Black Men's Haircut Fade
What about a hairdo with designs? A great way to amp up your hair game. Isn't it?

Fade for black men with designs is a good start to kick off your stylish hair. You can go for any design you desire or copy the one in the image.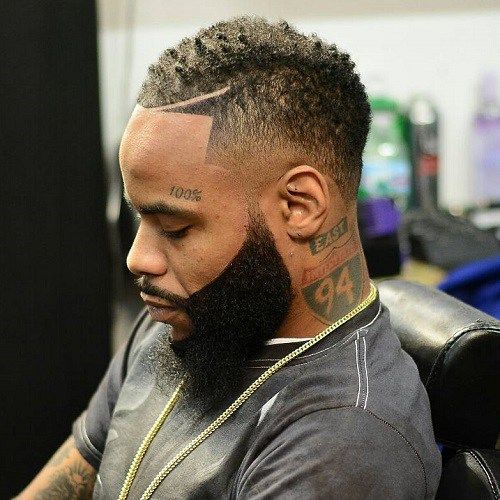 High Fade Mens Haircut
The modernistic approach of a fade comes in the form of

mens haircut fade long on top.

The chocolate boy look is best achieved with the high fade. Style it in a way that suits you best, and get ready for compliments.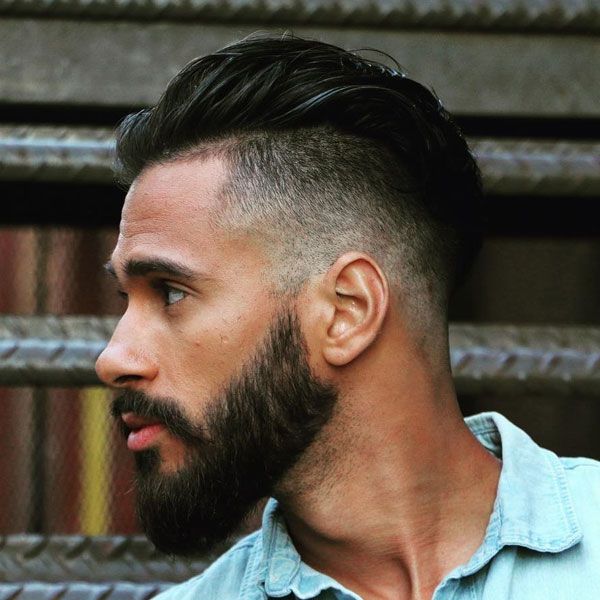 High Fade Pompadour
Have you ever heard of the phrase "people will stare, make it worth their time"? This pompadour makes this statement true.

The high fade pompadour is a gentlemen's favorite look and is known for its class.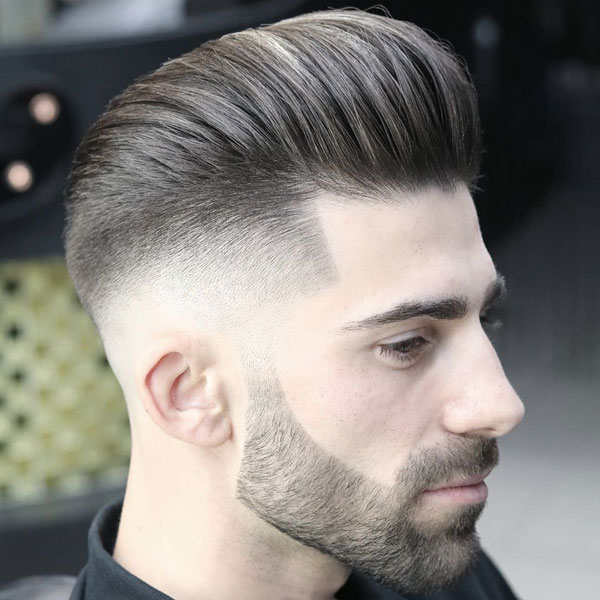 Haircut for Men Taper Fade
This one is the go-to style for almost every man. The sides and back are short, while the top is long, giving the stunning taper look.

To get the most handsome look, a taper is usually considered. It suits every hair texture and offers a gorgeous dimension.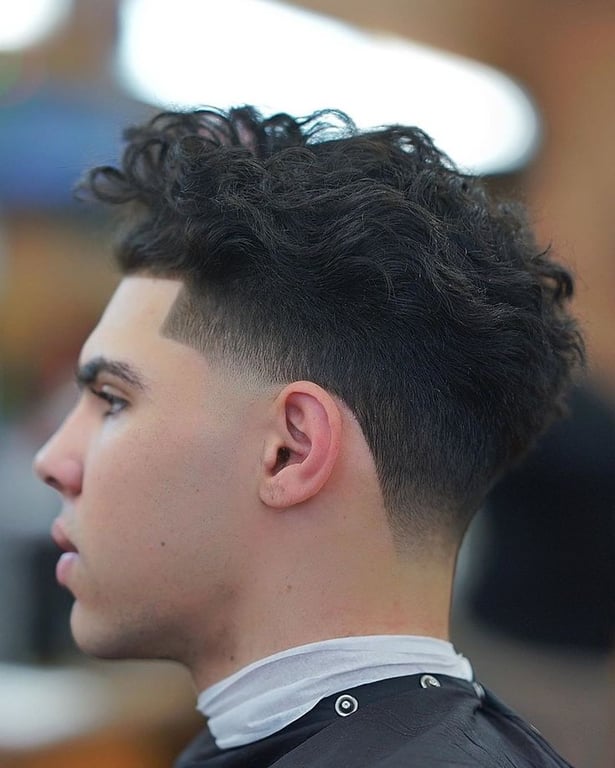 Also Read: 15 Mind-Blowing Haircut Ideas Of A Wolf Cut With Bangs
The Drop Fade
The drop fade of the men's fade haircut is designed to give an appearance of an arc. It drops low behind the ears and provides volume to the short hairs.

It can be styled in various ways. It looks exciting and less dramatic.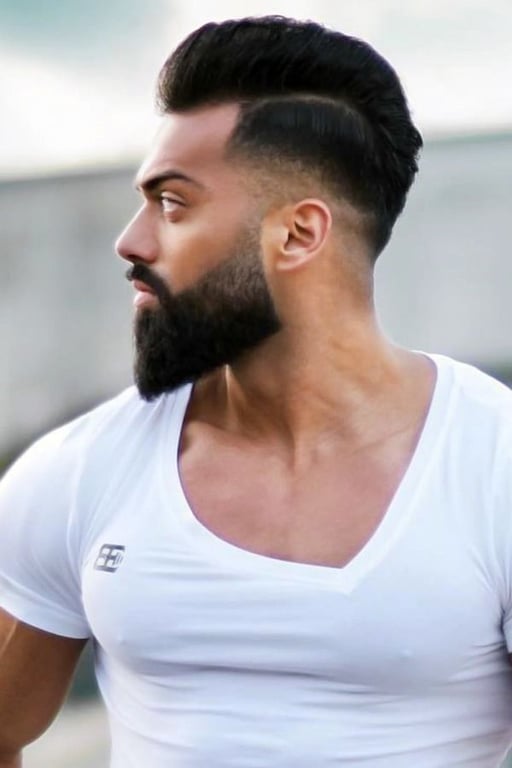 Men's Fade Haircut With Beard
A faux hawk can be the ideal way to pull off the fade for a beard look.

An alternative to the mohawk, the faux hawk comprises shorter hair than the mohawk. Best for medium-length hair.

And adding a beard with the fade on the faux hawk is enough to make your day!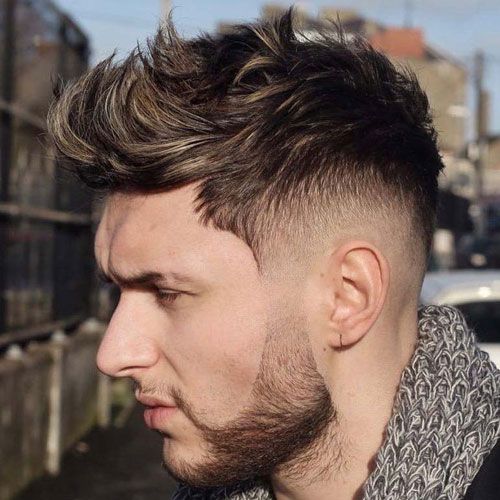 High Fade Haircut Black Men
The long afro fade men's fade haircut for black men is best for a distinctive look. 

Besides offering you a unique look, it fits with your afro hair so well you will love it.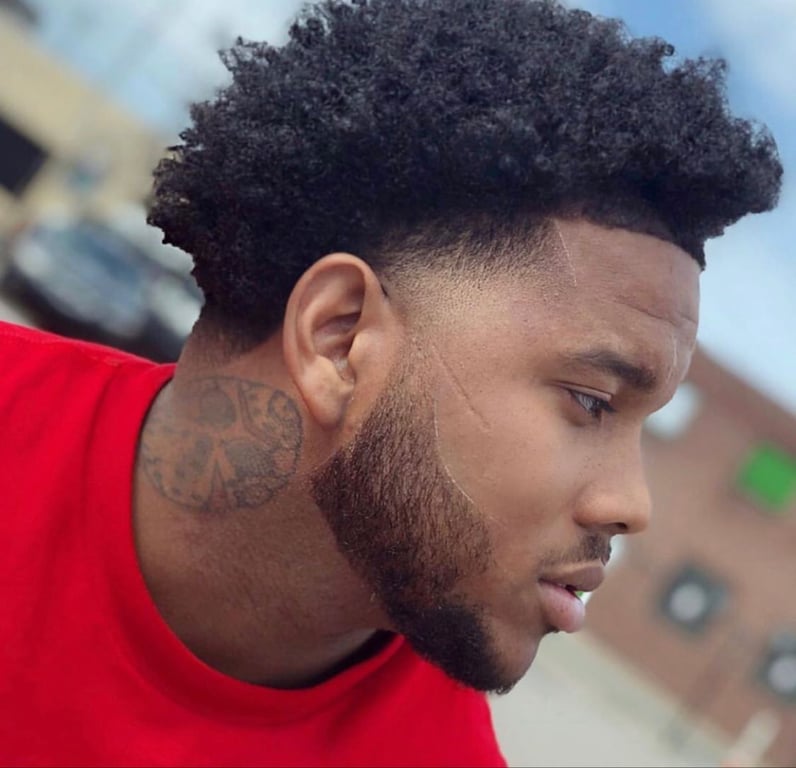 Also Read: 16 Best Classic Taper Fade Haircuts For Men
Quiff Men's Fade Haircut
Well, this is a royal look. The Quiff adds to the charm and makes you look stunning.

The added fade draws attention, and the quiff provides fullness.

This attractive haircut is sure to be a winner. A must-try!
Conclusion
The men's fade haircut is the most accepted and loved haircut by men. Offering you various possibilities of styling, this haircut is best suited for every men out there. The precision and perfectness it provides is impeccable. So, this season get the fade haircut and flaunt it in style.
Reference Link
Men's Fade Haircut-FAQ'S
How to Do a Mens Fade Haircut?
The fade haircut involves precision and finishing, so it is better to go to a barber to get the perfect cut.
This article covers 15 different styles of fade haircuts, go through it and choose your favorite.
What is a Fade Mens Haircut?
A faded haircut is all about precision and perfectness. The blending from top to bottom is what a fade is all about.
Check this article to learn everything you need to know before getting a faded haircut.
Can I Learn to Get Myself a Fade?
Yes, you can, with a lot of practice and consistency. 
Because fade involves precision. So, start by washing your hair and the use of electric clippers.
Watch videos to learn the step-by-step process.