Time to break the gender norms and stop following that patriarchal society. Because that's what some of our dearest and most popular male artists are doing, those nails that soon became the talk of the town are now stealing every man's heart; yes, Harry Styles was the one who became gender-neutral when it came to fashion and started painting his nails. And why should men avoid becoming creative with their nails? After all, it's all about fashion and style. nail designs for men are the trend of 2022.
Fashion was never limited to gender, and when it comes to nails, David Bowie didn't think twice, then why should you? Yes, indeed, society in the past was not liberal and biased when it came to fashion. But 2022 is all about breaking the stereotypes and exploring yourself to the fullest; after all, it's your life.
And who says nail painting is girlish and it cannot be manly enough? Because as far as I remember, I don't think that nail painting made A$AP Rocky any less of a man. It didn't do any harm to his masculinity; instead, a more stylish and hottest look came out of this fashion. You know you become much more irresistible when you try something as hot as this, nail designs for men.
Well, I guess if you have visited this site, you are already in for some high-grade and exemplary nail designs for men, and you are at the right place because we have made a collection of some celebrity-adoring and wild nail designs for men. Scroll down to choose your favorite and join the trend:
Abstract Nails for Men
The hottest and most rebellious look can be created using some abstract patterns.
The combination of black and white is what every man loves to try. Ask the manicurist to design cool abstract patterns on your nails.
If you are trying nail designs, the abstract can be an ideal option to rock that handsome look.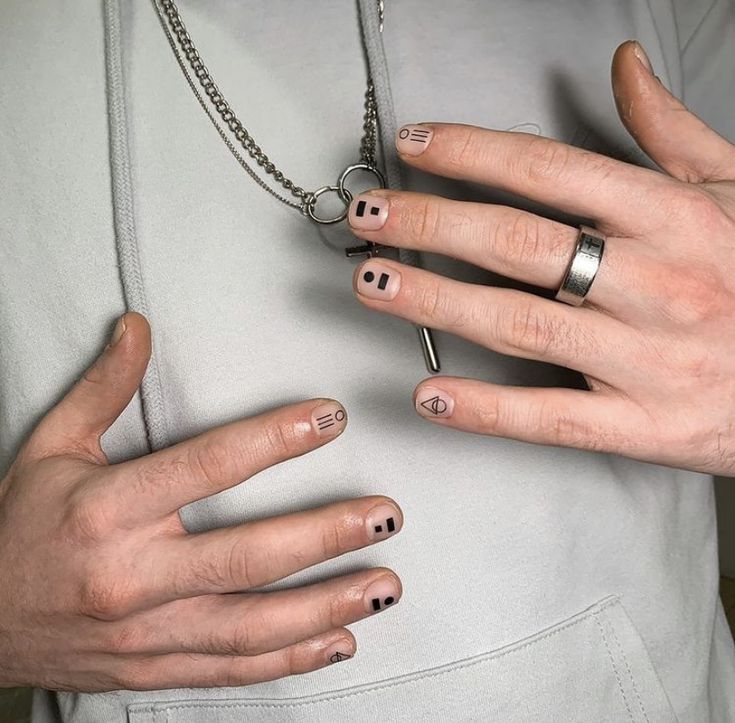 Neon Nail Designs for Men
Neon green colors can be the best for superheroes and marvel fans.

Because neon green is super stylish and jazzy, it can be a treat to the eyes if you get this marvel-inspired neon green nail design.

At least once, you should try this for a funky show-off!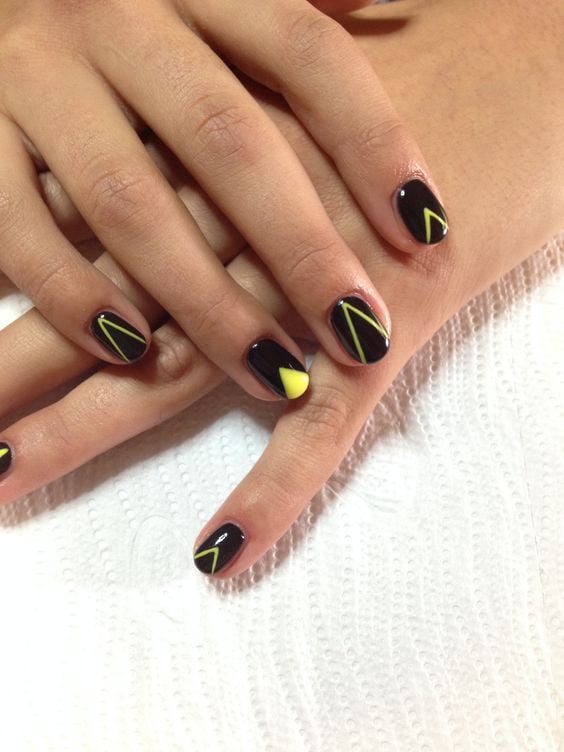 Also Read: Simple Mermaid Nails: An Elegant Way of Elevating Your Fashion
Leopard Prints for Men
Yet another masterpiece for men is waiting out there. What are you even searching for?
Animal prints are an excellent way to amp up your nail game.
Because animal prints are manly as well as contemporary.
Try a variety of colors in each nail for a completely cool look.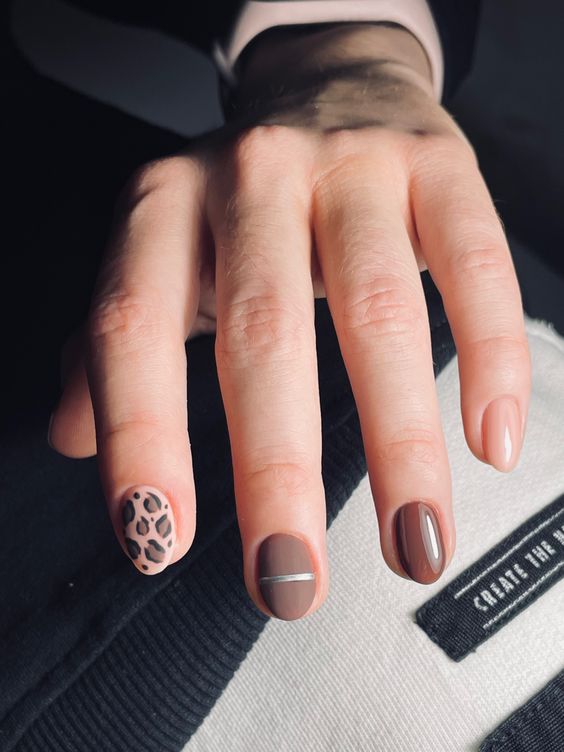 Checkered Nail Designs for Men
This modern and young nail design for men is highly in demand these days.

Besides providing a groovy look, it also makes you look stylish.

You can try any color you like, but it is better to go for blue and white or black and white for a more classic look.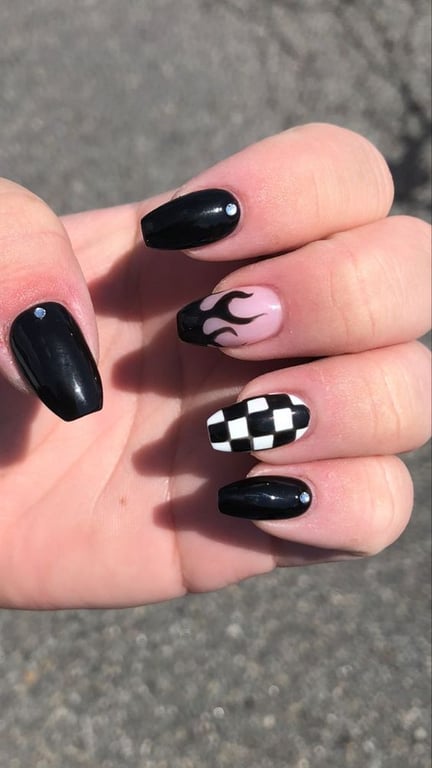 A$AP Rocky's Nails
The rapper inspired many of us to break the stereotypes and go exploring the fashionable "you".

A$AP Rocky's

 nails started breaking the internet, and everyone was just ready to give a creative look to their nails.

You can try this Rocky-inspired nail design and channel your wildness.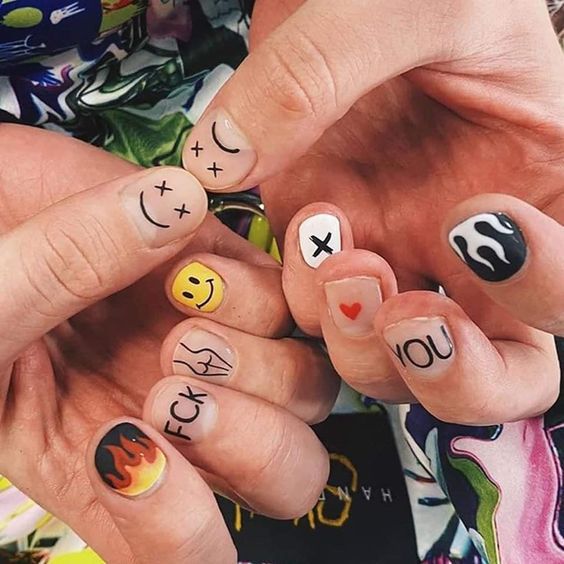 Cool Nails
Smiley is a color that blends very well with black.

If you want a minimal yet noticeable look, these nail designs for men can be your favorite.

Smiley designs on black nails are jazzy as well as voguish.

It will be worth trying!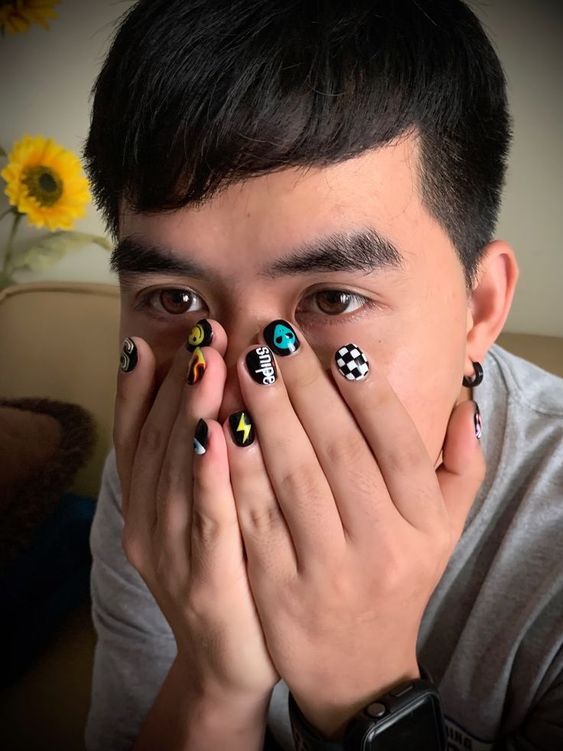 Black Nail Art for Men
Is this what you have been searching for?

Black is the boldest way of defining your nail game.

If you like, you can go apply just simple black, or it will be better if you create some inventive designs with black.

Yes, that's what you are gonna love. A must-try!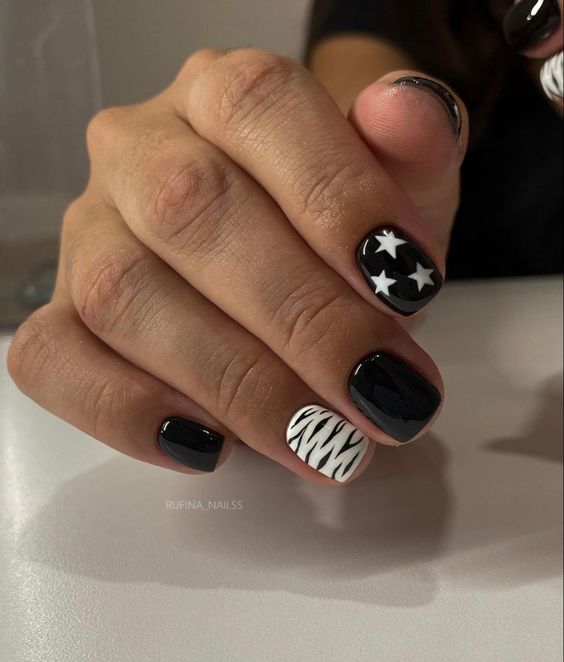 Yellow Smiley Nail Designs for Men
This nail design is the best if you want all the attention to your newly painted nails.

Smiley patterns of yellow nails are "wow".

This is simple yet wild, representing the fire you are. Rock this look for your most handsome version.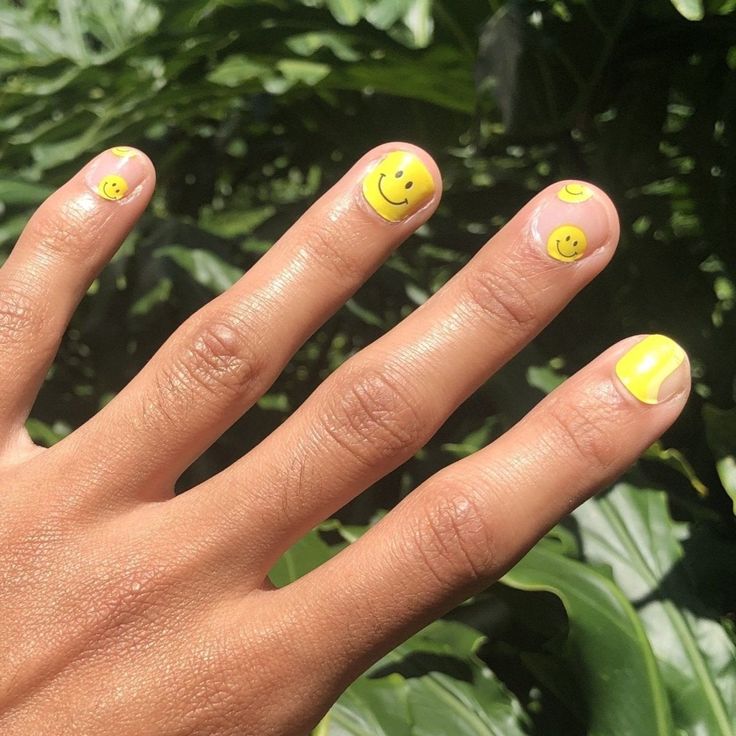 DIY Nail Stickers for Men
They are just like tattoos but for nails.
These are super stylish and offer you a modernistic approach to the nails.
Choose your favorite prints and apply the stickers on your nails.
If painting and designing are not your type but being stylish is, go for nail stickers for men.
Also always remember to wear accessories to complement your nail look and make it hotter.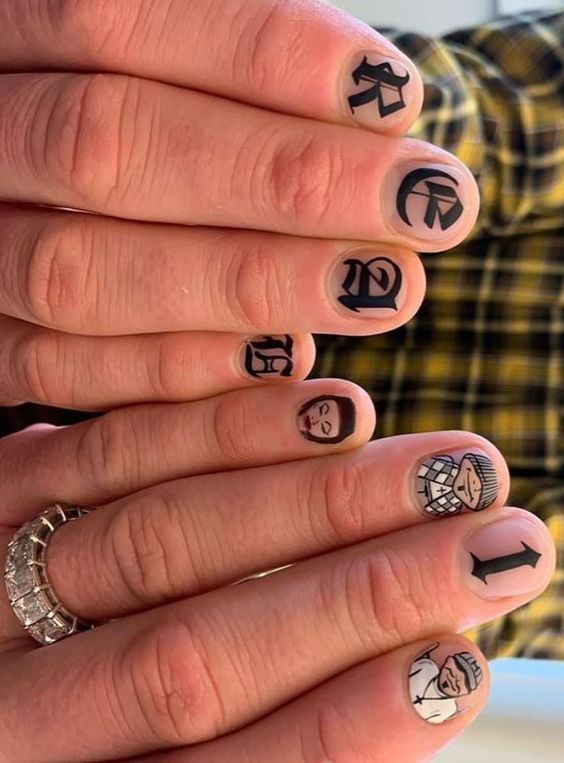 Blue Nails for a Dapper Look
Remember 

Johnny Depp

 in those soft blue nails at the award function?

Yes, that's what these nails are gonna offer you, modernity and attractiveness.

Blue is itself a manly color. Just make sure to accessorize the fingers just like Johnny Depp, and you are ready for rocking.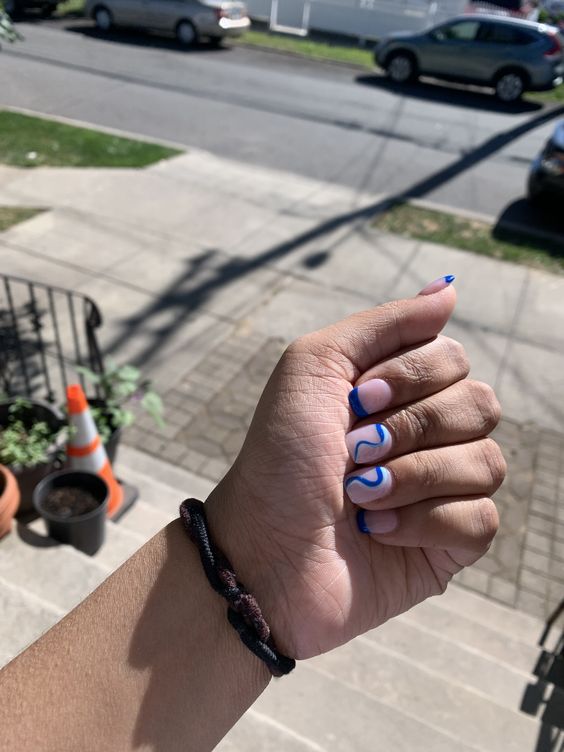 Also Read:- Glow in the Dark Nail Ideas: Time to Glow Your Fashion
Green Pattern Look
Green pattern nails came into the limelight after Marc Jacobs flaunted them.
Though it may seem it is not a manly color, it is spreading its positivity among men at full pace.
You can try this color for the most unique and rich look.
Go grab it!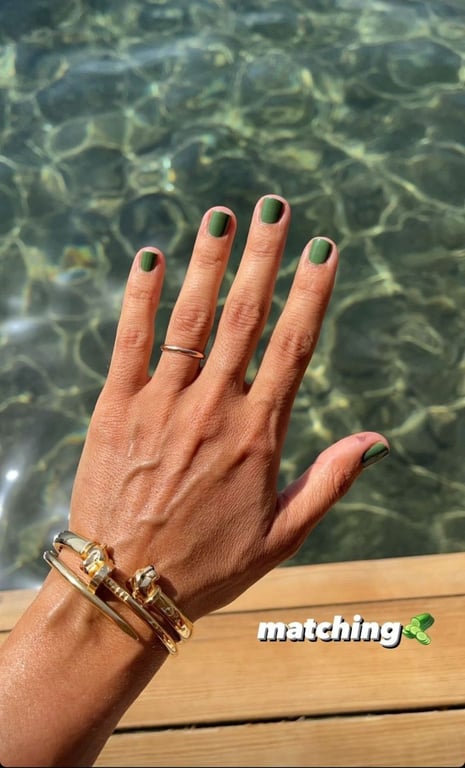 The One With the Pink Color
Wondering if pink is really for men? Well, go check 

Machine Gun Kelly's

 nails, and you will love it.

The way he carried that dark pink with some shades of white is incredible.

You can experiment with these nail designs for men to create a never-seen-before look.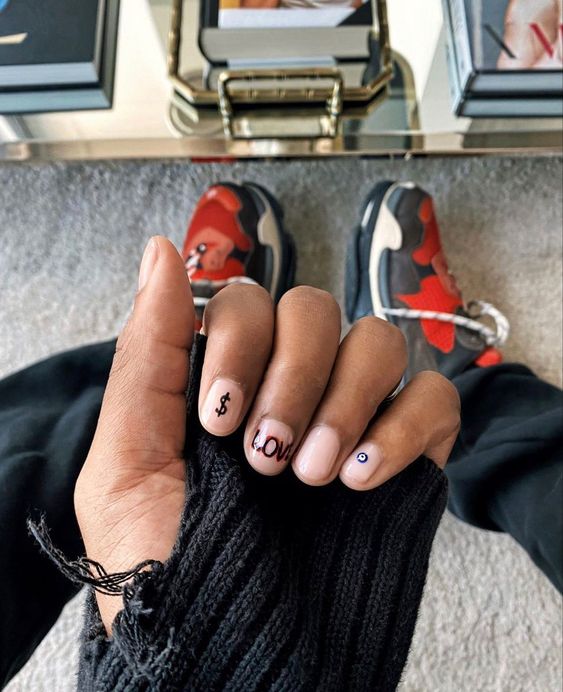 Also Read: Baby Shower Nail Ideas: For an Unforgettable experience
Reference Link
Nail Designs for Men-FAQ's
Can Men Do Nail Art?
* Yes, of course, men can do nail art as it is becoming popular today and is stylish.
* Male artists like Harry Styles, and Johnny Depp and so many of them are flaunting their nails in style.
* It's time to join the trend and look the hottest.
What Famous Men Wear Nail Polish?
* Ohh! The list can go on and on as it is the celebrities that made nail paint the art it is.
* Harry Styles, Machine Gun Kelly, Johnny Depp, Brad Pitt, and many more are some of the famous men that wear nail polish.
What Colors Are Best Suited for a Guy?
* Black and gray are the ultimate favorites of a guy.
* Many other colors are also popular among celebrities but black remains at the top.