Kylie Jenner made us wonder what those nail shapes are; she has been rocking. We love the shape but do not know the name until some time before everyone becomes familiar with the term "Coffin Nails." It may sound a bit spooky, but it got its name from the shape it originated from. It is very similar to the shape of a coffin. The tip of coffin nails are squared rather than pointed like the stiletto nails. If coffin nails are your next target, we are presenting some nail designs, especially for coffin nails. Go ahead, continue reading.
These nails are designed in such a way that it gives the illusion of slimmer fingers and looks so perfect. It usually elongates the fingers providing a flattering look. Coffin nails provide the same width as the nail bed and nail tip, and the middle part is shaped wider.
The popularity of coffin nails raised due to their square tip, which provides more surface area for nail art. It is highly trending on Instagram, and all fashion artists are looking for new ideas to incorporate into these super gorgeous nails. So, don't hold back and go for some interesting and exciting nail art with coffin nails.
These nails look better with medium to long lengths. Small coffin nails usually look stout and do not provide a flattering appearance. Though you can go for a shorter version of coffin nails, provided it suits your hands. But it is recommended to have long coffin nails to attract and impress. Moreover, coffin nails are preferred with acrylics because growing the natural nails to this length becomes hard and also is prone to breakage.
So, if your nails appear boring to you, take a look at these coffin nails to plan your next mani because you are going to fall in love with these beauties:
Pastel Coffin Nails
Different shades of colors combined on the coffin nails look unique.0

Create an abstract pattern to add charm and beauty.

You can try blue, yellow, red, and green colors to enhance your nail designs look.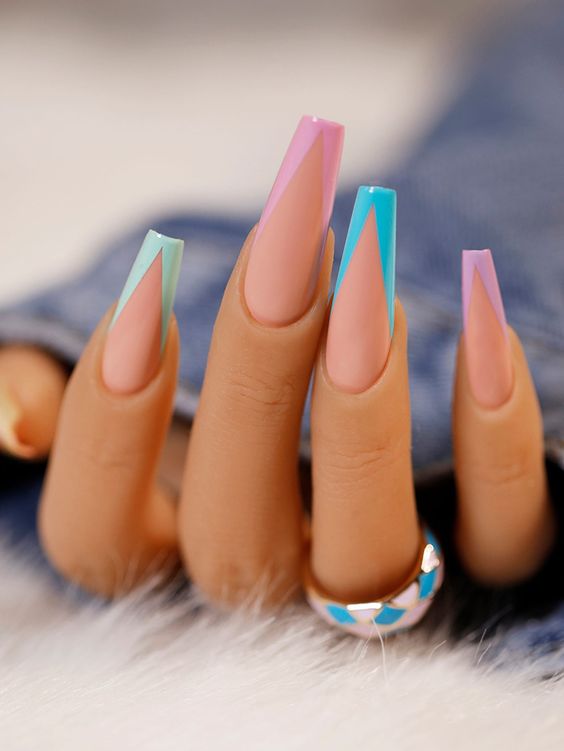 Coffin Soft Nails
You may wonder if this soft look is for the wild coffin nails; the answer is definitely yes!

These nails are versatile and can rock any color you wear. Even the lightest shades of blue or purple look stunning.

For ladies opting for lower shades, this is a 

must-try!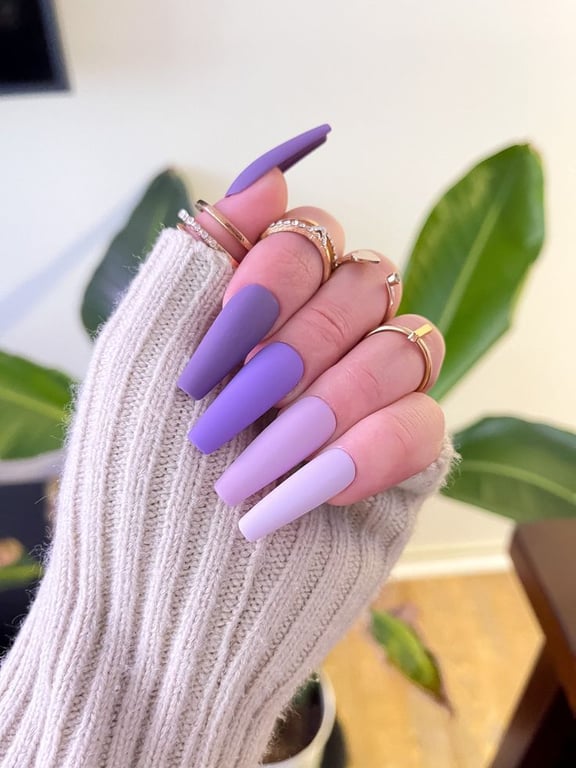 Halloween in the Home
Enough of those boring color-choosing techniques; this time, ask your manicurist to add the funkiness of Halloween.

Halloween is around the corner; time to

 add some spookiness

 to your nails.

Halloween-designed nails are a fun way to level up your nail game this season. You can try pumpkin colors with a combination of black and white for a simpler yet exciting look.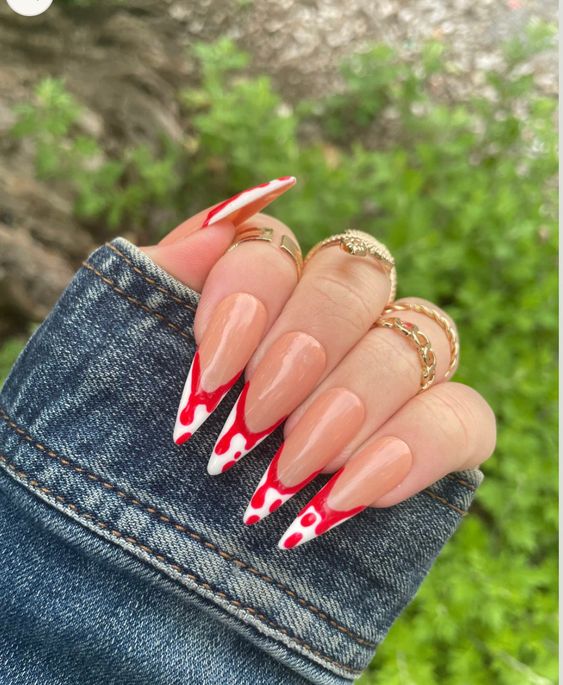 Also Read: Fall Nails: Inspire Yourself With These Beauties
Marble Coffin Nails
The most wholesome nail art is here with a twist. These watercolor effect marble nails are a sure yes! Yes! For adding the zest in your life.
Try giving some beach colors to the nails for your next vacation or if you want to keep it lowkey attractive, go for some subtle marble designs.
Just a suggestion! By the way, you are going to love it.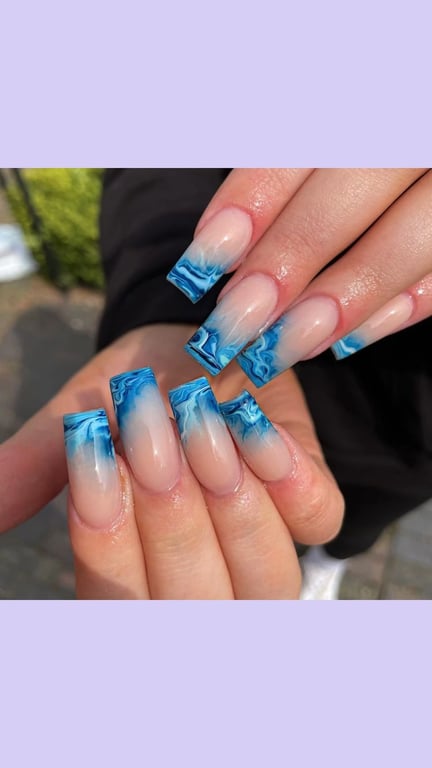 Printed and Jeweled
Trying the prints is an amazing way to rejuvenate your boring nails. This is a minimal yet enticing look.
Pair these printed coffin nails with some jewels like rhinestones to add some royalty to those pretty coffin nails. Just so gorgeous!
Black and White French Tips
Many ladies are fond of minimal looks which look pretty and eye-catching.
French tips have always been on the priority list of nail fashion. It is alluring as well as subtle and sober.
Some black-and-white French tips are pretty much the best combo to give a try. This enticing look is sure to win hearts.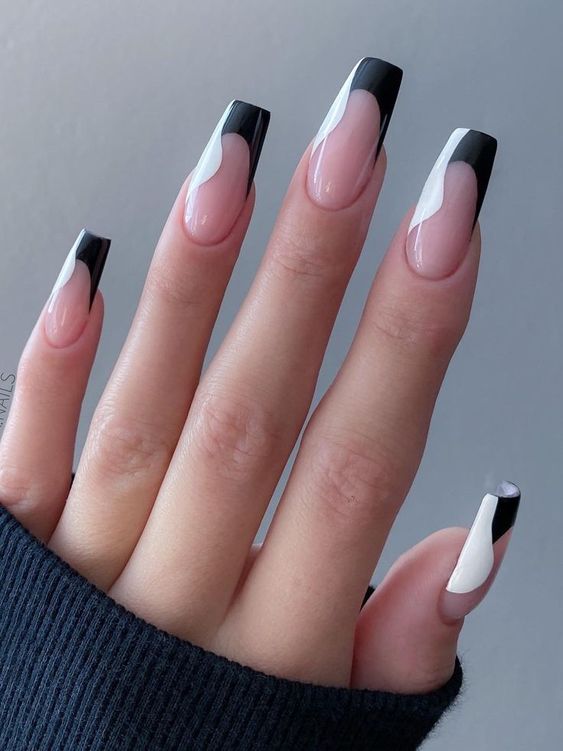 Golden Tips
For the inner fashionista that you are, these golden tips can help you find your next obsession.
Golden tips or some gold patterns on coffin nails are enough to make your day.
These lovelies are a splendid method of embellishing your coffin nails this festive season.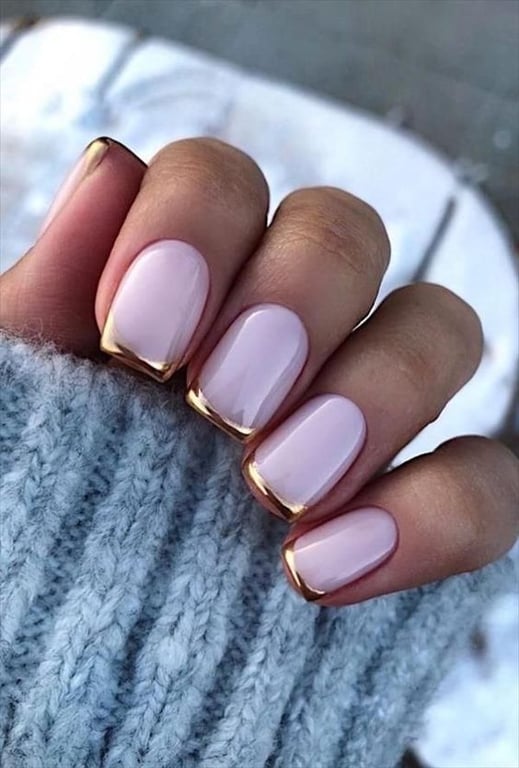 Extra Long Coffin Nails
Though they are difficult to manage and care for, they will be worth all those praises you are going to collect.
Extra-long coffin nails are not a frequent choice by most ladies but experimenting at least one time is so good.
Just apply some matte color to give a royal and modern touch to those extra-long beauties.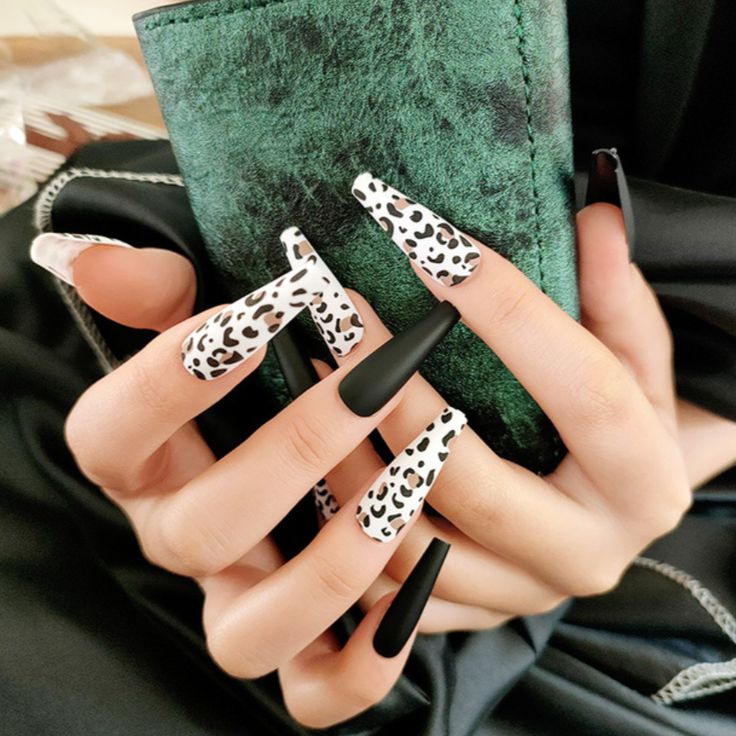 Neon Nails
The awe-inspiring neon colors are ruling fashion lovers' wardrobes.
The most noticeable color added to these nails makes them look sophisticated as well as majestic.
Neon nails are a must-try! Go for them in confidence and rock this vibrant look.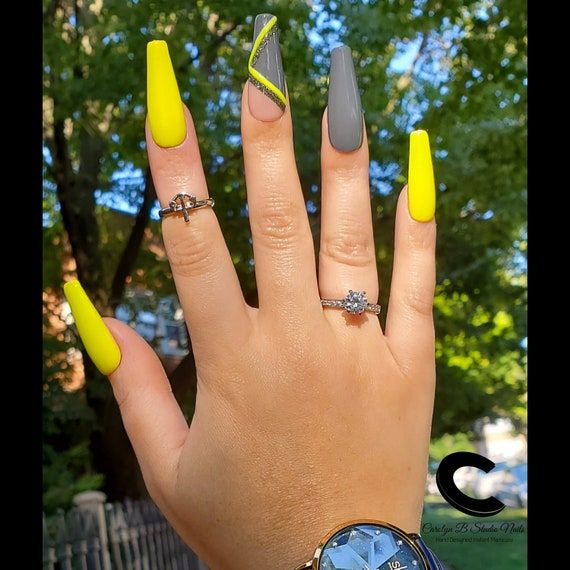 Blue Moon Nails
Oh! These beauty-laden blue moon coffin nails have all my heart.

Damn!

 These are so perfect.

 It can be the next hot and happening thing of your life.

Coffin's long nails in the dark blue color are enough to define your persona, and you appreciate the bold lady you are!

Go, try it!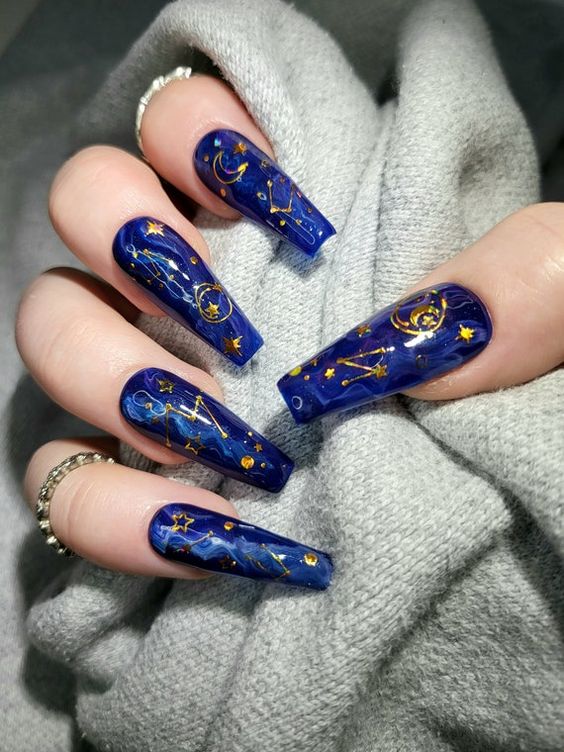 Coffin Nails With Daisies
A beautiful nude base with cute little daisies is a sure try!
This unique version is best for ladies wanting a summer look in a cool and trendy way.
You can try a light orange base with white daisies. Also, some finger accessories can enhance the look.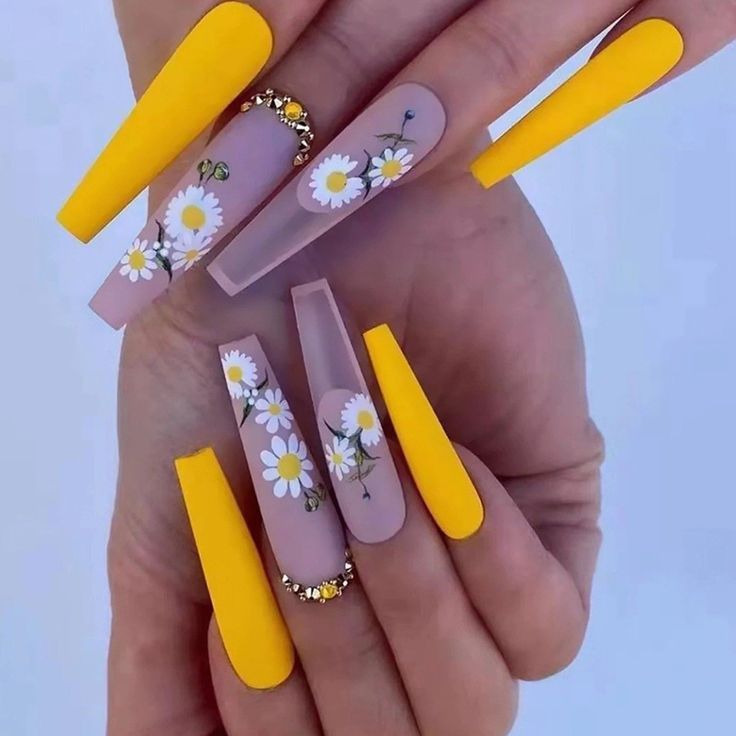 Also Read :- Learn About these Nail Shapes To Plan Your Next Manicure
Classic Black
Who would say no to the magical classical black color?
Known to accentuate the look, the black color is timeless and feminine.
And when black is added to those coffin nails, it's just wow!
If you want to avoid any fuss, just go for black without any second thoughts.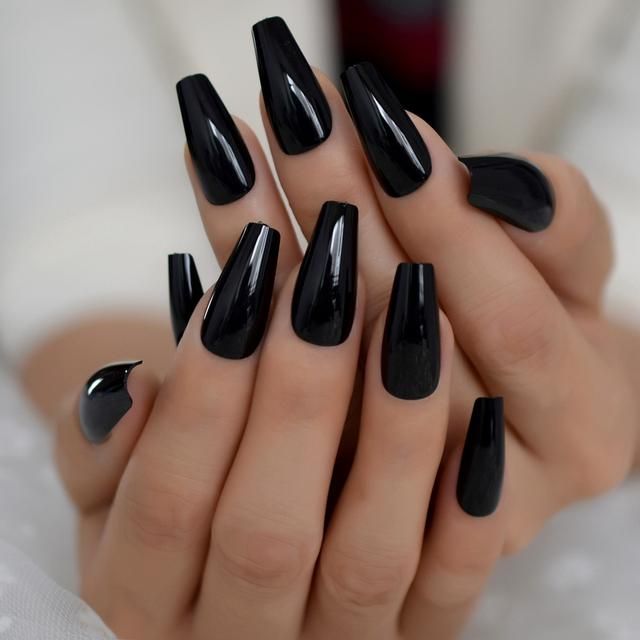 Coffin Short Nails
Yes, you can go for short coffin nails. It looks neat and provides a finished look.
But always know if short nails look good on your hands, depending upon the type of nail bed and nail width you have.
For short coffin nails, red can be an ideal color to get that revitalizing look.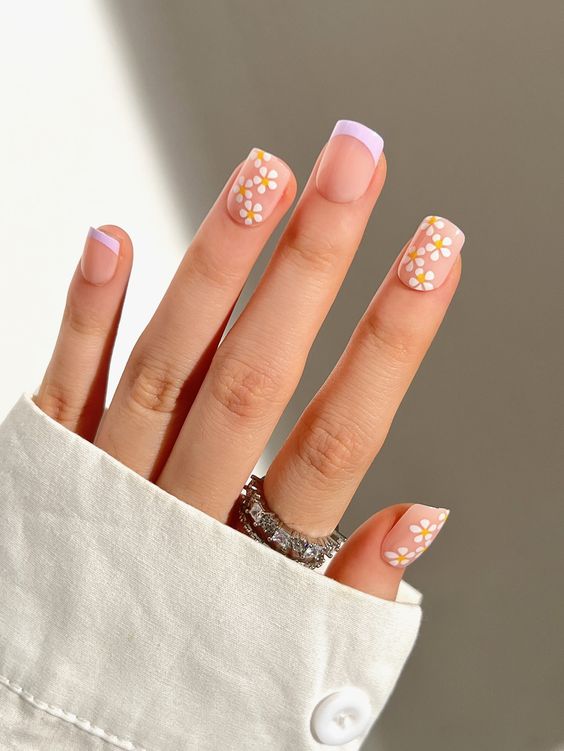 Coffin Nude shades
Get ready to earn some compliments with these nude coffin nails this season.
As subtle as it is, it is glamorous and chic.
This is such a simple nail color but remains on the top list by many ladies. For the most soothing nails, go for some nude shades.
Pair your nails with some cute little finger rings to amplify the look.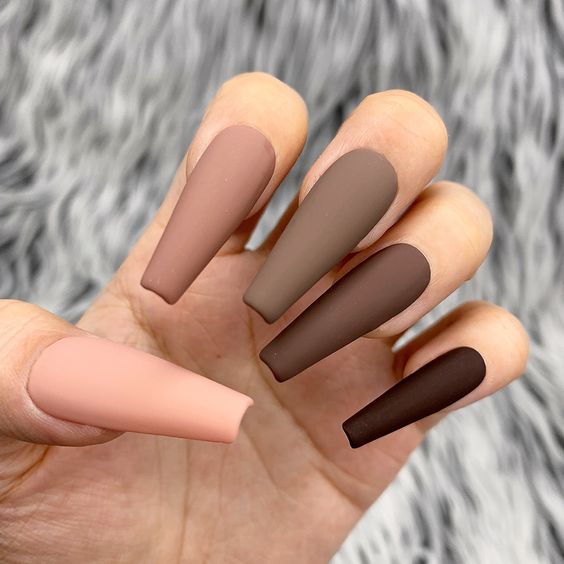 Transparent Coffin Nails
Show this to people who say pink is a boring color. Because the truth is the beauty of pink is timeless and fresh.
The most subtle, cute, and attractive look can be created using shades of pink.
If you want some lighter shades, go for baby pink. For vibrant colors, darker versions of pink can also be a great go-to style.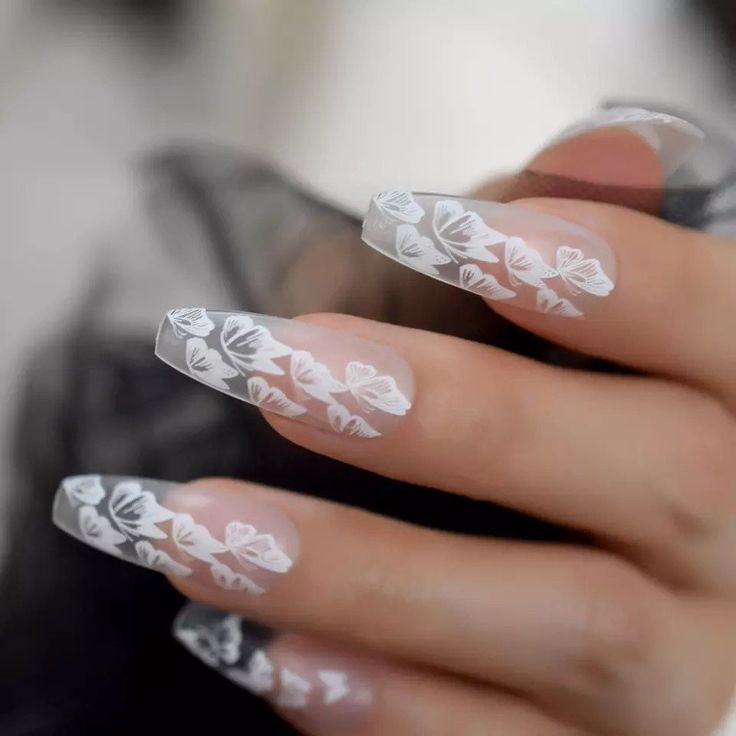 Coffin Ombre Nails
Ombre and coffin nails both are such a creative and versatile combination of fashion that it becomes hard not to notice them.

Choose any of your two same colors of light and dark or two contrasting colors and become the diva you are.

This elegant and complementary Ombre is a fantastic way to amp up your nails.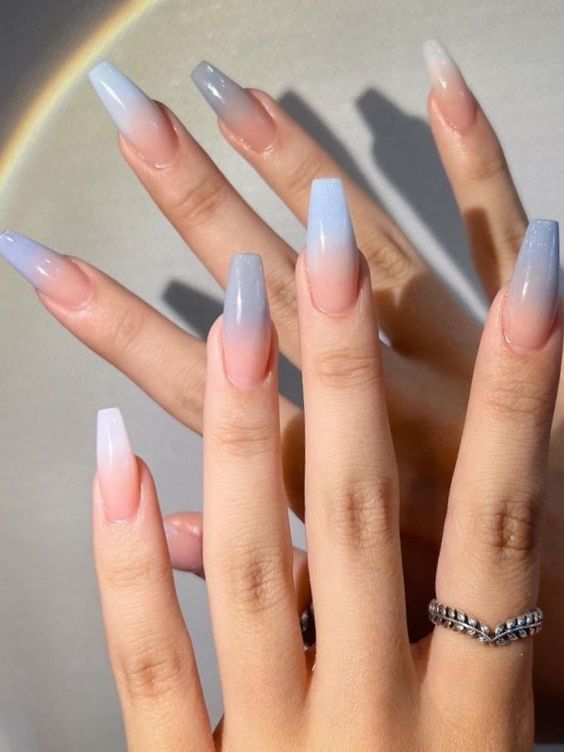 Fall Coffin Nails
The fall season is already here. Bring some of its beauty to your nails.
Coffin fall nails are an excellent way to celebrate fall this year.
Paint those fall leaves along with fall colors or go for the whole fall palate for the most unrealistic look of the season.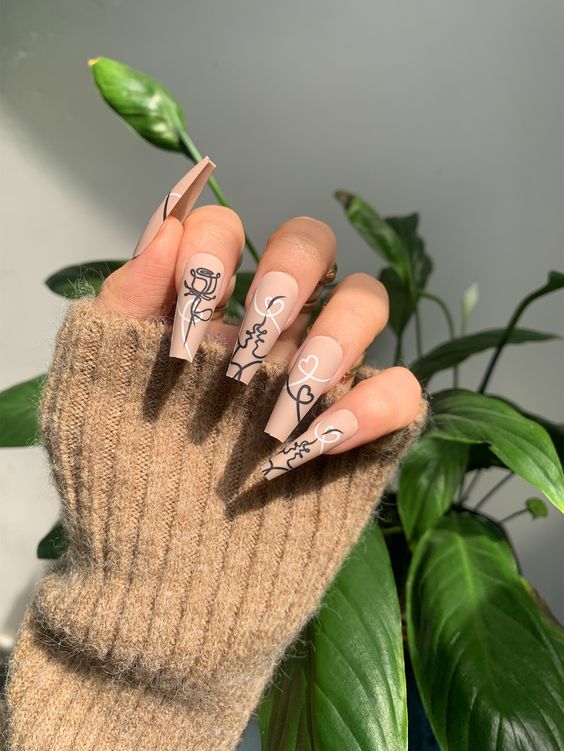 Christmas Coffin Nails
Christmas nails are loved by all. You must be planning what to do this Christmas, so here is a suggestion.

Make Christmas look on your nails and become a charmer and a fashionista.

Make Santa Claus or Christmas stars, or just paint red with golden tips; basically, be free to choose your favorite Christmas nails. 

So pretty!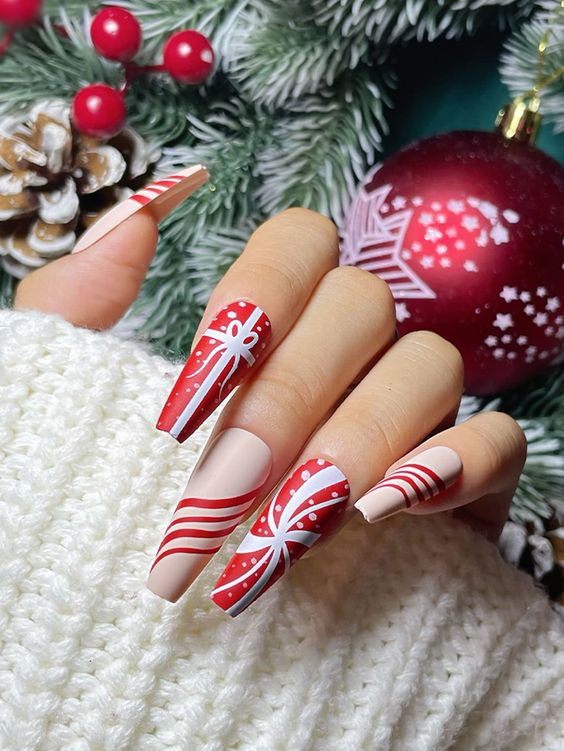 Coffin Purple Nails
The royal purple color if brought to your coffin nails can do wonders.
Oh Gosh!! It is the most captivating look of 2022.
To get all the attention, any shade of purple can do the job. So, get ready to enjoy all the attention with purple nails.
You can mingle purple with Ombre, butterflies, flowers, or any other art you desire. Also, keep it subtle with a light purple, if you like. So, ya, just grab it!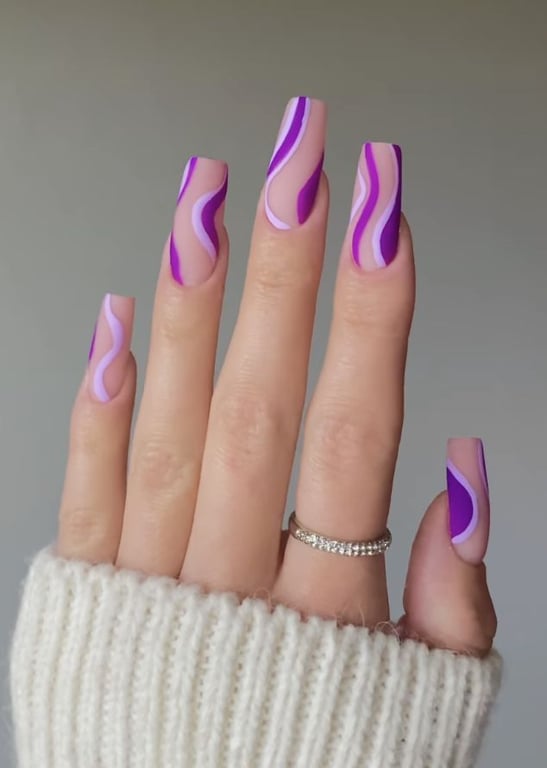 Elegant Pink
Show this to people who say pink is a boring color. Because the truth is the beauty of pink is timeless and fresh.
The most subtle, cute, and attractive look can be created using shades of pink.
If you want some lighter shades, go for baby pink. For vibrant colors, darker versions of pink can also be a great go-to style.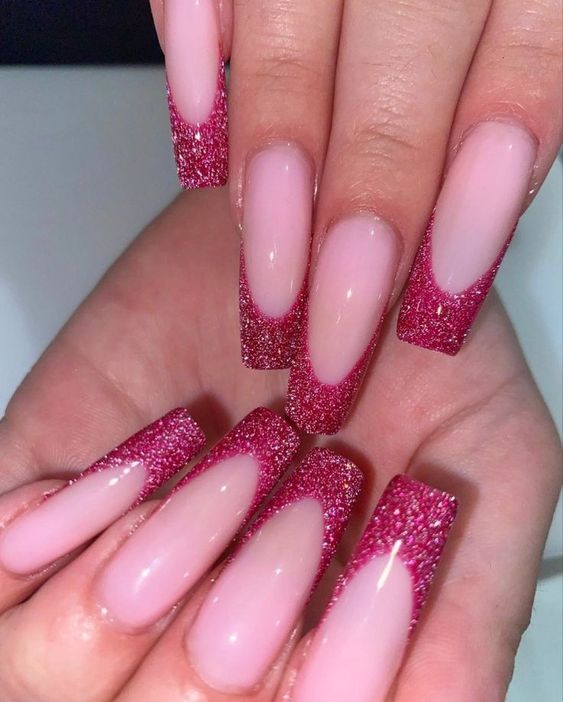 Also Read: Blue Snowflake Nails: Time To Welcome The Winters
Watch these Coffin Nail Designs in a Video Format
Reference Link
Coffin Nails-FAQ's
Are Coffin Nails Strong or Weak?
* Frankly speaking, coffin nails are not very strong but also they are not as weak as stiletto nails.
* Coffin nails are medium to long, and because of this, they are prone to breakage.
How Do Coffin Nails Look?
* Coffin nails are like stiletto nails, but instead of a pointy tip, it is squared off from the surface, and the middle is wide.
* These are widely popular among ladies, so getting them can never be a bad option.
How Long Do Coffin Nails Last?
Most of the time, coffin nails are achieved through acrylics, so they can last up to 6 to 8 weeks depending upon the type of work you are involved in.
Almond or Coffin, Which Nails Are Better?
* Both nails have their unique quality.
* Almond nails are for the ones having short fingers, although almond nails are pretty much for everyone.
* Coffin nails are better suited on long fingers and provide a more dramatic look.
Are Coffin Nails in Style?
* Coffin nails have become the hottest trend in the field of fashion.
* If you are bored of your regular short nails, trying coffin nails can be an interesting idea.