Why limit yourself to a single color when you can color your world with the best Ombre Nails Designs manicure that can instantly transform your look from ordinary to extraordinary? While ombre has been hugely popular in hair and fashion, its whimsical gradation of tones – from shadow to light – is also used to attractively change nails.
Every style-conscious lady understands that dressing from head to toe necessitates meticulous attention to all the small details.
You'll be the center of attention with these top ombre nail designs!
Your nails must also be done up if you want to make a fashionable impression. So, instead of a regular base coat, go for exquisite nails with a one-of-a-kind, creative twist. Here are 18 trendiest ombre design variations to say bye-bye to dull nails.
Blue Ombre Nail Polish
One of the most popular dark blues is one of the most elegant ombre patterns.
Blue has many shades. You can choose different occlusions for different shades.
Sky blue is perfect for regular days, and dark blue look bold. You can wear this to different kinds of parties.
You can also add on some jewelry to enhance your Blue Ombre nails.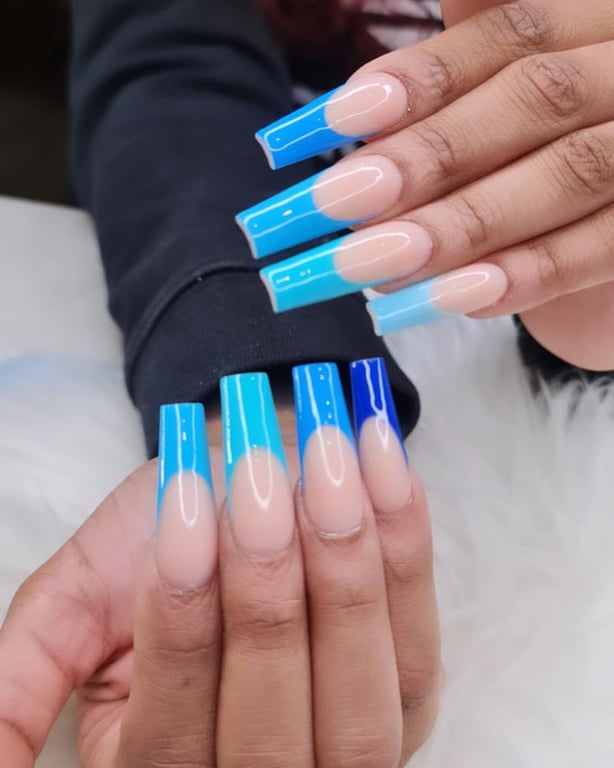 Pink and White Ombre Nails
The light pink and white coloring is ideal for the warmer months and pairs well with a summer dress or springtime attire.

This was also perfect for a bridal celebration or whenever you want to look charming and stylish.

This

gentle mix of dusky rose and baby pink with white

gives a stunning look without being too extreme.

This combination of pink and ombre nails is suited for all types of nail shapes.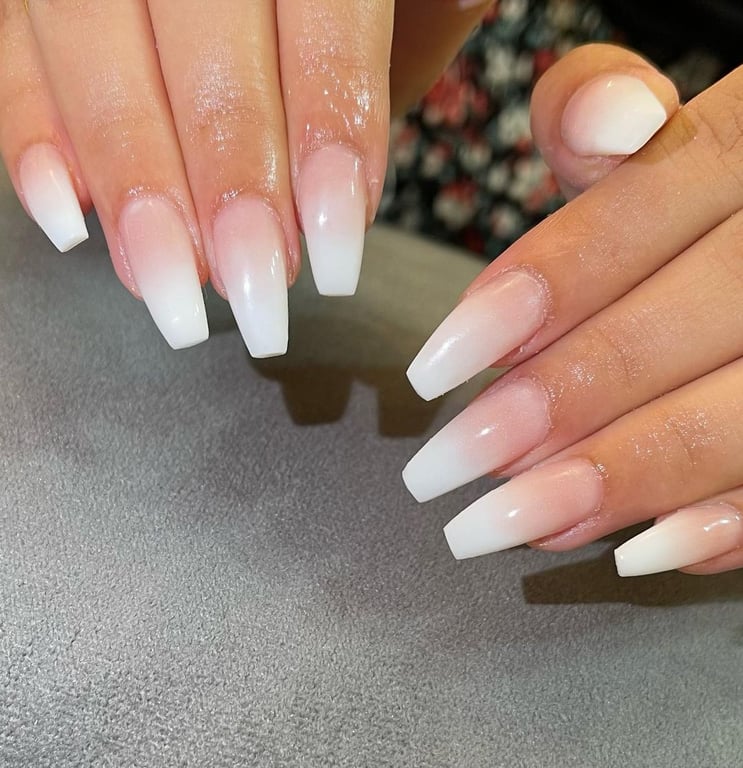 Ombre Red Nails
The red color, we all know, indicates the sign of love, romance, and edgy, bold-looking nails.
This eye-catching shade looks fantastic in any combination.
Your red ombre nails will stand out against a variety of colors, from dark black to cold blue.
It's perfect for winter and autumn weather or whenever you want to make a bold statement.
You just chose these Red Ombre Nails.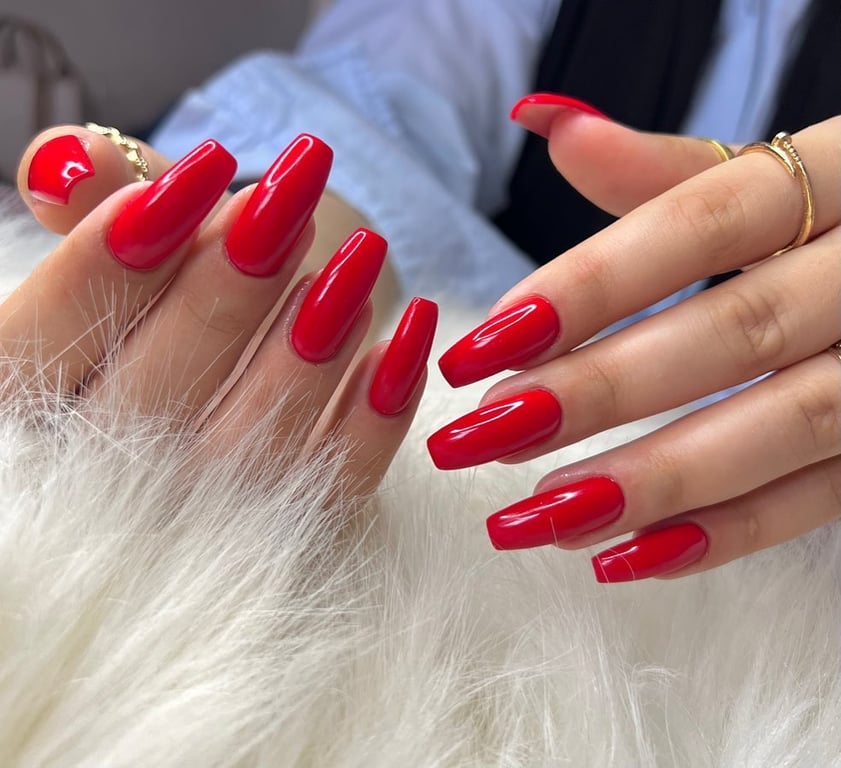 Dazzling Pale Pink Ombre Nails with Gold Decals
These are one of the best designs for parties. You don't have to think much, just choose this and be bold with these nails.
This pink ombre is an eye-catcher color, and with the gold combination, it looks like a more attention-grabbing combination.
It highlights your look, and you can also add different colors.
Accessorizing these long, delicate nails would be a lot of fun.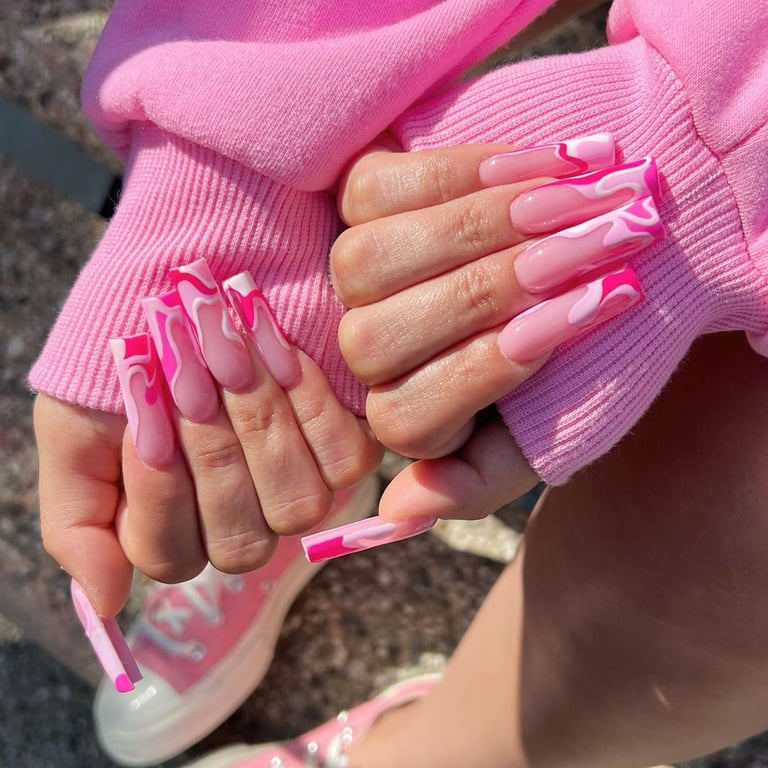 Winter Skies Have Us Loving Ombre Nails Gorgeous
Nudes are famous, and nowadays, they have gone into a trend.
All the nude colors are stunning to look at.
You can apply this to all seasons and dress codes. It is perfect for all.
It looks classy and gorgeous with all nail types.
Also Read: Purple Nails With Diamond: Say Hello to the Purple Manicure!
Ombre Gold Nails
Gold ombre nails are a spectacular manicure.
Gold is mainly used as a highlighter, which can enhance your look.
To really take your look out on the town, accent your golden manicure with layers of complementary jewelry. This is the best option for all.
I must try this one for a new funky and glittery look.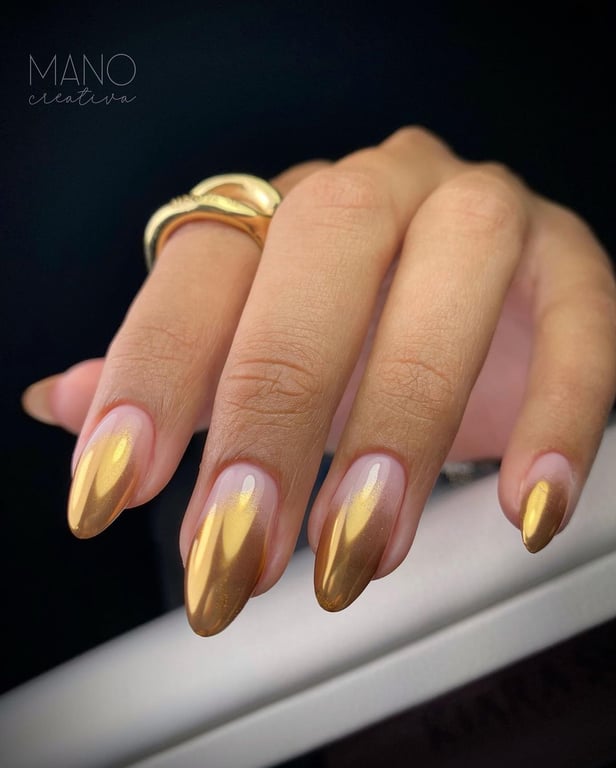 Ombre Nails with Clouds
Ombre is a color-blending method that creates an attractive and dreamy finish by flawlessly blending two or more colors.
There are some fantastic new trends in manicures that girls love to apply. This design with clouds is one of the nicest.
Clouds look beautiful against any color scheme, whether soft pastels or a blue-and-white combination.
If you are searching for a new manicure, you must try this one.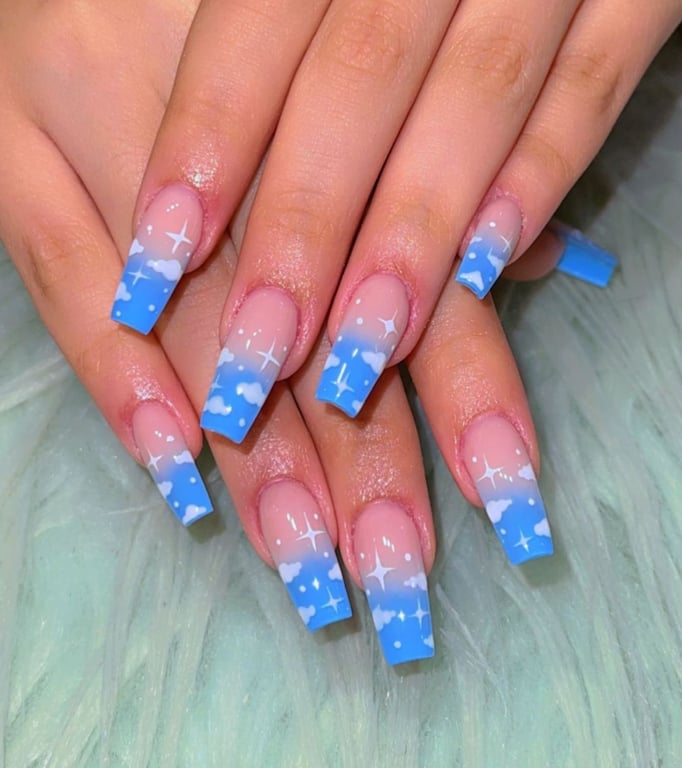 Also Read: Acrylic Nail Designs: 14 Bold and Beautiful Designs to Try!
Coffin Ombre Nails
Coffin's ombre nails are dammed! Attractive-looking nail manicure.
Everyone should try it at least once because the shape of the coffin is so clear and perfect that you will fall in love with this Coffin Ombre nail.
Choose a neutral or a brighter color; they are all suitable for nails.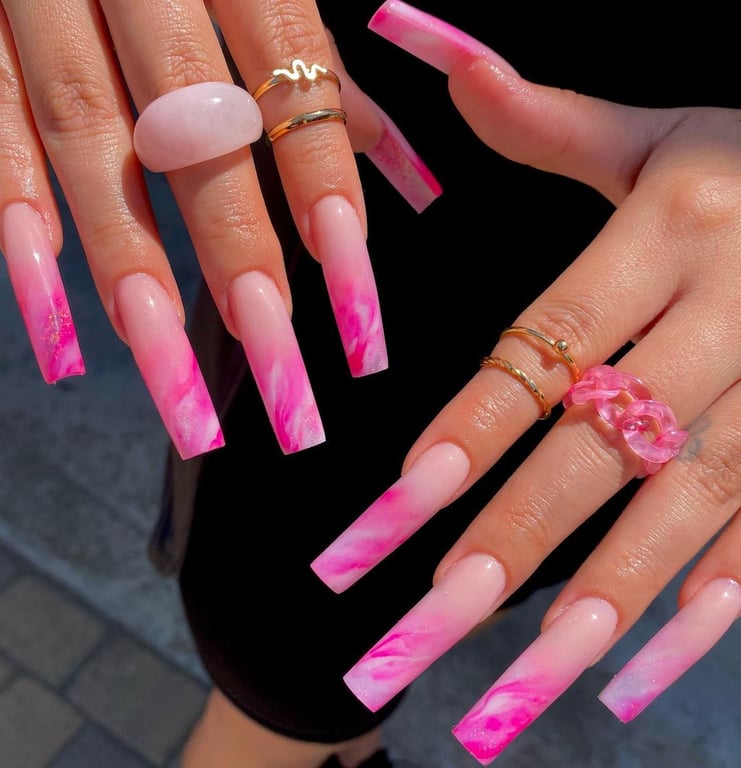 Ombre White and Black Nails
Aesthetics go no further than a stunning pair of pearly white nails designs for a polished and sparkly look.
This is pure class and is perfect for women who want to keep their style modern while avoiding anything too glitzy.
The combination of the white nail with any other color makes the combination look perfect.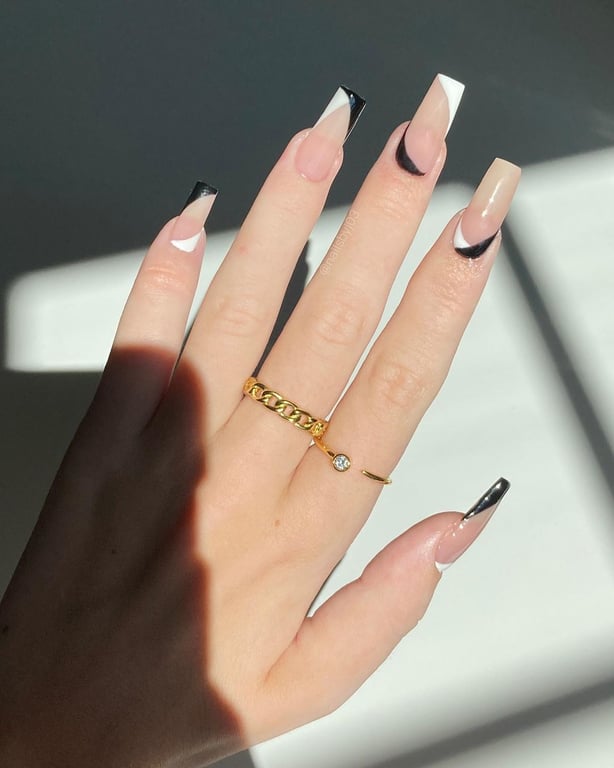 Abstract Ombre Tips
Beautiful and unique abstract ombre nail design tips will draw attention to your hands.
You can add traditional designs that show more uniqueness in your hands.
The combination of color and the different kinds of design creates amazing looks.
You must apply this one to your fresh and new look for a new trend.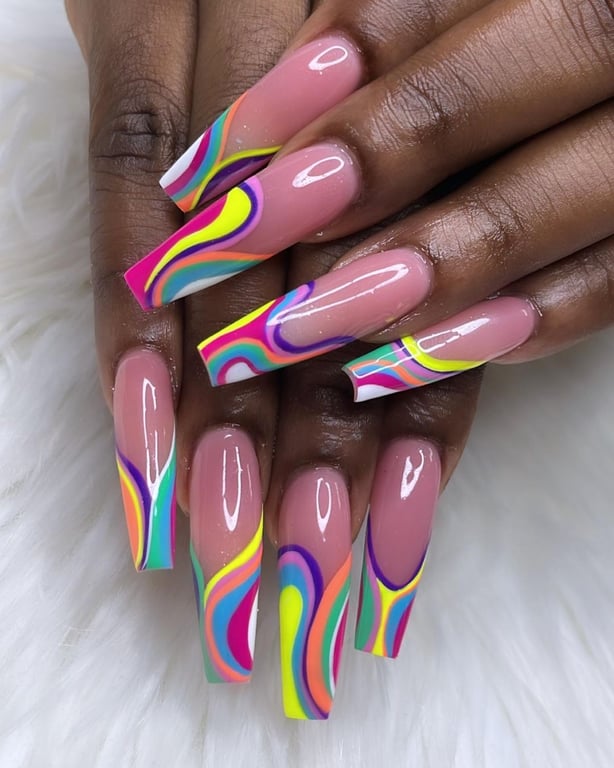 Nails in Brown Ombre
If you are looking for a simple and glam-looking color, you can go with the brown ombre nails.
Your nails will stand out with a brown ombre, reminding you of nature and personal development.
For a long time, the best traditional nail color was this. Most girls loved to apply this color.
Alternatively, you might experiment with nail polish details like lines, swirls, and glitter.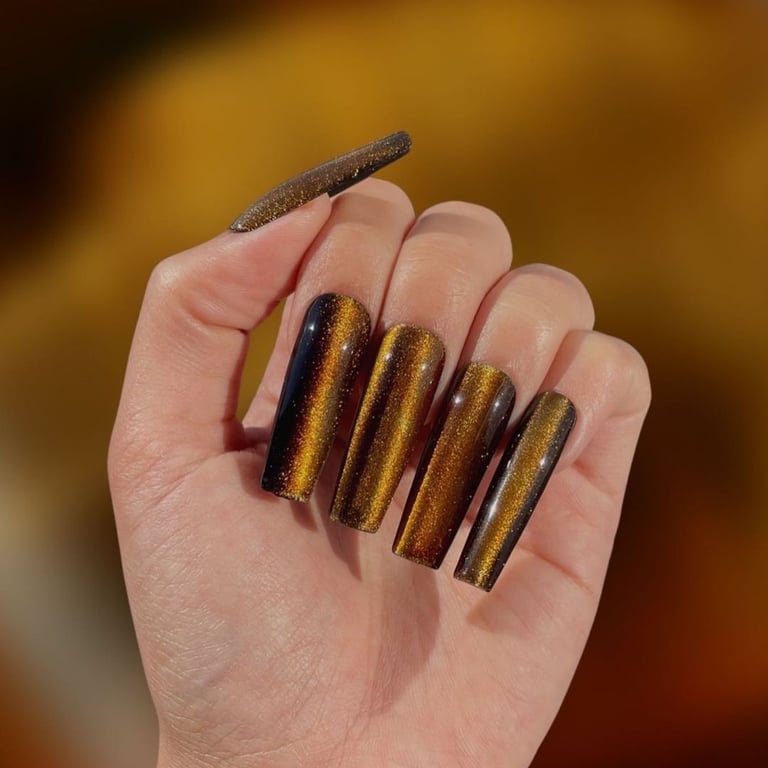 Neon Ombre
Some colors are ideal for those who want a cute manicure without being too overt, while a neon ombre is hard to miss.
These neons are extremely versatile manicures. If you love to do experiments, you must apply this one.
Choose all of your favorite neon colors, then have fun mixing them to create a chic and stylish outfit.
And grab all the attention with these neon ombre nails.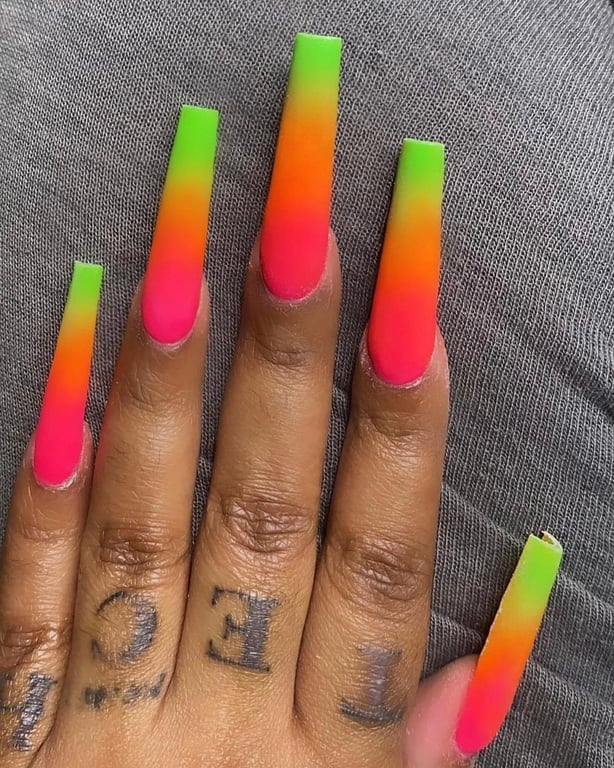 New Holographic Ombre Nail Designs
Even though the ombre design is fashionable and feminine, adding a holographic finish improves it.
Combining it with a nude finish may keep the holographic appearance until the tips.
These present the latest electrifying holographic ombre nail look.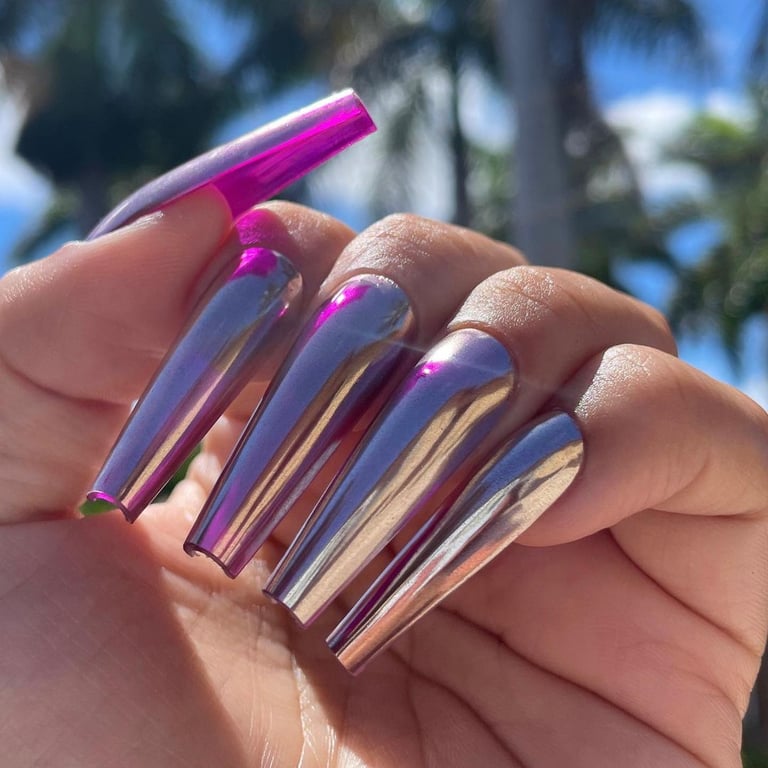 Reference Link
What Color Goes With Ombre Nails?
* Green, white or mauve can go really well with Ombre nails.
* Also you can go for trying something different like go for painting the nails dark colored with just one nail as Ombre.
Are Ombre Nails Still Popular?
* Ombre nails has been trending since a long time, simply because it offers you uniqueness and elegance combined in one.
* Any time you can go for Ombre nail designs because these are just amazing!
Why Do Ombre Nails Cost More?
* They cost more due to the use of many products.
* Glitters, mixture of two colors, acrylics are involved during an Ombre nail design and so it becomes pricey.