Hey, beauties! Winter is on its way to come. So, it's time to spend some extra hours to care and to design our nails. Why don't you try pink and blue nail designs this winter? Blue is not only for men. So, try the shades of blue and pink. If you think about how to put on blue and pink colors together—there is no need to worry. We'll help you with that. This blog contains many excellent nail designs which will impress you. So, what are you waiting for? Continue reading.
What Do Blue and Pink Symbolize?
Blue is bold and blaze. The hue of blue provides you with different shades of this color. There is navy blue, royal blue, sky blue, aquamarine blue, sapphire, etc. Blue is fantastic, also. Plus, it can give you a professional look at the same time. You can be sober and simple by wearing blue nail paint. It can be combined with other colors. One of them is pink.
No need to say! Pink is, of course, a girl's color. It is lite and soothing. You can wear pink nail color for parties and office look also. It shows cleanliness with a touch of perfection. If you're wearing a pink color on your nails, it shows your positivity.
Mixing Pink and Blue
Pink and blue are two colors that can be mixed, and it looks great with each other. It seems like they are complimenting each other.
You can style them in a variety of ways. In this blog, we'll describe some simple-looking nail designs in pink and blue colors.
Blue and Pink Nail Glitter Nail Design
This design is straightforward to apply. Even a novice can achieve it on the first attempt.
Firstly, color the lower half of your nails with either pink or blue. Now fill the upper portion accordingly. Let them dry.
Take the glittery transparent gel and apply a single coat on your nails.
Your nail art is ready. Now you can flaunt it.
Pink and Light Blue Nails With Black Lines
Light blue and light pink are some of the best designs for office-going females.
You can add black lining also to enhance the simple look.
This is, of course, a bold, stylish and stunning nail design.
This nail paint goes well with formal pants with a white, blue or pink shirt. Hurry up! Try this.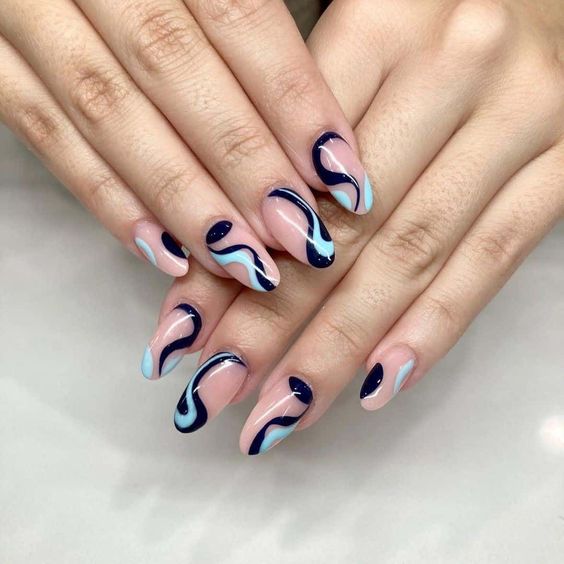 Leaf Nail Art With Matte Light Pink and Blue Nails
Leaf nail art is prevalent these days.
For this, you need to buy a nail sticker from the market.
Now apply nail color and put this leaf sticker on your nails.
Also Read: Nail Designs for Men: Explore Your Inner Wildness
Light Blue Nails with Pink and Butterfly Nail Art
Like leaf nail art, butterfly nail art is also getting popular these days.
This nail art symbolizes calmness.
If you have big nails, then they can perfectly embrace your nail. Go and give it a try.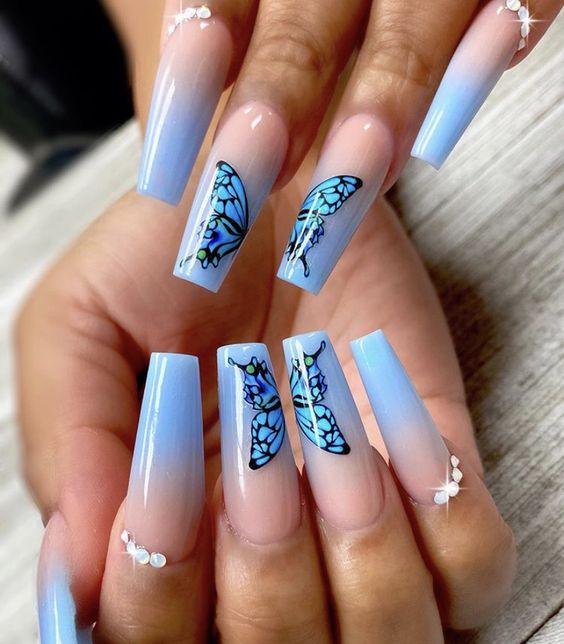 Classy Light Blue and Pink Nails With Rainbows and Floral Nail 
To lighten your mood and fingernails during the hot summer, you can try this design with blue and pink on the base.
Rainbow and floral nail art relax your mood and bring freshness in the hot summer.
This design is attractive and eye-catching in its way.
Long Ombre Pink and Blue Nails
Do you like shimmering pink? Then this design is for you.
Apply a shimmering pink with blue ombre nails with rhinestones.
You can also add a butterfly to it. This nail style will go best during the spring and winter seasons.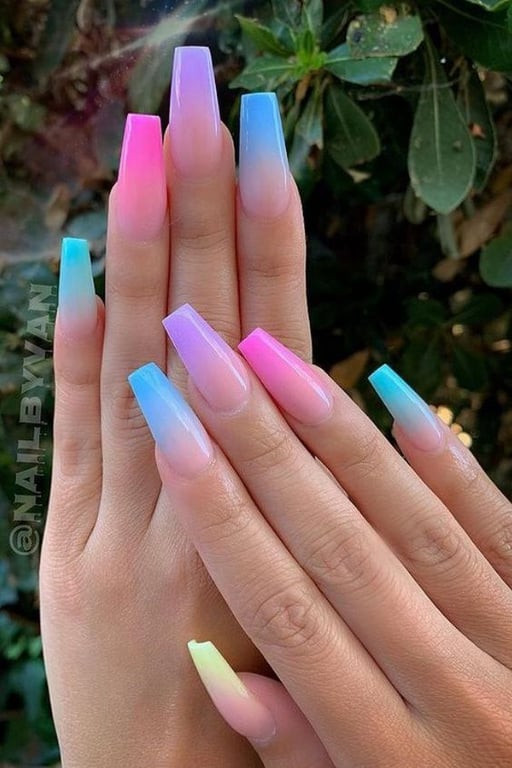 Sparkling Pink and Blue Nails Design
I am obsessed with blue and pink nail colors. Try this!
This sparkling design is the best choice for Christmas or New year party.
This is best for square-shaped nails.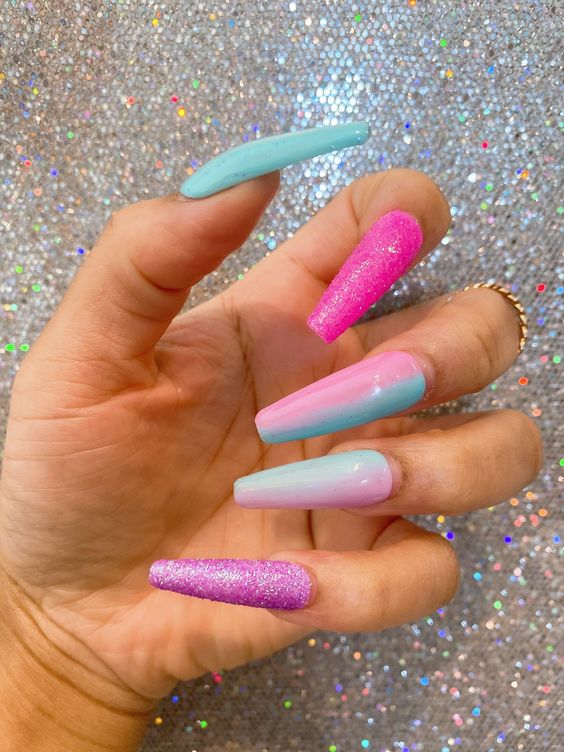 Pastel Blue and Pink Nails Design With Flowers
This is an elegant and clean design which is super cute. If you love pastel blue and pink, this is for you.
After applying the base coat, put a flower sticker on it.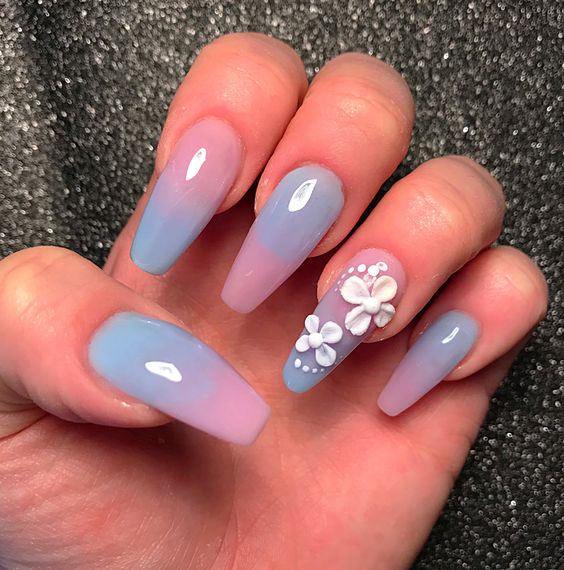 Pink And Blue Ombre With Hearts
This design is for those who are in love.
Long nails with blue and pink color go stunning with little hearts on top.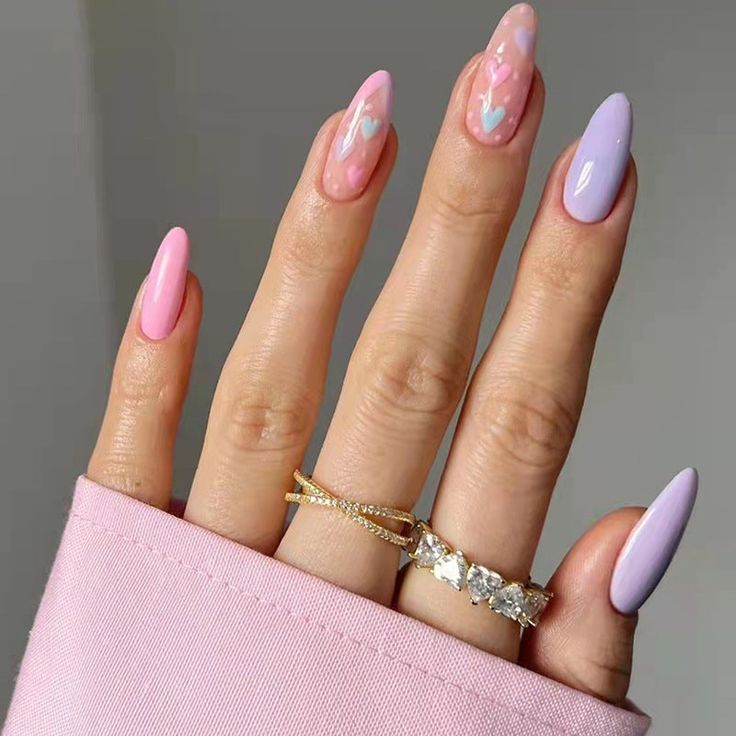 Melted Hot Pink and Blue
Hot pink is just a shade of pink, and it can go well with blue.
Well, it is suggested for long nails only.
To apply this design, just let drip one color onto another. This will create the effect of melted colors.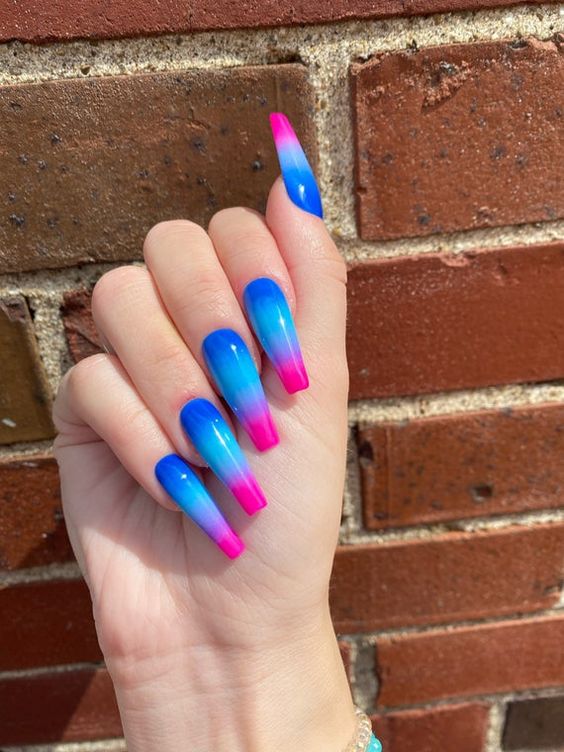 Also Read: Simple Mermaid Nails: An Elegant Way of Elevating Your Fashion
Blue and Baby Pink Airbrush Nails
We have designs for all kinds of nails, and this one is for those girls who have short or square nails.
This is a nail design with blue and pink airbrush nails. It is a perfect nail design for you if you're college-going.
This design is not so simple, so you need an expert to try this on your nails.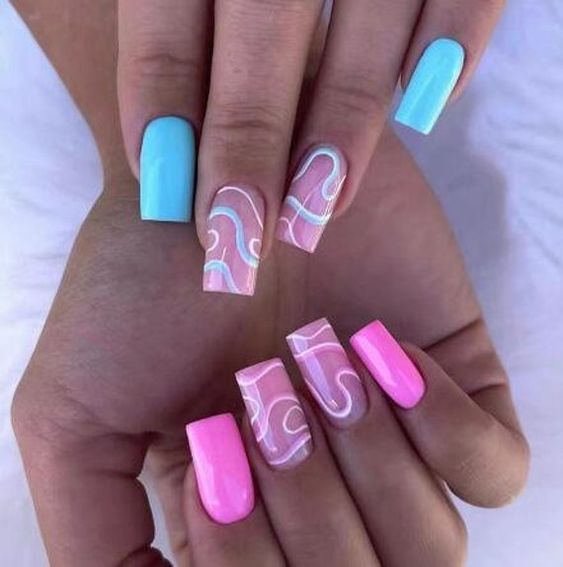 Lite Pink and Blue With Rhinestones
You can apply this nail design if you want lite pink and blue with shiny effects.
Apply lite pink and blue on your fingernails.
Now, use rhinestones on it.
Here, you are ready for your party look.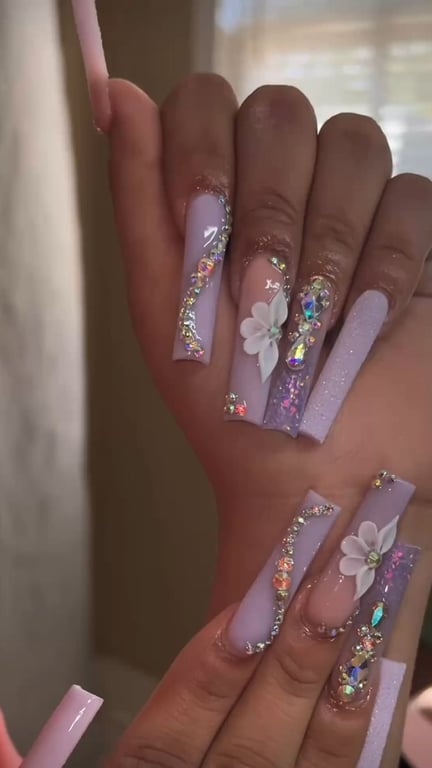 Dazzling Pink and Blue Nail Design
Do you like all the glittery things? Then this dazzling pink and blue nail design is waiting for you.
Apply it as it will spark your look and mood.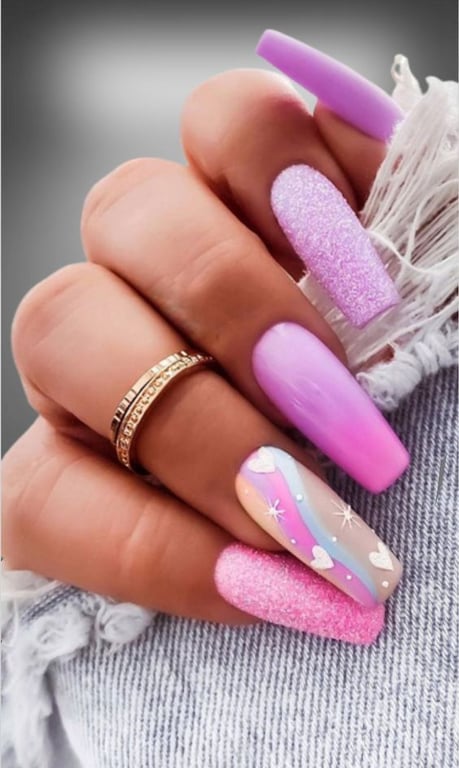 Pink Polka Dots on Blue Base Coat
Remember your first Polka dot skirt? Well, this is not about the skirt. This is about nail art.
This design is for teenagers. However, if you love returning in your sweet sixteen, you can apply this.
With blue as the base coat, apply pink dots on its top. It is so simple, girls.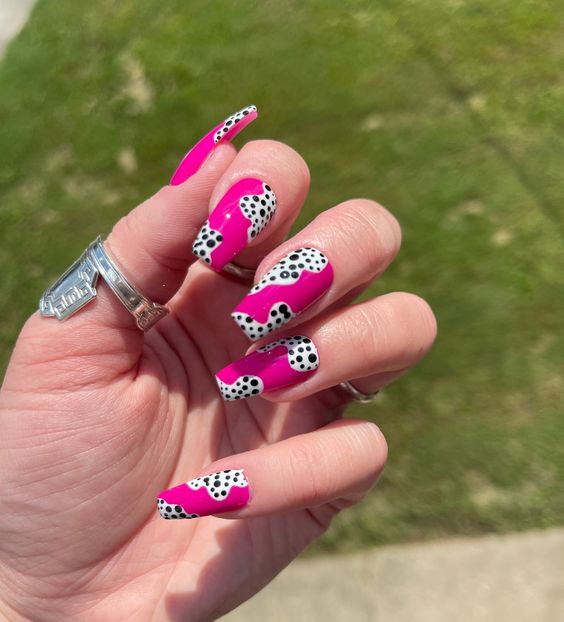 Thin French Tips with Blue
Another design for square-shaped or short nails.
Apply a perfect lite pink color on your fingernails.
Use blue on the tip of your nails.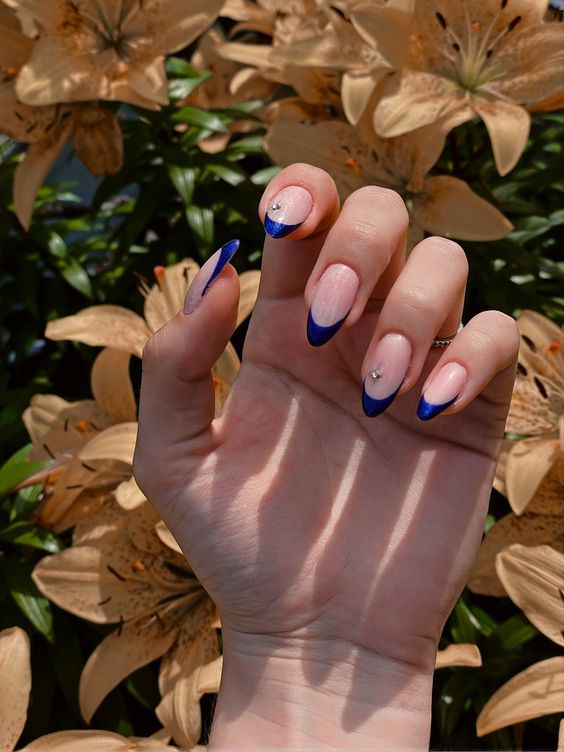 Occasion For Wearing Blue And Pink Nail Design
Color plays a crucial role in our life. Whether getting married or having a theme party in your office, color influences our life. We prefer to live in colors. Therefore, a different color for different occasions. Likewise, nail color also plays an essential role in styling ourselves. So, let's discover the occasion when we can put pink and blue colors on our fingernails.
Here are a few of them:
Gender Reveal Party:

 Blue and pink nail designs are preferred when you are organizing a gender reveal party. Yes, it matches the theme perfectly.

Birthday Party:

 A birthday party is also an excellent occasion to wear pink and blue nail designs, especially when pink is the birthday girl's favorite color.

During Spring:

 When spring is on its way, or you want to feel spring, you can apply pink and blue nail designs. However, you can also go with colors like orange and yellow during spring. It gives you the vibes of the spring season.

Color Theme Party:

These days, theme parties are ubiquitous. People try different ways to host a theme party. Color is also a significant factor that matters in theme parties. So, you can put pink and blue designs on your nails when it's the aquamarine theme.

Girl's Party:

 If it is just a female party, you can go with different shades of pink and blue. As we all know, pink symbolizes a girl's color. You can feel connected to pink and blue nail designs.

Formal Meetings:

 Well, if you're working, you know that it is tough to maintain both work and your look. For an official meeting or conference, you can put pink and blue nail designs on your fingernails.
Also Read:- Glow in the Dark Nail Ideas: Time to Glow Your Fashion
Conclusion
You can beat the boredom of winter by applying these unique and super amazing pink and blue nail designs suggested in this blog. Thus, I enjoy applying them.
Reference Link
Pink and Blue Nail Designs-FAQ's
What Is the New Nail Trend for 2022?
In 2022, nail design that is inspired by nature is worthy. Do you know? People like galaxy nail art, ocean nail art, desert nail art, auro nail art and geode nail art. This list is very long. Nature art is always the first choice of many people when it comes to nail designing.
How Many Days Before an Event Should You Paint Your Nails?
People always prefer to paint their nails when going to any event. It would be best to paint your nails one to two days before going to any event. It will be in good shape. Even if it's your wedding, you can apply nail paint two days earlier. It will be magnificent.
Is Blue Nails a Popular Color?
There is always a color which is in trend. Well, the trends constantly change and evolve, but right now, blue is on the rise is simple. The blue color gives the vibes of boldness and a sense of comfort. It feels refreshing.
How Are Pink and Blue Nail Designs Done?
There are many ways to wear pink and blue nail designs. Fills are needed to maintain. Otherwise, it will ruin your look. Brushing acrylic powder over the area of new growth creates a smooth appearance by "filling" the space between the nail bed and the old acrylic.
How Do You Polish Your Nails With Two Colors?
This is not challenging work. But it would be best if you focused on it. You can easily apply two colors to your fingernails with proper technique and a little practice. Firstly, apply a base coat of nude nail paint. Then apply a lighter shade. Let it dry. Now put tape over the nails and leave a tip uncovered. Take a darker shade and apply it on the uncovered areas. Let it dry, also. Now apply a nude color over it. It is done.
What Does Pink Nail Color Mean?
This color is related to women. It shows femininity. But, when you wear it as a nail color, it signifies positivity with a lighthearted person. It also reflects the nurturing side within you. So, anyone with positivity can wear pink.