What better than a haircut defining your personality? Many women out there searching for some very short, trendy hairstyles to describe their inner boldness. And pixie haircuts are one such haircut that exemplifies boldness, edginess, and sauciness in its most distinctive form.
Maintaining hair is one of the most prominent times-taking tasks that has consumed every lady's daily life. So, why not chop those locks and make them more fun, funky and elegant ensuring low maintenance and undemanding attention?
Pixie cuts have already started enchanting everyone with its unique look. Depending on your hair type, face shape, and personality you can choose from a variety of cuts. Not only it frames your face but also offers you an offbeat look.
So, if you don't mind a little chopping, without any doubt get this extremely gorgeous cut and become an admirer. Some of the trendy and cool pixie haircuts are here described only for you.
Silver Pixie Bob
Ditch those boring colors and get this refreshing silver pixie bob cut followed by some bangs.
For adding the charm, get a side partition. That's your new enticing look to surprise everyone.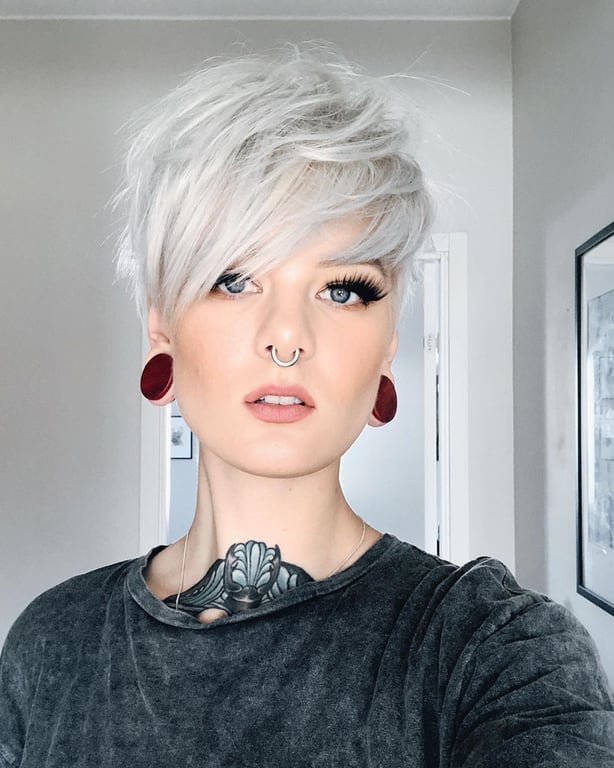 Also Read: 20 Layered Haircuts That Are Sure to Impress Anyone
Straight Pixie Wet Look
For a more attractive and flawless look give your straight hair the pixie cut and ask your hairstylist to enhance it by giving the wet look to your hair.
Yes, that's the specialty, it looks great and graceful on every type of hair whether it is curly, wavy or straight.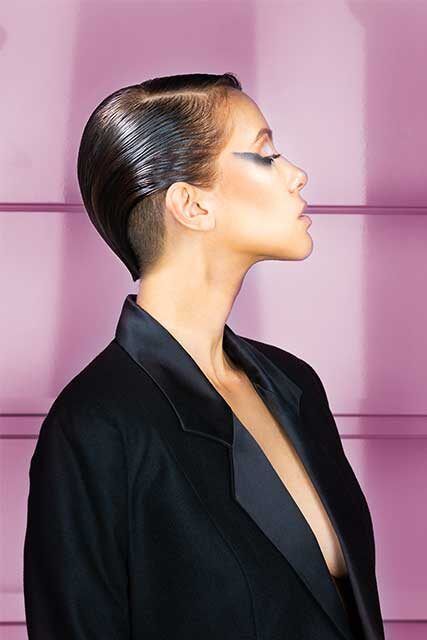 Disheveled Pixie Cut
Looking for a sophisticated hairstyle for the office? With this disheveled modern look you are sure to turn heads.
 It looks great when given a proper shape. For a more elegant and attractive look, pair it with matching outfits and accessories.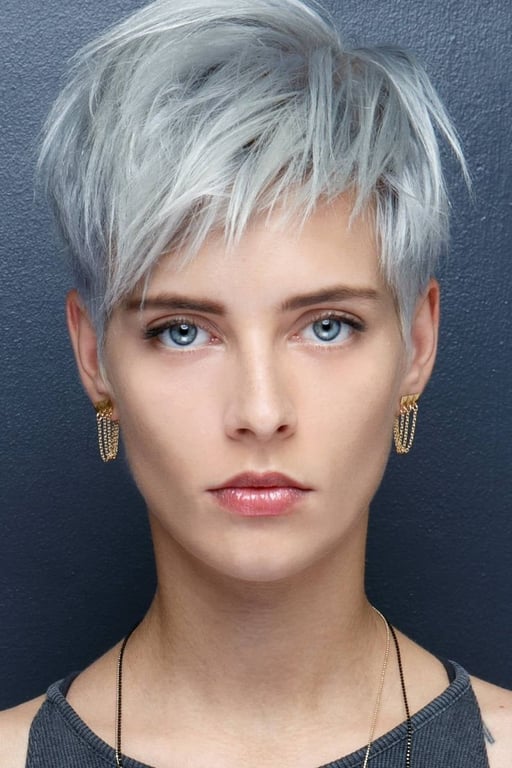 Copper Pixie Cut
To get an overall stunning and changed look, add copper color to your hair. This looks extremely charismatic and chic.
Style it properly by adding messiness to your pixie haircuts making it more youthful.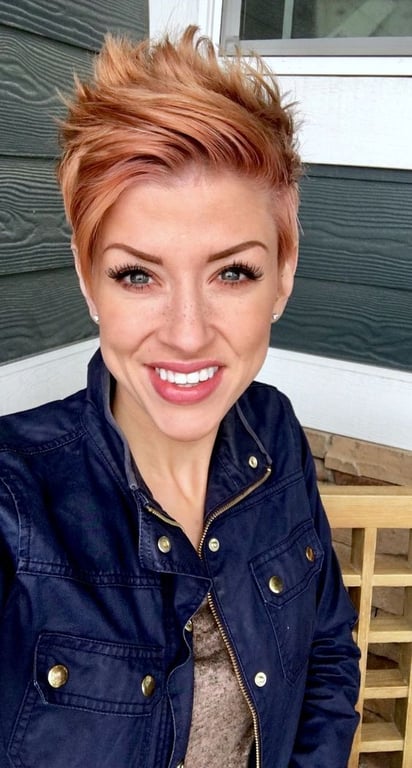 Pixie Haircuts for Brunettes
For ladies wanting a neat and natural look with their brunette hair can go for this pixie haircut. It is a perfect combination of shine, elegance and effortlessness.
This haircut is so versatile, it goes perfectly well with your date as well as for the office.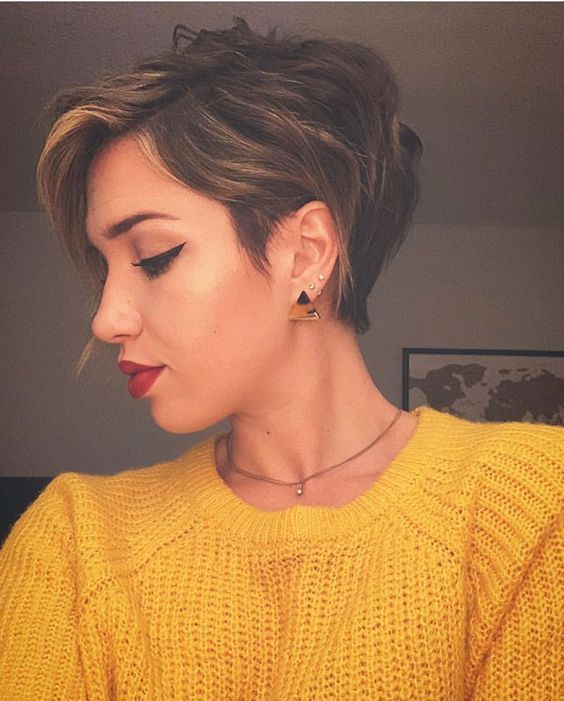 Also Read: Best Shoulder Length Haircuts for Your Next Absolute Look
Long Bangs with Pixie Haircuts
Stuck between wanting a unique haircut but afraid of very chopped hair! Not to worry with this new version of haircut allowing not so short cuts.
Yes, adding long bangs with the pixie Haircuts is one of the most innovative ideas fulfilling most women's wishes. This gives you a more feminine, creative and alluring look. Definitely a try.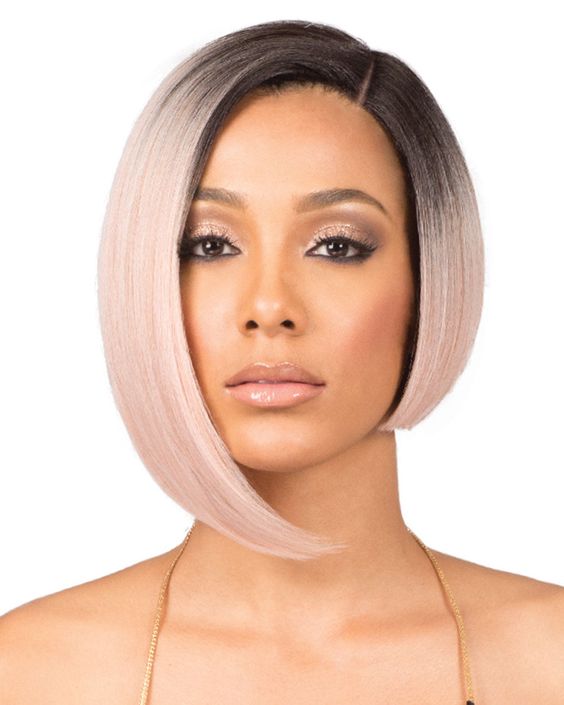 Very Short Pixie Haircuts
That's the specialty, it suits all lengths of hair. A very short cut can be the next big thing of your life. It even frames your face in a remarkable form.
Also focusing on your neckline. So, if you are looking for some awesome very short cuts, scroll down.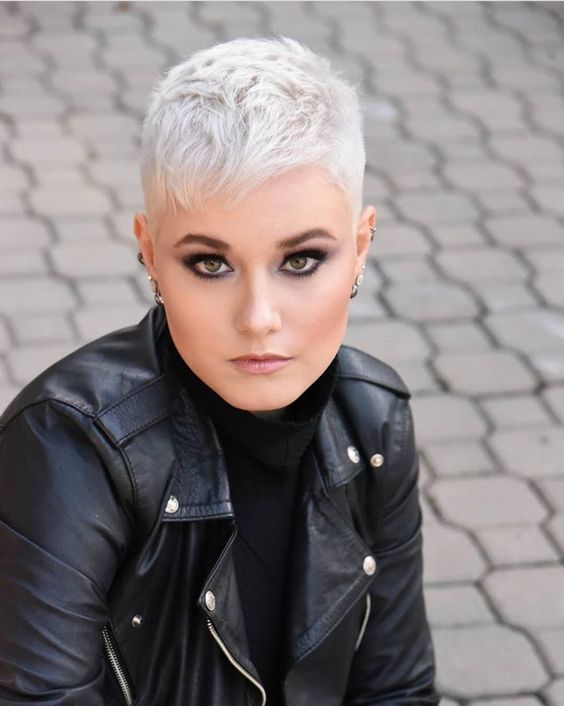 Undercut Pixie Haircuts
Try this undercut with very short sides to give an edgy and sharp look. Straight hair looks gorgeous with this cut making you glamorous.
This pixie is bold as well as cute in its own way. This looks great on casuals and usually don't go very well with traditional dresses.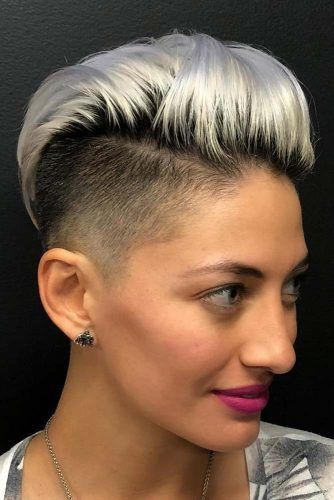 Pixie Bob for Older Women
Most of the older women are a huge fan because it offers you low maintenance.
A pixie bob with voluminous hair looks amazingly crazy and chaste for women above sixty years of age. If you are in search of some effortless hairstyle, pixie can be the one.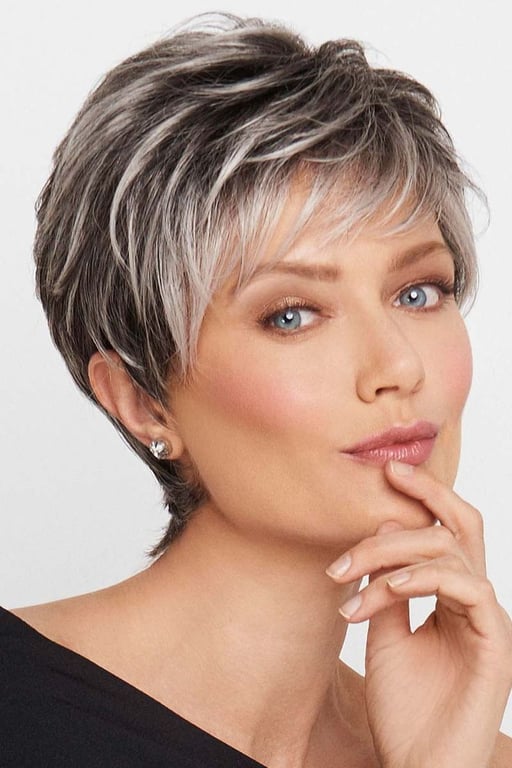 Edgy Pixie for Round Face
Round face ladies look divine with some side bangs. Highlight your hair with some favorite colors to become the center of attention.
The specialty is that it lengthens your face and make you look exquisite. Round face ladies can never go wrong when it comes to edgy pixie haircuts.
Very short and choppy fringes can be the next hot and happening event of your life! To elevate the grace, add some bangs for an appealing look.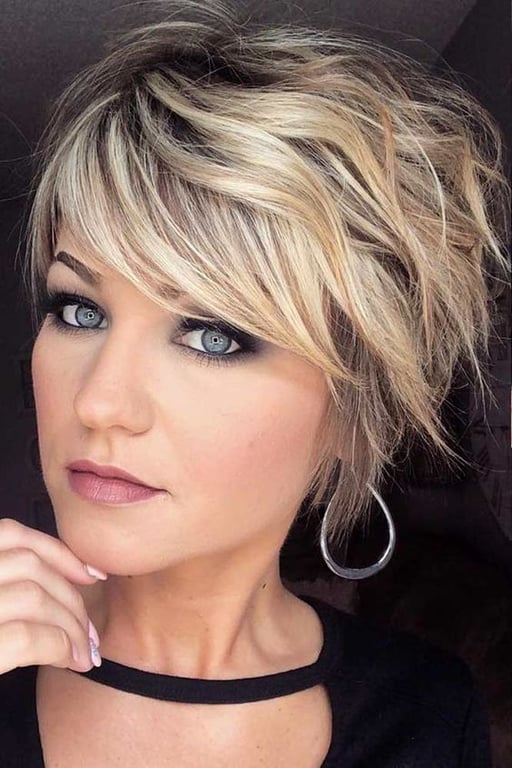 Ear Length Pixie
If you are eyeing for your best cut, this can be your solution. The ear length looks astonishing when styled in a sleek manner giving it a more refined look.
Ladies styled with this haircut get this unbelievable ravishing look that you can't take your eyes off.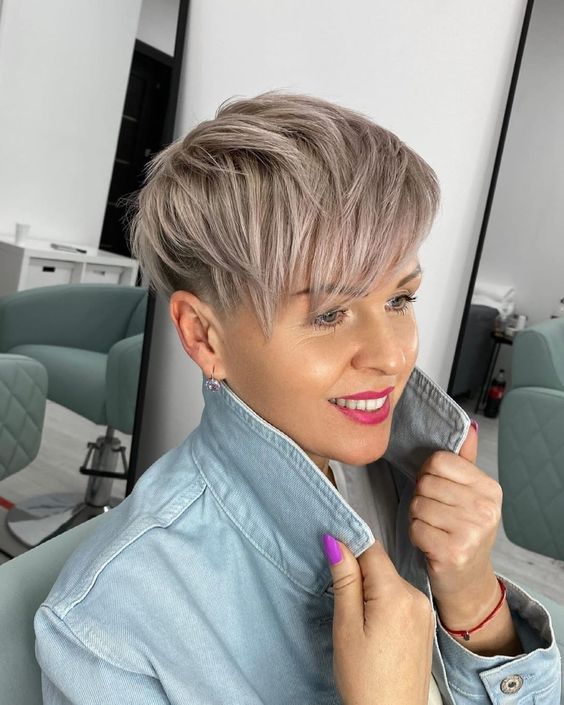 Icy Blonde Pixie
Ready for a transformation? Then go for this cut adding icy blonde color to it. Enhance it with a side partition giving it a wet look.
Many ladies nowadays are adapting to this icy blonde color because of its uniqueness and charming quality.
For adding fun and grace to the hair, this can be the ideal pixie.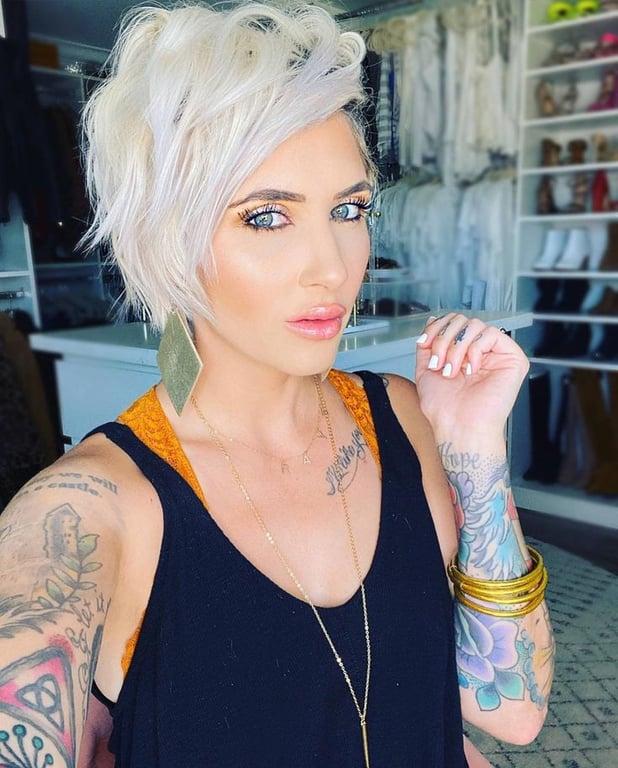 Grown Out Pixie
Want the pixie cut but worrying if it's too short for you? Well, it's time to remove this confusion with this grown out,
Yes, let it be a little longer than your nape, adding some long bangs and fringes.
This newer version will not only make you look elegant but also give the illusion of length.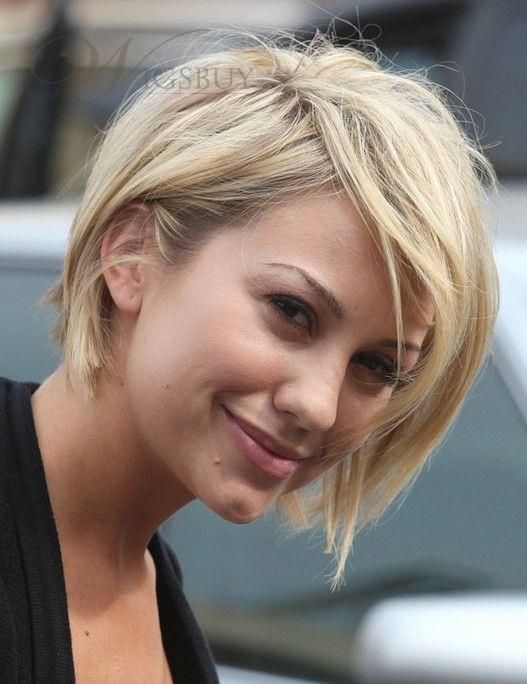 Pixie Haircuts for Older Women
Every woman searches for some effortless yet trendy hairstyle that compliments their face and body. And at a certain age this becomes a necessity.
So, to look stylish and fashionable pixie haircuts can prove to be your darlings.
Not only are these effortlessly easy to maintain but also provide an youthful appearance. Take inspiration from some of these.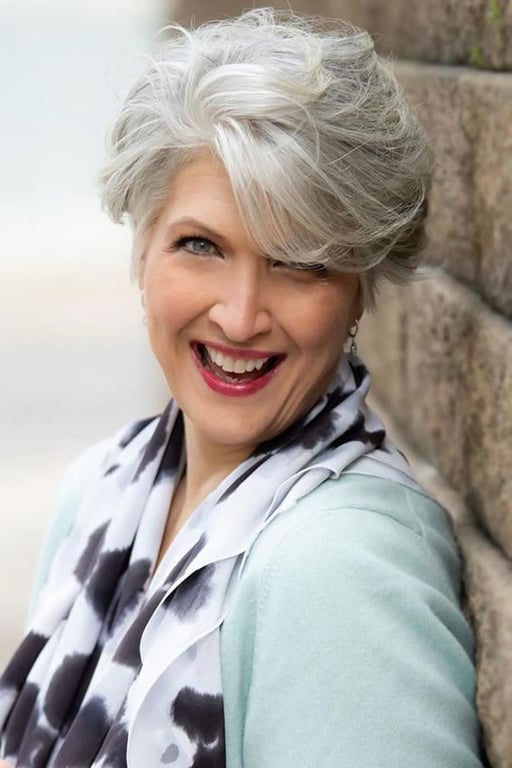 Messy Pixie
This modern messy pixie is the most trendy and graceful haircut for women over fifties. Besides giving an attractive and youthful look it is also very manageable.
For a more enhanced look, add some bangs for better coverage and texture.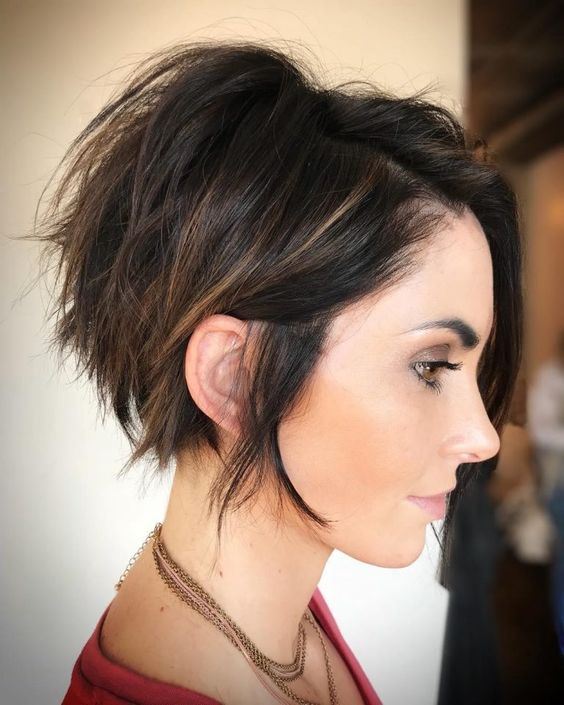 Spiky Pixie Haircuts
Want to earn compliments? Go for this spiky pixie to channel your inner boldness in style. To show the world your energy and magic this haircut can prove to be your savior.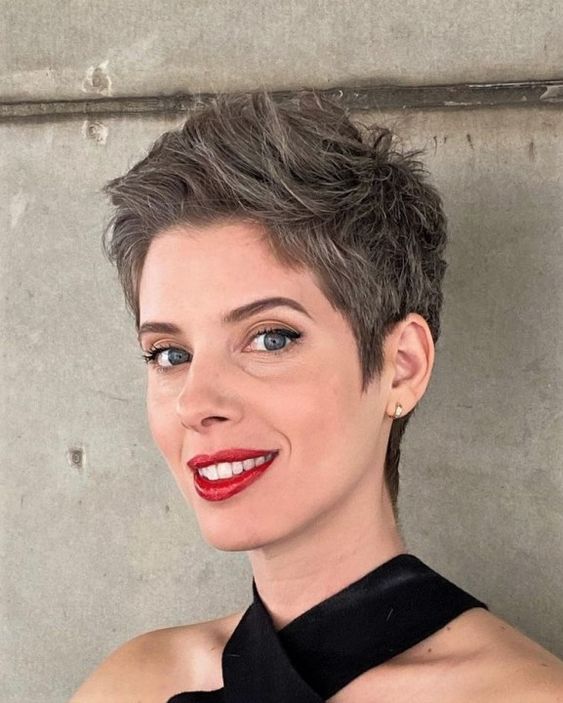 Sassy Pixie Haircuts
When layers are added, it makes you totally sassy and classy.
Giving the look of volume and dimension. This makes you entirely more youthful and sporty. This is a must try!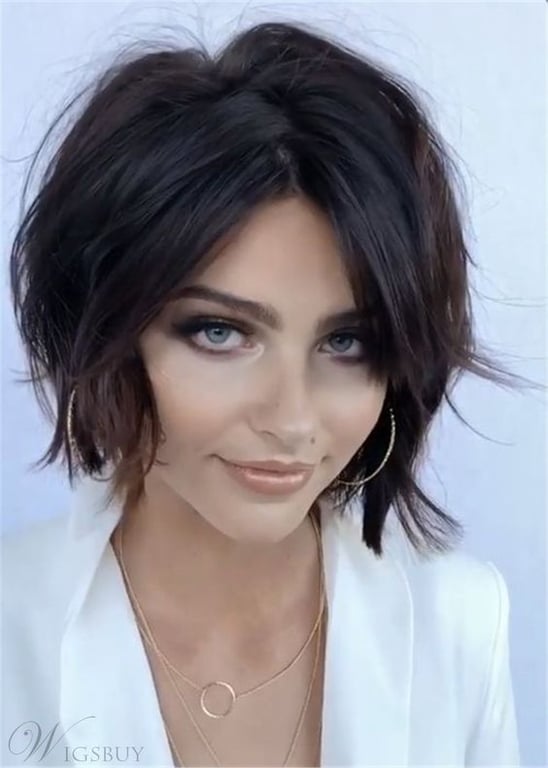 Edgy Pixie Haircuts
This can be your new go to look. To get that sharpness in your hair, the edgy pixie is surely a try.
Adding long edgy bangs makes you look younger and stylish. You need to visit the salon every four weeks for touch-ups.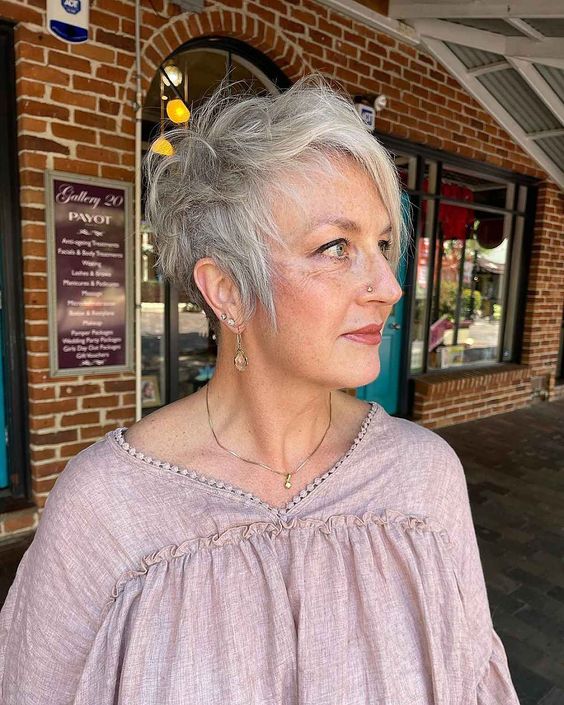 How to Style Pixie Haircuts?
Pixie cut requires your commitment. Try to make your cut more creative, soft and attractive. You can do this by following some of these steps:
Add texture to the cut: Yes, to make your hair perfectly refined you need some of the styling products. Never hesitate using products to get better results.
Make your bangs look soft: Don't you think bangs should look extremely gorgeous? Try making them comfortable by using some frizz free products.
Try a different parting: Ditch your regular style and opt for some freshness. This will enhance your look and make you totally enticing.
Add some volume: Voluminous hair looks appealing as well as alluring. Use a blow dryer to give some density and dimension for a better version.
Curl your hair: Try something other than your regular style. This will make the viewers want to look at you. Here, I am talking about curling your pretty pixie. It looks very graceful and elegant.
How to Cut Pixie Haircuts at Home?
Go through the following steps to cut your own hair but it is always better to visit a salon and let the hairstylist style your hair.
Cut the back of your hair, refine the nape region and then separate the front and back of your hair.
Cut some vertical sections followed by the horizontal sections at the back.
Cut as short as you desire.
Cut the sides and the top.
If you want bangs cut it according to your need.
Comb, dry and style your hair as you want.
Benefits of Pixie Haircuts
Pixie haircuts offer numerous benefits that make them appealing to women seeking a bold change. Some of the advantages include:
Low Maintenance: Pixie haircuts require minimal styling and are perfect for busy individuals who want to look effortlessly chic.

Expresses Confidence: This short hairstyle exudes confidence and fearlessness, making it a statement of self-assurance.

Emphasizes Facial Features: Pixie haircuts draw attention to your facial features, allowing your eyes and cheekbones to stand out.

Versatility: Despite its short length, there are various ways to style a pixie cut, from tousled and textured to sleek and polished.

Ideal for Hot Weather: During warm months, having shorter hair can feel more comfortable and cooler.
Reference Link
American actress Josephine Baker was a sensation among many, and she carried pixie hairstyle to fame in the early 1930s.
Pixie Haircuts-FAQ's
How to Style Pixie Mohawks Haircuts?
* You can ask your hairstylist to get you your desired look.
* Many different types of pixie mohawks can be styled according to your needs. But always be careful while opting for mohawks as it is a very bold hairstyle.
Which Haircuts Should I Get When Growing Out a Pixie?
Here are some of the hairstyles for growing out a pixie: Get regular trims, Experiment with textures, be patient and bold, elegantly flaunt your shags and bangs.
How to Style a Long Pixie Cut?
* A long pixie cut is just as stylish and distinctive as any other pixie cut.
* Go for side partition or a messy look. It generally depends upon your type of pixie cut.
* Ask your hairstylist to give you the look that frames your face perfectly.
How Can I Style My Pixie Haircut?
* By going through this article! Yes, that is what I would be suggesting you right now.
* Depending upon your hair type, the type of pixie you got and your face shape, there are available lots and lots of option.
* So, choose your favorite and visit a salon.
What Can I Do With Short Pixie Hair?
* Well, you can straighten them or curl them.
* Try a different parting style for a unique look.
* Use some styling products. Make your bangs look pretty by adding some volume to it.
How to Style a Pixie Haircut
Styling a pixie haircut is relatively easy and requires minimal effort. Here are some simple steps to style a pixie haircut:
* Start with damp hair and apply a styling product, such as mousse or styling cream.
* Blow-dry your hair using a round brush to add volume and texture.
* Use a flat iron or curling iron to add additional texture or waves.
* Finish with a hairspray or styling spray to hold the style in place.