Purple! The color can impress as well as attract. This beauty offering color can make anyone go "wow" with its charming quality and offbeat look. When you add purple color to your nails designs, your nails become irresistible.
With purple nails with diamond comes many choices to try. It is such a color that, combined with any other color, it can change the overall look and make you the prettiest person in the room. Let me tell you a secret about purple; it can make you look twice as beautiful, especially in winter. This warm color, whether in any form, will look stunning when worn with any dress.
If you haven't tried purple yet, I guess this is the right time to give it a chance because purple deserves it! Its uniqueness will be overwhelming, and you will love this new look on your nails. We are presenting to you some perfect purple color nail polishes to try; take a look, inspire yourself and choose the one for your next mani:
Take a Look at These Trendy and Classy Purple Nail Art:
Purple French:
French tips are famous among fashion lovers. But have you applied a purple french tip?
If not, go for it because purple french tips combined with silver or any other color will look different and amazing.
This is something new in the field of fashion and is a must-try!
Color the nail with any nude color then apply purple french tips to make it more attractive.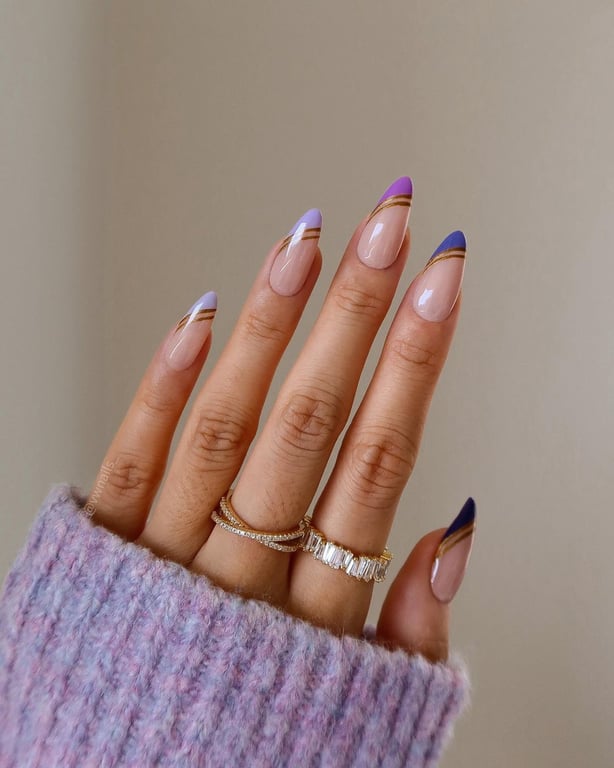 Also Read: UV Vs Led Nail Lamp: Differences, Safety, Pros, Cons, and Alternative Methods
Stripes and Polka Dots:
I am sure you have heard the name polka dots. Yes, they are pretty famous in the fashion world, and everyone loves to try them at least once.
Color your nails purple and apply any color polka dots to rock the look.
You can also make stripes to enhance the purple look. Use tape for making the stripes.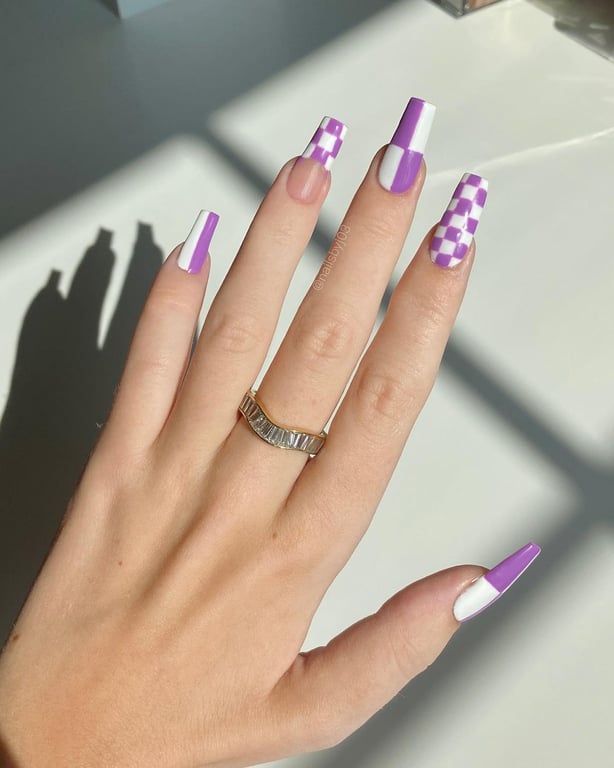 Attractive Purple With Gold
Gold is a universal color. When you mingle gold with purple, the look is royal and stunning.
Not just dark purple but also lighter shades of purple like lavender or lilac would also suit your bold personality.
If you want a fresh look, you can even go for making some geometric designs like triangles, half moons, or any other.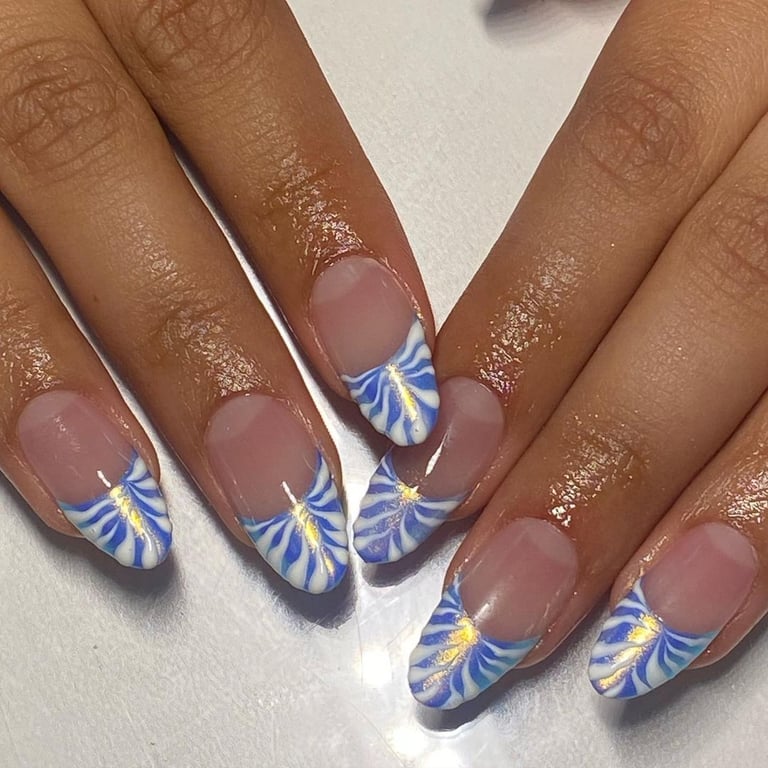 Purple Nails With Diamond
Welcome to the trendiest and the most stylish nail art world, purple nails embellished with diamonds.
When you give your nails the beauty of shining diamonds in purple color, the view is scintillating to look at.
Ask your manicurist to color your nails purple and then decorate them with diamonds in any design you desire.
Enrich your nails with this classy and regal look to become a charmer. A must-try for nail art lovers!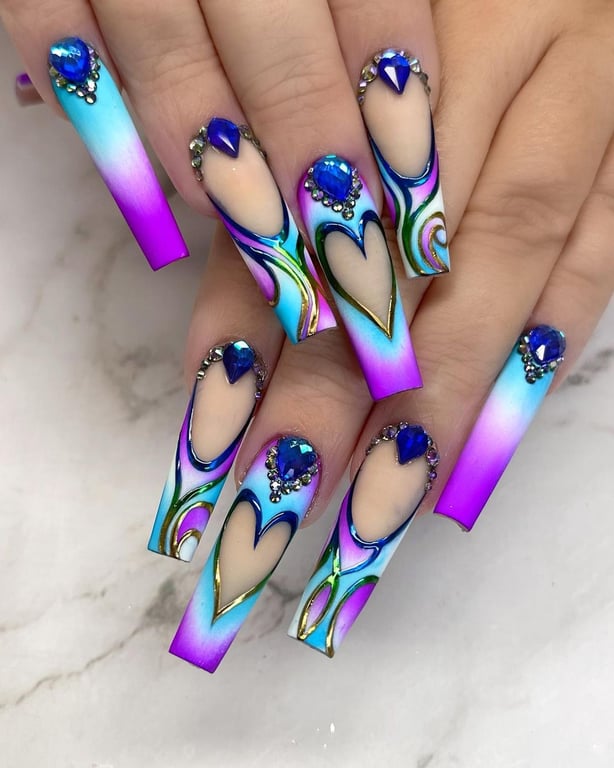 Also Read: 20 Black and Red Valentines Day Nails (Easy Designs and Inspirations)
Dark Purple With an Abstract Look
Here, I am talking about the darkest purple color with some abstract patterns.
This can be your new and unique look. It looks funky as well as sassy.
Take advantage of the versatility of purple color and add glitters to your nails with a hint of abstract patterns. You can rock this look with the utmost love.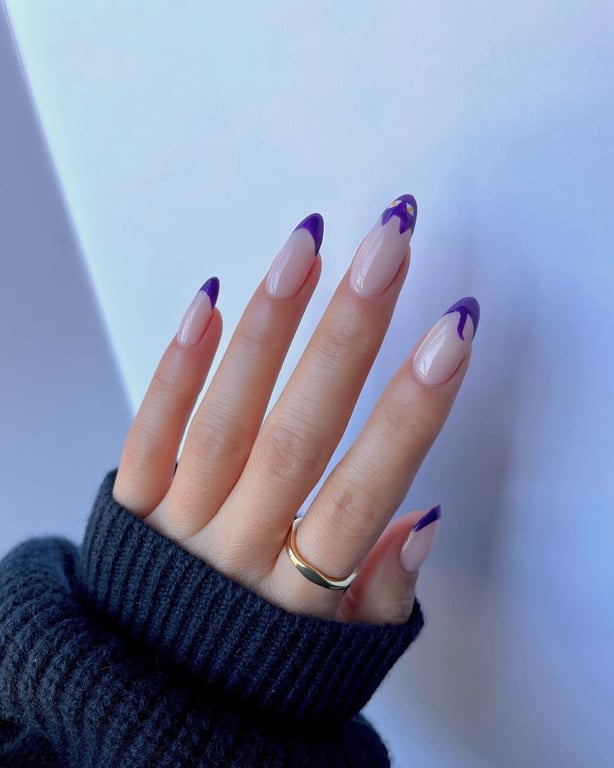 Purple Stiletto Nails With Diamonds as Borders
Say hello! To the jazziest and most contemporary purple nails designs.
Shape the nails in a stiletto and apply matte purple color.
The diamond border will bring shine and grooviness to the matte. And you are going to fall in love with this elegant look.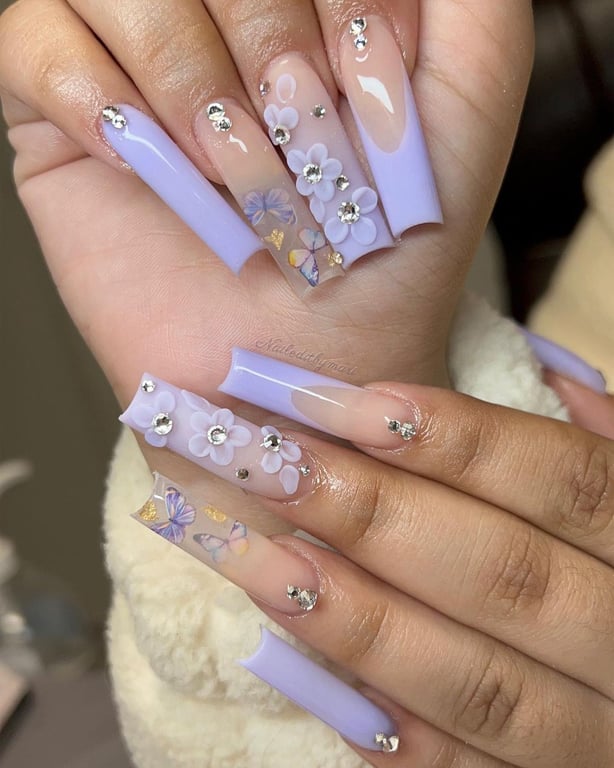 Cute Purple With Flower Look
Different shades of nude colors in a matte finish adorned with purple diamonds is the newest addition to the purple trend.
This nail color will look gorgeous as well as royal. If you are looking for a lighter yet stylish way to flaunt your nails, this could be your answer.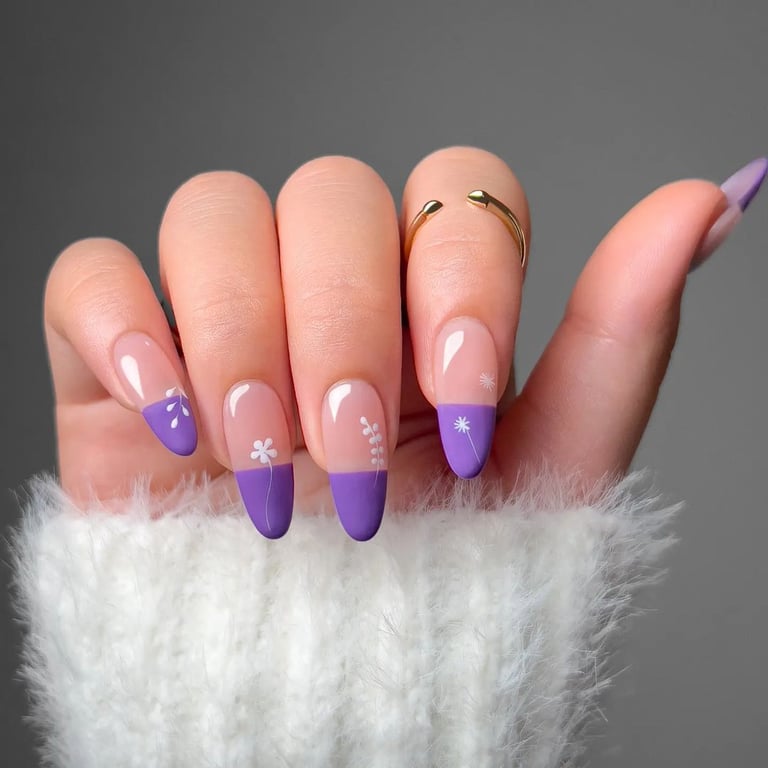 Cute Lilac Nail Design
Almond-shaped nails with a cute color will enhance the look of your nails in a more distinctive form.
Add diamonds to create a beautiful design and become the most stylish person.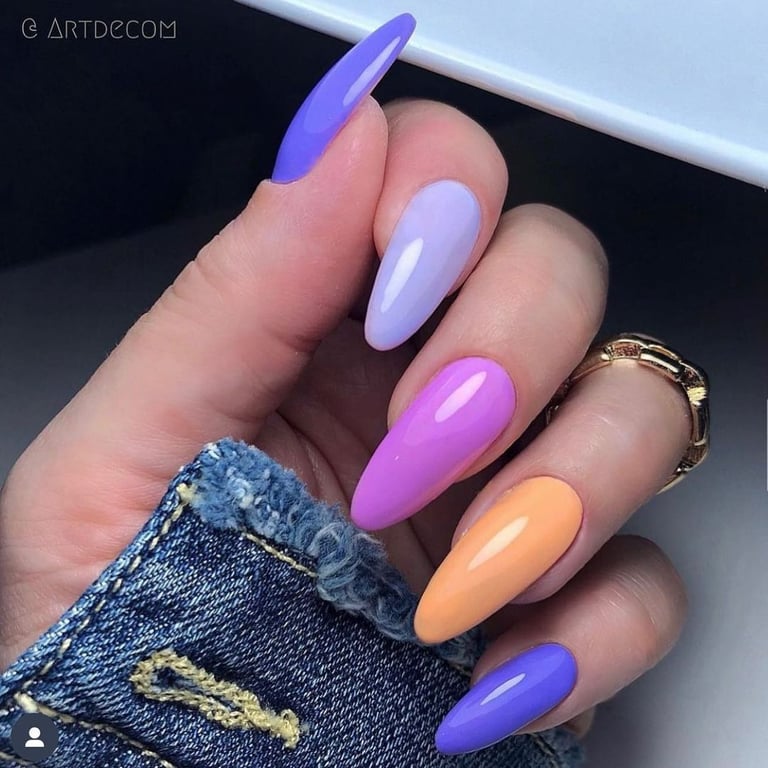 Also Read: French Manicure with Rhinestones: Latest Designs, Tips & a DIY Guide
Reference Link
Purple Nails With Diamond-FAQ's
What Color Goes With Purple for Nails?
* As you all are aware of the fact that purple is a versatile color, it can easily enrich any color it is paired with.
* You can easily combine purple with gold, silver, white, blue and even red. 
* These are some of the famous colors which go very well with purple.
Is Purple a Cool or Warm Color?
* Purple is often considered as a cool color.
* You can go darker shades of purple in winters and lighter shades of purple in summers for a soothing experience.
Why is Purple a Unique Color?
* Purple is the most distinctive color. It is eye-catching and suits almost everyone.
* Darker or lighter, any shade of purple can make you look stunning.