Lover of nail beauty! You must be aware of different types of nail art. Gels and acrylics are quite problematic methods of nail art. Though many women love them when it comes to long-term and daily usage, press-on nails are preferred and loved by all. You get these press-on nails with the help of nail glue which is similar to super glue and is super sticky, often considered difficult to remove, which is not valid. Let's know some unknown things about nail glue and grab all the information from this article. And remember to follow your nail care regime for better results.
Why is Nail Glue So Sticky?
The reason behind super sticky nail glue is the work it does. If you are worried about the harm it can cause your nails, don't be. Because nail glue is not that harmful and is less harsh on your natural nails, very long usage of nail glue can deteriorate the natural beauty of the nails. A nail glue was designed to keep the press-on nails for at least two weeks. This is the reason why it is super sticky. When applied, it dries off quickly and hardens, which makes it difficult for some people to remove.
The Uniqueness of Nail Glue:
Nail glues are super easy to apply and are considered the most fuss-free and doable nail art. Who doesn't love long pretty nails? Nail glue offers you the beauty you crave in your nails. Nail glues are water resistant, highly adhesive, and extra strong to improve your application.
Various Methods of Nail Glue Application:
Applying Nail Glue Through a Squeeze Bottle
The easiest and fastest method of applying nail glue is from a bottle. Always choose the press-ons according to your nail length, then trim and shape them. Apply the nail glue from the bottle to your nails by pushing back the cuticles gently.
Applying Nail Glue by a Brush
This application can be the easiest way for newcomers to get nail glue. It comes with the kit; anyone can apply it quickly, but it can be a little grimy.
Apply the press-on as soon as the nail glue is done because it dries very quickly. Hold the press-on for about 10 seconds.
You can also use an alcohol pad to remove the excess oils from the nails.
Repeat the process for every nail.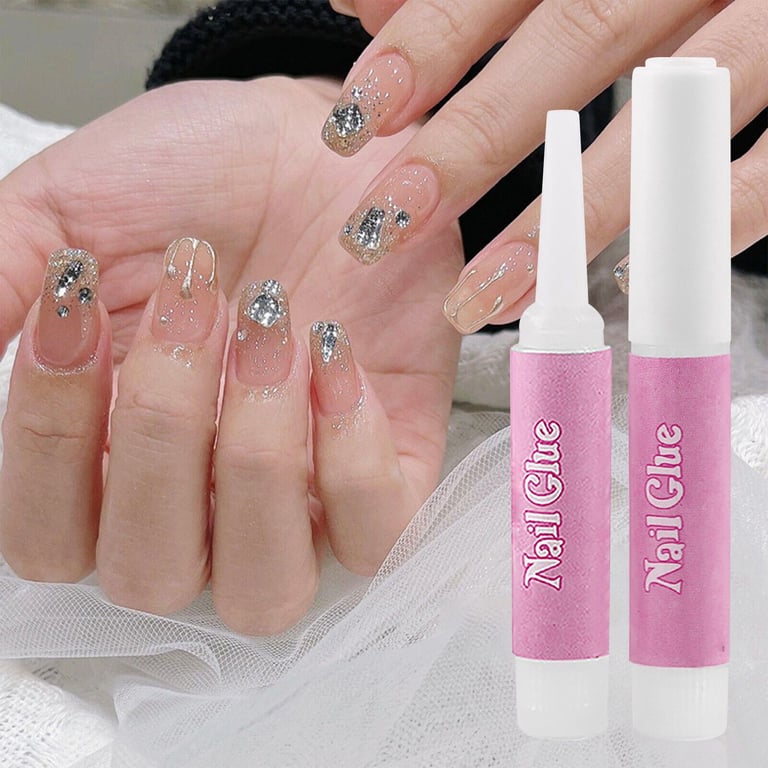 How to Remove Nail Glue
Ditch the tension you have been carrying for a long time because it's time for you to become a nail expert and remove those glues. Simple guidance is what you need. Just follow the instructions, and you will be an expert. Read the article carefully and become a pro at removing nail glues. Scroll down to get your perfect information:
Nail glues mostly last for about two weeks, and when the time comes, they start to become loose; you will instantly know when it's time to remove them.
A proper and healthy removal is required to contain the healthy nails, or you will risk your upper nail skin, which sounds very painful and harsh.
Let's start by the items you need:

Warm, soapy water.
Nail polish remover containing acetone.
Cotton pads or any cloth.
Container.
Any oil, like coconut oil, olive oil, or even baby oil, can do the work.
Take a container filled with warm foamy, and soapy water and immerse your fingernails in it for 15 to 20 minutes to loosen the nail glue.
Gently scrub the area with a brush. Do not try to pull, as it may hurt you.
Now either dip your nail in the acetone-containing nail polish remover or place cotton-dabbed acetone on your nails for some time. This step will help the nail glue to come off quickly and perfectly.
Remove any bits of glue if pertaining. Now apply some oil to rehydrate the nails.
Also Read: BASE COAT vs TOP COAT: Know the Differences & Benefits for Your Nails
Now Watch How To Remove Nail Glue at Home
Another Method of Nail Glue Removing Without the Use of Acetone
Acetone, at times, can be harsh on your skin and can make the nails dry. If nail glue comes off without acetone, then you should try this method.
Firstly wiggle the nails from the side; this helps in letting the solution enter and dissolve the nail glue.
Next, immerse your nails in a container filled with rubbing alcohol or non-acetone nail polish remover mixed with oil or water for gentler treatment.
You will notice that a part of the press-on nail is lifting, now, use a cuticle pusher to lift it out thoroughly and gently. Take your time doing such jobs, as it can lead to damage.
If the nail glue is not coming out, soak the nails in the non-acetone nail polish remover for a little longer.
After this, moisturize it properly. This is a must to do step and requires your attention.
Also Read: Structured Gel Manicure: All You Need to Know
Some Preventive Methods While Handling Nail Glue
Use oil-soaked cotton to apply on the edges for the moisture to retain under the glue as it gets dried quickly and causes real damage.
Once every 2 to 3 weeks, remove the press-ons to rehydrate the nails and let the natural nails breathe fresh air.
Be patient while removing the nail glue; otherwise, you will end up hurting yourself.
Also, remember that damage, if any, doesn't last. It will take time to heal but eventually will get better with time.
Reference Link
Remove Nail Glue-FAQ's
What Are Gel Overlays on Natural Nails?
It looks like an extension but is a gel applied on the nails to provide glossiness, strength, and length. It hardens once applied and is shaped according to the desire.
How Do You Get Nail Glue off ASAP?
Soak your nails in warm acetone-based water for 10 to 15 minutes to let the glue come out. Removal of nail glue demands your patience, so it is always advised always to take your time handling nail glue. Because once it hardens, it is difficult to remove in just seconds.
How Do You Dissolve Glue?
Soak your glue-applied nails in acetone-based warm water to break the bonds of the glue and the nails. Acetone is the best way to dissolve nail glues faster.
How Do You Get Nail Glue Off Your Nails Without Removing Your Nails?
The article "Quick and easy ways to remove nail glue" discusses every aspect of nail glue. To learn some easy methods of press-on removal, thoroughly go through the article.
How to Remove Nail Glue From Fingers and Skin?
This situation demands your calm mind and patience—nothing to worry about if the glue sticks to your fingers and nails. Just immerse the affected area of the hand in acetone-based warm water for a few minutes and let the glue break its bond with the skin. Apply some oil to moisturize your skin.
How Long Do Adhesive Nails Last?
* Make sure you put the glue correctly and it will last upto 2 weeks.
* Take proper care of it to ensure full coverage.