Dreamy, alluring, and pleasing are the words that perfectly define simple mermaid nails. I am sure you must have heard the name because it's trending, and fashion bloggers are constantly posting mermaid nail designs to level up the glam game. Well, simple mermaid nails are inspired by mermaid scales and are crafted on the nails to offer a blissful and magical look.
These mermaid nails, known to amplify your creativity and fashion sense, have started coming on the trending nails list. Women love to experiment with their next manicure for an incredible look that can turn heads. So, if you are ready for some glam up and a fabulous nail game, it's your turn to gift your nails mermaid designs this time.
Mermaid's nails do not only refer to the mermaid designs painted on the nails, but mermaid's nails refer to the mirror dust powder which is mixed with the nail paints to create the magical holographic effect through which you can experience the sea at your fingertips.
We have shortlisted some very cool, dreamy, and awe-inspiring simple mermaid nails for your beautiful experience. Scroll down, and have a look at these beauties:
Coffin Nails With Gem
The elegance of these coffin nails can be increased by adorning them with jewels at the base of the nails.
These simple yet graceful mermaid nails are sure, yes!
Just look how gorgeous they are!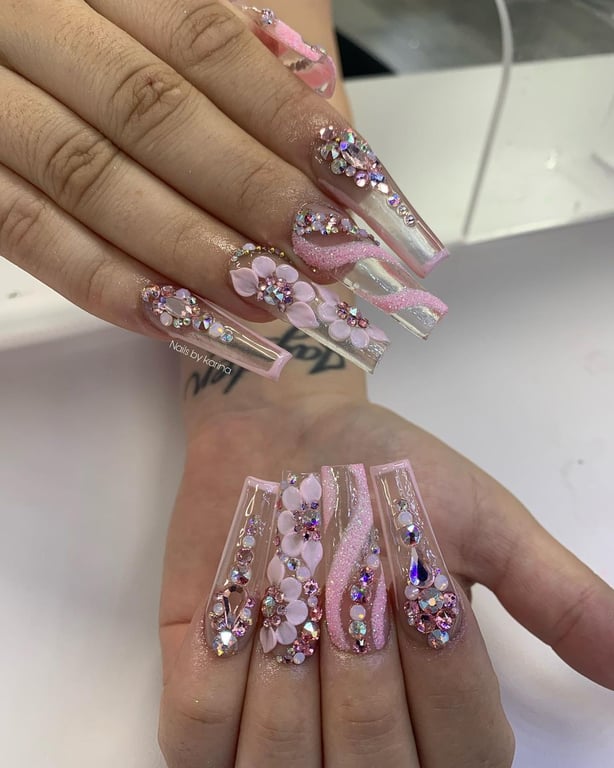 Metallic and Ombre Sparkle Nails
With the touch of both metallics and Ombre purple, sober yet enticing mermaid nails can be made.

This is one of the most captivating simple mermaid nails.

If you are new to mermaid's nails, these nails can be your next best friend.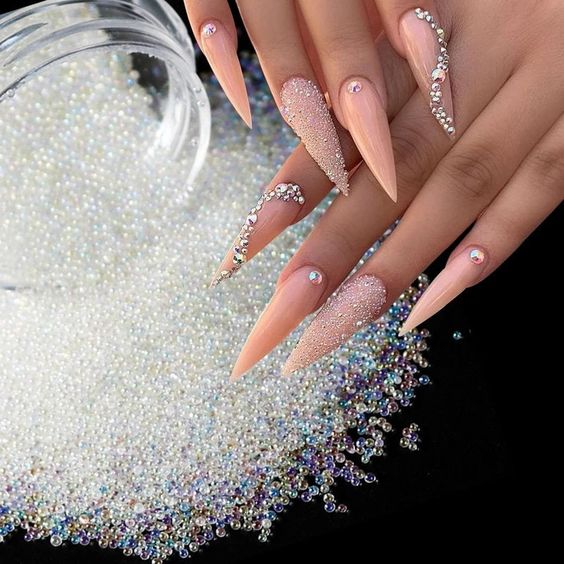 Lavender and Pink Simple Mermaid Nails
Lavender and pink, the favorite of all girls when painted on nails, can do wonders.
Adding mermaid scales with jewels is a sure heading-turning nail beauty.
If you are searching for a charming and inviting look, these nails are the one.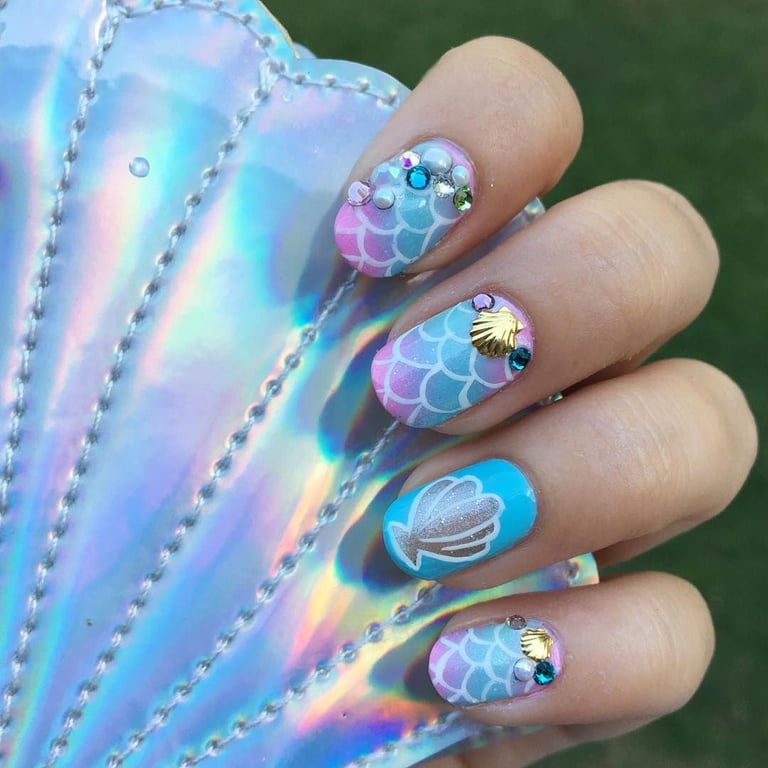 Black and Teal Mermaid Design
Who doesn't love black? The black class can offer irreplaceable.
If you, too, cherish black and are ready to twist it, try these black and teal-inspired mermaid designs on your nails.
These freshly designed nails can be the biggest reason for so many compliments you are going to collect.
Also Read:- Glow in the Dark Nail Ideas: Time to Glow Your Fashion
Stiletto Nails With an Ombre Touch
The fantastic combo of mint green and pink Ombre on stiletto nails is just the prettiest thing you have seen in a while.

If experimenting is not your type, these simple mermaid-representing nails can be your pick.

The pointed stiletto nails add charm and provide a simple designer nail finish.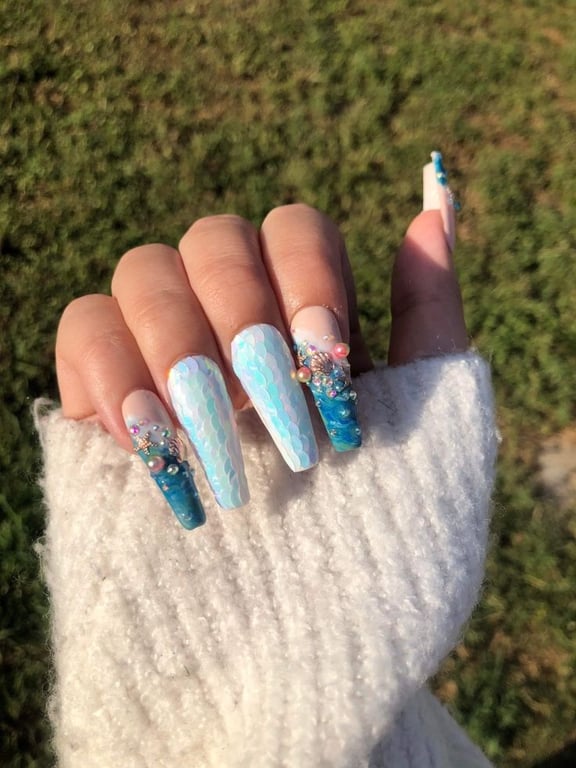 Green Glittery Simple Mermaid Nails
Green and glitter with a mermaid look are excellent pair of nail art.

These are unique and help you amplify your fashion sense.

For some newness in your boring life or nails, these green and glitter simple mermaid nails can come as an awakening.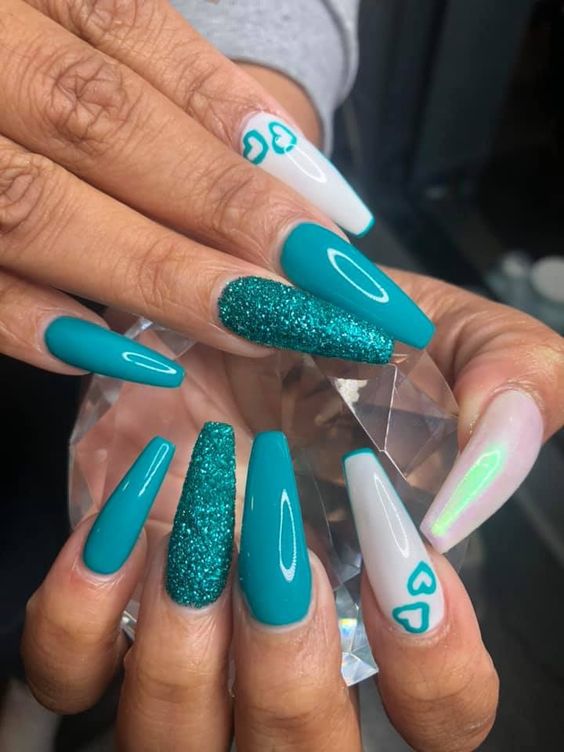 Mixed Colors Mermaid Nails
Do you know how all the colors are best? Well, they are, wow.

With the mix of sea colors, mermaid designs are a sure yes! Yes!.

This design is so calm and enticing that you could never say no to it.

It is modern and feminine. Just so pretty!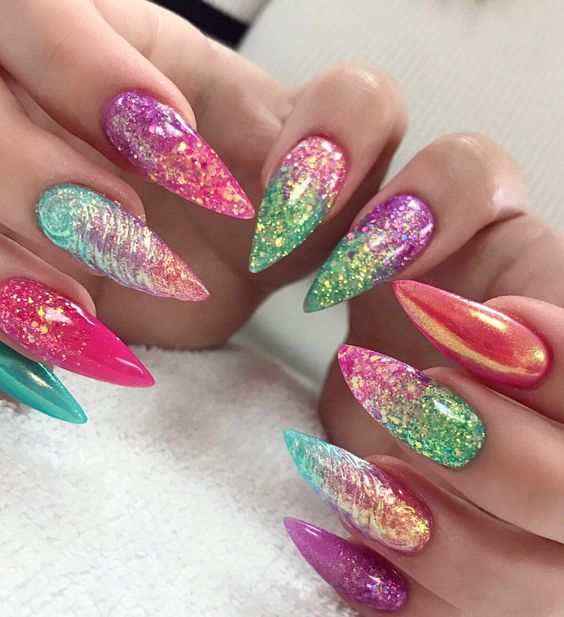 Mint Green Ombre Designer Nails
Mint green is such a cheerful color to add to your nails.
The coolness and fun they can offer you are exceptional.
Green is the most eye-catching color, and adding a mermaid design is worth your time!
For ladies who are fond of experimenting, this is the best.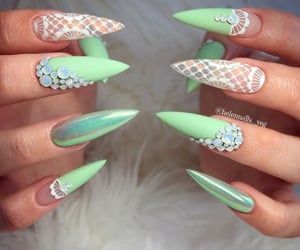 Under the Sea, Simple Mermaid Nails
The sea green and purple Ombre is the symbolization of the sea and the mermaid.
Nothing can be as dreamy and alluring as these colors. This time go for this bold look to embellish your simple nails.
This is real fun and you are just gonna love it.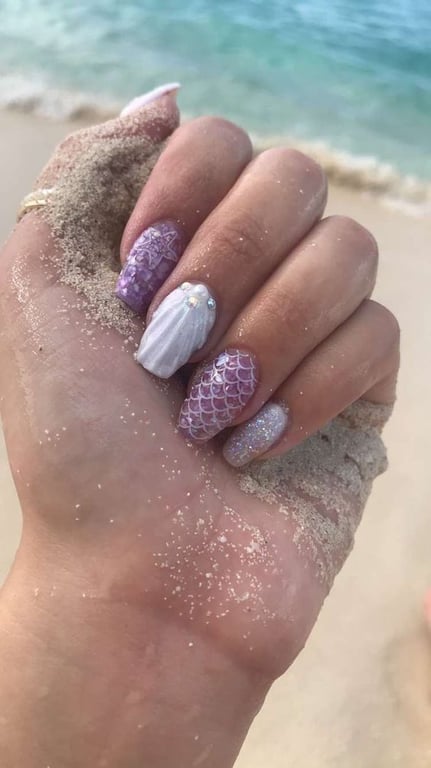 Disney-inspired Mermaid Nails
So, if you have grown up adoring Disney, time to relive those memories.
These Disney-inspired simple mermaid nails will take you back in time; believe me, you will fall in love with them.
These nails are gorgeous in their simple form and can give you queen vibes.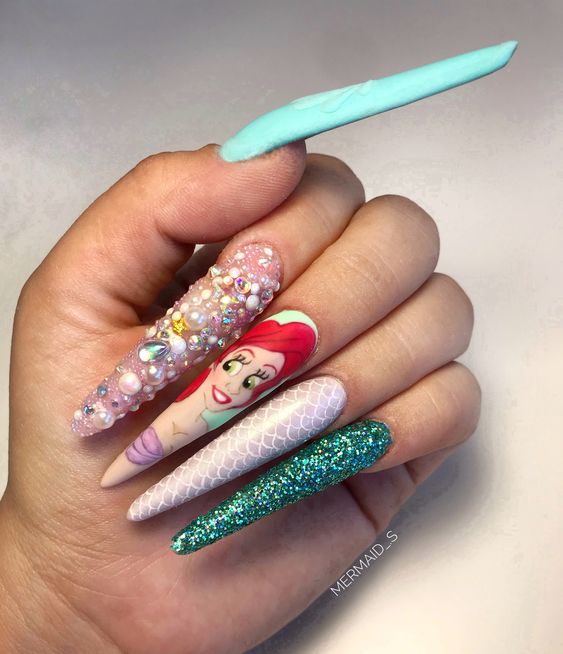 Also Read: Baby Shower Nail Ideas: For an Unforgettable experience
Blue Simple Nail
Blue is a universal color. It is so regular yet very fresh.
A simple mermaid look on shiny blue nails can never be monotonous.
Add some stones to increase its beauty and make it look natural by adding some glitters.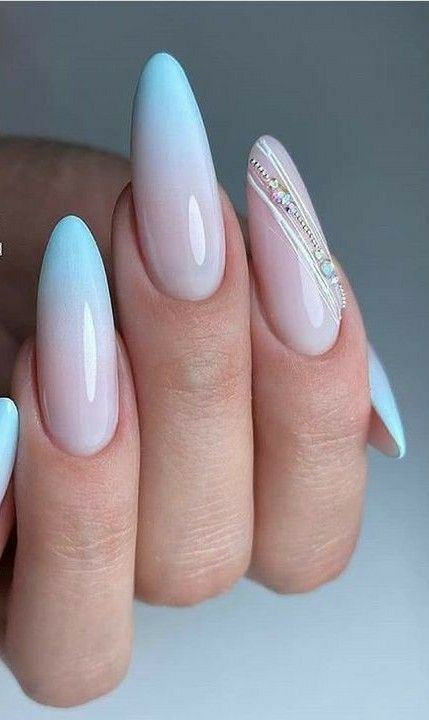 Mermaid Nails With Crystals and Shells
To give your nails a beachy vibe, decorate them with crystals and shells.
A mermaid color with a mermaid design with the beautification of crystals and shells is the perfect unique thing you will see today.
Just look how sophisticated and enchanting it is!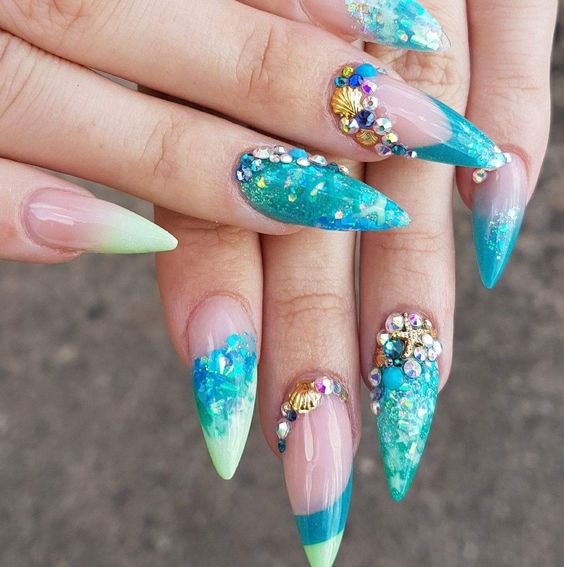 Chrome Simple Nails
The wildest form of mermaid's nails is here with a twist.
Yet another masterpiece with the effect of chrome is ready to rule your heart.
The shine these nails offer is incredible and requires a daring spirit to go for bold nails like these.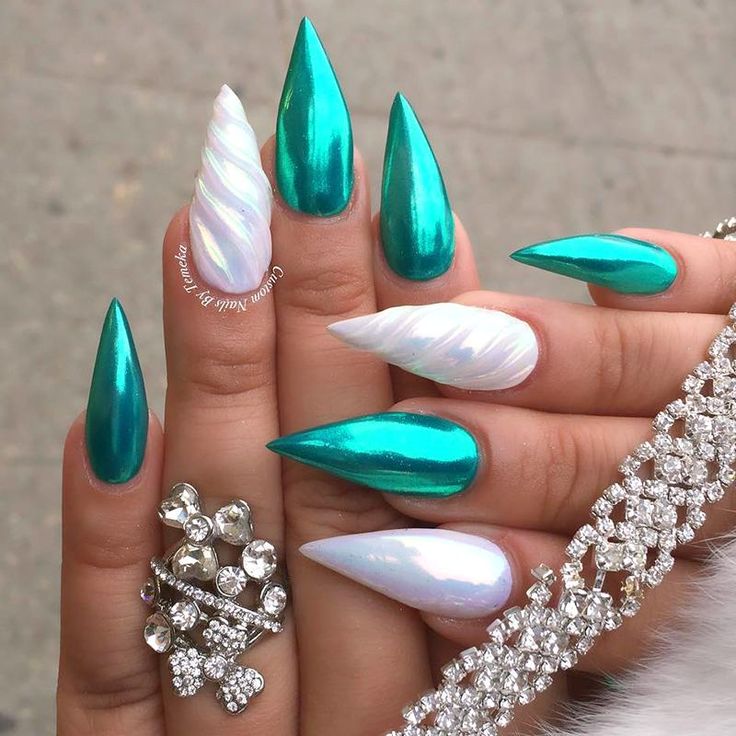 Ariel and Flounder
Wondering what these are? Or are you familiar with these two beauties?

Ah! Yes, the movie – the little mermaid featuring the friendship of Ariel and flounder mermaids is loved by all.

So, why not relive those childhood memories by imprinting these lovelies on your nails?

These cute and eye-soothing simple mermaid nails are simply the best!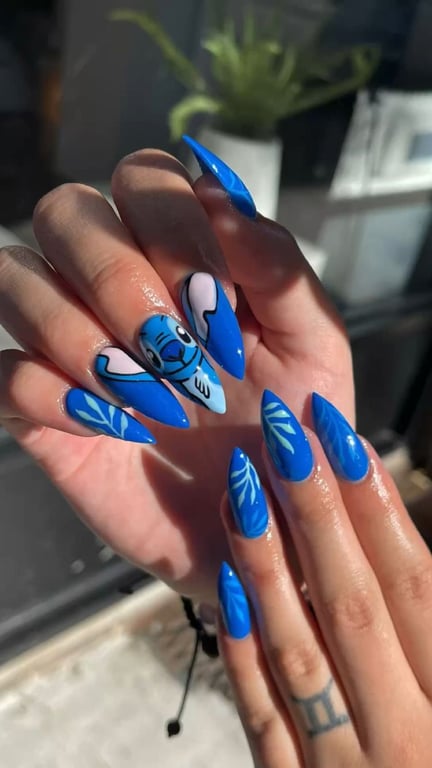 The One With Pastel Colors
Pastel colors are an ideal choice to get the most relaxed and soothing look to your nails.
Simple mermaid designs on them can be perfect for your next manicure.
You can definitely go for these!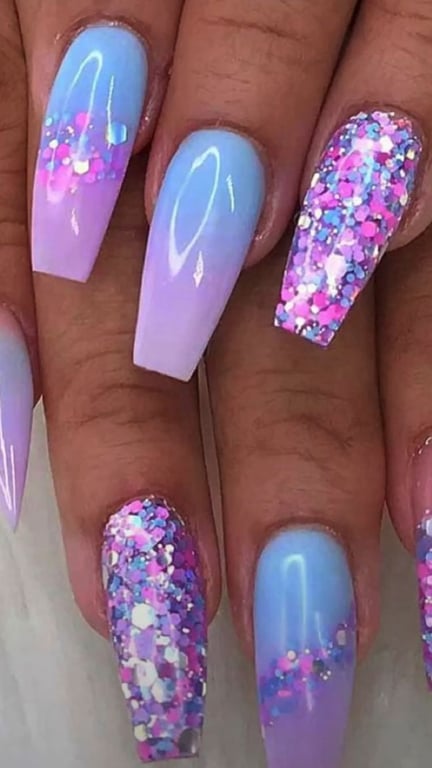 Also Read::- Gold Tip Nails: For a Classic And Timeless Look
Reference Link
Simple Mermaid Nails-FAQ's
What Are Mermaid's Nails?
* It is an enhancement made on the nails with iridescent glitter that provides a holographic color theme to the nails.
* They are glittery and resemble sea mermaids.
What Is a Mermaid Gel Polish?
* It is a kind of sparkle which brings the ocean to your nails.
* A mirror dust powder is mixed to provide the necessary holographic effect.
How Do You Do Mermaid Scale Nails?
* Well, you can always turn to your manicurist with the different wishes you want with your nails. Ask them to offer you the desired mermaid nails.
* If you are a pro at nail painting, take a dig at the tutorials about painting mermaid scale nail arts because you need a visual presentation to learn mermaid scale nails.
* Or else acrylics with the designs are available in the market; just glue is what you need.