Are you looking for a transition in your nail arts? Do you have any ideas in mind? Well, if not, here I am, introducing a fresh start to the year with spring nails. These classic, contemporary, and awe-inspiring nail designs are a treat to the eyes. And believe me, you will fall in love with their simplicity.
You must be searching for some change, and when the change involves some beautiful and sober spring nails, it's a sure yes! Just go for it. Signifying the beginning of a new season, these spring nails can be the next big thing in your life. The varieties they offer you are limitless when we talk about nail art. From dark to light shades, from floral to animal prints, from pastel to transparent, from coffin nail shapes to round, there is plenty of possibilities to try every month!
And what is stopping you from becoming the prettiest version of yourself? Just like your attire, those nails also deserve special attention. Adorning them and trying new ideas for the nails is an exciting approach to making oneself happy and gorgeous! So, go, girl! Grab the spring nail ideas from this article; I am sure you are gonna love them, have a look:
Blue and Pink
Two different shades of blue and pink are a final try this spring season.
If you are a minimalist, this nail art is for you. Go by coloring them with any of the blue and pink shades.
To make this look more elegant, paint one or two little flowers for a more attractive look of the season.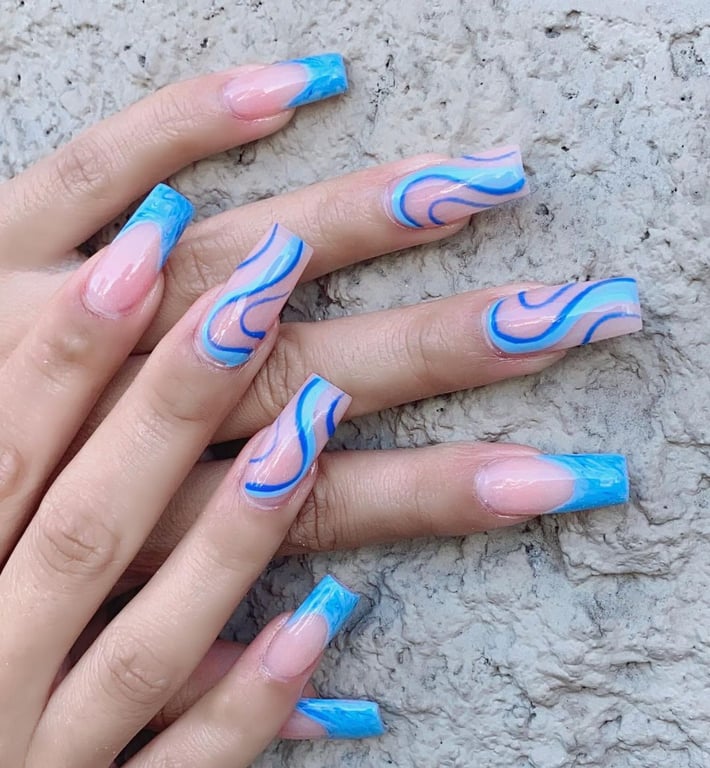 Fresh Leaves for a Stunning Look
What better way to welcome the springs than painting freshly bloomed green leaves on your nails?
When the atmosphere around you is happy, make your nails happy too.
Ask your manicurist to paint leaves on the nude base to give you the most attractive and sober look.
A must-try!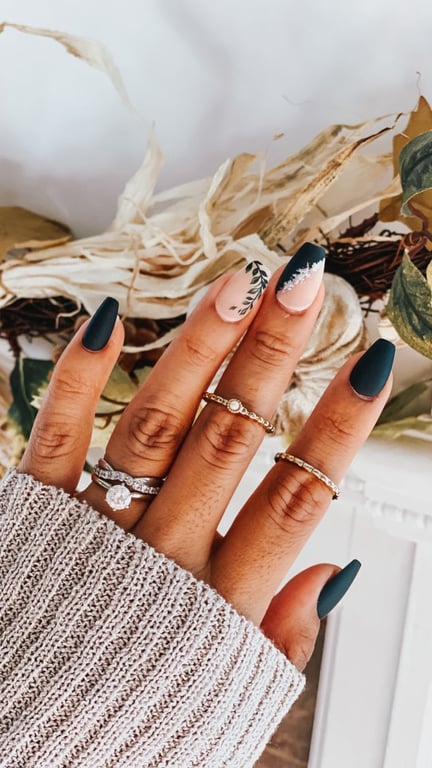 Lavender Spring Nails
Oh! This gorgeous shade of purple is winning hearts.
Lavender is the most popular hue among fashion lovers, clothes or nails. This trending color is showing no sign of fading away soon.
Just look how glamorous and graceful these nails look in the lavender shade. Go for it!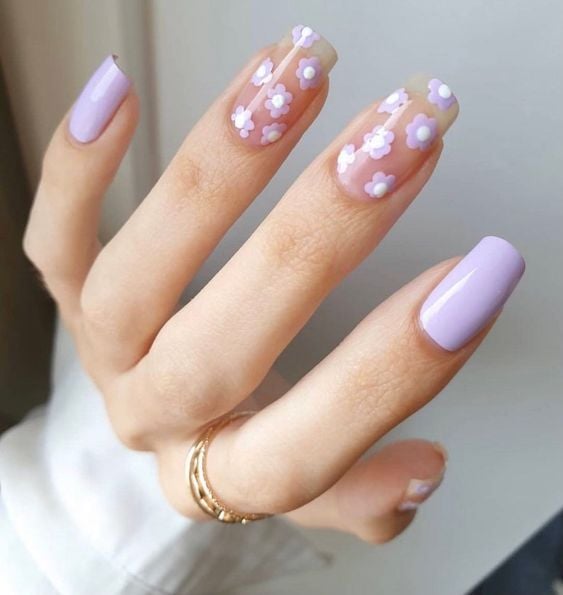 Also Read: Dragon Nail Designs to Get the Mystical Look
Pink and Flowers
Do you think it's very regular? Nah, it is so fresh and overwhelming.
I know your gaze is stuck on those artistic pink nails with flowers.
Yes, it is the newest and the most inviting look for the spring season.
Don't just look; get these beauties.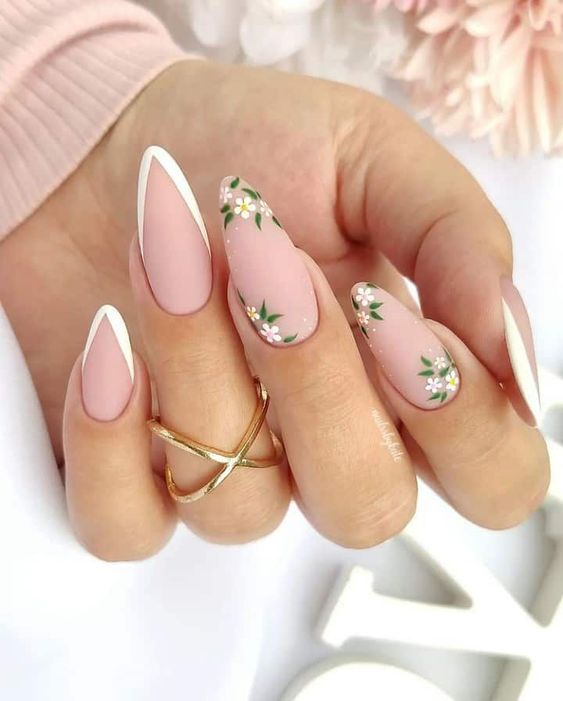 The French Mani With Flowers
Combining flowers and French tips is an excellent idea for your spring nails.
This pink French mani on three fingers and flowers on the other two are so pretty!
This nail art can be your favorite if you are a nature lover. It's just so fresh and elegant.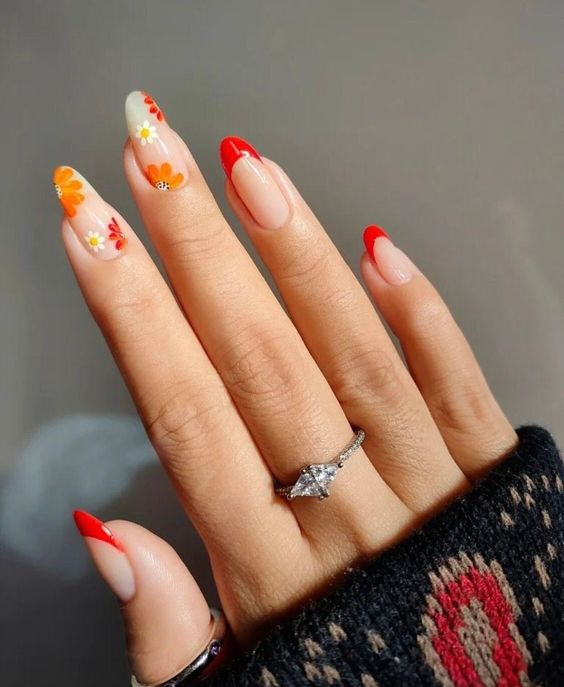 Cute Nails With Smileys
Almond-shaped nails with smileys are the cutest way to welcome spring this year.
What can be more fun and crazy than this nail idea? It is alluring; it is sober, and also it is calm.
If you are looking forward to some change, this nail art can be your perfect partner.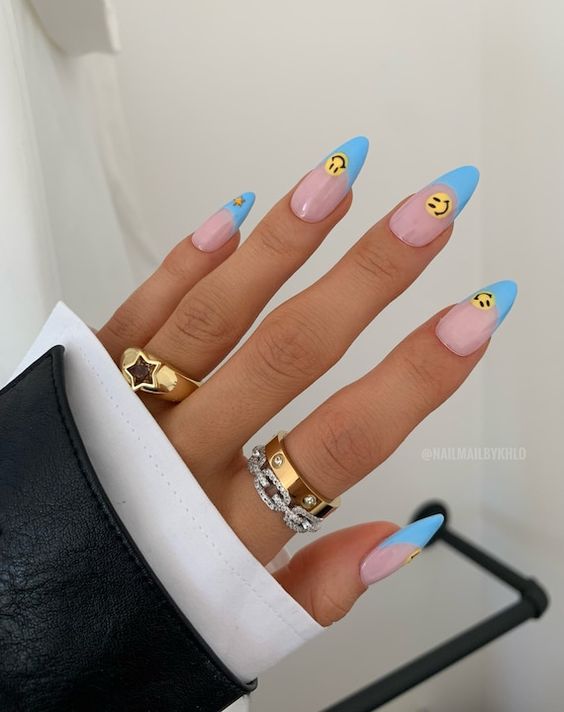 The Pretty Yellow Look
How many times have you ignored the color yellow? This time go for it!
This yellow hue will bring sunshine to your nails, and nothing can be so exciting and gorgeous than this.
The added glitter will enhance the overall look, and this nail is very easy to do.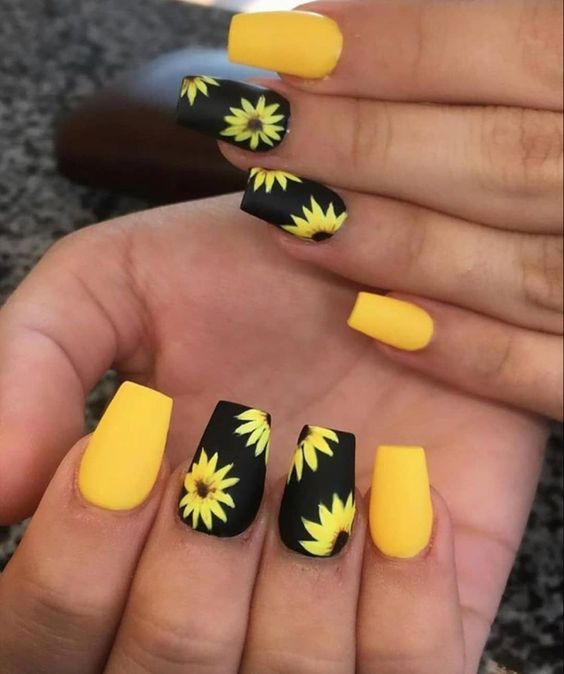 Also Read: Lavender Nails With Design: For a Calming and Graceful Look Lavender Nails Designs
Elegant Spring Nails With a Twist
The combination of pink, lavender and black leaves is enough to make you the centre of attention.
The main focus here is the black leaves painted with patience and art.
This is a universal look; you can pair these nails with any outfit and accessories.
Must try for fashion and art lovers!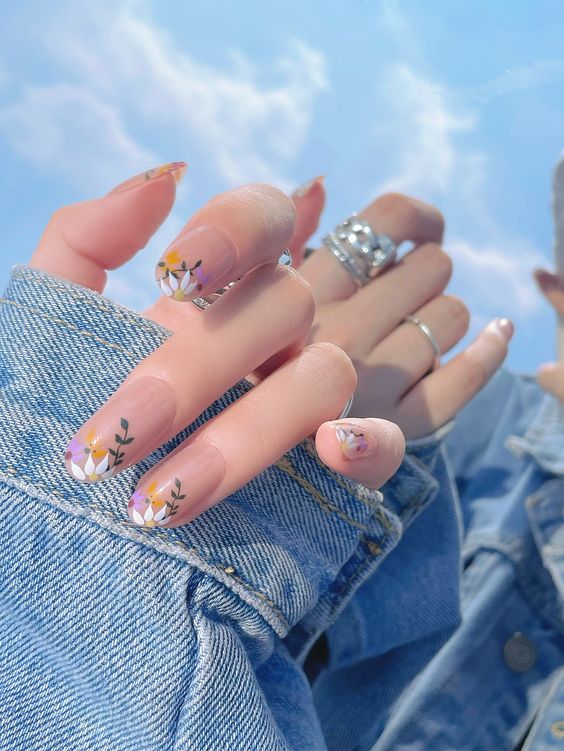 Different Colored Pastels Spring Nails
Something unique is in your mind? Don't be confused; your search is over with these different colored pastel colors.
This most uncomplicated look is winning every heart nowadays. You can go for it without any doubt.
It is so universally accepted nail colors, ladies are just going crazy about this spring nail.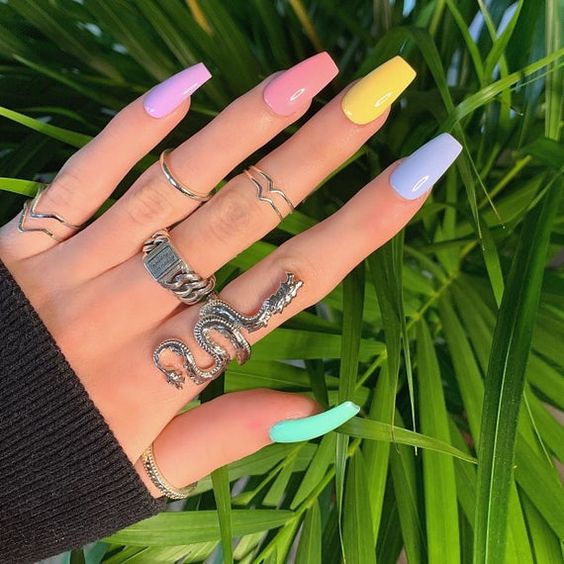 Strawberry Nails
Let's have fun this spring season by painting strawberries on your nail designs.
Surprise everyone with your great nails with the touch of strawberries.
These are just so cute and pretty. Try them for a unique look.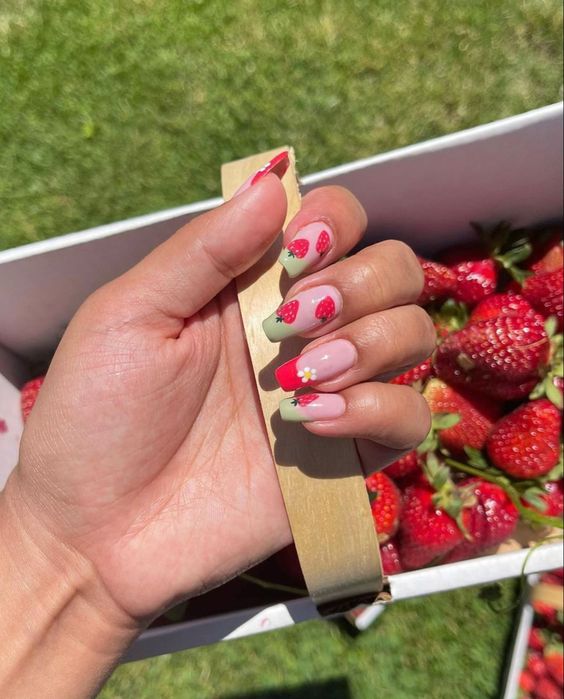 Glittery Nails
Too glam to give a damn! With this motto for this season, rock the glittery spring nails with passion.
This exemplary look, ready to give you the most fantastic and glamorous look, is just a step away from you.
Add the glam of glitters to your next manicure, and you are good to go.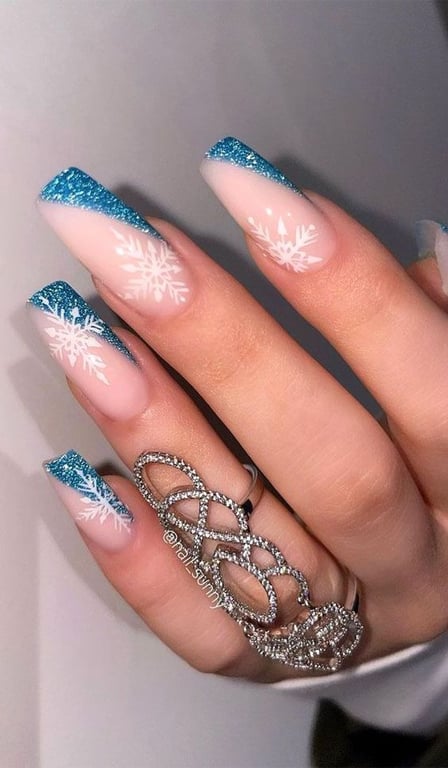 Gorgeous Orange Nails
Orange is such a lovely color to add to the nails.
Just look at these nails covered in orange color; so pretty!
These orange nails can be the perfect way to amp up your nail game to get the striking look for the springs.
The added jewels are a game changer.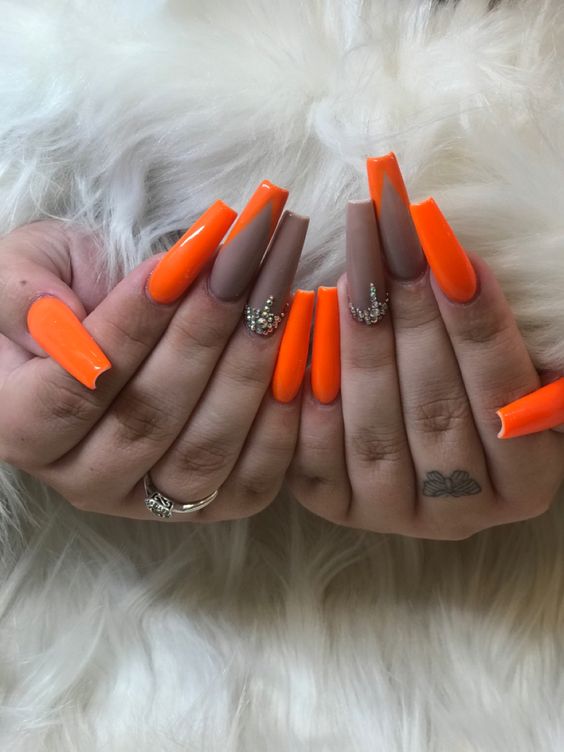 Pastel Nails With Heart
Time to create magic with cute little hearts on the pastel-colored nails.
This timeless and modern look has become the talk of the town.
Without any doubt in mind, you can go for this calming and modish look for this spring season.
Green Spring Nails With Stars
This gorgeous green color is set to make your nails most beautiful with its eye-catching look.
Paint these golden stars for a finished and excellent look.
Don't think twice; go for it!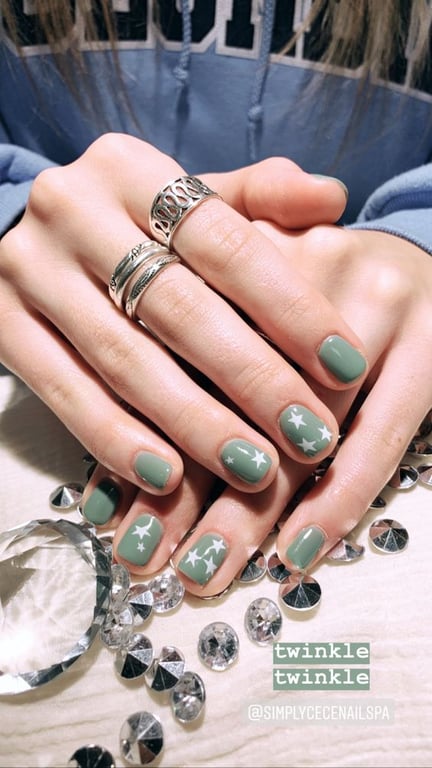 Sleek Silver
What's up with this royal look? Just look how breathtaking it is!
Give this silver color a chance this spring season and collect all the compliments.
Pair it with some silver rings to enhance the effect, and go for rocking this look.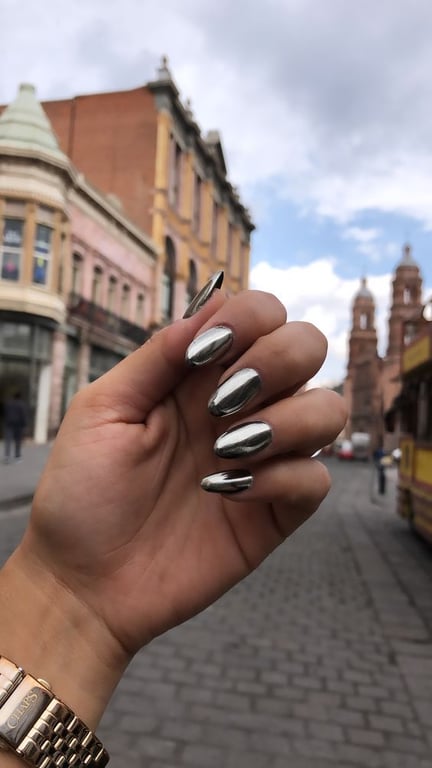 Abstract Florals
Even abstract designs are very famous in the nail art world.
Going for abstract florals can be the best option if you have nothing in mind.
Spring nails are highly appreciated if they are unique; what better way to flaunt your uniqueness than these abstract florals?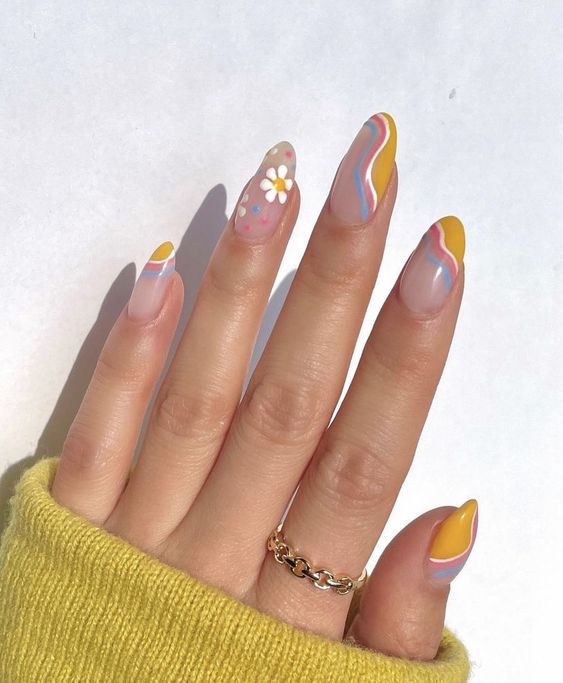 Marble Nails
These insanely gorgeous marble nails are slowly winning every lady's heart.
If you haven't tried this trend yet, go for some crazy and pretty nail art this spring.
These marble nails are a sure yes! For ladies ready for experimenting.
Dreamy Clouds
If imprinted on the nails, something dreamy and nature-loving can do wonders.
This mystical cloudy art on the nails is so fresh, and pretty you are sure to fall for them.
Just have a look at these beauties; give it a try!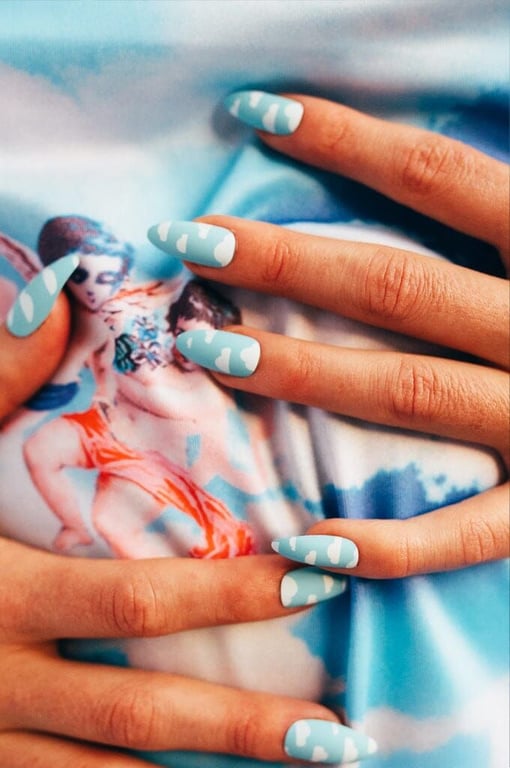 Dark Red Ombre
Do you know what boom Ombre nails are making in the fashion world?
This drop-dead gorgeous red Ombre is yet another masterpiece to try this spring.
Your beautiful spring nails will surely be a treat to the eyes.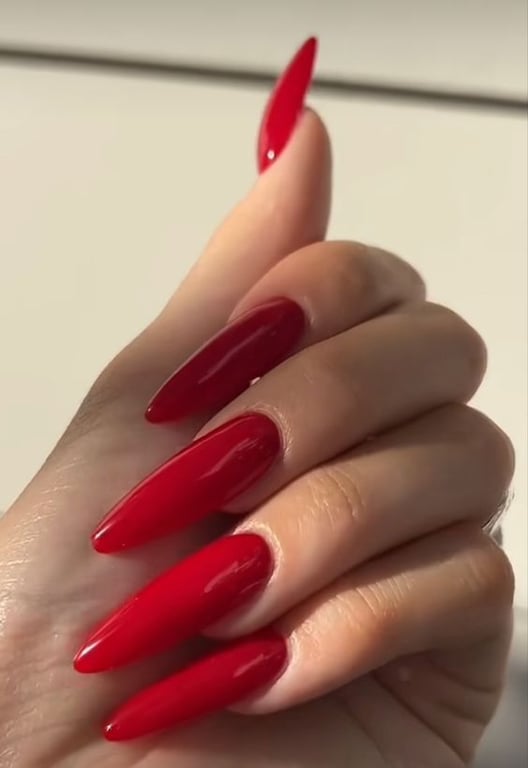 Green French Tips
This is another unique way of signifying simplicity and spring.
Green French tips are an excellent way of flaunting those spring nails you have been searching for so long.
Apply them!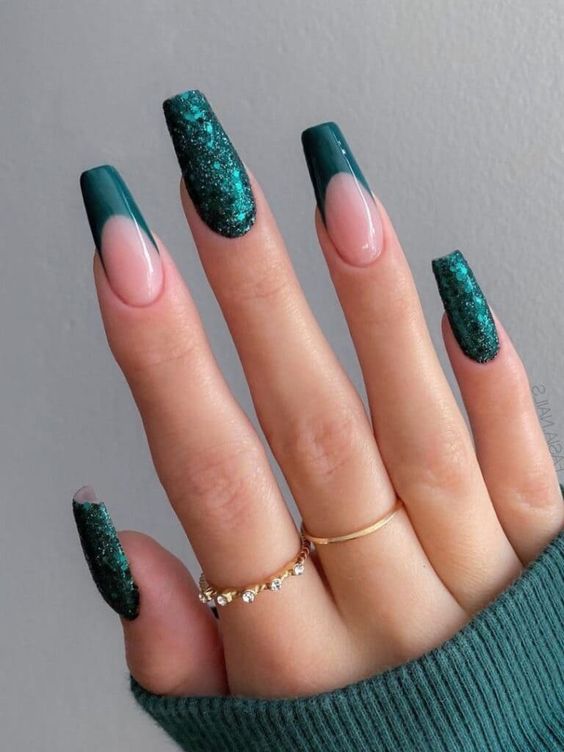 Also Read: Let's Discover Different Pink and Blue Nail Designs
Reference Link
Spring Nails-FAQ's
What Are the Spring Colors for Nails 2022?
* Well, the list goes on and on. Spring colors for nails in 2022 are buttery yellow, blue, sunset red, green and many more.
* The colors listed above are in trend for 2022, but you can go for any color you want for the spring nails.
Are Red Nails Good for Spring?
* Of course, red nails are suitable for springs.
* They are an offbeat color but go well with springs.
What Are the Spring 2022 Nail Trends?
* Floral prints, minimalist nail arts, French tips, pastel colors are some of the trendy 2022 spring nails.
* If you want to make some new trends, go ahead try different versions of spring nails and inspire.