Nowadays, the summer watercolor nails trend is becoming the highlight of the fashion world. Using watercolor is not difficult to practice on the nails; it just needs the proper technique. Learn them and become a pro at watercolor nail ideas. The biggest advantage of using watercolors is their infinite nail designs. There is no particular design you need to follow, and you can create anything you like.
It's the summer, and you are thinking about giving your outfit a touch of beauty and coolness. You have been changing outfits for years, but now, let's change your nail color. Bring the summers in them and flaunt them in style.
Summers offers a wide range of nail art to inspire and become your best version. Primarily summers are associated with light colors, but this time experiment with darker and vibrant colors to bring uniqueness to the nails.
To apply watercolor nail art, you must choose the base color first. In most cases, it is any of the nude shades. Let the base coat dry, then select any 4 to 5 colors of your choice you want to make the watercolor effect with. Apply each color as little droplets and use a plastic bag to smudge it. This creates a messier, prettier, and more watercolor effect. After it is dried, apply a top coat to secure the colors.
So, here in this article, we are presenting to you some very cool, funky as well as elegant.
Summer Watercolor Nails Ideas Scroll Down to Pick Your Favorite
Cute Cherries on Nails
What can be more minimalist than coloring the nails nude and embellishing it with some cute cherries?

Yes, you can say it's like the cherry on top!

This cool, minimal, and classy design is becoming the talk of the town and is summer vibing.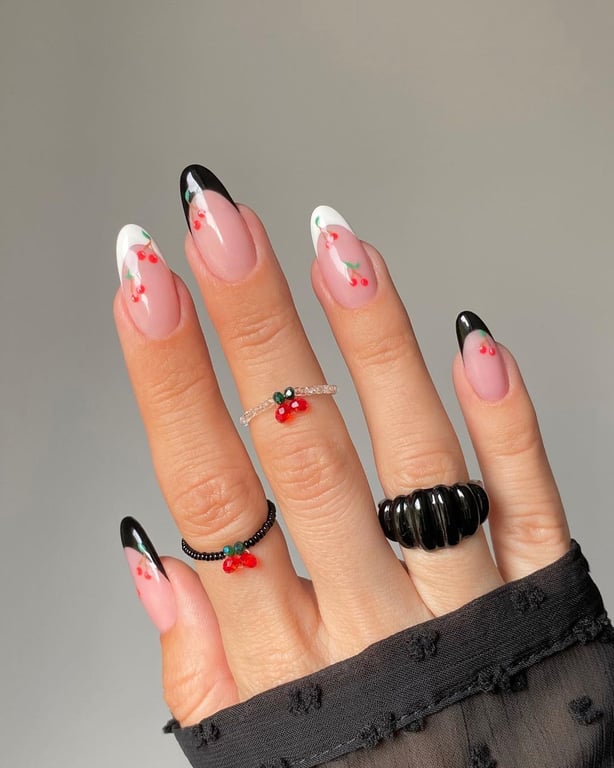 Also Read: Purple Nails With Diamond: Say Hello to the Purple Manicure!
Modern French Mani
Who doesn't love a french mani? I guess everyone is fond of the jazz it brings to your nails.
Well, for summer, try this french mani with a twist. Add some bold colors and make stripes to enhance the look.
You can also add some watercolor effects to the tips.
This is one of the most fuss-free and chic nail designs that are a must-try!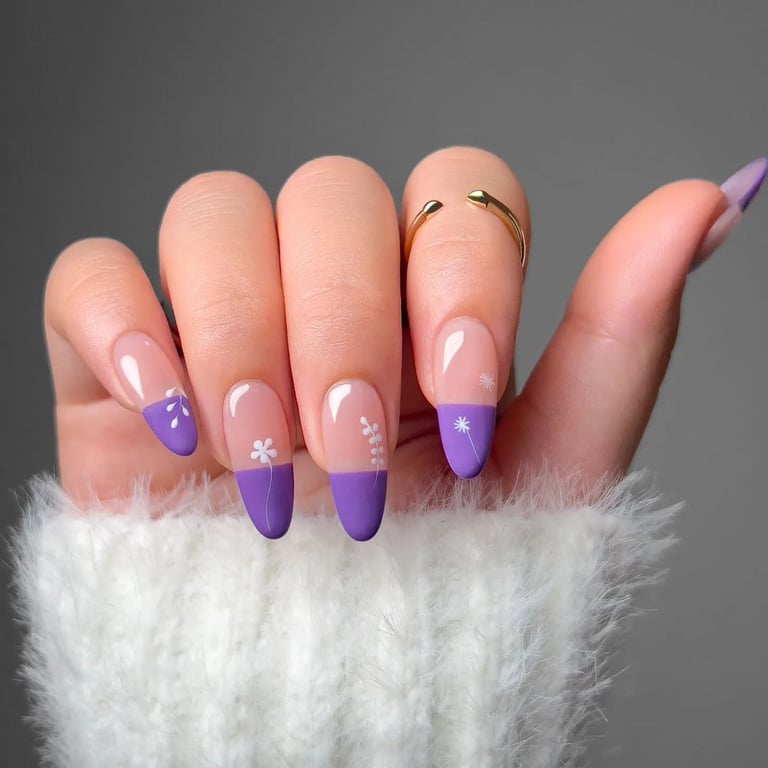 Easy Polka Dots
If you are too confused about what to try and what not, what will suit you and what will not?
Well, I am here with a simple yet pretty and cute solution, give your nails the touch of polka dots.
Polka dots are simply stylish, unique and also irreplaceable.
Try adding darker polka dots on lighter shades to enhance its effect.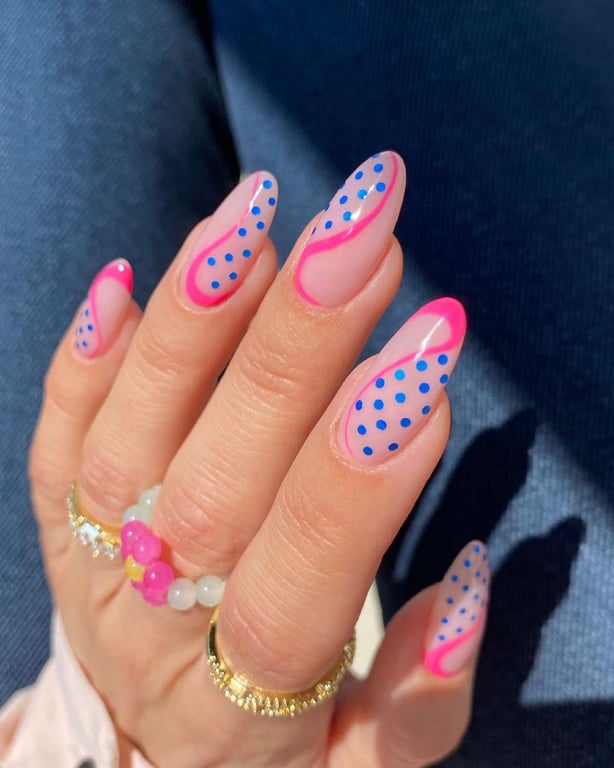 Watercolor Nails
Watercolor, the trendiest nail color, is winning hearts with its eye-soothing look.
The best part about watercolor is that it does not need to be very specific or intricate, the messier the better.
This is a must-try nail idea for a refreshing and unique summer watercolor nail look.

Watercolor Nails
Flower Power
Flowers can be the best to look at when added to the nails.
The most sober yet scintillating look can be made with a flower on the nails. Create watercolor flowers for a gorgeous effect.
This nail idea can be your friend if you are a nature lover.
Also Read: 19 Black and Red Valentines Day Nails (Easy Designs and Inspirations)
Checkered Craze
This is also one very common and highly appreciated nail idea in today's date.
Use some light colors to make varied designs, and you are ready to rock it.
This style can be slightly too serious for some people and crazy for others. Experimenting with this can be fun.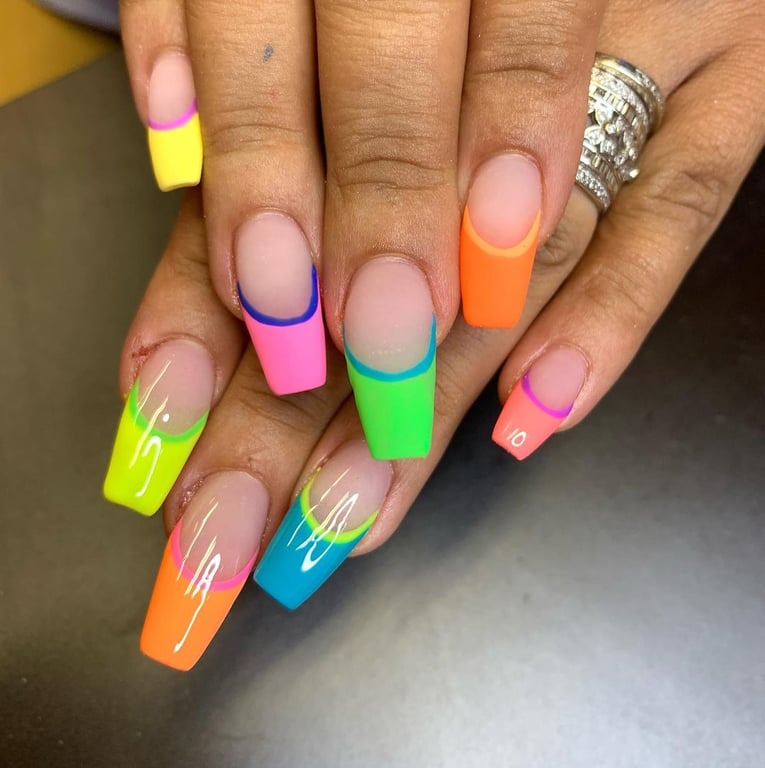 Beach Effect
The best way to bring summer to your nails is by giving them a beachy look.
Dark blue color signifying water with some golden mix can give you the whole beach vibe.
You can experience summers at your fingertips.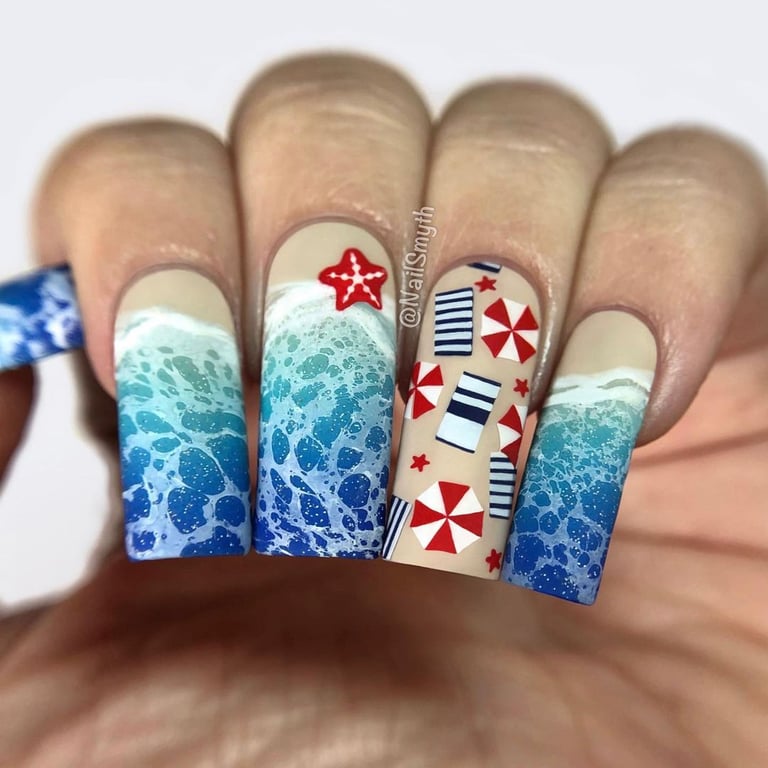 Abstract Watercolor Look
Bring an ocean view to your nails with this abstract watercolor idea.

Watery swirls with the colors of blue, red, orange and green to make it artistic and summer ready.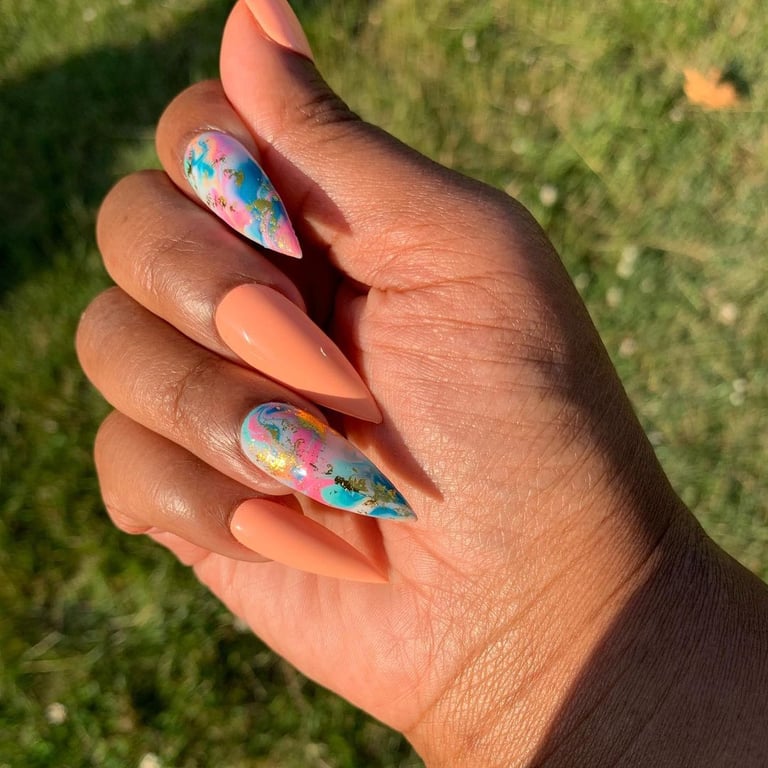 Marble Watercolor Look
Watercolor, but with a twist. Make the nails look neutral by giving them a marble look.

This minimalistic look, with a watercolor base, is totally stunning and fresh to work with.

You are going to love it.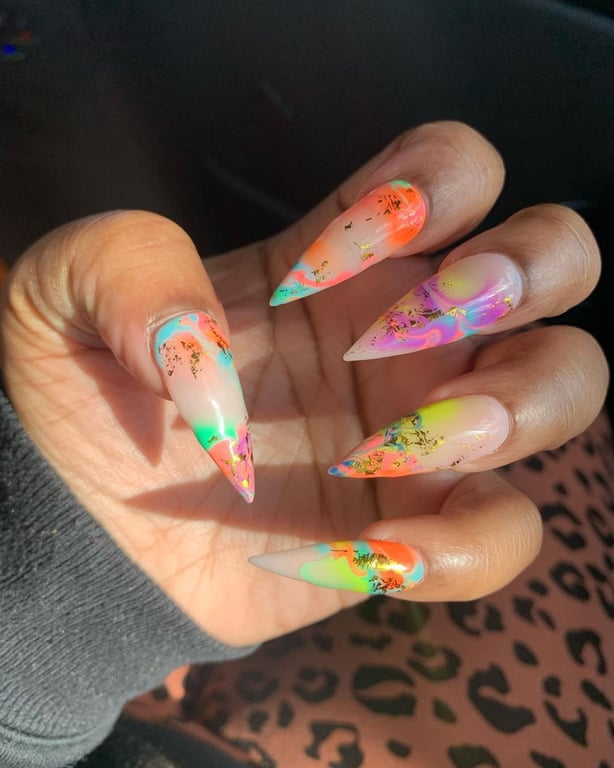 Fun-Loving Summer Nail Art
Add this watercolor only to the top of your nails to become a charmer.
This chic and modern look will make you the centre of attention.
Signifying modernity as well as simplicity, this can be your all-time favorite nail idea.

Fun-Loving Summer Nail Art
Rainbow Watercolor with Flower Nails Art
Need clarification about which color will suit you best? Well, give all the colors a chance.

Use the rainbow colors with a twist for a more noticeable approach.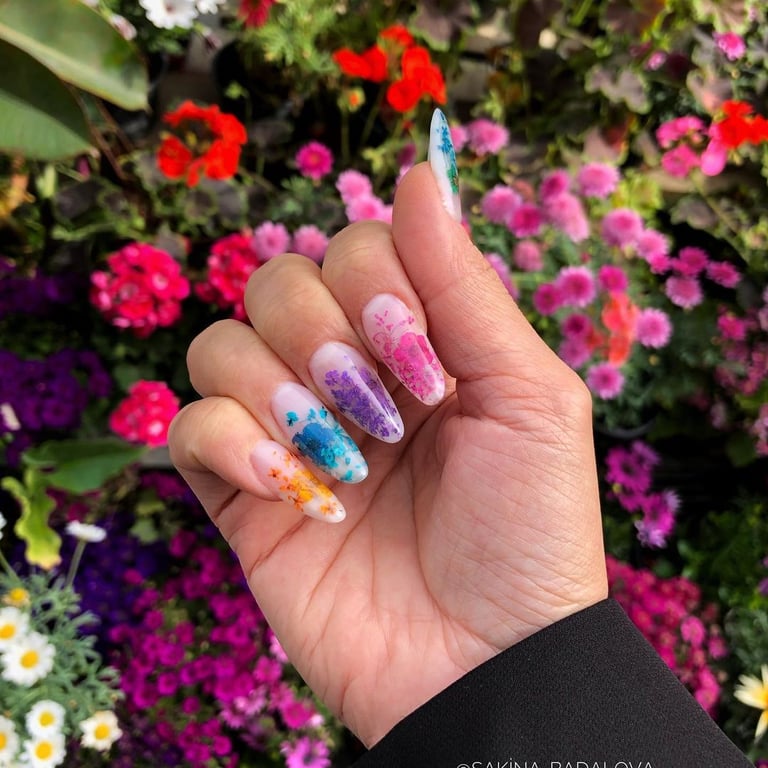 Lavender Watercolor Effect
If, just like me, you are also a fan of lavender, this nail art will be your favorite.

Make beautiful lavender-colored flowers or butterflies in a watercolor effect to make them look more prominent.

This nail idea is one of the best, most simple, and most stylish for summer.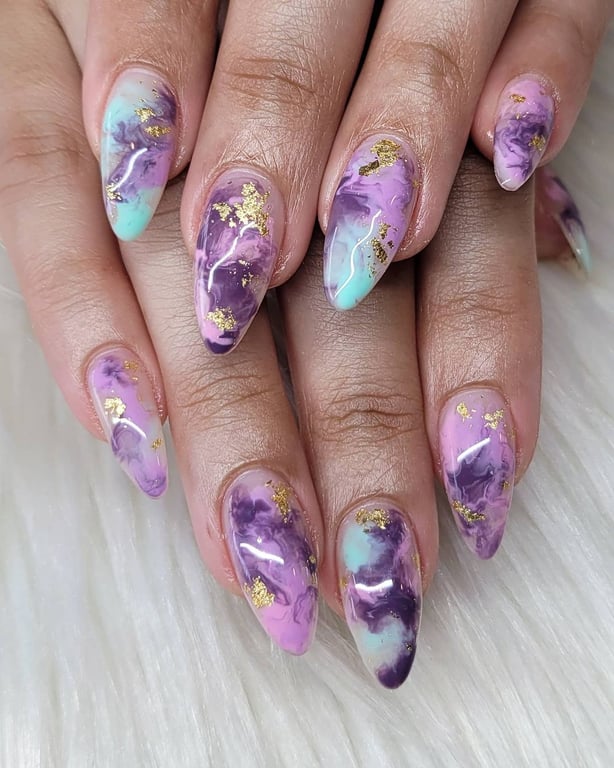 Also Read: French Manicure with Rhinestones: Latest Designs, Tips & a DIY Guide
Reference Link –
Summer Watercolor Nails-FAQ's
How Do Watercolor Nails Look?
* Watercolor nails are famous for their abstract look. Many colors are mixed and a water-like flowy design is made to give it a unique look. * These nails are gaining popularity due to the refreshing look it offers.
What Are Some of the Trendy Watercolor Nail Ideas?
* All the trendy watercolor nail ideas are mentioned in this article. * Grab all the information regarding watercolors and choose your favorite for this summer.
How Do You Do Watercolor Gel Nails?
* Yes, you can do watercolor nails with gel but remember to keep the surface of the nails white so that the watercolors shine through the nails. * If you are considering getting gel watercolor nails, it can be great idea of providing freshness too the nails.