The Taper Haircut are a classic old school style which can never go wrong. It lets you play safe or go as extreme as you want to. In Taper Haircuts, the hair on the top is longer making it pop while the hair at the sides and back is shorter. The hair is around a centimeter above your ear and all around your neck. It is a very versatile hairstyle which can be carried off in an office as well as a party.
There are a number of tapered hairstyles available to suit everyone's personality. A Taper Haircut lasts for about 2-3 weeks on an average. Many famous personalities like David Beckham, Stephen Amell, Zayn Malik, etc have also rocked the taper haircut. If you are feeling scared or nervous to go for a taper, our article will inform you all about the 25 different types of Taper Haircuts.
Mid Taper Haircuts
The top of the head has on it a considerable volume of hair which can be styled as per your choice while the hair on the sides and back of the head are kept medium short.

It offers a midway between a low and high tapered haircut. 

This haircut is best for a person with an elongated or oval face.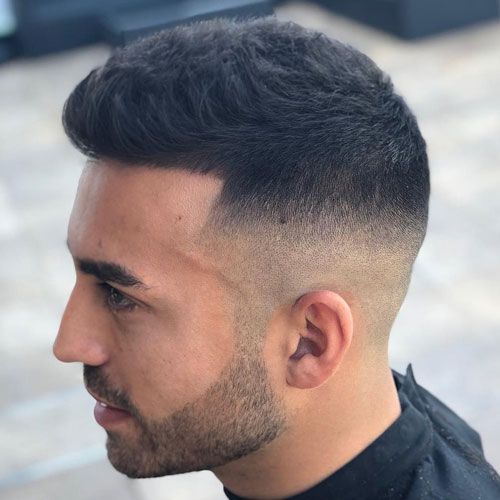 Also Read: 20 Classic Edgar Haircut Styles To Get This Holiday Season
High Taper Fade Haircuts
The sides of the head are trimmed short at about 2 inches maximum from the top of the head. 

This fade creates an incredible contrast when mixed with any other hairstyle like quiffs or comb overs. 

It provides a strong and clean look.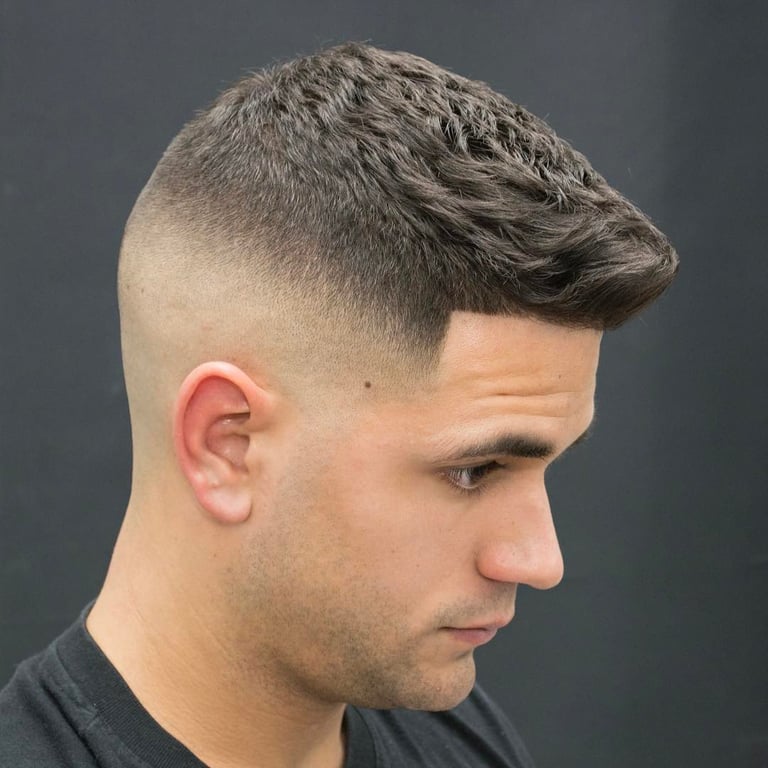 Taper Fade Long Hair
This haircut is for men who have long hair and are very expressive when it comes to flaunting their hair. 

There is shortened hair on the back and sides while showing your natural hairline at the edges.

The top of the head is left with long hair which can be either tied into an updo or a small ponytail.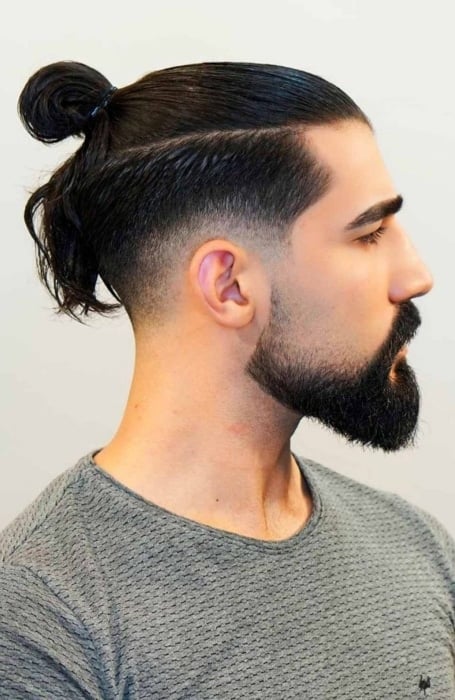 Low Taper Fade Haircut
The low taper haircuts provides a very clean, structured and subtle look. 

The low taper fade begins at your ears and extends back to the nape of your neck. The area of your neck and ear stays free from any messy hair. 

This haircut draws attention to your cheekbones.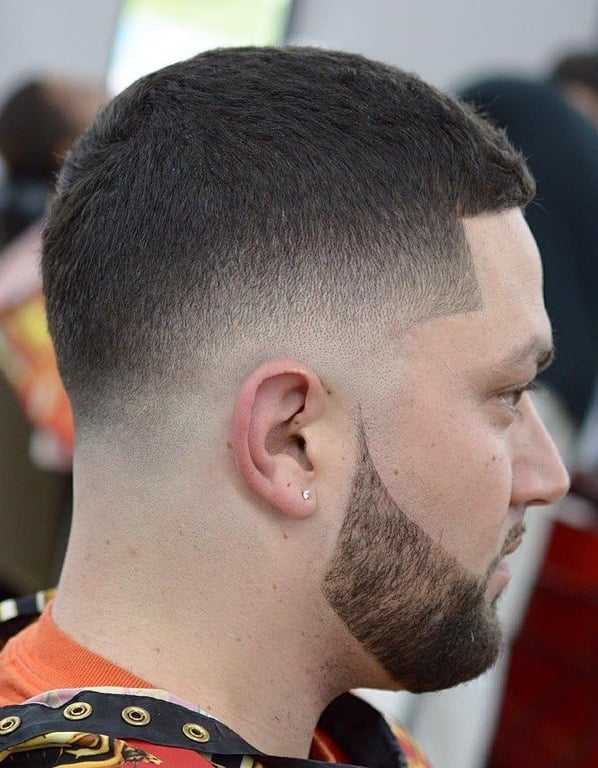 Taper Fade Haircut Short 
This is the shortest taper fade possible and not a sophisticated style.

The hair on the top is cut short while the sides are so that almost the whole of your natural hairline is seen from the sides and back.

It is not easy to maintain if your hair grows rapidly.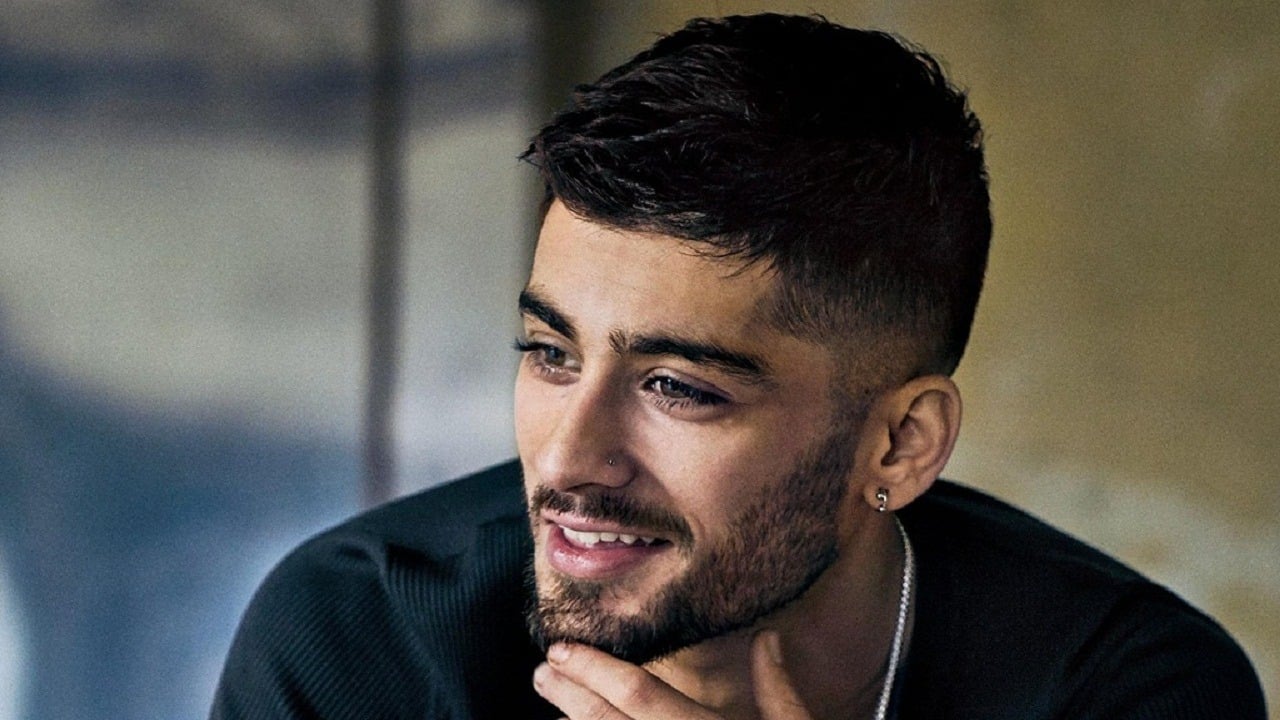 Curly Taper Haircuts
The curls will fall naturally over your forehead while having sides that fade when it reaches the beginning of the beard on your face. 

This haircut will prove to be a trendsetter for men who wear glasses.

This haircut will require a regular maintenance because of the messy and delicate curly hair texture.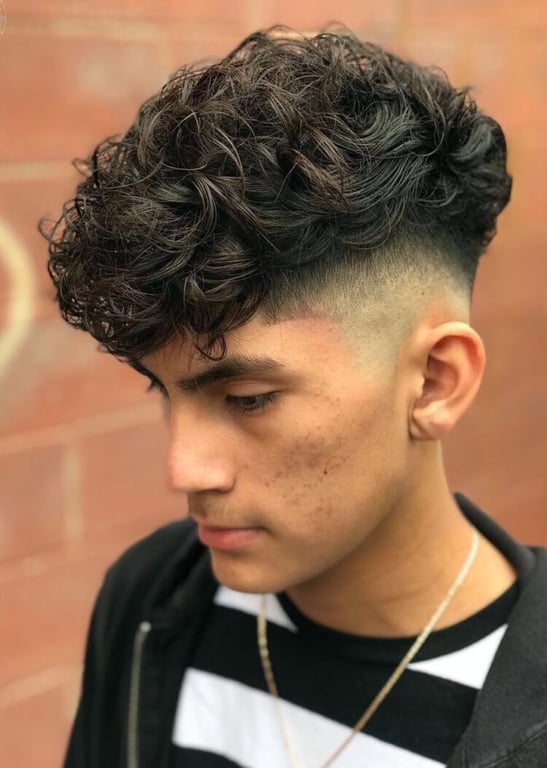 Taper Haircut Black
The Taper Haircut Black is for black men who usually have curly hair.

You can leave the long hair on the top of your head and the sides tapered above the ears. The temple has a sleek line. 

The style is not an overly sharp cut.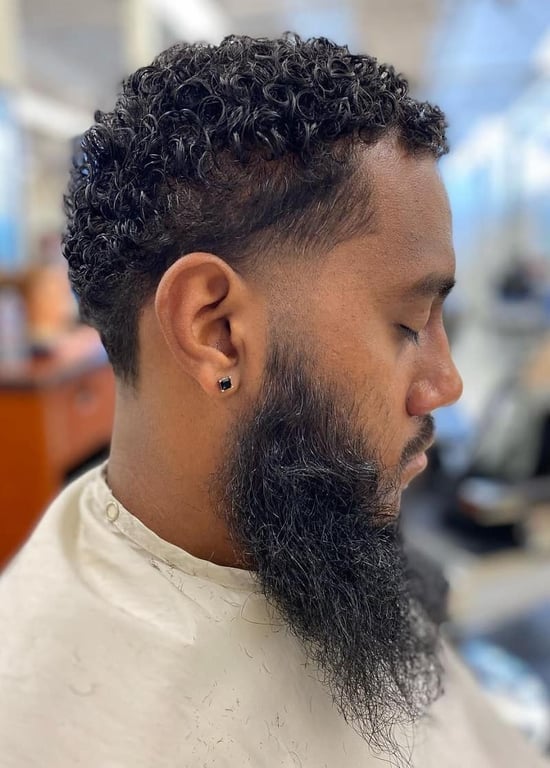 Short Taper
This hairstyle is fit for men with curly hair 

This brook haircut is not a classical taper haircut but a modern style with sides having short hair and slightly a little long hair on the top.

This is an elegant style which is sure to please any male.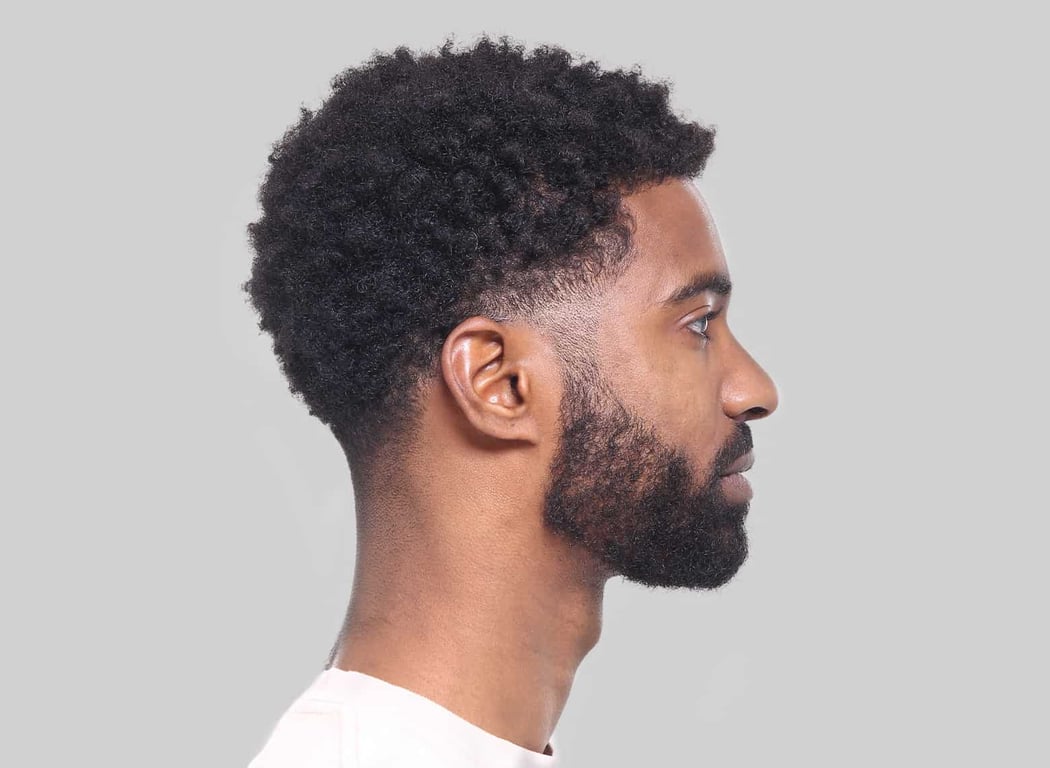 Taper Edgar Haircut
The famous Mexican Edgar Haircut can be paired with a taper also. 

The front section of your head is styled with bangs or fringes covering your forehead partially. The top is trimmed shortly and the sides and back follow a tapered style. 

This haircut is a blessing in disguise for men who have the problem of thinning hair as it covers their vanishing hairline.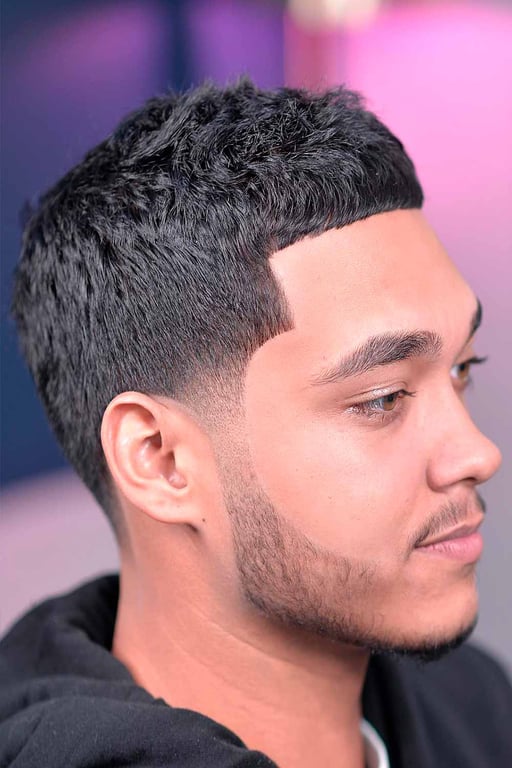 Blowout Taper Haircut
The blowout is a classic haircut which became famous in the 1990's. Adding a taper to it gives it a modern effect while still focusing on the 90's vibe. 

Hair on the top looks like you have recently been a victim of an electric shock. 

The hair at the temples and back have a quick taper like style that is very less hair thus showing your natural hairline.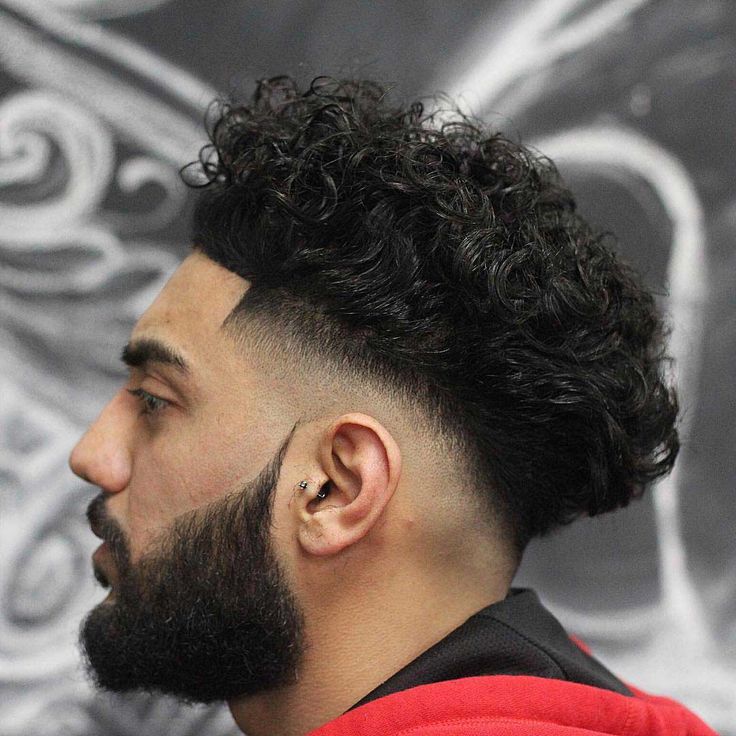 Taper Haircuts With Waves
Waves haircut which is also known as the 360 waves adds texture to your hair by the creation of a spiral around your head using a wave brush. 

The Taper Fade Waves Haircut has an edgy up and waves all around the top with a tapered side. The tapered side cut is at a centimeter above your ears. 

This is a fresh style for men who have black hair.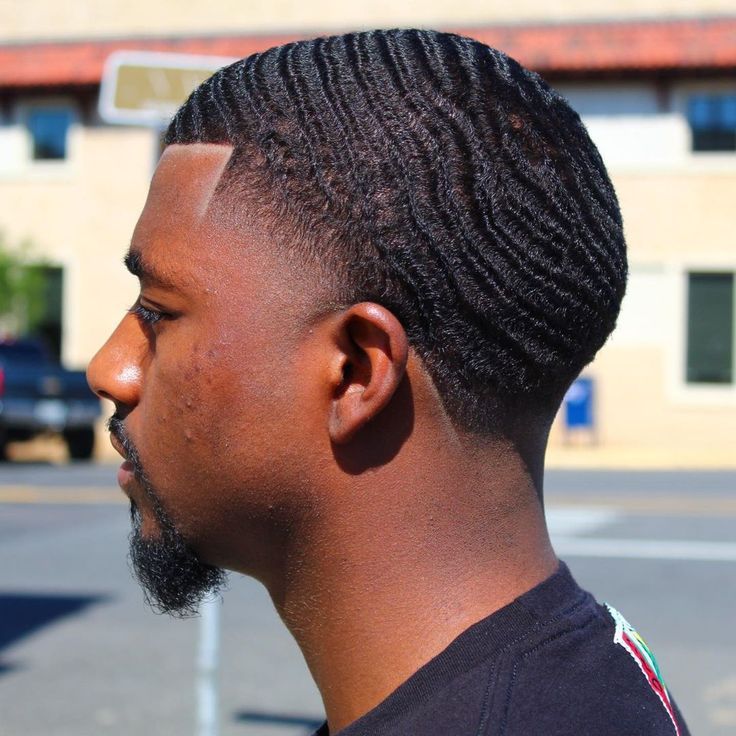 V Taper Haircut
The new and in focus V shaped neckline haircuts can be combined with any style.

The V Taper Haircut is all about long voluminous hair on the top, the sides tapered a lot above the ear and the edgy V shaped neckline at the back followed by your natural hairline. 

This haircut adds a very sharp and edgy look to your face.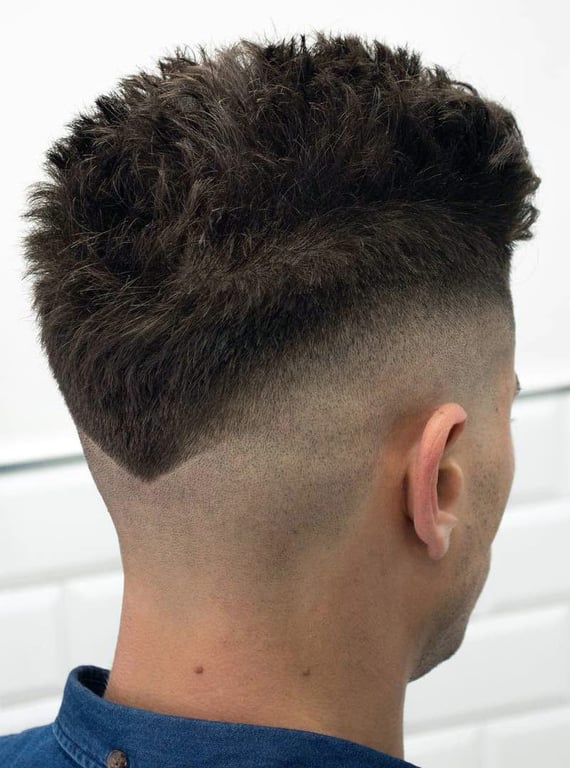 Afro Taper Fade Haircut
This is a very popular haircut for the black men. 

In a Taper Fade, your barber keeps your hair on the top slightly longer which gradually decreases while reaching the back. Adding an afro to this style gives a better frame and structure to your face.

It is a classic cut which looks very clean.
Skin Taper Haircut
Skin Taper Haircut is a zero-grade cut which on reaching the top of the head blends into a textured scissor like finish.

There is longer hair on the top and short hair which is blended at the sides and back of the head. It is blended so perfectly that one finds it difficult to see where the taper or fade has ended. 

This haircut best suits men who are fair.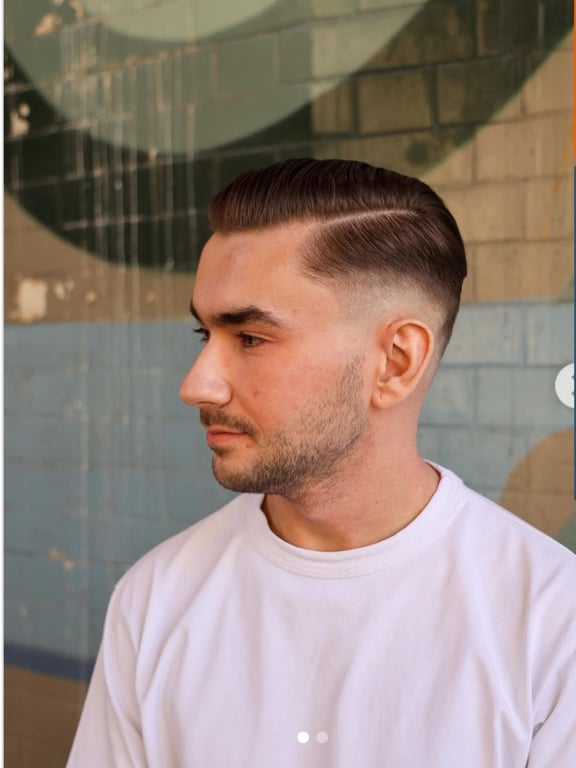 Side Swept Bangs with Modern Taper
This haircut is the modern version of Leonardo DiCaprio's hair from the 1990's.

The top hair is cut into asymmetric long fringes which fall just slightly above the eyebrows. 

The side hair is tapered while ending in short sideburns.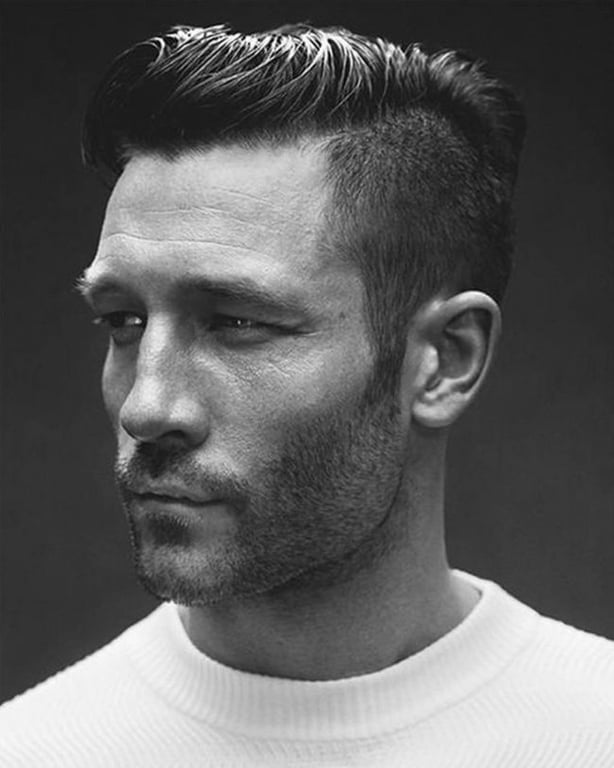 Voluminous Side Bangs with Classic Taper
This haircut works wonders with a full beard. 

To have this haircut, your hair must be 5-6 inches long at the top. The long hair at the top stays in the center and half of it is kept on one side as bangs. 

The sides are kept short that fade and merge into your beard.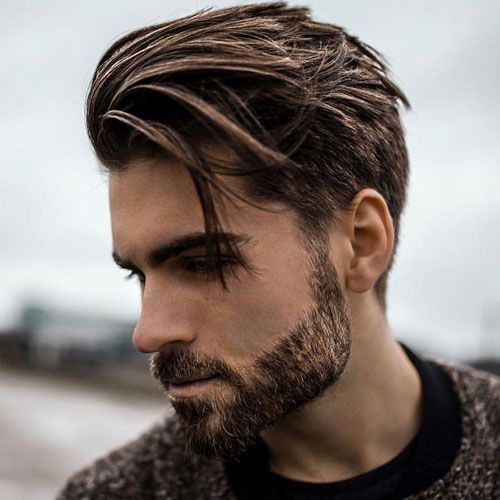 Also Read: Caesar Haircut: Modern Approach to an Ancient Style
Short Hair Plus Classic Taper
This haircut works well for office or formal occasions. 

The hair is chopped short on the top and even shorter at the sides. This haircut is basically very simple having a very mild version of the taper sides. 

You can keep this hairstyle without even using a brush throughout your day.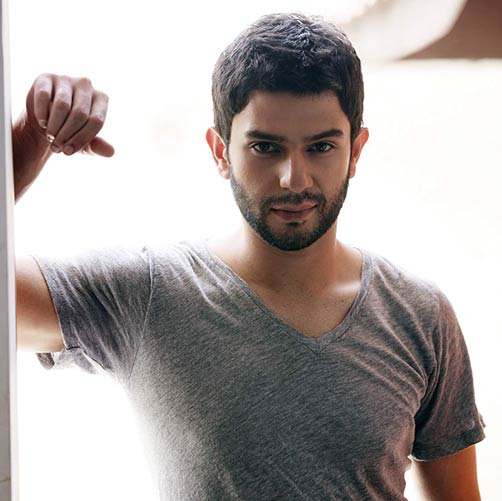 Tapered Fade with Lines on the Sides
This Haircut has an out of the box and bold style which is sure to catch all the attention around you.

There is a line running through the side ending at the back with a tapered fade 2 cm above your ears showing your hairline. 

The lines at the sides can be designed in many ways – 1 line, 2 line or waves or any freestyle design.
Mohawk Plus Taper Fade
The Mohawk Haircut has been very common among the warriors. 

If you are a risk taker at heart but your daily job won't allow you to take the risk then this haircut is for you. 

The sides and bottom are tapering down to a clean shave while resting the polished yet edgy mohawk on the top of your head.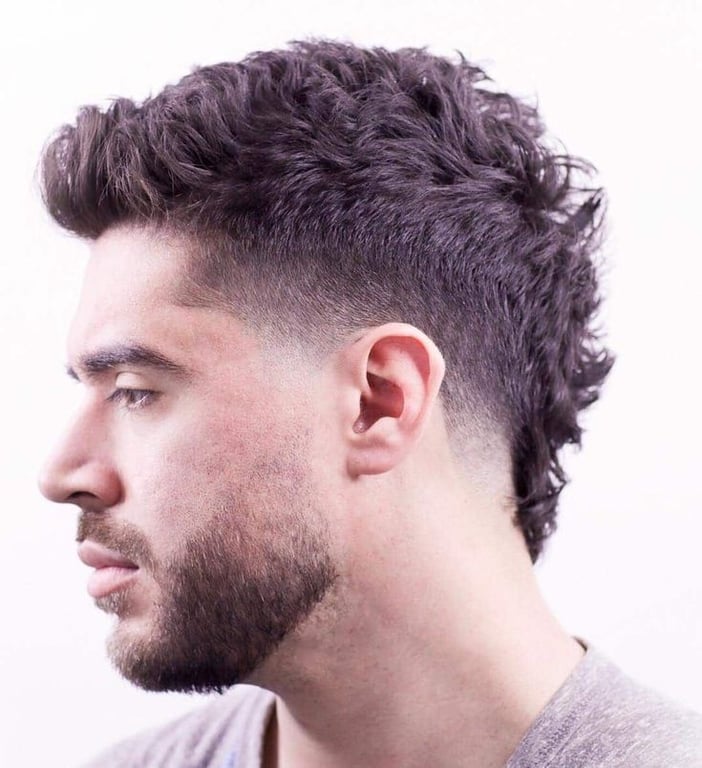 The Tapered Pompadour
The Classic Pompadour is all about sweeping hair upwards from the face and wearing it high over your forehead. 

This hairstyle was in trend from the 1950s to1960s and worn by celebrities like Elvis Presley and James Dean.

Adding a tight Taper to the Pompadour makes the cut to be worn at the office as well as in a bar.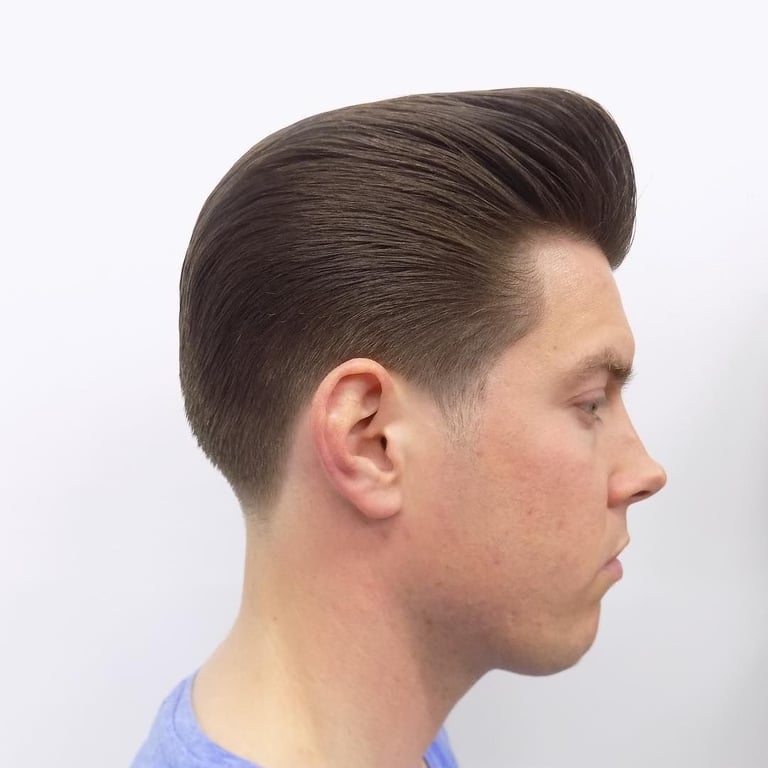 Messy & Wavy Low Taper
This hairdo is well suited for men who have wavy hair.

The sides and back are well trimmed while having a messy top. This balances out the messiness of your hair. 

You can use a hairstyling product to create a tidier version of your messy locks on the top.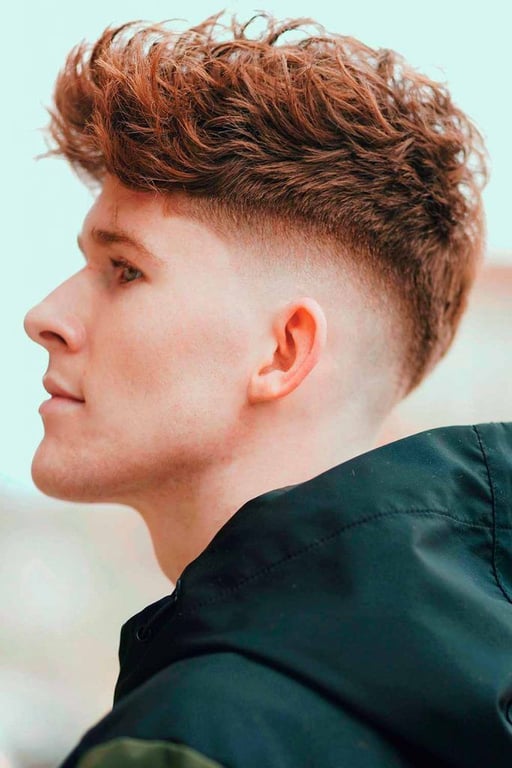 Taper Fade Quiff
To create a modern version of the quiff, you can combine it with the trendy taper fade. 

A taper fade quiff gives a clean and tidy professional look which suits your preppy style. 

You can personalize the cut either through using a razor to shave the side part to make it more defined and striking, or just by designing your quiff in various ways.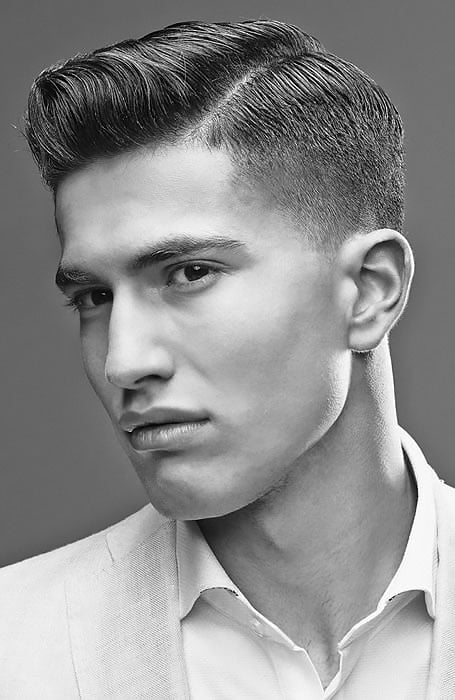 Taper Slick back
The slick back is a classical hairstyle. It gives a glossy or matte finish to your hair. 

The hair has faded near to the skin around the ears while the top is transitioned heavily with hair. The fringe on the front has been given enough length so as to slick it back. 

This haircut supports a long and heavy top.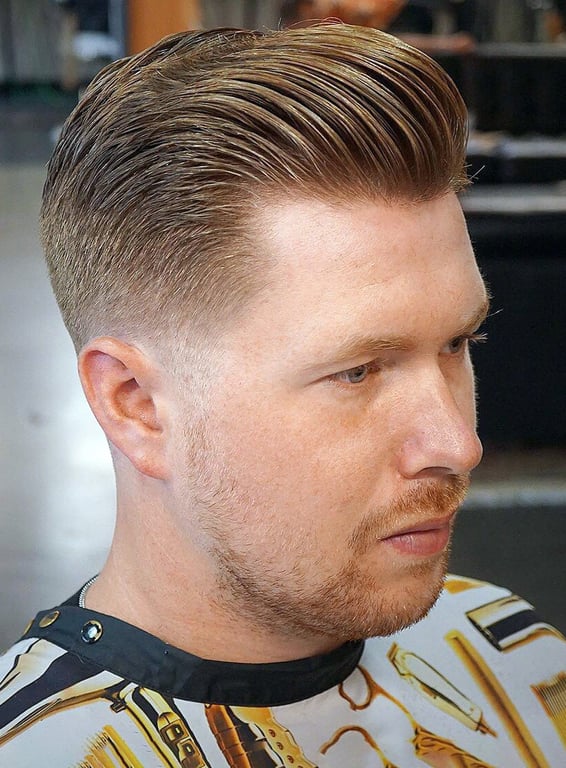 Side Parted Taper
You can also wear your tapered cut with a side part. You can pick your good side, that is whether you want the partition on the left or right. 

The stylist either shaves the hair in a hard part or simply creates a partition of the hair at the point on the top of one's eyebrow or the center. 

To give a bit of a wave to this style, you can use some mousse to comb the hair smoothly.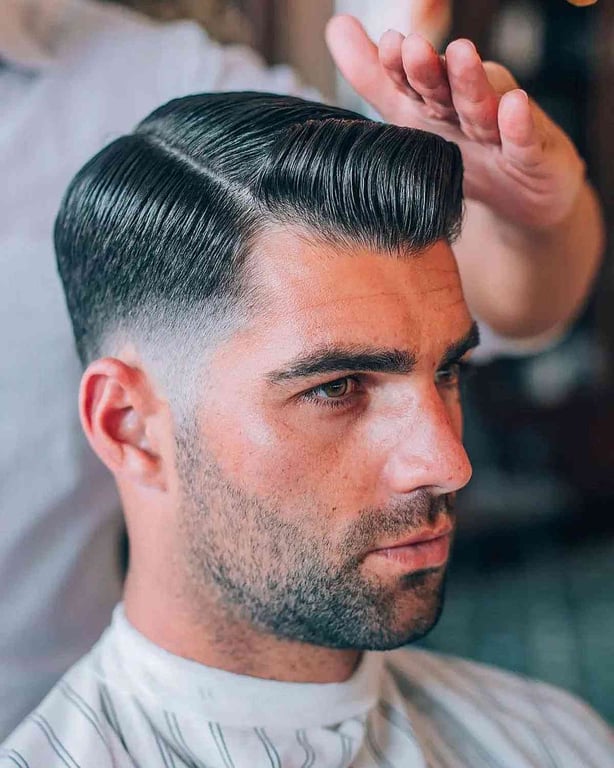 Also Read: Takuache Haircut: Presenting You The Coolest Version Of Haircut
Classic Taper Scissor Cut with Beard
A classic tapered scissor with thick beards always looks good.

Men who have thick beards can style this contrast of short sides and a scissor-cut top. 

The taper fade is medium trimmed up to provide a balance of short hair with long hair on the top which is brushed up.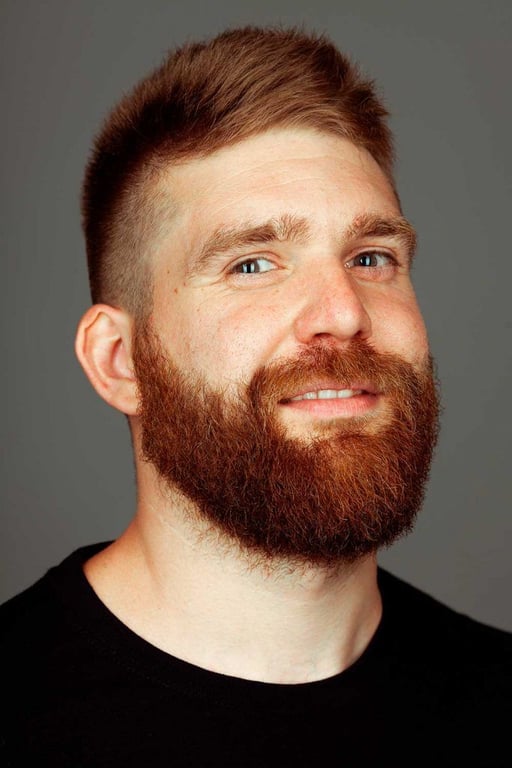 Conclusion
We now know about the different types of Taper Haircuts. The advantage of Taper Haircuts is that there is one for every personality. There is a confusion that a taper and a fade are the same style. However, the truth is that a Taper Cut is a form of Fade. Likewise, a Fade is not a form of a Taper. A Taper look wins here because it provides you with a more modest look. 
A message to all the men reading this out: Don't wait to get a Taper Cut to standout in the crowd!!!
Reference Link
Taper Haircuts -FAQ's
Which is Better Taper or Fade?
* Frankly speaking, both are different in their own ways.
* While taper is a haircut that provides a long hair look and fade offers a shorter version of the same.
* Mostly people prefer taper over fade but again it depends on your choice.
How Long Do Tapers Last?
* Basically it lasts up to 1-2 weeks.
* You need to go for trimming after this period but also it depends mainly on which type of taper you are adorning.
How Do You Ask For a Taper?
* Well, first choose which type of taper you need then simply show your hairstylist the image.
* You can also ask your hairstylist to suggest which taper would suit the best on you.